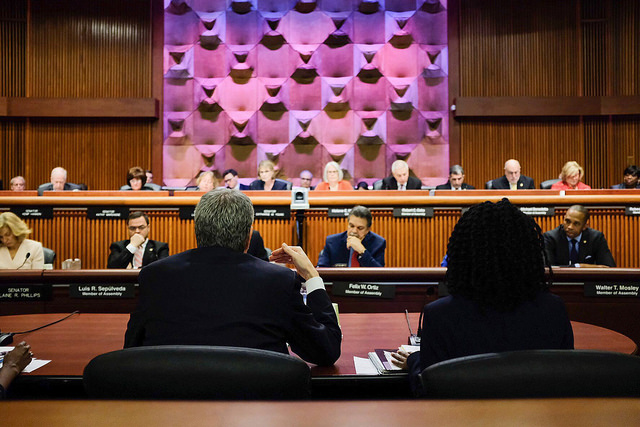 Mayor de Blasio testifying in Albany (Ed Reed/Mayor's Office)
---
Testifying in Albany Monday, New York City Mayor Bill de Blasio responded to Governor Andrew Cuomo's $168 billion executive budget and outlined the city's funding priorities for the next fiscal year.
De Blasio was the first to testify at a joint legislative budget hearing on local governments, making his annual journey to the Capitol, where he also met privately with Cuomo for an hour, and was scheduled to meet with three of five legislative conference leaders: Assembly Speaker Carl Heastie, Senate Majority Leader John Flanagan, and Senate Minority Leader Andrea Stewart-Cousins.
In his opening remarks, de Blasio had mixed reviews for Cuomo's budget, praising some measures while also urging state legislators to help him beat back others as they negotiate toward a new state budget by the April 1 start of the fiscal year. The mayor outlined several of his own top priorities that require state approval, such as design-build authority, electoral reform, and renewal of the speed camera program.
The mayor's initial testimony and subsequent back-and-forth with lawmakers included significant focus on transportation and housing issues, especially MTA funding and problems at the New York City Housing Authority (NYCHA), though de Blasio also touched on uncertainty coming from the federal government; criminal justice reforms and their connection to the closure of Rikers Island jails; and other fiscal and policy items.
De Blasio noted the burden placed on New York City by the Trump administration's recently implemented tax plan, and acknowledged the steep impact of the termination of Disproportionate Share Hospitals (DSH) payments, which is expected to cost city hospitals $400 million annually.
"I want to commend the Governor for trying to find ways to blunt the effects of the new tax law and I look forward to working with him, and all of you, on solutions," he said, adding that the upcoming Trump administration budget proposal is likely to pose additional fiscal challenges for New York City.
De Blasio also outlined more than $750 million in cuts and cost shifts to New York City contained in Cuomo's executive budget proposal. These include $144 million in additional charter school costs, a $129 million cut to child welfare services, a $65 million cut to special education funding, $31 million less to juvenile justice programs, and a $9 million reduction in rental subsidies for working families leaving shelters. In addition, there is a $211 million gap between what the city was expecting in school aid and the amount designated in the executive budget, according to the mayor's office.
The mayor criticized the implementation of "Raise the Age," which requires that 16- and 17-year-olds be removed from adult jails, calling it an unfunded mandate that will cost the city at least $200 million per year. De Blasio noted the executive budget's elimination of $41 million of state funding for the city's Close to Home juvenile justice placement program, despite the fact the program's utilization is expected to triple with the implementation of Raise the Age.
"This cut undermines the signature reform designed to keep kids closer to their families. And it will cost the City $15.3 million in Fiscal 18 and $31 million in Fiscal 19," said de Blasio. The city's fiscal year begins July 1, and de Blasio recently outlined his $88.7 billion preliminary budget plan.
De Blasio praised the governor's inclusion of bail and speedy trial reforms in his executive budget. He said the passage of these measures would reduce the city's jail population and help to accomplish one of his signature endeavors, "to close Rikers Island for good."
When questioned about whether he could expedite the closure plan for the jail complex, which is currently seen as a ten-year project, de Blasio told Democratic State Senator Brian Benjamin, of Manhattan, that the passage of all of his policy objectives -- such as parole, speedy trial, and bail reforms, as well as design-build authority for the city -- would allow the city to shrink the timeline.
"Unquestionably, that would take years off the process," said de Blasio, though he declined to provide an exact projected timeline.
De Blasio also emphasized comprehensive election reform and passage of the Dream Act, which provides tuition assistance to undocumented immigrants, citing threats to immigrants from the federal government. "Given what is happening in our country and New York State can lead by example by helping all of our students," said de Blasio, speaking on the same day that the Assembly would pass the Dream Act for the eighth time. It continues to stall in the Senate.
On transportation, de Blasio repeatedly cited the "millionaires tax" he wants to see that would create a dedicated funding stream for the MTA and support reduced-price MetroCards for low-income New Yorkers. But he also acknowledged that congestion pricing could work as a revenue-generator for the ailing transportation system run by the MTA.
De Blasio said he was ready to continue conversations and negotiations about how to best support the state-controlled transportation authority, but said that proposals contained in Cuomo's budget should be taken off the table. He did express support for the general congestion pricing principles put forth by Cuomo's "Fix NYC" panel, but also indicated he wants to see tweaks.
De Blasio expressed concern that the money could potentially be diverted away from the subways and buses, suggesting a legal lockbox be created to restrict how congestion pricing revenue may be used. He also called for city approval for major transportation projects in the five boroughs.
The mayor took issue with the executive budget shifting the burden of MTA capital costs to the city, and battled with Senate finance Chair Cathy Young, an upstate Republican, over the 1953 law that specifies that city is responsible for all of the subway's capital costs. While the city technically owns the subway system, the state has controlled it for more than 65 years.
"I absolutely disagree with your legal interpretation," de Blasio said. "My counsel has looked at it too and has come to a very different conclusion…Let's face it, the state has been running the MTA for decades now."
The mayor criticized Cuomo's "value capture" proposal, "that would grant the MTA the power to raid our property taxes on properties within a one mile radius of certain projects." He said the proposal would cost the city billions of dollars and force the city to cut back on essential services like police, sanitation, and education.
"I was encouraged by the Governor's recent comments that portrayed this as a choice for the city, not a mandate," de Blasio said. "I would urge you to remove this provision from the enacted budget altogether."
De Blasio made a similar argument about city services when asked by several lawmakers, including Young and Assemblymember Nicole Malliotakis, who lost to de Blasio in last year's mayoral race, about capping property tax increases in the city. The city is the only area of the state not subject to a cap of 2 percent annual property tax growth. De Blasio, who again pledged that he is about to launch a property tax reform effort, has said that the city must continued to take advantage of increases in property tax values to fund city services.
De Blasio, who designated $200 million for new boilers and heating systems in public housing after thousands of residents suffered outages this winter, called for the state to commit to matching the city's investment in NYCHA. He also complained that the state has taken months to fulfill a request from the city to allocate funds earmarked for NYCHA from two budgets ago. The city had itself delayed its ask for the funds by several months beyond when it could have filed the request.
The mayor was grilled intensely by lawmakers on his public housing record. Senator Diane Savino, of Staten Island and the Independent Democratic Conference, called the living conditions "deplorable." In another testy exchange, Senator Young drew attention to lapses in lead inspections at NYCHA apartments, and reports that children living in these residences were found to have high levels of lead in their blood. The scandal has prompted calls for de Blasio to fire NYCHA Chair and CEO Shola Olatoye, including from Young on Monday. "Why is Shola Olatoye still at NYCHA?" Young repeatedly asked the mayor.
De Blasio acknowledged the mistakes but reaffirmed his previous statements, noting that the lapses began with the previous administration and credited Olatoye for turning the near-bankrupt housing agency around.
When Young pressed the mayor on issues at NYCHA, including unsafe conditions and crime that have "stacked up over the years," the mayor responded tersely.
"Respectfully, I think it's very reductionist to add certain facts up and say someone needs to be dismissed, even though they are getting a lot of work done for the people they serve. When you run a facility as big as NYCHA with years of disinvestment, of course there's problems," he said, adding that public safety has dramatically improved at NYCHA.
[Related: What's the State Role in NYCHA Oversight?]
During more than two hours of question-and-answer de Blasio was also asked about the financially-struggling public hospital system, where a new CEO has taken over who is promising to build on reforms already underway. The mayor was also asked to support supervised injection facilities for drug addicts and said that a city report is due back soon on the topic. He said it had to be very carefully dealt with.
While the mayor faced many tough questions, especially from Young, he also received a number of kudos, especially from city-based Democratic legislators, like Senator Liz Krueger of Manhattan, who said that you wouldn't know from many of the questions that the city is actually doing quite well.
Later in the day, de Blasio met for an hour with the governor to discuss how to resolve transportation and fiscal challenges in the coming weeks and months.
"It was a productive meeting, we talked about a lot of the same issues that came up in the testimony and, you know, hopefully we can all work together," de Blasio told reporters when he emerged from Cuomo's office.