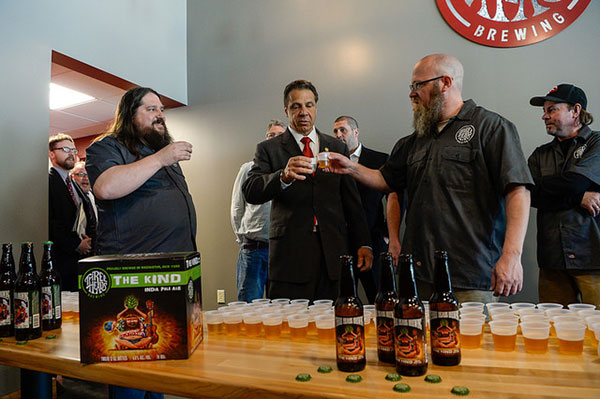 Gov. Cuomo at Three Heads Brewing in Rochester (via Governor's Office)
---
After years of efforts to help beer and other craft brewing businesses grow in New York, Governor Andrew Cuomo is tapping into the industry for an upcoming campaign fundraiser.
His re-election campaign is hosting a beer-and-wine-themed event next month at Midtown Loft & Terrace in Manhattan. Attendees likely can expect a festive atmosphere, plenty of brews — and a steep admission cost.
According to the invitation to "New York State Craft Tasting," tickets start at $1,000 a head (though there is $150 admission for "young professionals"), with $25,000 buying a 10-person "VIP" package.
The Cuomo campaign declined to answer questions about the May 10 fundraiser, billed as a "New York State craft beverage tasting." The campaign directed inquiries to the governor's office, which pointed Gotham Gazette back to the campaign. It is not clear which companies' drinks would be available, or if the selection would be contributed in-kind, but representatives of the state's brewing industry are expected to attend and donate.
The event comes after several years of regulatory changes and state investment aimed at helping beer businesses both large and small. Cuomo has been there – and the brewing industry has contributed to his campaign coffers – seemingly every step of the way.
"Once one of the largest producers of beer in the country, New York continues to lower the costs of business by modernizing laws and rolling back red tape to restore the Empire State as the standing leader in the craft beer manufacturing industry," Cuomo said in a celebratory press release touting a record number of breweries earlier this year.
In 2016, the governor signed legislation that allowed alcohol sales to start earlier on Sundays, reduced application requirements for craft brewers, and cut down on fees for small wholesalers, among other measures. Prior to that, Cuomo championed moves like the creation of a special license for farm brewers to open up to five branches to sell their beverages anywhere in the state.
The governor has credited the policies for rapid growth of the craft brewing industry. As of February, the state had 400 breweries, an increase of 243 since 2012, according to his office, It says New York has more than 1,000 businesses licensed to make beer, cider, spirits and wine, triple the number of licensees in 2011. The office noted that the latest figures surpassed "the previous record of 393 breweries set in 1876."
Proposals leading to the 2016 legislation came from a Cuomo-organized working group that included the head of the New York State Beer Wholesalers Association. The trade association, which advocates for the state's biggest beer distributors, has given $132,062.90 to Cuomo's campaign coffers since 2008, according to campaign finance disclosure reports.
"He's been very supportive of our industry, and we support people who support us," Beer Wholesalers Association President Steven Harris said of the governor. "We're a highly regulated industry so we definitely have to partner with state government all the time."
While changes like expanded drinking hours on Sunday have helped members of the New York State Beer Wholesalers Association, Harris insisted that his group's campaign contributions were not an example of "pay-to-play."
"If someone is understanding of our industry and makes strides to make policy that doesn't hurt our industry as a whole, that's someone I want to support," he said.
Harris planned to attend the upcoming Cuomo fundraiser, saying, "If he's going to do it with a few beers, why not join him?"
The fundraiser comes with Alain Kaloyeros' trial on the horizon. The former head of the SUNY Polytechnic Institute is accused of rigging bids in Cuomo's Buffalo Billion development program to help companies that contributed to the governor's campaign coffers. Last month, longtime Cuomo friend and advisor Joseph Percoco was convicted of fraud and soliciting bribes from executives at companies seeking to do business with the state.
Craft brewing has played a central role in Cuomo's "Taste NY" initiative to promote the state's homegrown businesses. In November, the governor announced 250 events featuring beer, ciders, spirits and wine for the state's first "Craft Beverage Week." The governor has organized tastings and competitions, and frequently appears at breweries to highlight economic growth outside New York City.
"Taste NY" signs are also the source of a spat between the governor's office and federal regulators. Cuomo appears to have lost under threat of major fines to the state.
Above all, the governor has touted breweries as a source of jobs.
"New York's craft beverage industry is booming, and by cutting red tape to industry development, we have seen significant growth in the number of manufacturers supporting our local farms and spurring job creation across the Empire State," he said in a March statement.
The release did not specify the number of jobs that have come with the new brewing licenses.
But the governor has emphasized job growth when funneling state resources to brewers.
In 2015, he announced $2 million in state tax credits for Anheuser-Busch InBev as the beer giant planned to upgrade its facility in upstate Baldwinsville. The governor boasted the tax credits would help the transnational company keep 443 jobs in the state.
Campaign contributions from Anheuser-Busch InBev to Cuomo mark the largest sums any single beer company has given the governor. The brewer has contributed $150,000 to Cuomo's coffers since 2010.
Anheuser-Busch InBev did not immediately respond to a request for comment.
With more than $30 million reported in his war chest as of January, Cuomo receives the lion's share of his campaign contributions from much bigger sectors – like real estate and pharmaceuticals – than the state's brewing industry.
Still, brewers' contributions to the Cuomo campaign seem to illustrate a dynamic in which anyone whose business could be affected by the state may feel pressured to donate. And the upcoming fundraiser indicates that the Cuomo campaign targets industries the governor has helped with policy for campaign donations.
Harris rejected any suggestion of impropriety in Cuomo's fundraising. But he said, "Any campaign hires pro fundraisers...They constantly bug the hell out of you to contribute."
Cuomo has raked in contributions from numerous small- and medium-sized beer and wine interests since about 2008. They include: Manhattan Beer Distributors for $70,000; The Wine PAC for $64,597.10; Soft Drink and Brewery Workers PAC Local 812 for $61,000; and Empire Liquor Store Association: $22,500.
Gotham Gazette found contributions ranging from several hundred to several thousands dollars from 26 other beer, wine, and liquor businesses and interests.
Small breweries seem poised to gain political influence as their number continues to grow. More than two dozen have applied for hundreds of thousands of dollars in funding from the state's Regional Economic Development Councils. They are led by Cuomo appointees and dole out grants at an annual awards ceremony where Cuomo receives a hero's welcome.
The executive director of the New York State Brewers Association, which lists some 275 members, said the non-profit group has never felt pressured to contribute to Cuomo, noting, "The great thing about our industry is it's bipartisan."
But Paul Leone added that he encourages member breweries to contribute to politicians, and that he would like to form a political action committee "sometime in the near future."
The Brewers Association's current activities include an annual lobbying day, featuring a tasting, in Albany.
The group invites "staffers and legislators to come down and just taste some of the beer from the breweries that are there. They love our event," Leone said.
He added that he would like to attend the Cuomo campaign's May 10 fundraiser, though the Brewers Association hadn't been asked to participate as of last month.
"Governor Cuomo is leading the way," Leone said. "He's done so much for us."
The fundraiser drew criticism from Democratic rival Cynthia Nixon's campaign.
"I think most of us would agree that is an absolutely outrageous amount of money for a few beers," the campaign said of the event's tickets prices, writing in a fundraising email of its own. Nixon herself is about to host a birthday fundraiser on April 9 in Manhattan, with tickets ranging from $25 to $21,000 or above.
The March 23 message from Nixon's campaign asked for $3 donations "as a way of saying you have had ENOUGH of millionaires and billionaires buying elections."
Ben Brachfeld contributed research.