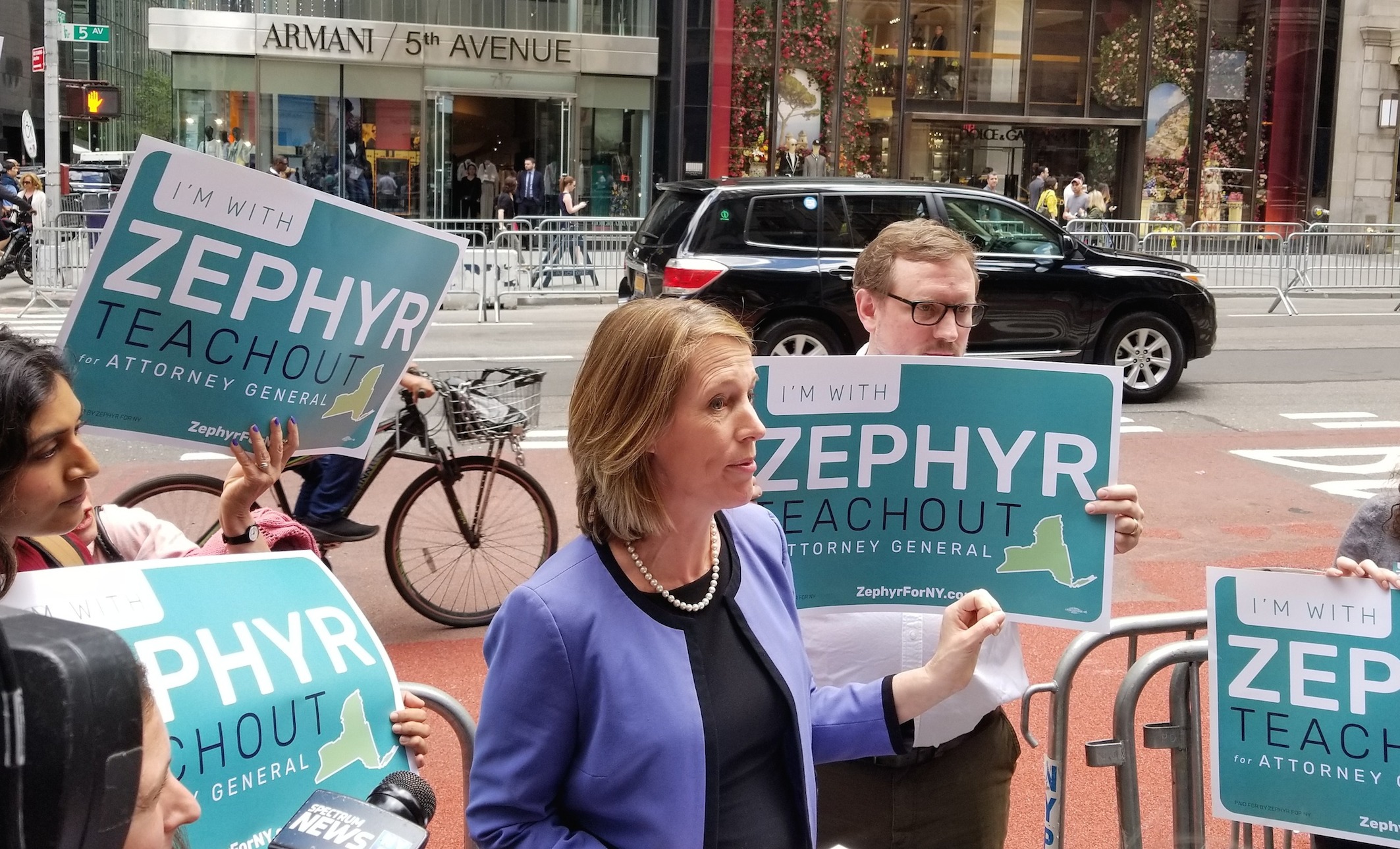 Zephyr Teachout at her campaign launch (photo: Ben Brachfeld)
---
Zephyr Teachout, Fordham Law professor and 2014 Democratic gubernatorial candidate, officially launched her campaign for New York State Attorney General on Tuesday near Trump Tower in midtown Manhattan, promising to take a hard line on the "unconstitutional" policies of President Donald Trump while also taking on corruption in Albany and on Wall Street.
The announcement capped off nearly a month of exploration and initial campaigning by Teachout after the post was suddenly vacated by Eric Schneiderman, who resigned in May amid allegations, reported by The New Yorker, that he had physically and emotionally abused four women.
Teachout, who stepped down from her post as treasurer for the Cynthia Nixon campaign for governor to run for attorney general, listed her top four priorities in seeking to become the state's top legal officer: "fighting Trump, taking on Albany corruption, fighting corporate scams and corporate monopolies, and spearheading the moral argument against mass incarceration," but she largely focused her kickoff remarks on how she plans to take on the president.
"I have been in the legal fight against Trump's lawless actions from the moment he was elected, and I am fully ready to lead that fight for the people of New York," Teachout said. "I will be relentless, independent, ethical, and swift, acting without fear or favor. I will use law as a sword, not just a shield."
In the wake of Trump's election, Schneiderman constructed a national reputation as a crusader against the Trump administration, suing the administration in court over such policies and actions as the Muslim travel ban, EPA regulatory rollbacks, and the inclusion of a citizenship question on the 2020 Census, to name just a few.
But Teachout says that Schneiderman did not do enough, and that he did not use the strong anti-corruption and anti-fraud laws at the disposal of the New York Attorney General to prosecute Trump personally at the state level for activities related to his businesses. She said she spoke with Schneiderman twice, asking him to join a lawsuit against Trump on the basis of the U.S. Constitution's Emoluments Clause, and the fact that the alleged crimes occurred in New York. She says that Schneiderman declined, and that he adopted a "defensive" litigation strategy instead of a more aggressive one targeting Trump personally.
"New York, which should have been the lead on a parallel suit, did not bring a case," Teachout said.
Trump has controversially declined to divest from his businesses as president, raising constitutional questions due to foreign investment involved in his business empire, which includes real estate holdings in numerous countries. Teachout hopes to obtain a court order mandating that Trump divest. "The president and his businesses are not above the law," she said.
"We will not wait to investigate. We will aggressively investigate violations of these laws and others," Teachout said, referring to the state level anti-fraud laws, "digging into every file cabinet, finding every report tacked to the back of a real estate filing, always being ready to use our full criminal and civil powers to protect the rule of law for the people of New York."
Teachout also differentiated herself in the Trump fight by saying she would go after New York real estate and finance, which she said was the "conduit" through which Trump was able to commit his alleged crimes.
"Trump's power didn't grow out of nothing," she said. "It grew out of New York finance and New York real estate. So investigating his real power, his businesses, means being ready to look under the hood at New York finance and New York real estate."
"It is through the Trump Organization, headquartered here in New York," she said, "that he has turned the presidency into a personal ATM, engaging in business deals aimed at funneling money from foreign governments into his own pockets. Here, he has turned our democracy into a kleptocracy."
Teachout officially joins a Democratic primary featuring Letitia James, the New York City Public Advocate, who has won the endorsement of the State Democratic Party, Governor Andrew Cuomo, and several labor unions, as well as Leecia Eve, a former candidate for lieutenant governor and advisor to Hillary Clinton, and, likely, U.S. Representative Sean Patrick Maloney, who is widely expected to enter the race.
The winner of the Democratic primary will face Republican Keith Wofford and other candidates from smaller parties in the general election.
The Working Families Party (WFP), the progressive third party that endorsed Nixon for governor, announced its intention to stay neutral in a primary involving James and Teachout, two candidates that the party has ties to. James, who won her first elected office on the WFP line, said soon after launching her campaign that she would not seek the endorsement of the WFP, which is locked in battle with Cuomo due to its endorsement of Nixon and the contemporaneous flight of Cuomo-linked labor unions from the party. The WFP hopes to give its ballot line to the winner of the Democratic primary and help that candidate win the general.
The gulf in policy positions between James and Teachout is also not as clear-cut as that between Cuomo and Nixon, and the campaign is in an earlier stage than the gubernatorial primary. Thus far, James and Teachout have avoided criticism of each other.
Teachout used the launch to bolster her credentials, highlighting her intimate familiarity with the law and her role in the Emoluments Clause lawsuit.
"Even before Donald Trump took office," she said during a question-and-answer session with reporters after her prepared remarks, "I was in the fight against his coming corruption and lawlessness. I helped build the legal team and was on the legal team that brought the lawsuit against Donald Trump three days after he took office. When I talk to New Yorkers, one of the things they tell me is they want New York to stand tall for the rule of law, to be the living counter-argument, and not merely to be defensive as this threat comes towards us."
Teachout's campaign rhetoric suggests that she would continue the recent tradition whereby the New York Attorney General's office is a bully pulpit from which to challenge entrenched power in both government and the private sector. Schneiderman and his two immediate predecessors, Cuomo and Eliot Spitzer, used the once sleepy office -- which has many less-headline grabbing responsibilities -- to loudly prosecute Wall Street and corporate malfeasance, and policies of the federal government that the office viewed as unconstitutional.
Teachout's tweets of late have suggested that she would do those things, and also focus on state-level crime in the capital. She has made it clear that she would pursue an anti-corruption agenda in New York government, attempting to root out what has been a pernicious problem.
A series of tweets by Teachout on Tuesday morning urged voters to "care about your State AG" if they care about climate change, workers' rights, "fraud, scams, and privacy violations," "the crisis of mass incarceration and law enforcement accountability," and if voters "want new, fearless 21st century trustbusting."
Teachout has twice lost elections in recent years. In 2014, she ran and lost the Democratic primary for governor to Cuomo, though she unexpectedly won 34 percent of the primary vote against the incumbent governor, despite having little name recognition, funding, or media coverage.
In 2016, Teachout, with the endorsement of Senator Bernie Sanders, ran for Congress in New York's 19th District, a seat being vacated by Republican Chris Gibson. Teachout lost to Republican John Faso in the general election, 54 to 46 percent.
Despite these setbacks, Teachout was taking on something of a role of progressive icon in New York elections before launching her attorney general campaign. She endorsed Nixon almost immediately after she launched her campaign, and she recently endorsed Alexandria Ocasio-Cortez for Congress in the 14th District. Ocasio-Cortez is attempting to oust Joe Crowley, the head of the Queens Democratic Party who has been spoken of as a potential future Speaker of the House. The two campaigns may also now be advantages as she attempts to win a statewide primary, given that she has built some name recognition with voters, an extensive campaign email list, and ties to a variety of Democratic clubs and organizations.
Teachout said that she hopes to run a grassroots-oriented campaign, with the campaign's "beating heart" consisting of volunteers. "In our first week, before I even announced publicly, we literally had thousands of contributions," she said.
And, Teachout is running for attorney general while pregnant, joining a number of women to do so in both this election cycle and past.
"As many of you know, I am in the middle of my first pregnancy," she said on Tuesday. "I have the future growing inside me, and with every kick I become more determined, and with every stretch I become more committed to fighting for freedom and justice."