Ben Max, left, of Gotham Gazette, and Jarrett Murphy, right, of City Limits
---
June 20, 2018 - Max & Murphy Podcast: A New Era at the MTA? with Nicole Gelinas, senior fellow at the Manhattan Instituteand and columnist at the New York Post.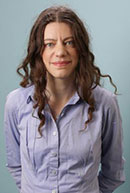 Are we in a new era at the MTA? With Joe Lhota one year on the job as chair and a new transit chief, Andy Byford, in place and out with a plan to modernize the signals, where do things stand? Has the Subway Action Plan had any effect? What needs to be done to really improve the subways and buses, and get New York City moving again? Nicole Gelinas is an expert on the MTA and other transit and infrastructure matters, and she joined the podcast just after checking out the June MTA board meeting to answer these questions and others.
Listen to the full conversation and let us know what you think -- we're on Twitter @TweetBenMax, @JarrettMurphy, and @NicoleGelinas. You can listen to the episode through the embedded audio below or download the episode wherever you get your podcasts.