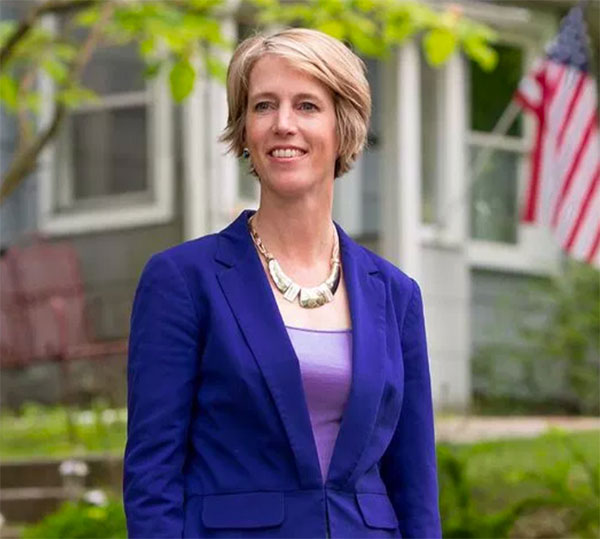 Zephyr Teachout (photo: zephyrforny.com)
---
Zephyr Teachout is set to cast aside a key question surrounding her candidacy for New York Attorney General. After filing the appropriate paperwork, reviewing the required "orientation" course online, and sitting for the necessary interview, Teachout will be sworn into the New York Bar on August 22.
Teachout, running in a four-way Democratic primary, is seeking to become the state's top legal officer. She has been licensed to practice law in North Carolina, where she did legal work early in her career, and has been teaching at Fordham Law School for a number of years, during which time she has also run for governor in 2014, run for Congress in 2016, and been a part of lawsuit aimed at President Donald Trump, alleging that he has violated the "emoluments clause" of the U.S. Constitution.
The process of becoming admitted to the Bar in New York was fairly easy given the arrangement between New York and North Carolina, but some critics and opponents raised questions about Teachout's law license in the early weeks of her campaign given that she was not licensed to practice law in New York as she launched her bid to become its top attorney. Bar admittance does not appear to be a legal necessity to hold the position of New York attorney general, but it does appear to be a practical necessity and a political issue.
"Zephyr has been a lawyer for 17 years, and taught law in New York for the past decade," said Teachout campaign spokesperson Cristina Gonzalez, in a statement to Gotham Gazette. "She has also been engaged in high level litigation, including appearing in the Southern District of New York last fall in the groundbreaking lawsuit against Donald Trump. Since New York and North Carolina, where she has been licensed for 17 years, have full reciprocity, the admission on motion process was very simple."
Teachout is running for attorney general promising to use the law "as a sword" as well as a shield for New York and its people, pledging to investigate and, when warranted, file litigation against Trump, his administration, businesses, foundation, and associates; as well as bad actors in the real estate and financial sectors, corrupt political figures, and others who may break the public trust and the law. The attorney general can file litigation to defend New York and its residents, and is also responsible for defending the state in legal proceedings and for enforcing a wide variety of laws within the state.
Teachout's competition for the Democratic nomination includes New York City Public Advocate Letitia James; Leecia Eve, a Verizon executive and former aide to then-Senator Hillary Clinton and Governor Andrew Cuomo; and U.S. Representative Sean Patrick Maloney. James, a former assistant attorney general under Eliot Spitzer and former public defender with The Legal Aid Society, has attempted to turn her relatively small citywide elected office into a law firm of sorts, hiring more attorneys and filing more litigation against the city than her predecessors in the ill-defined role of public advocate. Some of these efforts have led to reforms while several have been tossed due to a lack of standing, something James wants to see changed in the city's charter.
The winner of the Democratic primary will face Republican nominee Keith Wofford and Green Party nominee Michael Sussman in the general election. Wofford is currently on leave from his firm, Ropes & Gray, where he was "co-managing partner of the firm's 300-lawyer New York office," according to the firm's website.
The primary race among Teachout, James, Eve, and Maloney appears wide open, with polls showing James in the frontrunner position but most voters undecided. James has the backing of the State Democratic Party and Governor Andrew Cuomo, whom Teachout challenged in the gubernatorial primary four years ago. James' cross-endorsement with Cuomo has been a source of criticism for her given calls for the attorney general to be completely independent from the governor and to better root out public corruption given the scourge that continues to plague state government.
There is only a competitive Democratic primary because former Attorney General Eric Schneiderman resigned abruptly earlier this year amid allegations of domestic violence against multiple intimate partners. Then-Solicitor General Barbara Underwood became Attorney General and is serving out the final months of Schneiderman's second term. She has said she has no interest in running for elected office. The primary is September 13.
Asked what sets her apart from her competitors during a recent appearance on the Max & Murphy podcast from Gotham Gazette and City Limits, Teachout said, "One, for nearly 20 years I have been steeped in cutting edge law around anti-corruption and constitutional law, which is essential at this moment with the Trump threat and with our own corruption threat in New York state." She also listed a variety of areas where she has taken a stand and all or most of her competition has not, such as calling for the head of the state's main state government ethics body, the Joint Commission on Public Ethics, to step down.
Her application to become admitted to the Bar in New York does not appear to have been hindered by the fact that in 2005 Teachout was reprimanded by the North Carolina Bar for not having notified the court and her opposing counsel of her address change while she was still second chair for a client facing the death penalty, the type of legal work Teachout did in North Carolina. While finding that she violated the code of conduct, the Bar's grievance committee chose the middle of three sanctions, and, in its ruling, explained that Teachout had not impacted her client's case, nor had the client complained.
Teachout was recently notified of her acceptance to the New York Bar and summoned to appear on Wednesday, August 22 at State Supreme Court in Brooklyn to be sworn in as a member. The ceremony will consist of an oral oath and the signing of the "oath book" affirming it. "This is to comply with Section 466 of the Judiciary Law which requires every newly admitted attorney to subscribe and take the constitutional Oath of Office," reads a letter Teachout received.
[Listen: Max & Murphy Podcast: Attorney General Candidate Zephyr Teachout]
Note: this article has been updated with information about Teachout's 2005 reprimand by the North Carolina Bar.