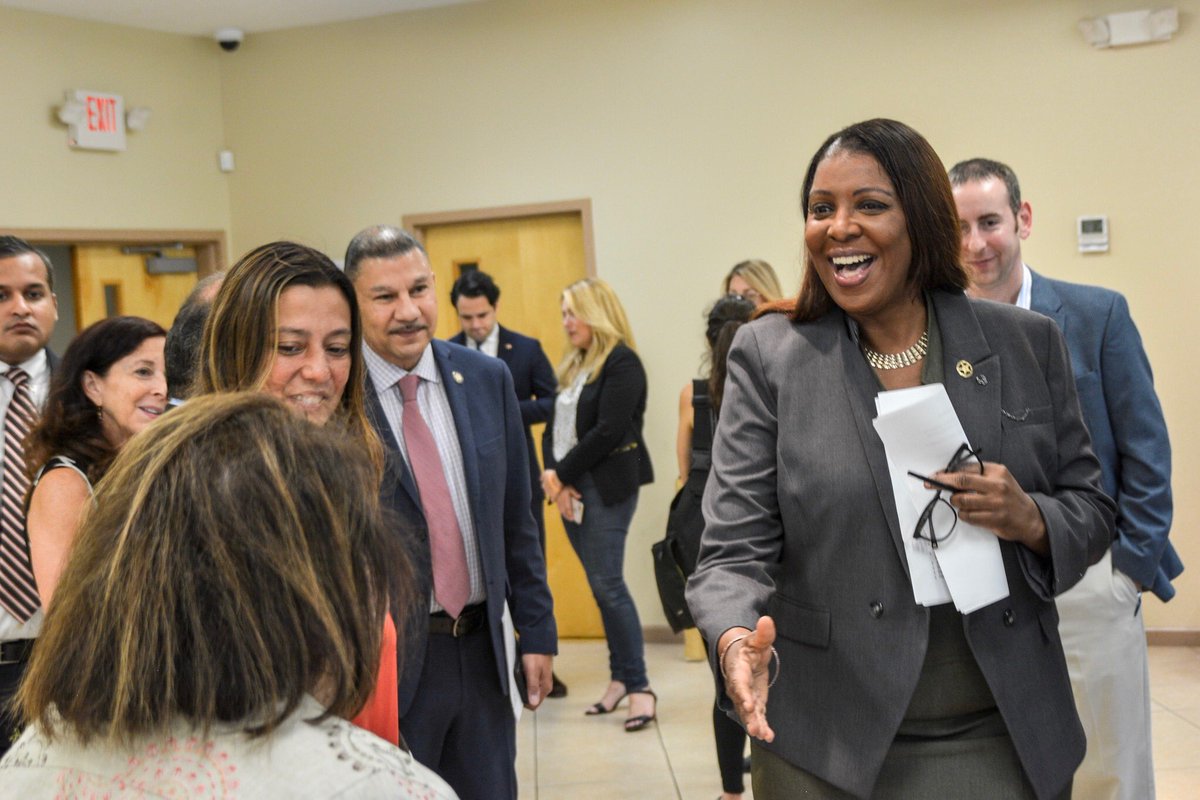 Letitia James (photo: @TishJames)
---
While initial polls show that many voters are too unfamiliar with their choices in the Democratic primary for Attorney General to have a preference, Public Advocate Letitia James has led the polling among those who do make a choice. The latest poll from Siena College, of Democratic voters likely to cast a ballot on September 13, has James at 25 percent, with U.S. Representative Sean Patrick Maloney at 16 percent, Zephyr Teachout at 13 percent, Leecia Eve at 4 percent, and undecided at 42 percent.
Though there are questions about the reliability of polls, especially a small number of them and in the current political environment with many newly-engaged potential voters, James does appear to be the frontrunner in the race, in part due to her support from the State Democratic Party and its leader, Governor Andrew Cuomo, as well as many other elected officials, labor unions, and Democratic clubs.
But James says she is running like it is anybody's race, as it just might be, and in doing so she has expressed her views on wide range of topics, often when asked by journalists during interviews or press conferences, but she has also proactively released several campaign policy platforms, the most recent on criminal justice reform. James has also put forth detailed plans on reproductive rights, gun safety, workers' rights, sexual harassment, and gender equity.
"As you know, we've stretched the boundaries of the office of the Public Advocate, and we're gonna do the same in our role as Attorney General," James said on an episode of the Max & Murphy radio show on WBAI last month, saying that she would use the office as a check against corrupt public officials and to protect the rights of marginalized individuals threatened by the Trump administration.
While the powers of Attorney General are largely upholding the laws of the state and defending the state in lawsuits, officeholders set many their own priorities and often pursue changes to state law through legislation.
On criminal justice, James said that she would seek to "expand and codify" the Attorney's General's status as special prosecutor responsible for instances of police killings of civilians. The current power was granted by Cuomo through executive order.
In addition, James' platform calls for the governor to sign a bill creating a prosecutor misconduct commission, which has passed through the Legislature; repeal of the 50-a statute that allows the NYPD to hide the outcomes of officer disciplinary hearings; passage of discovery reform, and plans to push a statewide police body camera program -- James was a leading advocate for such a program in New York City, which is now being rolled out. Bail reform, a popular criminal justice reform plank that has been embraced by many Democrats, including Cuomo, was not listed in the announcement from James' campaign, but a spokesperson for James said that she supports eliminating cash bail.
The platform has won James the support of former New York Chief Judge Jonathan Lippman and the National Action Network.
Lippman said in a statement that James' package "is exactly what all candidates for Attorney General should be doing to ensure equal justice in our State."
James would not be able to implement any of these top-line proposals unilaterally, but rather would have to use her bully pulpit as attorney general to push them through the state Legislature and gubernatorial approval. One item of her criminal justice reform platform that she could implement unilaterally is a promise to have the Office of Attorney General abide by strict discovery rules, even if the Legislature doesn't pass such requirements into law as James is advocating.
"When too many feel the scales of justice are tilted against them, we must change the system," James said in a statement accompanying the policy release. "As the State's top law enforcement official, I will bring accountability and transparency to outdated systems in dire need of reform."
Criminal justice reform is also at the center of Teachout's campaign -- the two candidates have said the most about policy thus far, and most clearly outlined their visions for the office. Eve has also talked about criminal justice reform, while Maloney is just beginning to campaign in earnest.
James' workers' rights platform is one where she would have a great deal of power to act unilaterally as attorney general. It includes the creation of an "arbitration review team" to litigate on behalf of workers barred from suing their employers due to forced arbitration agreements. James also says in the platform that she would target companies using contracts that include non-disclosure agreements and non-compete clauses, and would also use the office of Attorney General to combat sexual harassment, enforce equal pay laws, combat "gender wage discrimination," and defend immigrant workers.
She would also sue companies that engage in wage theft, "aggressively" police "wage violations on public contracts," and investigate "worker misclassification."
James has also pledged to take legal action against individuals or groups who block access to abortion clinics or other reproductive health care facilities. She also said she would investigate "pregnancy crisis centers engaged in fraud," employers who commit "workplace pregnancy discrimination," and employers who attempt to skirt the Affordable Care Act's birth control mandate.
"I will use every tool at my disposal as Attorney General to protect the right to reproductive healthcare, taking legal actions, launching investigations, and fighting for the right to choose," James said in a statement. "Reproductive health care is a fundamental right, and as Attorney General, protecting this right will be one of my top priorities."
James would investigate the National Rifle Association, she has said, claiming that its status as a charitable organization is dubious. She also says that she would investigate arms dealers and securities fraud among gun manufacturers, while creating a new interstate coalition to fight gun trafficking along the east coast.
James' platform includes the creation of a "wage discrimination task force" to conduct audits and probes into companies committing wage discrimination, and using the "framework created by the Weinstein Company litigation" to sue companies with a "culture of abuse."
Otherwise, the agenda would require James to work with the state Legislature. If the state Senate flips to the Democrats in November, this would likely be far easier, given certain Democratic control of the Assembly and likely Democratic control of the executive branch. But if the Republicans maintain control of the Senate, then much of James' platform, which has passed the Democratic Assembly but failed in the Senate in the past, will likely gain little traction.
In keeping with a theme of the attorney general race that involves Donald Trump, James has said that she would push the Legislature to close New York's "double jeopardy loophole," which would allow the state Attorney General to prosecute individuals pardoned by the president at the federal level for crimes committed in New York State.
Asked about other areas where James plans to release detailed policy proposals, a campaign spokesperson declined to provide any examples.
James and her three primary opponents appear to a agree on many things, though just five weeks from primary day it is becoming more clear what each says she or he would focus on if elected. Zephyr Teachout has placed greater emphasis in her campaign on using the attorney general's office to pursue litigation against Trump, while James has increased some of her rhetoric around going after the president -- likely a popular stance to take in a Democratic primary -- and placed somewhat more emphasis on intra-state concerns. Teachout has also said that she would target corporate monopolies, the real estate industry and financial institutions, and Albany corruption.
On the latter topic, corruption in state government, Teachout also appears to be the most aggressive candidate in the race, frequently citing her expertise on government corruption and past calls for reform, including when she ran against Cuomo in the 2014 primary. James has pledged to be an independent attorney general if elected, but she has been reticent to criticize Cuomo, especially related to corruption in his economic development programs, which has been at the center of two recent corruption trials that ended in guilty verdicts. She did recently tell WAMC's Karen DeWitt that Cuomo should not have prematurely shuttered his Moreland Commission to Investigate Public Corruption, and she has called for reforms to JCOPE, the state's much-maligned ethics watchdog.
Teachout, who has cross-endorsed with Cynthia Nixon, has faced some of her own questions about independence in the event of wins by the pair, and will face many more if she and Nixon are victorious in their Democratic primaries.
The other Democratic candidates, Rep. Maloney and Eve, do not have official policy documents on their websites, though both have discussed policy areas on social media and in media interviews. Eve, for example, has talked about the need to uphold and enhance voting rights, while Maloney has thus far focused on combating Trump.