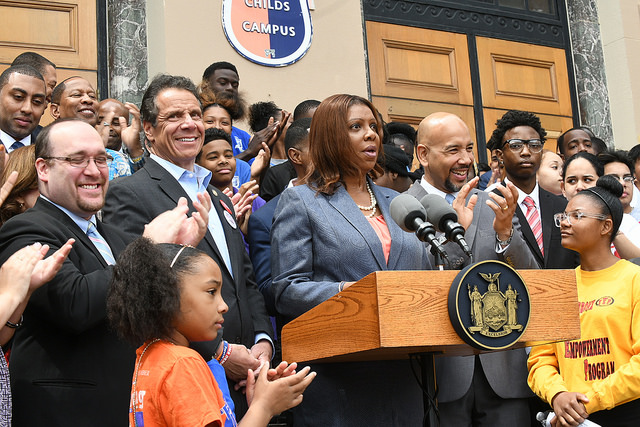 Cuomo & James (photo: The Governor's Office)
---
New York City Public Advocate Letitia James is performing a balancing act as she runs for state Attorney General, at once cross-endorsing with Governor Andrew Cuomo, a fellow Democrat seeking a third term, and accepting his fundraising support, while also attempting to convince skeptical voters that she would be sufficiently independent if both are victorious this fall.
After the shocking resignation of Eric Schneiderman amid domestic abuse allegations and James' decision to run for attorney general, Cuomo quickly backed her, and she embraced his support and that of the State Democratic Party that he controls.
Given several other key facts -- the attorney general's role as a popularly elected statewide official responsible for upholding the law and rooting out certain violations of the public trust, the rampant corruption in New York state government, including among former Cuomo aides, Cuomo's efforts to raise funds and other support for James, and the governor's reputation for overpowering other elected officials -- James has repeatedly faced questions about independence.
"I stand before you in the spirit of Shirley Chisholm: I'm unbought and unbossed," James recently told Gotham Gazette, after a press conference at which she was endorsed by most of the women elected to the City Council. "And all throughout my career I've been independent and despite the innate, the sheer nature of who I am, and just based on my background, coming from Brooklyn, a humble woman, a woman of color, I'm someone who has been counted out but consistently has overperformed. I'm not beholden to anyone. All I'm beholden to is a simple concept and that's called justice."
James' competitors in the Democratic primary for attorney general -- Rep. Sean Patrick Maloney, Zephyr Teachout, and Leecia Eve -- have each made a concerted effort to highlight the fact that they are not the state party- and Cuomo-backed candidate, while promising to pursue corruption in state government and be an independent voice if elected attorney general. They all also acknowledge that the attorney general must work closely with the governor on a lot of the office's work, given that the attorney general defends the state against lawsuits and also files litigation on behalf of the state, often in conjunction with the governor. The winner of the Democratic primary will face Republican Keith Wofford and minor party candidates in the general election.
Though she has been careful not to criticize Cuomo, James is also promising to pursue bad actors in state government if elected attorney general, even if they are in the executive branch.
"If state officials step over the line, I will not hesitate to prosecute," James said on a recent episode of the Max & Murphy podcast. "If I disagree with a state action, I will make that abundantly clear. I'll make sure that the laws of the state of New York are enforced."
And James has not shied away from Cuomo's backing. "He is of the opinion that I am in a position to get things done and I have gotten things done," she said when asked about their mutual support. "So, there is no quid-pro-quo, and there is no allegiance or loyalty to anyone. The only loyalty that I have is to the rule of law." When asked to explain her endorsement of Cuomo, she first cited his leadership in helping Puerto Rico recover from Hurricane Maria (James recently joined Cuomo on a relief trip to the island), and mentioned his work in regards to marriage equality, economic development, women's advocacy, and workers' rights.
Meanwhile, corruption scandals have plagued Cuomo's economic development programs, including two trials this year that ended with convictions of officials Cuomo had empowered. There has also been a series of corruption convictions of other state officials, including many state legislators, before and during Cuomo's tenure. Cuomo ran for governor in 2010 promising to clean up state government, but has not accomplished that lofty goal.
When asked if Cuomo bears any responsibility for the recent malpractice that's been exposed among his aides and donors, James stopped short of blaming him. "It really speaks to a larger issue and that is reform," she said on Max & Murphy. She recommended reforming the state's procurement process and creating checks and balance on mega agencies, both public and private. In a different interview, James recently said Cuomo should not have shut down the Moreland Commission to Investigate Public Corruption that he ended prematurely in 2015.
Maloney, who represents a Hudson Valley congressional district, has also endorsed Cuomo for reelection, while Teachout has endorsed Cuomo's primary challenger, Cynthia Nixon, and Eve has said she is staying out of the gubernatorial primary.
Maloney's campaign declined to provide comment for this article about his support for the governor, but in March, Maloney released a statement that urged Nixon not to run against Cuomo, citing his support for Cuomo's work on LGBT rights in the state of New York, including passage of marriage equality, which led to Maloney and his husband's vows.
"We must remember that Governor Cuomo took on the marriage equality issue when few politicians dared broach the subject," Maloney said in the statement. "He was full-throated in his support and unabashed in his efforts, often to his political detriment. That's called leadership."
"We should not have intramural contests that only aid Republicans," Maloney also said in the statement, urging a unified Democratic front in the Trump era.
But even given his support for Cuomo's re-election, Maloney insists he would be an independent attorney general whether or not Cuomo is given another term. He's also said James is "running a campaign that is propped up by insiders and the political machine," as he told City & State NY. "That's her race. My race is not to rely on the governor's fundraising or the endorsements of Albany insiders or political bosses," Maloney added.
"I think that is a losing strategy, and it is a terrible message right now when the Democratic Party voters I talk to want the Democratic Party blown up and rebuilt," he continued, eventually saying that voters "don't want somebody picked because of somebody else's political agenda or some inside deal," in apparent reference to Cuomo.
Acknowledging his endorsement of Cuomo and saying he's been "a good governor," Maloney said, "But I don't think he should pick the attorney general. Let me ask you this: How is an attorney general going to look at the Buffalo Billion if you're in Andrew Cuomo's back pocket? So I think what this state deserves is someone with real independence and an independent ability to get elected and do the job."
Meanwhile, Teachout's bid for the attorney general's seat comes after she stepped down as Nixon's campaign treasurer this past May in order to run.
During her own appearance on Max & Murphy, Teachout said that, if elected attorney general, she would treat whoever wins the gubernatorial race the same. "You need to also have that independence because the attorney general's office can't be either perceived as or be an arm of the executive branch," she said. "So, I'm not concerned about a smooth operation."
Teachout has additionally centered her run for attorney general by eyeing both the Trump administration in Washington and Cuomo's conduct in Albany, which she has criticized since she ran against him in the 2014 gubernatorial primary. "I think that's very important not to be alleging crimes, but there's no question that there's a culture of corruption in Albany and that Andrew Cuomo has both promised to do something about it in 2010 and not only not done something about it, but encouraged instead a culture of secrecy."
She said Cuomo has concentrated too much power.
Eve, meanwhile, has said she is not endorsing in the gubernatorial primary between Cuomo and Nixon.
"I am running, not as an endorsed candidate, not as the party candidate, but as an independent voice for New Yorkers," said Eve on a recent episode of Max & Murphy. "And without question, [I] would prosecute corruption wherever I would find it, regardless of what administration or what person engaged in it."
Eve, most recently a Verizon executive before taking a leave to run for attorney general, previously worked for Hillary Clinton, Joe Biden, and Cuomo, including overseeing the governor's economic development programs, some of which became embroiled in the aforementioned corruption scandals (Eve was not at all implicated).
"I'm focused solely on my race and not engaging in others," Eve said on Max & Murphy, "and I'm very proud, frankly, that I am not the endorsed candidate."
***
by Chelsey Sanchez & Ben Max