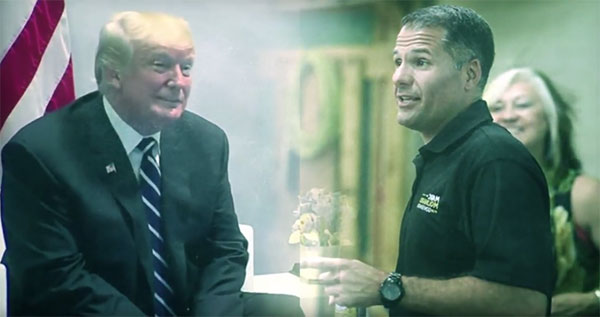 Screenshot of Cuomo campaign ad
---
In two advertisements issued this week, Governor Andrew Cuomo's campaign went after Republican gubernatorial nominee Marc Molinaro, comparing the Dutchess county executive to President Donald Trump and alleging that he has participated in pay-to-play politics, with both ads full of accusations that Molinaro and his campaign vehemently denied.
Molinaro's campaign aimed to disprove Cuomo's accusations, which came just a few weeks before the state primary election, in which Cuomo is being challenged by Cynthia Nixon, and hardly a week after Molinaro released his own TV ad disparaging the governor for corruption scandals shrouding his administration. Nixon and Molinaro have been levying some of the same attacks against Cuomo.
In an email to members of the media, the Molinaro campaign confronted Cuomo's allegations, comparing the "fabricated" nature of the first advertisement, which ran on Facebook and New York television networks, to being "as egregious as Russian disinformation campaigns."
The first ad, which ran last week, juxtaposes pictures of Molinaro to those of Trump while a voice narrates, "Donald Trump is attacking New York, our values and rights. And now his puppet Marc Molinaro is running for Governor." As the video ticks off Molinaro's alleged opposition to women's reproductive rights and marriage equality, his "A" rating from the NRA, his support of Trump's new tax plan, and his refusal to release his own tax returns, it also checks off boxes for both Trump and Molinaro on being, among other things, "Anti-Choice" and "Anti-LGBTQ Rights."
But, Molinaro's campaign holds that this information is largely inaccurate, and well beyond the norms of forgivable political messaging that may bend the truth.
Molinaro argues he is no "Trump mini-me" as he has repeatedly said he did not vote for him in the 2016 presidential election, as Gotham Gazette and other news outlets have previously reported (Molinaro says he wrote in former Rep. Chris Gibson). On the other hand, the Molinaro campaign raised the point that Cuomo has accepted over $60,000 in past donations from Trump while Molinaro has received no donations from the president in this campaign. Yet, Molinaro does appear to share a number of broader principles with the president of his own party, and when asked he has provided few specifics in terms of differences with Trump or reasons why he did not vote for him.
On the issues of reproductive rights and marriage equality, Molinaro has repeatedly said that he sees both as settled law and he would not be looking to overturn or repeal anything. For example, in a prior interview with Gotham Gazette, Molinaro said on abortion that he believes in "preserving life [...] but I accept that there are certain situations where individuals need to be able to make that decision, but I also accept that this is settled law in the state." And, although he voted against same-sex marriage during his time in the state Assembly, Molinaro has said that his position "evolved," as did the positions of heralded Democratic politicians such as President Barack Obama, Hillary Clinton, and even Andrew Cuomo.
"If the language in the ad were accurate," the Molinaro campaign email states, "Andrew Cuomo opposes marriage equality." Additionally, while Molinaro has previously received "A" ratings from the NRA, his campaign alleges that he doesn't have a current rating and that he also refuses to take NRA campaign contributions. At the same time, Molinaro has continued to criticize Cuomo's gun-control SAFE Act, and appears open to tweaking it if elected. He does not regularly bring it up as a campaign issue, however.
When it comes to the accusations of acting as a "Trump mini-me" and supporting Trump's tax overhaul that Cuomo has vehemently opposed, Molinaro's campaign cited reports in which he criticized the recent federal tax changes and that recognize his own tax returns release. "I for one won't support a tax plan that finances a tax cut for Roy Moore's Alabama on the back of middle class New Yorkers," wrote Molinaro in Hudson Valley Press. Although Cuomo's ad accuses Molinaro of refusing to release his tax returns, the ad itself references a WXXI story that acknowledges that Molinaro and his wife released their tax returns for 2017, although Cuomo challenged Molinaro to release his tax returns for the past 10 years, a gesture the governor called "basic transparency" and that Molinaro seemingly eschewed.
"Andrew Cuomo's ad is every bit as dishonest as what the Russians ran on Facebook's networks in 2016 and beyond," said Katherine Delgado, a spokesperson for Molinaro's campaign, in an emailed statement. "Facebook's credibility is on the line here; it needs to check the false Cuomo smear ad against the actual facts of Mr. Molinaro's record and make a determination on whether to keep Mr. Cuomo's misinformation on its platform."
The Molinaro campaign officially filed a complaint with Facebook on the Cuomo ad, citing it as a false news story, according to Delgado. Facebook did not respond to Gotham Gazette for comment on any review of the ad that might be underway.
The second Cuomo advertisement, which aired on Tuesday, paints the Dutchess county executive as a participant in pay-to-play politics by highlighting more than $5,000 in campaign contributions from county contractor Tinkelman Brothers Development Corporations, which subsequently received hundreds of thousands of dollars in tax breaks from the county and hired Molinaro's wife, Corinne Adams, as the company's director of marketing. The ad also reiterated that Molinaro has yet to release his tax returns for the time he was a state Assembly member.
"Return the dirty money and come clean. What are you really hiding?" the ad asks of Molinaro.
In response to the most recent advertisement, which has an ad buy in the six figures according to the Cuomo campaign, Molinaro called Cuomo "a classless buffoon who chooses to attack a woman who is six-months pregnant and no longer works at the company he is referring to," in a phone interview with the Daily News. "I really suggest to Andrew that he stick with me, because my wife is way out of his league," he said.
"Hello, kettle? It's the pot," Molinaro told the Daily News in response to the pay-to-play allegations, attempting to remind anyone interested that Cuomo has been the subject of a number of pay-to-play allegations.
"Like Donald Trump, Molinaro is the king of cheap shots — but when it comes to any scrutiny of his record, he has a full-blown meltdown," said Cuomo campaign spokesperson Abbey Fashouer in an emailed statement. "These are the facts: Molinaro has been busy taking the nepotism page from Trump's playbook and giving tax breaks to companies with county contracts. New Yorkers already rejected one Donald Trump – and they won't be played for fools by his mini-me."
Both of these advertisements come a week after the Molinaro campaign put out its own 30-second TV ad that framed the governor in the context of recent corruption scandals, which saw federal corruption convictions of Joseph Percoco and Alain Kaloyeros, two former top associates of Cuomo, as well as a guilty plea from former Cuomo ally Todd Howe and multiple Cuomo donors.
"Andrew Cuomo's top advisers are going to jail for stealing your tax dollars, and, now, he's under investigation again in another pay-to-play scam," a voice narrates in the ad, referencing an ongoing investigation of Crystal Run Healthcare, a healthcare company based in the Hudson Valley that donated $400,000 in campaign contributions to Cuomo and later received millions in state grants.
After its airing, the Cuomo campaign filed a cease-and-desist letter to the subsequent broadcast stations in an effort to have the ad, which the campaign reportedly called "false, cheap and nasty," pulled from the air. The Cuomo campaign alleged that it is false because Cuomo himself is not said to be under investigation. However, the ad concluded its initial run on August 22, according to the Daily News.