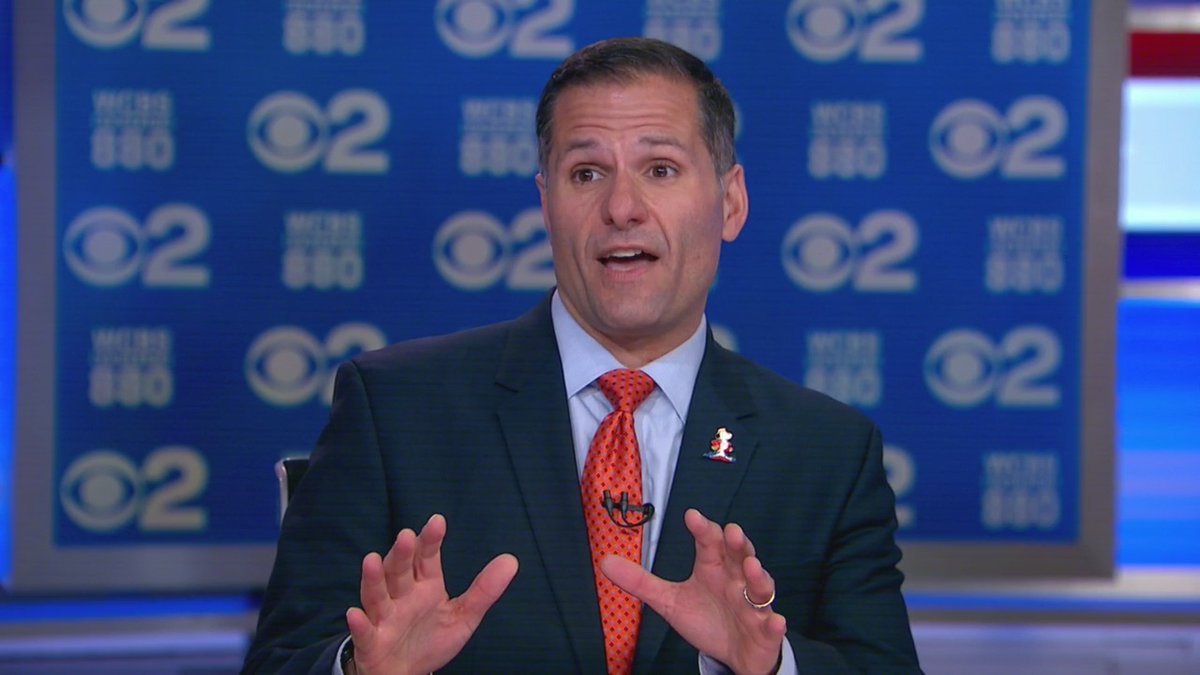 Marc Molinaro during Tuesday's debate (photo via @CBSNewYork)
---
Marc Molinaro, the Republican nominee for governor of New York, has long-insisted that he did not vote for Donald Trump in 2016, saying that he "had significant differences at the time" and decided to write in former Republican U.S. Rep. Chris Gibson for president.
As he's tried to straddle the Trump divide in the New York Republican Party and appeal to independent and moderate voters in an uphill quest to unseat Democratic Governor Andrew Cuomo, Molinaro has been hesitant to explain what exactly led him to shun Trump two years ago. On Tuesday, speaking with reporters after his debate with Cuomo, during which the incumbent repeatedly tied his challenger to the president, Molinaro at last revealed more specifically what had made him unable to vote for Trump, the Republican nominee at the time and party standard-bearer.
The father of a daughter with developmental disabilities, Molinaro said that Trump mocking a disabled journalist, Serge Kovaleski of The New York Times, during a late-2015 campaign rally was the tipping point.
Like virtually all Republican candidates running this year, Molinaro is regularly asked his opinions of Trump, and he has cited several areas of disagreement, while also saying he is ready to support or challenge the president as necessary to fight for New Yorkers. Molinaro has specifically mentioned Trump's "both sides" response to the white nationalist and response marches in Charlottesville, VA; the administration's child separation policy at the Mexico border; and the federal tax reforms that Trump signed into law and effectively raise taxes for many New Yorkers as three areas where he has disagreed with the president.
But all of those are since Trump was inaugurated. Until Tuesday Molinaro had never explained the specifics behind his vote for Gibson, who is now retired from Congress and the chair of Molinaro's campaign.
During the debate with Cuomo, hosted by CBS television and radio, Molinaro found himself on the defensive as the governor over and over again tied him to Trump, who has low approval ratings in New York. In one particularly stark exchange Cuomo repeatedly asked Molinaro "Do you support President Trump?" which the challenger refused to answer directly.
Molinaro attempted to get the moderators to move along, but Cuomo thundered away. Molinaro gave partial answers about calling it like he sees it and the impressive overall economy, and also repeatedly sought to turn the tables, pointing out past ties between Cuomo and Trump, who has donated more than $60,000 to Cuomo over the years and appeared in a video at Cuomo's bachelor party (Molinaro has cozied up to the Trump family more recently, as City & State reported this week).
Curiously, Molinaro did not offer debate viewers and listeners the fact that he did not vote for Trump in 2016, perhaps indicative of the delicate balancing act he's trying to perform in appealing to the millions of Trump voters in New York and many independents and moderates who disapprove of the president but may be willing to choose someone other than Cuomo.
When he appeared with a group of reporters covering the debate afterward, Gotham Gazette asked Molinaro why he did not offer that piece of information during the debate, as he has during a number of interviews and press conferences throughout his campaign for governor.
"I wasn't willing to allow the governor to dictate my answer to that question," Molinaro said, referring to when Cuomo repeatedly pressed him to explain whether he supports Trump, the governor's own question, not one from the moderators.
"Listen," Molinaro went on, before pausing to collect himself and continuing with his voice cracking at times, "I don't know if the president meant it during the presidential campaign, I don't know it, but when he acted out in a way that discredited a reporter who lived with a disability, I don't think it was his intention, but I've seen it before -- in fact as a kid I probably did it myself -- and as the father of a child with a disability I wasn't willing to put myself in the position of demeaning what my daughter goes through every day of her life."
Molinaro then took a question about what upstate voters may have gotten from the debate.
Asked another question about Trump, and whether he sees him as a net positive or net negative for New York, Molinaro was reminded by a campaign advisor to return the focus to his race against Cuomo.
"I'm running against Andrew Cuomo," Molinaro said. "As I have said and will repeatedly say: I want New York State to benefit from economic recovery, and to the extent that America now is the most competitive economy in the world, New York needs to benefit from that. But to allow this campaign to be about anything other than Andrew Cuomo's failure, his incompetence, and his corruption is a disservice to the people of New York."
[Read: Marc Molinaro and The Trump Question]