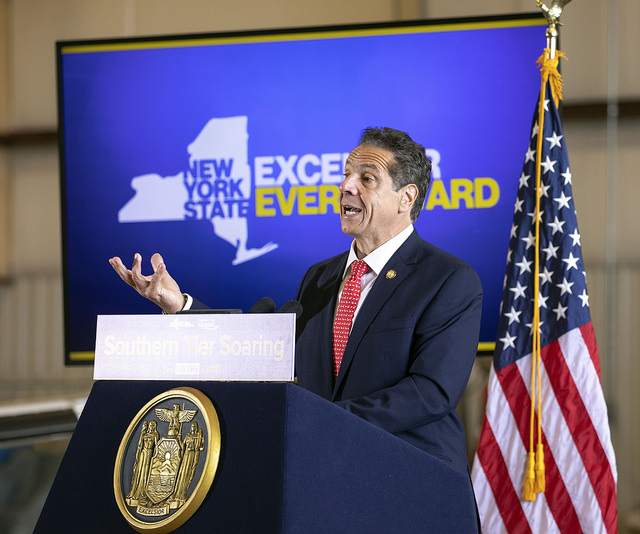 Gov. Cuomo (photo: Mike Groll/The Governor's Office)
---
This is part of AGENDA 2019, a joint Gotham Gazette-City Limits project
Find the rest of the series here
Governor Andrew Cuomo, a Democrat, was comfortably reelected to a third term on November 6, priding himself on having won a strong mandate from voters to carry out his agenda. But that agenda was far from clear during the campaign as Cuomo declined to articulate a cogent vision for the next four years and instead largely touted accomplishments from his first two terms in office and focused on fighting President Donald Trump and other Republicans in Washington, D.C.
At times, Cuomo also expressed support for broad progressive proposals that have languished under his watch for years, failures due to Republican control of the state Senate, he said, while campaigning for Democratic takeover of the upper chamber and thus entire Legislature, which occurred in convincing fashion when the votes were cast.
In the closing weeks of the election and in interviews afterwards, Cuomo has more directly laid out a policy roadmap and, with the state Senate soon to be in Democratic hands and an overwhelming Democratic majority in the Assembly, he will have even more ability than in the past to advance his priorities. On the other hand, the more moderate Cuomo may also have new battles on his hands with a Legislature controlled by his party-mates as opposed to the split control that allowed him to triangulate.
During two radio interviews that, along with his Trump-focused election night speech, made up his victory lap this past week, Cuomo asserted that his win margin and the help he gave to Senate candidates would give him more weight in Albany next year. "When you have a larger mandate electorally, the other elected officials know you've literally come into government with a stronger hand, and having a larger victory helps you governmentally, I believe that," he said in a WVOX interview with Bill O'Shaughnessy. "It's not determinative, but it does."
Ahead of the September primary, facing a spirited challenge from actor and education activist Cynthia Nixon, Cuomo said little about concrete ideas for a third term. But early indications are that he will likely move ahead on a raft of socially progressive bills while maintaining his centrist approach to fiscal and economic policy. "We are going to be the most aggressive state in terms of progressive measures and the most intelligent and aggressive in terms of economic development," Cuomo said in the WVOX interview, touting that he is able to be the best of both Democratic and Republican principles. As Cuomo suggested, most legislation will likely sail through both chambers of the state Legislature with ease. But there will undoubtedly be some issues that will prove divisive even among Democrats, particularly between suburban and upstate legislators on one hand and those representing New York City on the other, or between what legislative majorities get behind and what Cuomo prizes.
In the recent radio interviews, Cuomo spoke of several policies that he wants to advance immediately at the start of the legislative session in January, which will coincide with his annual State of the State address and Executive Budget presentation, setting out in much more concrete terms his priorities for the year. For now, Cuomo has highlighted measures including codifying new abortion protections into state law, passing voting and ethics reforms, expanded gun control measures, the DREAM Act, and the Gender Expression Non-Discrimination Act. During the campaign, appearing with state Senate candidates in Long Island, the Hudson Valley and New York City, Cuomo signed several pledges along those lines as well.
"[N]one of these things could get done with a Republican Senate," he said on WVOX. "We can now get them done with a Democratic Senate. And they are significant, they are issues that frankly have bothered me and a lot of other New Yorkers for years."
During Judge Brett Kavanaugh's confirmation proceedings to the Supreme Court, amid a national outcry over how it could affect abortion protections across the country, Cuomo promised to pass the Reproductive Health Act, which would codify the protections of Roe v. Wade, within the first 30 days of the legislative session. "I am going to do everything possible. I'm going to send up the bill as soon as the session starts," he told radio host Alan Chartock on The Capitol Connection.
He also pledged to push for voting, government ethics, and campaign finance reforms. Though he has benefited greatly from campaign donations from limited liability companies, which do not have to disclose their ownership and are used to circumvent contribution limits, he has repeatedly expressed support for closing the LLC loophole and has promised to prioritize that measure. He also said he would push to make legislative positions full-time, banning outside income, which he has attempted to leverage over the Legislature in the past when an outside commission was exploring pay raises for state elected officials. A new commission created by Cuomo and legislative leaders last year is due with binding recommendations in the coming weeks, meaning the conversation around reforms attached to pay raises will be ripe for the start of the year.
Cuomo has expressed support for a public campaign finance system in the past, as have Democrats in the Legislature, so it is expected that he will also work to enact such a system in the new session.
Following another election administration debacle in New York City, there's also expected to be quick movement on voting reforms, including establishing early voting and no-excuse absentee ballots, both items that Cuomo has pledged to advance. Cuomo even sought to fund a pilot program for early voting earlier this year, proposing $7 million in funding prior to the passage of the state budget, but the idea did not gain much traction, particularly among Senate Republicans.
Gun control has been a signature policy issue for Cuomo, who acted quickly following the 2012 Sandy Hook mass shooting to pass the SAFE Act in New York. He has proposed new measures for the next legislative session, including a Red Flag Gun Protection bill that would allow courts to order the seizure of guns from the homes of individuals deemed a safety risk to themselves or the public, and to prevent those individuals from purchasing any firearms. Cuomo attempted to pass the measure this year, launching a cross-state bus tour to advocate for it, but was unsuccessful. He's also pledged to alter the background check wait period for gun purchases from three to ten days.
Cuomo has also been vocal about passing the Child Victims Act, which gives victims of child abuse greater legal recourse when they are adults by expanding the statute of limitations to bring civil lawsuits against their abusers or institutions. The legislation has repeatedly failed in the Republican-controlled Senate while passing in the Democrat-led Assembly.
Other criminal justice reforms are also expected to be on the docket as Cuomo has pushed for bail and speedy trial reform. A bill to eliminate cash bail and Kalief's Law -- a speedy trial bill named for Bronx youth Kalief Browder who spent two years on Rikers Island without being convicted of a crime and later died by suicide after being released when the charges were dropped -- both passed the Assembly this year and would likely be approved by a Democratic Senate next year.
The governor prides himself on being a builder, in the vein of Robert Moses, and in two speeches ahead of the election to the Association for a Better New York and the Business Council of New York State, he touted his plan to invest $150 billion in infrastructure -- in state, local, federal, and private funding -- in projects spanning into his third term (he raised the estimate by $50 billion as he eyed the next four years and new investments). He pegged $66 billion to transportation projects and $32 billion to environmental facilities. The investments are meant to build on a $100 billion program that is already underway which includes modernizing airports, train and bus stations, and repairing and building bridges around the state. One essential goal of the coming years for Cuomo is figuring out funding for the Gateway project, the new tunnels to connect New York and New Jersey. Cuomo has recently pleaded with President Trump to return federal money to the table to fund half the project, with New York and New Jersey set to split the other half, after Trump had reneged on an Obama era commitment.
Environmental conservation issues are also on the governor's list and he has promised to advance his "Save Our Waters" bill to prohibit offshore drilling and exploration, and drilling infrastructure off the Long Island coast. Like on other issues, there are pending battles between Cuomo and legislators (and advocates) over environmental policy, including how quickly the state is moving to renewable energy and other efforts to take on climate change.
On the fiscal front, Cuomo, who prides himself on having passed eight on-time or nearly on-time budgets, has repeatedly vowed to continue the state's 2 percent property tax cap and to keep state spending increases from going beyond 2 percent each year. Though Cuomo has used some budgeting gimmicks to account for the 2 percent annual growth, which has at times really been closer to 3 or 4 percent, he is largely praised by fiscal watchdogs for his restraint. Tax rates will, as always, be a topic of discussion in Albany in 2019, and while Cuomo is likely to insist on little movement and Democratic legislators are already explaining that they do not plan to raise taxes, as has been the warning about them from Republicans, the parties will at least have to deal with whether to extend the expiring "millionaires tax" that Cuomo and a split Legislature have passed multiple times, while reducing other rates over the years. The state is facing projected budget deficits and the impact of federal tax reform is yet to be seen in full. Cuomo's initial attempts to mitigate the negative effects of the tax overhaul and, specifically, its new cap on state and local tax deductions from federal taxes, have not panned out.
Cuomo will likely also revive legislation for a speed camera program in New York City that lapsed in the face of Republican recalcitrance in the Senate. The governor and elected officials in the city implemented a workaround for the program which required an executive order but Cuomo has since promised to push the bill, which provides for cameras in school zones, through the Legislature.
There are several issues on which Cuomo might find himself at odds with one or both houses of the Legislature, even if there is widespread agreement on overarching goals.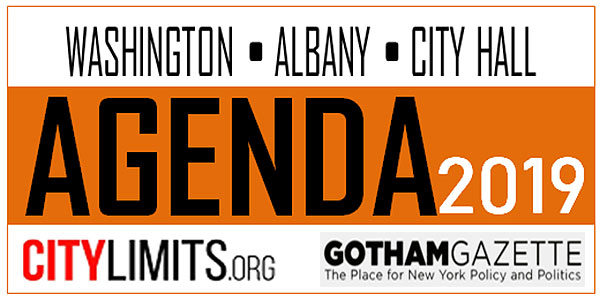 Cuomo has pushed for a comprehensive congestion pricing program to fund the MTA, arrest the decline of New York City's subway system, and reduce the clog of Manhattan streets. But Democrats, particularly in the outer boroughs and in suburban areas around the city, are far from unanimous on the proposal. Cuomo seemed to recognize these differences in appearances in early October on Long Island and South Brooklyn. In Long Island, he pledged to make the city "pay its fair share for the MTA," while at the Brooklyn event, he pledged to secure funding for the beleaguered transit authority through congestion pricing.
The fight for increased education funding occupies Albany each year and Cuomo has been criticized as failing to fully comply with the Campaign for Fiscal Equity court ruling that would require billions more in state funds being sent to struggling public schools (he and his administration argue that they are in compliance and due funds have been allocated). Several Democrats elected to the Senate this year made fair student funding a part of their platform and will probably push for increased funding for urban districts from the governor, who has insisted each year that his administration is funding schools at record levels. There may be a more vigorous discussion this year about the exact formulas used for state school aid.
Charter schools, privately-run public schools, are an additional aspect of that debate. Senate Republicans hold a more favorable position on charters and have clashed with Democrats in the Assembly over providing them with increased per-pupil funding, not to mention increasing the cap on the number of charters that can be awarded to start new schools. But Cuomo has long been a charter school champion, and the charter sector has also donated large sums of money to his campaign, as much as $130,000 in the days leading up to the election. Cuomo has repeatedly stated that he supports charter schools and has in the past done a great deal to ensure their growth. The charter cap will be a subject of negotiation in 2019, and it may again be tied to mayoral control of New York City schools, which is again set to expire next year.
Perhaps the most contentious debate in next year's session will come near the tail end when rent stabilization laws are set to expire. Real estate interests have been another particularly generous segment of donors to Cuomo, as well as to many state legislators, and though the governor has pledged to "protect and expand rent stabilization in New York City," he's likely to face strong lobbying and opposition from the industry. Within his own party, a slate of newly elected progressive Senators refused real estate donations when they ran for office and have promised to fight for stronger tenant protections and more affordable housing. As on many topics, the discussion among Cuomo and his fellow Democrats is likely to come down to how far they can agree to go as they move in a progressive direction.
While there will be a lot of like-mindedness in Albany come January, along with some of the contentious issues mentioned, there may also be more protracted battles over whether the state should move toward a single-payer health care system, legalize recreational marijuana, and provide driver's licenses to undocumented immigrants. There may also be conflict around Cuomo's economic development spending with regard to how much influence the Legislature seeks and whether the Democratic majorities demand additional transparency and accountability in how the money is spent.
In January, Cuomo will present his State of the State address, setting the stage for the year ahead. It remains to be seen how ambitious he will be with his party controlling the entire state government and with no Republican obstruction that he can scapegoat for any failures.
This is part of AGENDA 2019, a joint Gotham Gazette-City Limits project
Find the rest of the series here