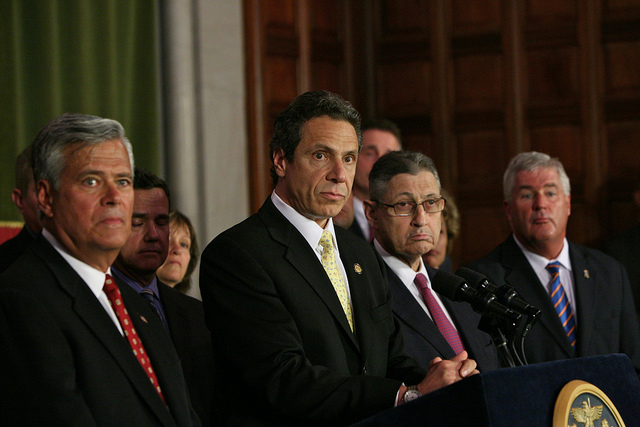 Skelos, Cuomo & Silver in 2011 (photo via the Governor's office)
---
This year's elections in New York saw the issues of public corruption and government ethics reform take centerstage in several campaigns. Insurgent Democratic candidates, some who succeeded and others who did not, challenged incumbent elected officials on their parts in the broken system of corruption prevention and ethics enforcement at the state level that has allowed -- some say encouraged -- rampant corruption and self-enrichment.
Much criticism has been levelled at the state's Joint Commission on Public Ethics, or JCOPE, a relatively young agency with a lackluster record of keeping watch on wrongdoing in state government. Since the agency's inception seven years ago, several sitting lawmakers have been indicted and convicted of public corruption. But in most, if not all, those cases, JCOPE seems to have sat idly by as other enforcement agencies eventually stepped in. JCOPE has brought enforcement actions for ethical violations against only two lawmakers in that time -- one in 2013 against former Assemblymember Vito Lopez and then in 2015 against former Assemblymember Dennis Gabryszak. The body does not appear to many as much of a deterrent or enforcer.
Now, with Democrats set to take full control of the state Legislature and legislative leaders signalling a renewed commitment to reform, there's talk of altering, or even repealing and replacing JCOPE, with some reform-minded legislators eyeing their new opportunity and even some relevant campaign season words from Governor Andrew Cuomo about making the ethics body more independent. Among them are Assemblymember Tom Abinanti, who wants to reform the agency's membership, and State Senator Liz Krueger, who has proposed eliminating JCOPE and creating an entirely new agency from scratch.
Good government advocates are pushing for a soup-to-nuts reimagining of ethics enforcement. At minimum, they say, there should be changes to how JCOPE commissioners are appointed and that the agency should be given more teeth. The best-case scenario? Do away with JCOPE entirely and replace it with an entity as close to completely independent of political interference as possible.
JCOPE was created in 2011 during Cuomo's first term, after he came into office promising to wipe clean the rot that had infected state government. Part of a deal with a hesitant Legislature, the agency was charged with overseeing lobbying activities and ethics violations by members of the state Assembly and Senate, the executive branch, dozens of state agencies, and candidates for elected office. It's composed of 14 commissioners who serve five-year terms -- six appointed by the governor and lieutenant governor, three appointed by the Assembly speaker, three appointed by the Senate majority leader, and one each appointed by the minority leaders in both legislative chambers. The governor also appoints the chair of JCOPE while its executive director is chosen by the commissioners.
To advocates, JCOPE's structure is plainly at the root of its problems. "The fundamental problem is, if you don't have independent enforcement of the law, it doesn't matter how good the laws are," said Blair Horner of the New York Public Interest Research Group. "While that's not a bumper sticker issue, it's not the sexy ethics issue to talk about, it is the critical one. The cornerstone of effective ethics enforcement is the independence of the agency that deals with it."
Advocates and reform-minded elected officials have argued for years that JCOPE commissioners cannot be expected to conduct robust investigations of the very institutions, entities, and individuals that appoint them. JCOPE's current executive director Seth Agata, a former aide to Cuomo, was a particular target of that criticism during the election. Cuomo's Republican opponent, Dutchess County Executive Marc Molinaro, repeatedly called on Agata to step down over having failed to adequately scrutinize the executive chamber, particularly after the corruption conviction of Joe Percoco, a former top aide to Cuomo, who was found to have used his executive chamber office while working on Cuomo's first reelection campaign.
In their only debate of the race, even Cuomo conceded that he would prefer to see a more independent JCOPE. "I believe we need more independence on JCOPE, I believe we need totally independent appointees and not necessarily representatives of both houses [of the Legislature]," he said. "I'd be open to a number of configurations, but they'd have to be independent. I'd have the attorney general involved; I'd have the chief judge involved in appointing the members."
As he often has, Cuomo indicated his belief that even getting the Legislature to agree to creating JCOPE was a significant lift, and he added that it provided an opportunity to push further, having cracked the door open.
In the Democratic attorney general primary race as well, Fordham Law professor and anti-corruption crusader Zephyr Teachout led the charge in calling for Agata's resignation, inflamed in part by JCOPE's investigation and subsequent clearing of Sam Hoyt, a former state economic development official who was accused of sexual harassment and assault by a woman who said he helped her obtain a job at the state DMV. Hoyt was previously a long-serving member of the Assembly and was also investigated for sexual harassment while in office, and was later disciplined for having an inappropriate relationship with an intern. He was recruited after that by the Cuomo administration.
Public Advocate Letitia James, who went on to win the attorney general seat, initially took a softer position on JCOPE but eventually too joined Teachout in calling for Agata to step down, as did Rep. Sean Patrick Maloney, who was also in the race. Former Verizon executive Leecia Eve, who worked with Agata in Cuomo's administration, was the only Democratic attorney general candidate not to issue that demand but did say that JCOPE should be scrapped and a new agency created from the ground up.
[Read: Agenda 2019: High Hopes for Long-Awaited Reforms]
There have been bills introduced in the state Legislature that would accomplish these goals. Earlier this year, Assembly Member Tom Abinanti, a Democrat representing parts of Westchester County, proposed restrictions to JCOPE's membership. His bill would prohibit an individual from serving on the commission if they had been a registered lobbyist, elected official, state officer or employee, or a legislative employee within the previous ten years. "We should ensure that no member of JCOPE is inclined to act preferentially for or prejudicially against any subject of a JCOPE inquiry," Abinanti said in a phone interview.
Abinanti said he was open to the idea of potentially scrapping the agency but said his bill was a necessary half-measure in the absence of broader action. "My bill is a more practical approach that, so long as we have JCOPE, we have to make some reforms and we need to make sure that the members of JCOPE do not have any relationships with the people who might become the subjects of their inquiry," he said.
The office of Assembly Speaker Carl Heastie, a Bronx Democrat, did not respond to a request for comment. Senate Democratic spokesperson Mike Murphy said, "There was much done by the previous majority in furtherance of Senate Republicans' partisan agenda and we expect to reform those inequalities to create more fairness," likely referring to the fact that the Senate Republicans will still maintain control of a majority of the chamber's appointments to JCOPE even after Democrats take the majority.
Good government advocates agree that, in the absence of a new independent agency, the Legislature should make fixes to JCOPE's problems, which are many. Besides the perceived conflicts of interest in appointments, the agency is notoriously opaque to the public. It does not release the details of investigations or even say whether an investigation has been initiated or concluded, for which it was recently sued by New York State Republican Party Chair Ed Cox. Its bizarre rules also effectively allow three Republicans out of the 14 members to block a majority vote for an investigation to proceed into a state elected official, said Alex Camarda, senior policy advisor at Reinvent Albany. The law mandates that the majority vote must include "at least two members appointed by the governor and lieutenant governor and enrolled in the individual's major political party, if he or she is enrolled in a major political party."
"That's probably the greatest flaw with JCOPE," Camarda said. And, owing to how the original JCOPE law was written, both parties also retain the number of appointments they can make even if they are not in the majority in a legislative chamber.
"There's tweaks and adjustments to the current structure or there's scrap the whole thing and start over," said Camarda. "The best practice is to start with a nominating pool from which elected officials choose and the candidates that are put into the nominating pool would be put there by an outside body like the City Bar Association or judges, people who are unaffiliated with the targets of ethics investigations."
Senator Krueger, a Manhattan Democrat, agrees with that sentiment and has proposed a state constitutional amendment to create that independent entity.
Krueger introduced a resolution, co-sponsored by Assembly Member Robert Carroll, a Brooklyn Democrat, at the tail end of the 2018 legislative session that would add a new article on state government integrity to the constitution. It would establish a New York State Commission on Government Integrity to take over the role currently played by JCOPE. The new commission would be made up of nine members -- two appointed jointly by the governor, attorney general and comptroller; five appointed by the state's chief judge and the presiding justices of the appellate courts; and one each by legislative conference leaders of political parties that are the top-two vote getters in the previous gubernatorial election.
Pursuing a constitutional amendment would also remove Governor Cuomo from the process. Unlike a bill that he could choose to sign or veto, the amendment would have to be approved by both legislative chambers in two consecutive sessions and then be presented to voters as a ballot measure.
"So do I assume [the governor] wouldn't like this? Yes, probably he wouldn't like this," said Krueger, who will be a powerful member of the incoming Senate majority. "He wrote the existing JCOPE language. I don't think that current model is working and I think we need to fix that...It's just not designed to do its job."
Krueger plans on reintroducing her resolution in the upcoming legislative session in January, with a few changes, which her office shared with Gotham Gazette, after consulting with the state's chief judge and attorney general's office. The earlier version allowed the commission to remove a legislator from office but the new version does not give the body that authority. Another revision allows the commission to give informal advice, which can then be used by an individual as defense in any potential future investigation.
The bill hasn't been discussed yet by Senate Democrats and Krueger said it isn't on the list of priorities for the conference as it meets this week to prepare for January. But Krueger is particularly optimistic that the Legislature will be under added public pressure after this election to move ahead on ethics reforms, both preventative and in enforcement. "I always have said, never waste a good crisis in government," she said, "and when people have serious doubts about the honesty and integrity of their government leaders, it is a serious problem for all of us."
She continued, "We depend on federal prosecutors to come in and play gotcha with us to finally get anything done. I'm not opposed to federal prosecutors playing gotcha, I just think the state of New York ought to have a system in place that can self-police, that can investigate, that can find people innocent when wrongfully accused and direct those, where there are findings of bad behavior and guilt, that those people be referred to the appropriate people in criminal justice."
Another area where JCOPE is thought to be unequipped is in examining allegations of sexual harassment, an issue brought into recent relief by the allegation of forcible kissing brought against Senator Jeff Klein by a former aide, Erica Vladimer. Not only is it unclear if JCOPE has the expertise to examine sexual harassment claims, but there is little transparency related to any investigation that may or may not be happening, nor clarity around whether an accuser is provided information about the status of an investigation.
JCOPE spokesperson Walter McClure declined to comment on the proposals put forward by Krueger and Abinanti. "Any decisions on changes to our enabling legislation or the laws that we have oversight over are up to the Legislature and the Executive," he said in an email.
It's unclear whether the governor will back these efforts. On government ethics reform he has a history of promising big but delivering small, something that has left critics wary. As Camarda noted, "The governor told the editorial board of the Daily News that he was going to put into place a database of [economic development] deals, which he could do via executive order or pass legislation. He has not done that." He also cited Cuomo's unfulfilled promise to restrict campaign contributions from vendors bidding on state contracts.
The governor also made promises to pursue campaign finance reforms, including closing the so-called LLC loophole, and has repeatedly emphasized banning outside income for legislators as a sweeping ethics solution, even when the corruption has touched his own inner circle, removed from the Legislature. He lauded the recent recommendations of a state panel that would give lawmakers a pay raise while severely curtailing the money they can make from outside sources. Cuomo has been less vocal, however, about the issues within his own administration as highlighted by the scandal-ridden Buffalo Billion economic development program.
The governor's office also did not provide any concrete proposals for reforming JCOPE when asked for comment. Hazel Crampton-Hays, a spokesperson for the governor, said in an email, "Governor Cuomo will continue to lead the fight on ethics reform to restore confidence in government, and we look forward to engaging with the new legislature to update and refine our laws and identify which new reforms will be most effective."