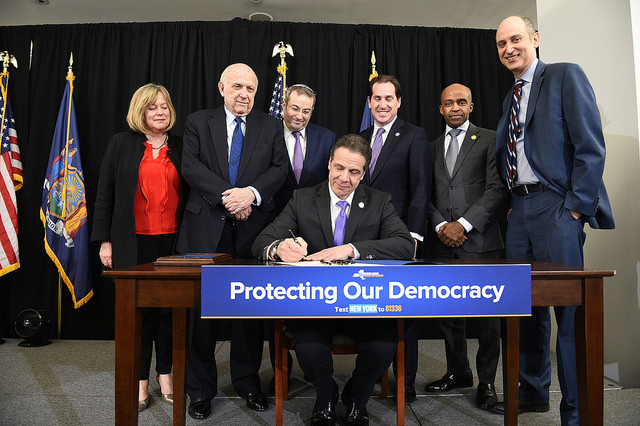 Gov. Cuomo signs legislation (photo: Kevin P. Coughlin/Governor's Office)
---
This is part of AGENDA 2019, a joint Gotham Gazette-City Limits project
Find the rest of the series here
The 2018 election cycle in New York laid bare the myriad failings of the state's political system that advocates and reform-minded elected officials have long recognized. Several candidates, many in it for the first time, ran competitive races on the backs of small dollar donors while highlighting the lax campaign finance laws that allow wealthy interests to fund campaigns across the state. Corruption in government and ethics reforms were salient issues, particularly so in the gubernatorial and attorney general races. In New York City, chaotic Election Day administration brought renewed scrutiny to the long mismanaged Board of Elections as well as the state's arcane voting and elections laws. And voters, for the first time in a long time, seemed to be paying attention to it all.
"There is a tremendous amount of demand for democracy reforms," said Sarah Goff, associate director at Common Cause New York, a government reform advocacy group. "The state Legislature has the unique opportunity, with the dramatic shift in landscape, to prove to voters that they got the message."
As Democrats won full control of the state Legislature and, yet again, the governorship on November 6, government reform advocates like Goff rejoiced. After years of legislative paralysis on their priorities -- aided in no small part by Republican obstructionism and abetted somewhat by lackluster Democratic commitment -- a slew of election, campaign finance, and other reforms now seem all but assured to pass in 2019 (though few are counting any chickens before they hatch).
Democrats who overwhelmingly controlled the Assembly have been approving measures for years that would open up elections, limit the power of big money, and create more accountability in government. The party now also controls the state Senate for the first time in nearly a decade and with a strong margin that is likely immune to the internal divisions that cost Democrats the chamber in the past. Democratic leaders -- Governor Andrew Cuomo, Assembly Speaker Carl Heastie, and newly-minted Senate Majority Leader Andrea Stewart-Cousins -- made concrete promises on the campaign trail and will no longer have any excuses for failing to follow through on professed priorities like early voting, lower individual campaign donation limits, and a public-matching campaign finance program -- among several others.
"The Governor will continue to lead the fight to strengthen our democracy and restore confidence in government by advancing additional ethics and voting reforms, including but not limited to closing the LLC loophole, restricting outside income, creating a full-time legislature, expanding financial disclosure requirements, and instituting early voting and automatic and same-day voter registration," said Hazel Crampton-Hays, a Cuomo spokesperson in an email. "We look forward to working with the Assembly and new Senate Democratic Majority to pass these critical priorities this session."
Most of the broad election and voting reforms that Democrats are promising are also backed by the new Fair Elections for New York coalition, comprised of 91 organizations including government reform groups, political clubs, labor unions, faith-based organizations, and grassroots advocates fighting for everything from immigration and tenant reform to environmental protections. It's an eclectic alliance that brings together both partisan and nonpartisan groups because, they say, they recognize that strengthening New York's democracy is the first domino in improving, on multiple fronts, the everyday lives of New Yorkers.
"The need for an overhaul of New York's voting and campaign financing system is apparent and well documented," the coalition members wrote in a letter sent Monday, November 26, to the governor and state Legislature. "It is inherently inequitable, unfair and allows an exorbitant amount of power to be concentrated in the hands of the very few wealthy and well-connected."
"I think this is going to be one of the most productive sessions in the history of New York State," State Senator Michael Gianaris of Queens, who will be deputy majority leader to Stewart-Cousins starting in January, told Gotham Gazette after an unrelated news conference in City Hall Park.
Still, pushing through a long list of reforms, some more controversial than others, will not be easy. There are many details to work out, and some politically contentious issues to decide, starting with whether legislators will get a pay raise for the first time in two decades, and whether there will be clear agreement on ethics reforms to accompany such a raise. While there seems to be widespread agreement on passing early voting, will partisan lawmakers take on restructuring the New York City Board of Elections, a move that would likely happen in spite of protests from local party affiliates? These are just a few of the many questions that face Democrats in state government, starting with the governor, as the 2019 session looms.
"This isn't just a moment that's happening in New York State," said Joanna Zdanys, counsel for the Democracy Program at the Brennan Center for Justice, which is part of the Fair Elections coalition. "I think that the election this November showed that democracy reform is a major priority in jurisdictions small and larger across the country, on the local level as well as the national stage."
Voting Reform
Voter turnout surged in New York in both the September primary and the November general. More than 45.6 percent of registered New Yorkers cast a vote on November 6, up from 33.2 percent in 2014, largely driven by a "blue wave" of Democratic voters incensed and energized since the election of President Donald Trump. But turnout has, more often than not, been anaemic in past elections. In the 2016 presidential, for instance, New York ranked 41 out of 50 states for turnout.
Advocates say these dismal numbers owe to "passive voter suppression" stemming from the state's outdated voting laws. New York is one of only 13 states that do not allow early voting, and registration and party enrollment deadlines are needlessly long, all serving to limit, intentionally or not, participation in elections.
There have been a few incremental efforts at the state and city levels to expand and protect the franchise, but larger reforms have been blocked by the Republican Senate while Democrats like Cuomo and Heastie have kept them on the backburner in terms of policies they've pushed to bring Senate Republicans along during annual compromises.
Governor Cuomo also signed an executive order in April restoring voting rights to parolees (Those on probation were already allowed to vote). The New York City Council pushed that measure further by passing a law mandating that individuals released from city jails be given a written notice about their voting rights and a voter registration form. The Council has taken other steps as well, expanding access to interpreters at polling sites in immigrant-rich communities.
Mayor Bill de Blasio attempted to leave his own imprint on the voting system by launching the DemocracyNYC initiative, which includes a ten-point plan to encourage more voters to register, to ease access to the polls, and to provide more transparency around lobbyist activities and civic education in city schools, among other measures.
A larger package of reforms that advocates want and that can bring substantive change has repeatedly failed in the Senate and when Democrats take the chamber in the upcoming legislative session in January, they have pledged quick movement on seeing at least some of them through. These include automatic voter registration, same-day voter registration, no-excuse absentee ballots, electronic pollbooks, shortening party (change of) enrollment deadlines (which are the longest in the country) and pre-registering 16- and 17-year-olds.
However, the first item that's likely to pass is early voting. Ahead of state budget negotiations this year, Cuomo proposed funding an 12-day early voting program and the measure did not budge. What many see as the pressing need to implement early voting was bolstered after the Election Day debacle in New York City, where higher turnout, a complicated ballot design, bad weather, aging ballot scanning equipment and a lack of preparedness by the city BOE together created long lines at the polls and frustrated voters and elected officials. Early voting, government reformers agreed, would have preempted those issues, though turnout was not so high that the system should have buckled under conditions that did not include the weather-ballot combination. Still, early voting, which exists in more than three dozen states, is also seen as an issue of equity and fairness, giving people the opportunity to vote on multiple days, which is especially relevant for those with little control of their work schedules, among others.
"I think there will definitely be a very clear consequential order to how things move and a clear cadence from where we sit and where the coalition sits," Goff of Common Cause said. "Early voting is a easy no-brainer, this can easily be done in the first 30 days. We are...very optimistic that this will happen very quickly."
Elections and Campaign Finance Reform
Earlier this year, in response to Russia's interference in the 2016 presidential election, the state Legislature passed and the governor signed the New York State Democracy Protection Act, which instituted new regulations for online political advertisements including disclosure of who purchased them and requiring the BOE to archive all online ads.
While those were lauded as important measures to provide more transparency in campaign expenditures, it's on the fundraising side that things remain opaque, and reformers say the state's laws need substantive improvement. A significant proportion of campaign contributions flow to candidates through limited liability companies, which are not required to disclose their owners and can help individuals and corporate entities evade limits on donations (which are already far too high, many argue). The LLC loophole is, perhaps, the most derided aspect of state elections and one that both Democrats and Republicans exploit, though it has most benefited Cuomo and Senate Republicans, two entities most friendly to real estate interests, which are often behind the creation of LLCs.
"Corporations shouldn't be allowed to buy elections," said Julissa Bisono, lead organizer at Make the Road New York, an immigrant-advocacy group and another Fair Elections coalition member. "Every year we are up in Albany fighting on housing, fighting on more funding for our schools and it's just been really difficult to pass legislation because big corporations are contributing money to these elected officials...so that they will block legislation that would affect low income communities, and communities of color."
Cuomo, the biggest beneficiary of LLC donations in recent election cycles, has repeatedly vowed to close it but did not put significant political capital into doing so, blaming Senate Republicans for blocking the legislation. Next year, that is expected to change as the governor has made it among his top priorities and Democrats will take control of the Senate having run on the issue.
Democratic control over both the Assembly and Senate also bolsters the odds of the state adopting a public campaign financing program, possibly similar to New York City's voluntary program that matches small dollar donations with public funds to help level the playing field for candidates. A pilot program for the state comptroller race in 2014 failed to gain any traction but there has been renewed attention in this last cycle to campaign financing and how it determines not only who is elected to office but what legislation eventually makes it through the Legislature.
"There is absolutely no excuse not to get rid of the LLC loophole and no excuse not to bring publicly financed campaigns to a vote," said Fordham Law professor Zephyr Teachout, in an email. Teachout unsuccessfully ran in the gubernatorial primary in 2014 and in the attorney general primary this year, both times emphasizing the need to tackle rampant corruption in state politics, starting with campaign finance reform. "If there are people out there who oppose publicly financed campaigns, we need to know now and be ready to primary them," she added.
There are other ways that New York can also tweak election management to encourage both turnout and efficient administration. This year, the state held two primaries, one in June for congressional races and the September primary for state races. Advocates have repeatedly pointed out that multiple primary elections both confuse voters and lead to fatigue, questioning why the state Legislature would spend more money on separate ones instead of consolidating them to be held on a single day.
The New York City BOE's election fiasco has also prompted calls for reforming the agency, which is funded by the city but is technically a state entity. The City Council and Mayor de Blasio have sought to improve the board's functioning by professionalizing its staff and reducing the influence of partisan appointees, though there is little enthusiasm even among Democrats for removing the county political parties from nominating BOE commissioners. The Board is under no obligation to heed the city's authority.
"We see it every election day, that the board of elections is in desperate need of reform," Gianaris said. "Once we have an elections committee chair which should be in the next couple of weeks, that should be something we focus on pretty aggressively."
Ethics Reform
Good government advocates are looking to the New York City Council as an exemplar of the types of reforms that the state Legislature should pass. In 2016, Council members voted to give themselves, and other city elected officials, significant pay raises. But at the same time, the Council banned almost all types of outside income for members, eliminated committee chair stipends, also known as lulus (which were open to abuse as reward and punishment and salary padding), and improved financial disclosure requirements.
"Albany should look to all the things we've gotten done in the City Council over the past five years," said City Council Member Ben Kallos, who previously chaired the governmental operations committee and helped lead the reform effort, "and it starts with no outside income, no more lulus, campaign finance reform...I believe that those three things would help clean up a lot of the corruption in Albany."
To the dismay of good government groups and activists, however, the governor and Legislature have repeatedly wrestled over ethics reform with little to show for it. Cuomo infamously came to power promising that he would clean up Albany but later shut down the Moreland Commission that he had set up to fulfil that very pledge in the face of a resistant Legislature that kept seeing its members hauled off to jail. The compromise Cuomo struck with the Legislature created the state-run Joint Commission on Public Ethics (JCOPE), which many have criticized for being an inefficient agency with too-close ties to the governor and legislative leaders, who appoint its members.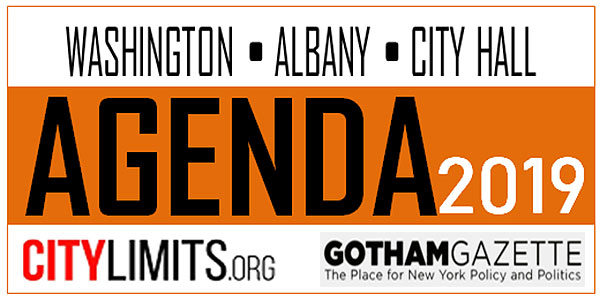 Democrats who ran for attorney general either called for scrapping JCOPE or restructuring it. Even Cuomo conceded, in his general election debate with Republican gubernatorial nominee Marc Molinaro, that he would like to see a more independent JCOPE, which oversees ethical behavior in state government. Cuomo suggested that there could be different ways its members are appointed, but did not put forth a concrete proposal.
And though he was initially silent when the state Board of Elections proposed new rules that could curb the powers of its own enforcement counsel, Risa Sugarman, who investigates campaign finance wrongdoing, the governor did criticize the BOE when the rules were later approved.
Cuomo has insisted, and reform advocates agree, that state legislators should work fulltime and that outside income should be limited or prohibited while financial disclosure requirements should be expanded. It was outside income that was central to the recent corruption convictions of former Assembly Speaker Sheldon Silver, a Democrat, and former Senate Majority Leader Dean Skelos, a Republican.
But the governor sought to convince the Legislature to pass those ethics reform by leveraging the work of a state commission created in 2015 to look at pay raises for state elected officials. Legislators have not received a pay bump since 1999 and Cuomo said they shouldn't unless they approved new reforms. That commission came to a contentious end with Cuomo's appointees effectively killing any chance of increasing compensation for legislators.
This year, Cuomo and the Legislature again empanelled a pay raise commission through the state budget and it has already been beset with troubles over the constitutionality of its composition. But, it is set to issue binding recommendations that would go into effect unless the Legislature meets to vote them down -- in effect, lawmakers set up a system that would give them raises with their fingerprints removed. But, there is also controversy around pay raises without agreements to accompanying reforms, something legislative leaders have resisted.
Another significant step towards accountability in Albany could happen under the attorney general's office. During the Democratic primary, the four candidates agreed that the attorney general must be able to independently investigate state officials, which the office can currently only do in most cases after receiving a referral from the governor or another entity with that power, such as a local U.S. Attorney or even the state comptroller, in some instances. All the candidates agreed that the office should have a permanent, standing referral to do so and Attorney General-elect Letitia James has promised to immediately seek that authority after taking office. Still, it is something that then-Attorney General Andrew Cuomo called for when he was in the role but has not provided since becoming governor himself.
One Charter, Two Commissions
New York City voters overwhelmingly approved three ballot measures on November 6, which lowered campaign contribution limits, imposed term limits on community boards, and created a new civic engagement commission that will also work to improve and report on poll site interpretation services.
But more sweeping changes may lie on the horizon. The three 2018 referenda were placed on the ballot by a Charter Revision Commission empaneled by mayoral fiat. A separate commission was created soon after through City Council legislation with appointees chosen by the mayor, the Council speaker, the public advocate, the comptroller, and the five borough presidents. That commission is taking a far more expansive look at the city's governing document and the powers and responsibilities it delineates to the different parts of city government.
As envisioned by Letitia James and Gale Brewer, who proposed the initial legislation, the commission could alter the structure of city government in a way that hasn't been done since 1989 by a previous commission. "I think the Charter Revision Commission will really be the biggest place where we talk about what the functions of government are" said City Council Member Keith Powers, "how do the mayor and the City Council interact with each other, what agencies should be empowered here, how to do budgeting, things like that."
[Read: Elected Officials Present Broad Proposals to 2019 Charter Revision Commission]
The 2019 commission appears to be looking at budget and land use processes, and may also take up two prominent issues that the mayor's commission punted on -- instant runoff voting, also known as ranked choice voting, and setting up a system of independent redistricting of City Council districts.
Rules of the Room
Under City Council Speaker Corey Johnson and his predecessor, Melissa Mark-Viverito, the 51-member legislative body has passed a series of reforms and rules changes to give more power to members, create more transparency in how bills become law, and improved the internal culture of the Council. While Mark-Viverito did so through formal rules reforms, Johnson has made more administrative changes in keeping with some promises he made while running for speaker, though he has yet to move on others.
Reformers say that must happen in Albany as well. Under Cuomo, the Legislature has passed eight on-time or nearly-on-time budgets, but to do so, the governor has repeatedly employed a mechanism called a "message of necessity" that allows rushed votes on massive packages of legislation with little to no public review or debate. The entire process draws the ire of some legislators and virtually all reform advocates each year.
"We would love to see this year's state Legislature no longer do these end of session big uglies," Goff said, referring to the omnibus legislative package regularly passed at the end of the legislative session, "where ethics reform is crammed in at the last minute at 4 a.m. behind closed doors, and sort of gets carted out with minimal conversation and public engagement." She hoped that the newly elected progressive Democrats, first-time legislators many of them, will help "crack some of the calcified power structure and culture in Albany."
Teachout argued for democratizing the Legislature, as did Assembly minority leader Brian Kolb, a reform-minded Republican.
"We should allow for a simple majority of members to bring any bill to the floor for consideration and a vote, regardless of leadership objections," Teachout said. "For too long, Albany is where responsibility goes to die -- electeds say they support one thing, but without a public vote, we don't know what they are saying behind closed doors."
Kolb drew a parallel between Democrats in the House of Representatives and in the state Senate. Both chambers returned to Democratic control in the midterms, with young, first-time electeds who are now leading calls for empowering rank-and-file members. He said term limits were necessary, for leadership and committee chairs, for that to happen. "[B]ecause that's where power becomes basically consolidated as people get to stay in these positions for a long, long time," he said. "We think that there should be a change to that process that would break up the monopoly of power. And of course...any statewide legislative negotiations should include the minority party in both houses of the legislature, whether it's the budget or anything else that matters."
There are indication that, at least in the State Senate, there may be a culture shift. "There has been a lot of justified criticism of Albany that it's too driven by the leadership and people don't have a say," Gianaris said. "We have 15 new members, I think [Majority Leader] Andrea Stewart-Cousins has made it clear that she intends to talk to all those members and make sure we have consensus on whatever we're going to do."
This is part of AGENDA 2019, a joint Gotham Gazette-City Limits project
Find the rest of the series here
Note - This article incorrectly stated that the governor and the state legislature appoint the executive director of JCOPE. They only appoint its commissioners. The article has been updated.