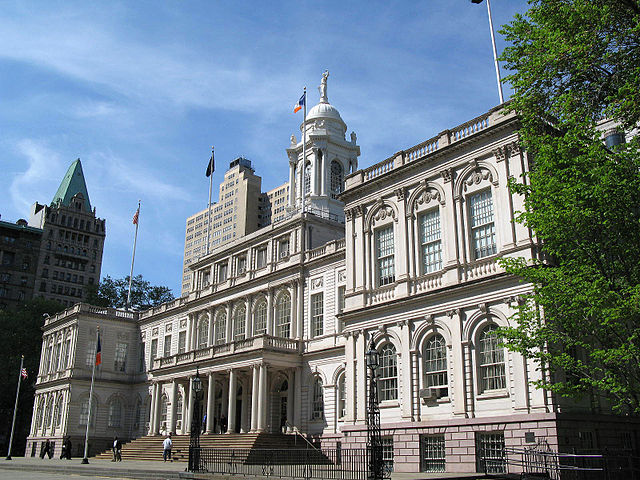 New York City Hall
---
What to watch for this week in New York politics:
This week we're watching several storylines, even as it is a quiet week in city and state government in terms of action at the City Council and State Legislature, with both bodies largely on the annual mid-February break.
One is the continued fallout over the end of the deal to bring a massive Amazon campus to Queens. There will also be continued dissection of Governor Andrew Cuomo's 30-day amendments to his executive budget plan, which were released at the end of this past week and will help set the stage for the legislative and budget negotiations are set to heat up as the April 1 deadline for a new state budget fast approaches. Those negotiations are now also going to be influenced by what happened with the Amazon deal, including the fact that Cuomo is attempting to sow division in within the Senate Democratic conference, which he has blamed for sabotaging the deal based on the opposition of Senator Michael Gianaris.
Another key storyline this week is the special election for Public Advocate, which will enter its final week. The vote is set for February 26, one week from Tuesday, and there will be the second official televised debate on Wednesday night this week, with seven "leading contenders."
As always, there are several events to be aware of this week - see our day-by-day rundown below.
***Do you have events or topics for us to include in an upcoming Week Ahead in New York Politics?
e-mail Gotham Gazette editor Ben Max: This email address is being protected from spambots. You need JavaScript enabled to view it.***
The run of the week in detail:
Monday
Monday is the Presidents Day holiday.
At 8:30 a.m. Monday morning, Comptroller Tom DiNapoli will give remarks at the Association of Towns 2019 Annual Meeting, in Manhattan.
At 11 a.m., City Council Speaker Corey Johnson will host "#BreakThePatent Rally with Council Member Carlina Rivera, Assembly Member Richard Gottfried, Former State Senator Tom Duane, PrEP4All Collaboration (#BreakThePatent Campaign) and Advocates" at the New York City AIDS Memorial in Manhattan.
Mayor de Blasio will appear on NY1's Inside City Hall on Monday in the 7 and 11 p.m. hours.
Tuesday
Tuesday marks one week until the special election for Public Advocate.
At noon on Tuesday in Brooklyn, "Mayor de Blasio will make an announcement about Vision Zero." "After, the Mayor will attend the wake of Detective Brian Simonsen." "Later, the Mayor and First Lady McCray will host a Black History Month Celebration where they will honor Me Too Founder Tarana Burke."
At 9:30 a.m. Tuesday, Comptroller Scott Stringer will deliver remarks at the New York Immigration Coalition Policy and Legislative Breakfast in Manhattan. At 6:30 p.m., Stringer will hosts a Lunar New Year Celebration in Flushing.
At 10 a.m. Tuesday, the State Senate will hold the first of five public oversight hearings on the "effectiveness of New York's transit networks." The hearing will take place at 250 Broadway in Manhattan.
On Tuesday at 11:45 a.m. at Lincoln Center, "11:45 AM Lieutenant Governor Kathy Hochul and Secretary to the Governor and Chair of the New York State Council on Women and Girls Melissa DeRosa Unveil the 2019 Women's Justice Agenda."
Tuesday evening at 6 p.m. will be U.S. Representative Adriano Espaillat's State of the District event, at Our Children's Foundation in upper Manhattan. Several other elected officials will attend.
At 6:30 p.m. Tuesday, City Comptroller Scott Stringer will host a Lunar New Year celebration at Flushing Town Hall. Stringer will honor State Senator John Liu, the Korean American Family Service Center, and Sun Yup Kim, President of the Korean American Business Council of New York.
Wednesday
At 5 p.m. Wednesday, this week's Max & Murphy will air on WBAI radio -- 99.5FM and wbai.org -- and feature interviews with public advocate candidates Jumaane Williams and Ydanis Rodriguez.
At 6 p.m. Wednesday, the 2019 Charter Revision Commission will meet in the City Council Chambers at City Hall for an "issues forum" discussing instant runoff voting and other electoral reforms, the redistricting process, the structure of the Campaign Finance Board, and "alternative campaign finance mechanisms."
At 7 p.m. Wednesday will be the second official televised debate in the special election for Public Advocate, airing on NY1 television and the NY1.com website, among other places. The "leading contenders" debate will feature seven candidates seeking the position. The vote is set for Tuesday, February 26.
Thursday
At 8 a.m. Thursday, James Patchett, President of the New York City Economic Development Corporation, will join Crain's for a "Business Breakfast Forum" at the New York Athletic Club, discussing "the Amazon deal, EDC's biggest projects and the de Blasio administration's economic-development agenda."
At 11:30 a.m. Thursday, Bronx Borough President Ruben Diaz Jr. will deliver his State of the Borough address at Samuel Gompers High School in the South Bronx.
Friday and the weekend
Mayor Bill de Blasio may make his weekly appearance on WNYC's The Brian Lehrer Show at 10 a.m. Friday.
Friday is the deadline for members of the public to apply to serve on the city's new Civic Engagement Commission.
At 1:30 p.m. Saturday, U.S. Representatives Jerrold Nadler and Carolyn Maloney, and State Senators Michael Gianaris, Brian Benjamin, and Robert Jackson will host a "Town Hall for Democracy," discussing opportunities to get money out of politics and reform New York's election system. The town hall will take place at Washington Irving High School, near Union Square.
At 2 p.m. Sunday, Manhattan Borough President Gale Brewer will hold her annual State of the Borough event at the NYU Skirball Center.
***
Have events or topics for us to include in an upcoming Week Ahead in New York Politics? E-mail Gotham Gazette executive editor Ben Max any time: This email address is being protected from spambots. You need JavaScript enabled to view it. (please use "For Week Ahead" as email subject).
***
by Ben Brachfeld and Ben Max
@GothamGazette