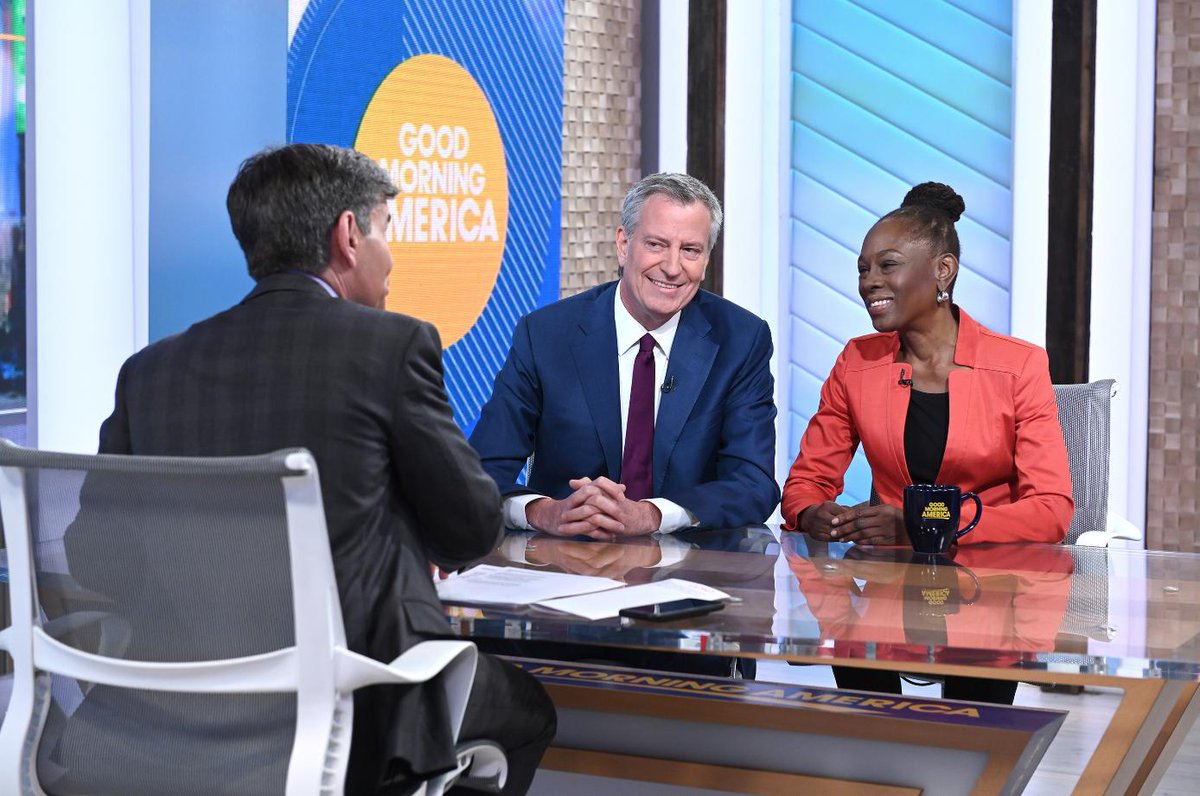 De Blasio & McCray on ABC (photo: Good Morning America)
---
Mayor Bill de Blasio on Thursday officially launched his campaign for president, declaring a progressive vision that would put "working people first" while taking on President Donald Trump's policies that have benefited corporations and the wealthy.
"There's plenty of money in this world. There's plenty of money in this country -- it's just in the wrong hands," de Blasio said in a video announcing the launch of his campaign. The Democrat, joining a primary field of 22 other candidates, is pitching himself as the progressive leader and chief executive of the largest city in the United States. But now in his second term, having been in office for five-and-a-half years, the mayor's record has been far from ideal.
Though he can definitively boast of several accomplishments that have improved the lot of working New Yorkers, his administration has fallen behind on many fronts. Crime may be down and the economy on a solid foundation, but the city remains unaffordable for many and the mayor has failed to control major crises in public housing and homelessness that have lingered from previous administrations.
[De Blasio Launches Underdog Campaign for the Presidency with Pitch as Progressive Executive and Mixed Record]
As he explored a presidential bid, visiting four early primary states, and in declaring his candidacy, de Blasio pledged that he could effectively run the city while also campaigning for president, a tall order for anyone, much less a mayor who has had both his focus and management chops repeatedly questioned.
After making two campaign appearances in New York City on Thursday, de Blasio set off for Iowa and South Carolina, where he will begin making the pitch that his blend of experience and vision is the right one for the country. Here are 10 things voters should know about the mayor's record as he campaigns on it:
1. Early Childhood Education
One of the mayor's earliest and biggest accomplishments was a push to implement free full-day universal pre-kindergarten. Though he initially called for a millionaire's tax to fund it -- setting off an ongoing feud with Democratic Governor Andrew Cuomo, who is backing former Vice President Joe Biden in the presidential primary -- the state stepped in to provide much of the budget for it without the surcharge on high earners de Blasio asked for.
Now, roughly 70,000 children are enrolled in the program each year, compared with 19,000 in 2014. The program has also been a financial boost to parents, who have saved thousands of dollars on childcare and had more time to work or pursue their other goals.
In 2017, the mayor announced that the city would expand public school to all three-year-olds by 2022. The program has been rolled out more slowly by design -- 20,000 children will be enrolled by this fall -- and is expected to be implemented in 14 of 32 school districts by September 2020.
While de Blasio's early childhood education agenda formed his top 2013 campaign promise and has been a rousing success overall, forming one key plank of his presidential bid, it has not been without challenges: teachers from community-based organizations where most children attend UPK make significantly less in pay than their counterparts at Department of Education schools, the source of tension, protests, and a near-strike.
2. Jobs and The Economy
De Blasio's administration has benefitted from the longest economic expansion in the country since World War II, and jobs have continued to grow and diversify. As of March 2019, there were just over 4 million private sector jobs in the city, with the unemployment rate at about 4.3%, down from 8% when de Blasio took office.
De Blasio has not had signature programs that appear to have directly contributed to that job growth, but crime in the city has continued to drop under his watch, which many say is essential to economic growth, and de Blasio has put a variety of other programs in place, such as pre-K, that he argues help create a hospitable overall climate.
3. Fiscal Management
The mayor's most recent budget proposal includes a $92.5 billion spending plan for the fiscal year set to begin July 1, an increase of about $20 billion from the last budget that was modified under former Mayor Michael Bloomberg. The spending stems largely from a massive uptick in hiring -- the city workforce has increased from about 297,000 to about 332,000.
Budget watchdogs have questioned the speed of budget and personnel growth under de Blasio, cautioning that the city may not be prepared for an inevitable recession and calling on the mayor to find more efficiencies rather than spend so much of the tax revenue available given the economic boom times.
While city reserves are high -- about $5.72 billion each year -- they are below optimal levels. Despite praise from monitors and ratings agencies about the city's fiscal management, budget watchdogs including City Comptroller Scott Stringer have repeatedly urged the mayor to invest more in rainy day funds and to find more savings through tighter agency management.
[Read: De Blasio's Budget Savings Plan Contains Few Real Efficiencies, Experts Say]
4. Poverty and Inequality
The mayor has touted his vision of, first, ending the "tale of two cities," then, of making New York City the "fairest big city in America," aiming to bring 800,000 New Yorkers out of poverty or near poverty. But progress on that front has been slow, despite a major focus on equity. New York City's poverty rate in 2016 (the most recent data available) was 19.5 percent, down from 20.6 percent in 2013.
The near poverty rate (which measures those under 150 percent of the poverty rate) fell to 43.5 percent in 2016, from 45.9 percent in 2013. It should be noted that these numbers reflect the fact that New York City uses its own poverty metric which takes into account cost of living for a more accurate representation of city life. The federal poverty measure tends to be a few points lower.
De Blasio has championed various policies to fight poverty and reduce income inequality, only some of which have moved, given powers that reside at the state and federal levels. His pivot from income inequality to fairness was a telling one, given he has more effective control over running a fair city than he does on incomes.
5. Housing Affordability
In 2014, de Blasio launched an ambitious plan to create and preserve 200,000 units of affordable housing across the city in ten years. The mayor announced an expansion of the plan in November 2017, with a new target of 300,000 affordable homes by 2026.
The city says the plan is ahead of schedule. To date, 123,466 "affordable" units have been preserved and created -- including 39,949 units of new construction and 83,497 preserved through subsidies and other forms of financing.
But the administration continues to face criticism for failing to create enough deeply affordable housing while pursuing several neighborhood rezonings in low-income communities that residents say has exacerbated gentrification and displacement pressures.
The plan also has not created enough units dedicated to the homeless or seniors, critics have said. In total, 10,261 units have been set aside for homeless New Yorkers and 7,677 for seniors.
De Blasio has repeatedly argued that he believes in a more stratified housing plan that creates units with rent caps for middle-class New Yorkers, not only those in the lower fifth of the socioeconomic scale. The mayor has been criticized for his coziness with real estate developers and unwillingness to push for more housing density in wealthier, whiter communities.
6. Homelessness
The number of homeless New Yorkers has grown significantly under de Blasio, who was slow to implement more aggressive measures to stem the crisis he inherited. But, the trend has stabilized more recently, and the shelter population is even down several thousand from its all-time high.
Just breaking the trajectory has required billions of dollars in additional spending that critics say has not shown the requisite results and has been too wasteful. In March, there were 63,029 individuals in homeless shelters, according to the city's Department of Homeless Services, compared with 53,173 in December 2013. On Tuesday, according to the DHS daily shelter census, there were 58,673 individuals in shelters.
7. Public Housing
The New York City Housing Authority, with 326 public housing developments across the city, is home to more than 400,000 New Yorkers, and has been perhaps the most challenging aspect of the mayor's tenure. The authority has an estimated $32 billion in physical needs for maintenance and repair and has received little in federal or state funds.
Like on homelessness, de Blasio came into office pledging major improvements for NYCHA residents and devoted significant resources to the crisis. But, his attention was nowhere near the scale required, and episodes of scandal have plagued efforts to make progress, though there are signs of improvement.
Under de Blasio, the housing authority's operating costs have been brought under control but capital needs remain an issue. Late last year, the mayor announced new measures that are expected to cover up to $24 billion in repairs over ten years, if he is assertive enough in pushing ahead with the plans therein that call for building new, private housing (some of it affordable, some market-rate) on underutilized NYCHA land, revenue from which is to go toward the housing authority.
But routine repairs and maintenance aside, the authority and the mayor have faced years of bad headlines for failure to mitigate lead exposure in NYCHA apartments. Attempts by NYCHA leadership to falsify lead inspection reports led to an investigation by federal prosecutors and eventually a lawsuit that was settled last year. Currently, the city is in negotiation with the federal Department of Housing and Urban Development, which has named a monitor to oversee NYCHA efforts, to appoint a new CEO, though the parties have already missed deadlines to do so.
8. Crime
De Blasio has had a successful overall record on keeping the city safe, with crime rates dropping to historic lows year after year. Major index crimes (a category that includes murder, rape, robbery, felony assault, burglary, grand larceny and grand larceny of a vehicle) fell to 95,883 in 2018, down from 111,335 in 2013.
De Blasio has credited this drop to a new policing paradigm focused on neighborhood beats and precision policing, with targeted takedown of gangs and increased enforcement at hotspots around the city. Of note, however, are the facts that major felony crimes have been dropping for decades in the city and across the country and that rape reports have increased significantly in recent years, perhaps owing to a changed culture with regard to reporting sexual violence. De Blasio and the NYPD have been criticized for mismanagement of the department's special victims division, which has recently undergone significant changes.
The mayor frequently highlights the fact that while major crimes are down, arrests have also dropped precipitously, owing in no small part to criminal justice reforms passed by the New York City Council which were initially opposed by the NYPD and the mayor. There were 205,556 arrests for all felonies and misdemeanors in 2018, down from 313,513 in 2013.
Still, de Blasio has faced criticism about his support for so-called Broken Windows policing and for racial disparities in arrest and summons data, not to mention broken promises around police accountability.
9. Police Reform and Accountability
De Blasio rode into power promising to overhaul the NYPD and provide true accountability for abuses of power by officers. In particular, he railed against the controversial practice of stop-and-frisk policing, which disproportionately targeted people of color, mostly young men, and that a judge ruled had been used in an unconstitutional manner under Mayor Bloomberg.
The de Blasio administration has repeatedly taken credit for a massive slide in the number of stops though they started falling dramatically in the last years of the Bloomberg administration amid the aforementioned court case and a fever pitch of public protest, which de Blasio participated in as public advocate and a mayoral candidate.
The practice does continue. In 2018, there were 11,008 stops, according to an analysis by the New York Civil Liberties Union, compared to 191,851 in 2013 (stops reached a record high of 685,724 in 2011).
Complaints of officer misconduct have also dropped over the years, according to Civilian Complaint Review Board data. There were 4,744 complaints in 2018, compared to 5,388 in 2013. Yet, de Blasio has shown virtually no appetite for taking on NYPD misconduct, regularly striking a deferential tone in almost all matters where police are involved. Many point to incidents early in his tenure, including the murder of two police officers and its aftermath, when hundreds of NYPD members publicly turned their backs on the mayor, in explaining the mayor's approach to the department.
Among activists to supported de Blasio's initial rise to the mayoralty, police reformers are among the most disillusioned.
10. Transportation
Though de Blasio gets erroneously criticized for the sorry state of the city's subway system -- which is run by the MTA, a state authority controlled by Governor Andrew Cuomo -- he does bear more responsibility for the city's street surfaces including bus and bike lanes and pedestrian infrastructure.
He also does bear some responsibility for the subways given his appointees to the MTA Board, leverage in negotiating funding for the authority, and bully pulpit as mayor. But, de Blasio has shown almost no interest in mass transit throughout his tenure.
Through his Vision Zero program, de Blasio has taken successful steps to reduce traffic fatalities through road safety investments, street redesigns, and enforcement. In 2013, there were 299 fatalities and 55,123 injuries from traffic collisions on city streets. Though fatalities fell to 203 in 2018, injuries were up to 60,801.
Transit advocates have had mixed things to say about the mayor, on one hand celebrating his commitment to Vision Zero, but on the other noting he not moving as quickly as he could to implement its tenets and that he is a proponent of car culture. Fatalities could be more quickly minimized through concerted efforts by the Department of Transportation.
They have also criticized the mayor and NYPD for a punitive crackdown on cyclists and particularly those using e-bikes, some of which are technically illegal but are often used by immigrant delivery workers and have not been involved in traffic fatalities.
The mayor's priorities on public transit also seem skewed. He has pledged hundreds of millions to create the new NYC Ferry system, with $10.73 in subsidies going to each passenger ride and with marginal ridership compared to the city's bus system, which has the slowest buses in the nation. Only recently did the mayor announce a plan to increase bus speeds by 25% in a year.