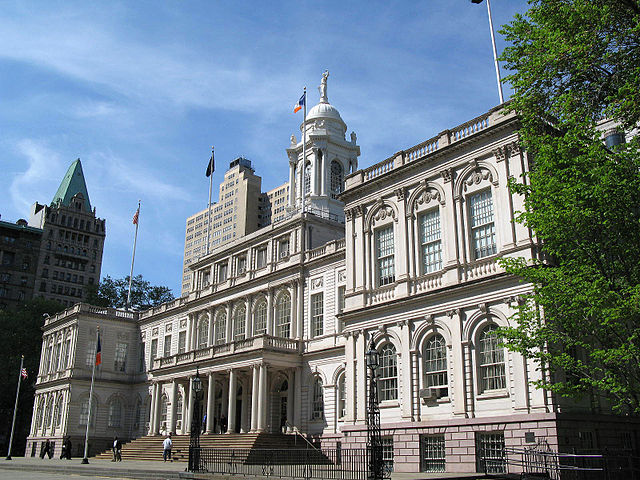 New York City Hall
---
What to watch for this week in New York politics:
Mayor de Blasio was back from a weekend presidential campaign trip to Nevada and spoke Monday at the Intrepid Sea, Air & Space Museum's Annual Memorial Day Ceremony. As another week unfolds for the mayor/presidential candidate, we'll continue watching both his government and campaign schedules. This past week, before his weekend trip to Nevada, de Blasio spent Thursday in Iowa, flying there and back to participate in a rally calling on McDonald's to pay its workers at least $15 per hour.
The mayor will deliver remarks Tuesday morning at a City Hall rally in support of legislation that would mandate "paid personal time off" for employees at most businesses, just before the City Council will hold a hearing on the legislation, the lead sponsor of which is Public Advocate Jumaane Williams. De Blasio had expressed support for the bill, which has been around for years, in his State of the City address earlier this year.
[Read: 8 Big Questions About Bill De Blasio's Presidential Bid]
[Watch: Breaking Down De Blasio's Presidential Candidacy, with Gotham Gazette's Ben Max, WNYC's Brigid Bergin, The New York Times' Jeff Mays & political strategist L. Joy Williams]
Meanwhile, it's a short holiday week but a very busy one in local government. The City Council is especially busy this week, with a variety of legislative and oversight hearings, including several particularly noteworthy ones (on mandating paid vacation time, on the BQX, and others -- see listings below), and also a Stated Meeting at which new bills are introduced and bills passed through committee are voted on by the full Council.
The state Legislature is in session two days this week (Wednesday and Thursday) and, after those two, has just 11 session days left on the schedule, and a long list of potential issues to act on, from renewing and strengthening the expiring rent regulations to legalizing adult-use marijuana, e-bikes and e-scooters, and paid surrogacy to lifting the cap on charter schools in New York City, and more.
There was a joint legislative hearing on Friday on workplace sexual harassment, and there are proposals on the table to strengthen the state's anti-harassment laws, another item that could be dealt with in the final weeks of the session. On Tuesday, there will be a joint hearing on the New York Health Act, which would institute single-payer health insurance, but that legislation does not appear on the table for potential passage this year.
This past Saturday, May 25, marked one month until the Tuesday, June 25 primary election in New York. The marquee but not only election on the ballot is the Democratic primary for Queens District Attorney, with seven candidates seeking the party nomination for the open seat. That race will continue to intensify as the vote approaches -- the winner of the primary is all but certain to win the general election in November and become the next DA. [Read/Watch: Campaign Ads: Queens DA Candidates Provide Video Evidence]
[Read: There are also judicial elections this year!]
There are many events to be aware of -- see our day-by-day rundown below.
***Do you have events or topics for us to include in an upcoming Week Ahead in New York Politics?
e-mail Gotham Gazette editor Ben Max: This email address is being protected from spambots. You need JavaScript enabled to view it.***
The run of the week in detail:
Monday, May 27
Monday is Memorial Day.
Tuesday, May 28
At 8 a.m. Tuesday in Manhattan, Crain's New York Business will host "From Third Rate to First Class—Transforming New York's Airports." The event will include discussion of " the investment, expansion and improvement of New York's airports into modern facilities the city can be proud of. The panel will discuss Gov. Andrew Cuomo's $13 billion plan to enhance JFK through state-of-the-art passenger amenities and to simplify the roadways to increase capacity. There will also be a discussion about the $8 billion plan to rebuild LaGuardia and whether there are other pressing airport issues that need to be addressed."
At 9 a.m. Tuesday at City Hall, "Mayor de Blasio and First Lady McCray will deliver remarks at a rally for new Paid Personal Time legislation." Public Advocate Williams, who is the lead sponsor of the bill, will also be among those rallying and delivering remarks.
At the City Council on Tuesday:
--At 10 a.m., the Committee on Aging will meet to discuss legislation that requires caseworkers at senior care facilities to complete mental health training, and to take refresher courses every 3 years. The Committee will also discuss a resolution urging the United States Congress to pass the Protecting Older Workers Against Discrimination Act.
--Also at 10 a.m., the Committee on Housing and Buildings will meet to discuss legislation that "requires building owners to post a sign that a portable ramp is available for access to the building at inaccessible building entrances, where that ramp exists."
--Also at 10 a.m., the Committee on Civil Service and Labor will meet to discuss a bill updating the Earned Safe and Sick Time Leave Law by adding personal time as a protected category under the law. The bill, sponsored by former City Council Member/now Public Advocate Jumaane Williams for years, won the support of Mayor de Blasio in his State of the City address earlier this year. From the Council website: "This bill would update the Earned Safe and Sick Time Law by adding personal time. Employers with five or more employees or employers of one or more domestic worker would be required to provide all employees with personal time for absences from work for any reason. Like paid safe/sick time, employers would provide employees with one hour of personal time for every 30 hours worked by an employee, with a maximum of 80 hours of personal time in any calendar year."
--At 10:30 a.m., the Committee on Criminal Justice will meet to discuss a resolution urging the state government to pass the Humane Alternatives to Long-Term Solitary Confinement Act and another regarding a state bill that "reforms revocation presumptive release, parole, conditional release, and post-release supervision."
--Also at 10:30 a.m., the Committee on Education will meet to discuss five bills. Three concern requiring the Department of Education to provide reports on after-school athletic funding, adaptive physical education for students with disabilities, and physical education curricula. A fourth resolution to be discussed mandates the Department of Education provide equitable access to all after-school athletic activities, and a fifth "requires inclusion of Employee Protection Provisions (EPPs) in all current and future school bus contracts in NYC."
At 10 a.m. Tuesday in Albany, the Assembly and Senate Standing Committees on Health will hold a public hearing on the New York Health Act, which would "replace traditional health insurance coverage and public health coverage programs with comprehensive single-payer health coverage" in New York State.
On Tuesday at noon at 250 Broadway in Manhattan, "Senator Brad Hoylman and parents and their immunocompromised school aged children threatened by the ongoing measles epidemic will hold a press conference to urge the legislature to pass Senator Hoylman's and Assembly Member Jeffrey Dinowitz's legislation (S2994/A2371) to end the non-medical exemption for vaccinations in New York. The measure is currently awaiting votes in both houses of the State Legislature."
On Tuesday at 1:30 p.m., the New York City Board of Elections will hold a commissioners meeting.
At 3 p.m. Tuesday at City Hall, a rally in support of Weeksville, led by City Council Speaker Corey Johnson and Council Members Laurie Cumbo, Jimmy Van Bramer, and Robert Cornegy Jr., as well as Rob Fields, Executive Director, Weeksville Heritage Center. The Council members will call for "Cultural Institutions Group Designation for Weeksville Heritage Center." Weeksville Heritage Center "celebrates the history of one of America's first black communities for freed slaves...By marking this Brooklyn landmark and museum as one of the city's Cultural Institutions Group (CIGS), Weeksville will get regular funding and maintenance instead of having to crowdsource for survival. Already, there are 33 institutions in this group, including the Metropolitan Museum of Art and the Bronx Museum of the Arts. The last institution added the list was The Museum of Jewish Heritage in 1998."
At 3:30 p.m. Tuesday, the DemocracyReady NY Coalition "invites New York education stakeholders to participate in a free, interactive conversation exploring K-12 civic-education opportunity gaps as well as strategies to achieve statewide equity in civic learning." The event will be held entirely online.
At 4 p.m. Tuesday, the NYU Furman Center will host "By the Numbers: The Diversity of New York City's Neighborhoods and Schools." Panelists and moderators will include NY1's Errol Louis; Richard Kahlenberg, Director of K–12 Equity and Senior Fellow at the Century Foundation; Sandra Soto, Principal of PS705 Brooklyn Arts & Science Elementary School; Jennifer Sun, Co-Executive Director of Asian Americans for Equality; and Maya Wiley, Henry Cohen Professor of Urban Policy and Management at the New School and Co-chair of the NYC School Diversity Advisory Group.
At 6 p.m. Tuesday, Manhattan Borough President Gale Brewer will co-sponsor a Pier 40 legislative forum, in M.S. 297's cafeteria.
Also at 6 p.m., New York City Comptroller Scott Stringer will host an event for Jewish Heritage Month at the Museum of Jewish Heritage, honoring Joel Grey, Chanie Apfelbaum, and Mark Hetfield.
Also at 6 p.m., Public Advocate Jumaane Williams and State Senator Jessica Ramos will host a housing forum. "The discussion will focus on tenants rights with a focus on ways Albany must renew and strengthen New York's rent laws that expire on next month."
At 6:30 p.m., the New York City Bar Science & Law Committee will host a panel discussion, "Environmental Law and Science Under the Trump Administration." Speakers will include Mark Brownstein, Senior Vice President of Energy at the Environmental Defense Fund; Gabriel J. Daly, Mitchell S. Bernard Litigation Fellow at the Natural Resources Defense Council; John S. Guttmann, Principal at Beveridge & Diamond; Ronnie Levin, Visiting Scientist at the Harvard T.H. Chan School of Public Health and former Scientist with the Environmental Protection Agency; and Romany M. Webb, Senior Fellow and Associate Research Scholar at the Sabin Center for Climate Change Law. The panel will be moderated by Sabrina McCormick, Associate Professor of Environmental and Occupational Health at George Washington University.
Also at 6:30 p.m. Tuesday, Public Advocate Jumaane Williams, State Senator Leroy Comrie, Assembly Member Alicia Hyndman, and the Drug Policy Alliance will screen the film "Grass is Greener" and hold a discussion focusing "on the ongoing marijuana legalization debate in Albany and ways lawmakers can advance Marijuana Justice measures."
Wednesday, May 29
At 8 a.m. Wednesday, the Association for a Better New York will host a presentation and panel "to discuss the future of employment and economic development opportunities in New York City." The panel will include Jonathan Bowles, Executive Director, Center for an Urban Future; Purnima Kapur, Planning Consultant and Adjunct Faculty, Columbia University and former Executive Director, Department of City Planning; Gail Mellow, former President, LaGuardia Community College; Seth Pinsky, Executive Vice President, RXR Realty; and Bronx City Council Member Ritchie Torres.
At 8:30 a.m., the Manhattan Chamber of Commerce will meet for a Government Affairs Roundtable, with featured guest Andy Byford, New York City Transit President. (Note: this is a members-only event.)
At 9 a.m. Wednesday in Albany, the state Senate Standing Committee on Judiciary will hold a public hearing on "legislation authorizing and regulating compensated gestational surrogacy agreements."
At 10 a.m. Wednesday in Albany, the Senate Standing Committee on Budget and Revenue and the Senate Standing Committee on Education will jointly hold a public hearing "to examine alternative ways of financing public education."
At 11 a.m. Wednesday at the Brooklyn Navy Yards, the shared electric moped company Revel will hold a press conference with a major announcement included. "In addition to questions about news, members of the press can receive a training on the e-mopeds and tutorials on how to use the Revel app."
At noon Wednesday on the City Hall steps, City Council Member Antonio Reynoso will announce the introduction of legislation to overhaul the private sanitation industry, and he will be accompanied by environmental justice and labor advocates and sanitation workers who support the legislation. "Those gathered at the press conference will speak to how a commercial waste zone system would improve the efficiency of the private sanitation industry, as well as the safety and environmental benefits that it would bring to the City at large."
Also at noon, across from the 9/11 Memorial and Museum, City Council Members I. Daneek Miller and Margaret Chin will will host a rally in support of the Never Forget the Heroes: Permanent Authorization of the September 11th Victim Compensation Fund Act. Also in attendance will be Manhattan Borough President Gale Brewer, FealGood Foundation President and 9/11 Advocate John Feal, Uniformed Fire Officers Association, and DC37 Executive Director Henry Garrido.
At a press conference at 1 p.m. Wednesday at City Hall, "The eleven non-profits who make up the Alternatives to Incarceration/Reentry Coalition" and City Council Members, led by Vanessa L. Gibson, Daniel Dromm, Keith Powers, and Mark Levine, will push for city funding to alternatives to incarceration and prisoner reentry programs.
At 1:30 p.m. Wednesday, the City Council will hold a stated meeting in the Council Chambers at which bills that have been voted through committee are passed by the full Council and new bills are introduced. City Council Speaker Corey Johnson, who is set to introduce his legislation mandating a "master plan for city streets" with accelerated buildout of bike and bus lanes and pedestrian plazas, will host a pre-stated press conference at 12:30 p.m.
At 2 p.m. Wednesday, "the Center for Community and Ethnic Media at the Craig Newmark Graduate School of Journalism at CUNY and the Center for Community Leadership at the JCRC-NY invite journalists, community, government and business leaders to attend a half-day conference exploring the opportunities and challenges of the 2020 Census. The role of community and ethnic media in creating awareness about the importance of the 2020 Census and how an undercount could impact the city will be among the topics discussed." Speakers will include Julie Menin, Director of the Census for New York City & Executive Assistant at the Corporation Counsel for Strategic Advocacy; Joseph Salvo, Director of the Population Division at NYC Department of City Planning; Steven Romalewski, Director of the CUNY Mapping Service; and Jeff Behler, Director of the New York Regional Office, U.S. Census Bureau.
At 5 p.m. Wednesday, it's this week's Max & Murphy show on WBAI radio, 99.5FM or wbai.org.
At 6 p.m. Wednesday in the Bronx, the Panel for Educational Policy will meet to discuss prior minutes, EarlyLearn Transfer of Employees from ACS to DOE, and school utilization proposals.
Also at 6 p.m., the Urban Land Institute will host "Population Trends and How They Impact the Way We Live." Speakers will include Chris Jones, Senior Vice President and Chief Planner of the Regional Planning Association; Onay Payne, Managing Director of Clarion Partners; and Jon Vogel, Senior Vice President for Development at AvalonBay Communities. It will be moderated by Bret Boyd, Chief Executive Officer of Knoema.
Also at 6 p.m. Wednesday, the New York City Bar will hold a town hall on the current state of the IRS. Speakers will include Don Fort, Chief of IRS Criminal Investigation; Mary Beth Murphy, Commissioner of the IRS Small Business/Self Employed Division; and Nina Olson from The National Taxpayer Advocate. The town hall will be moderated by Caroline Ciraolo of Kostelanetz & Fink, LLP.
At 6:30 p.m., at The Mansion at Oyster Bay in Woodbury, City & State will hold a reception for its 2019 Long Island Power 100. "In addition to naming the most influential people on Long Island, the issue will also focus on the landscape of Long Island politics and feature industry focuses specific to the island." Guest speakers will include U.S. Representatives Tom Suozzi (D-NY) and Peter King (R-NY).
Also at 6:30 p.m., P.S. 133 will host the Gowanus Superfund Town Hall on canal clean-up, with a presentation by the Environmental Protection Agency and a keynote by U.S. Representative Nydia Velázquez (D-NY).
Thursday, May 30
At the City Council on Thursday:
--The Committee on Parks and Recreation, the Committee on Health, and the Committee on Transportation will jointly meet at 10 a.m. to discuss legislation concerning Hart Island, including transferring jurisdiction and control from the Department of Corrections to the Department of Parks and Recreation, as well as requiring the Department of Transportation to develop a transportation plan for public travel to and from the island. Two other bills will be heard at the meeting, concerning the creation of a task force on public burial policy, and a new requirement that the Department of Mental Health and Hygiene provide support to those who need assistance in the public burial of a loved one.
--At 11 a.m. in the Council Chamber, an oversight hearing on the Brooklyn Queens Connector will be held by the City Council Task Force on BQX.
On Thursday morning at 10 a.m outside City Hall, "Friends of the BQX will rally with project supporters on the steps of City Hall in advance of a City Council hearing on the planned light rail line that will run 11 miles along the Brooklyn-Queens waterfront from Red Hook to Astoria. Friends of the BQX Executive Director Jessica Schumer will be joined by Brooklyn Borough President Eric Adams, Queens Borough President Melinda Katz, NYCHA resident association leaders from along the corridor, labor leaders, faith leaders, transit advocates, environmental organizations, small business advocates, workforce development organizations and tech advocates to tout the benefits of the project and urge continued progress forward by the de Blasio administration toward a groundbreaking. The rally comes as the project's environmental review gets underway ahead of the City's public review process."
At 1 p.m. Thursday in Albany, the Senate Standing Committee on Elections will hold a public hearing on "the creation of an automatic voter registration system in the State of New York."
At 9 a.m., the CUNY Urban Food Policy Institute will host a food policy forum: "Equity and the Public Plate." The forum will discuss the Good Food Purchasing Program, "a metric based, flexible framework that encourages large institutions to direct their buying power toward five core values: local economies, environmental sustainability, valued workforce, animal welfare, and nutrition." Speakers will include Ribka Getachew, Director of NYC Good Food Purchasing Campaign at Community Food Advocates NYC; Suzanne Adely, Regional Organizer, Mid-Atlantic and New England at Food Chain Workers Alliance; Chloe Waterman, Senior Food Campaigner at Friends of the Earth; and Kylie Repasy, Good Food Purchasing Program Researcher at CUNY Urban Food Policy Institute. The forum will be moderated by Craig Willingham, Deputy Director, CUNY Urban Food Policy Institute.
At 5:30 p.m. Thursday, New York State Comptroller Thomas DiNapoli "will host an Asian Pacific American Heritage Month Celebration. DiNapoli will recognize the contributions of T.J. Bindra, President and Founder of the Sikh Organization of New York, Gemma DeLeon Lopresti, Commissioner, the Federal Mediation and Conciliation Service and Maf Misbah Uddin, Treasurer, District Council 37."
At 6 p.m. Thursday, Public Advocate Jumaane Williams and Queens Borough President Melinda Katz will hold a Gun Violence Prevention Town Hall "to raise awareness and work toward solutions to the epidemic of gun violence."
Also at 6 p.m. Thursday, The New York City Automated Decision Systems Task Force will host an update and panel on their work to date. Panelists will include Chancey Fleet, Fellow for Data & Society and Assistive Technology Coordinator at the Andrew Heiskell Braille and Talking Book Library, New York Public Library; Aaron Pallas, Professor of Sociology and Education at Teachers College, Columbia University; and Rumman Chowdhury, Senior Principal and Global Lead of Ethical Artificial Intelligence, Accenture.
Friday, May 31
At 10 a.m. Friday in Albany, the Assembly Standing Committee on Health will hold a public hearing on rural health care services and the "unique challenges experienced in maintaining access to necessary health care services in rural areas across New York State."
Also at 10 a.m., Mayor de Blasio may make his weekly appearance on WNYC's The Brian Lehrer Show.
***
Have events or topics for us to include in an upcoming Week Ahead in New York Politics? E-mail Gotham Gazette executive editor Ben Max any time: This email address is being protected from spambots. You need JavaScript enabled to view it. (please use "For Week Ahead" as email subject).
***
by Ben Brachfeld and Ben Max
@GothamGazette