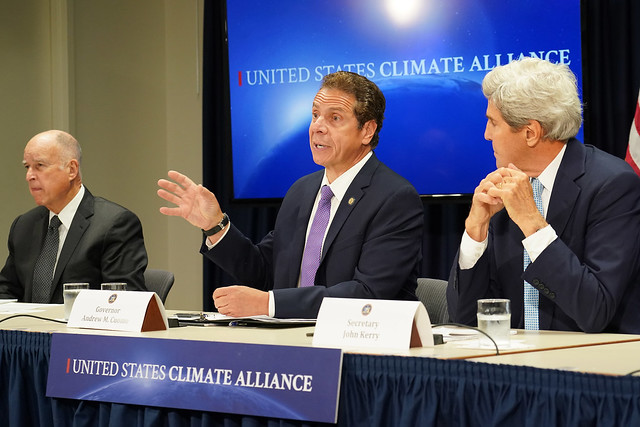 Cuomo, middle, with Jerry Brown, left, & John Kerry (photo: Kevin P. Coughlin/Governor's Office)
---
Gov. Andrew Cuomo doubled down on his plan to fight climate change and his opposition to the Climate and Community Protection Act on Friday amid increased pressure to pass the legislation.
The bill ­– which intends to move the state's economy to 100 percent renewable energy by 2050, invest clean energy funds in disadvantaged communities, and provide higher wages for green jobs – has significant support in both houses of the Legislature, but Cuomo has said that it is both too ambitious and doesn't accomplish enough.
The CCPA "actually doesn't do, in my opinion, any of the main goals or initiatives," Cuomo said in an interview with WAMC radio on Friday.
For the second time last week, he strongly downplayed the CCPA as smart policy. A coalition of advocacy groups, unions, and elected officials at various levels of government has been intensifying its push for the bill as the June 19 legislative session end date inches closer. On Tuesday in Albany, an estimated 250 legislators and activists will rally for passage of the CCPA, according to a media advisory from the NY Renews coalition.
Casting aside the CCPA, Cuomo last week touted his own environment and green economy plan as nation-leading, and specifically argued it is stronger than California's.
"I believe we'll pass the bill, or we could pass the bill," Cuomo said on WAMC. "But our climate change agenda is the most aggressive in the country and it has nothing to do with the bill that's pending."
The CCPA has majority sponsorship in both Democrat-controlled house of the Legislature, but it's unclear where it stands for the two majorities as end-of-session negotiations intensify on a range of issues and bills. Earlier last week, Cuomo told WNYC radio that the CCPA and push behind it – which recently added endorsements from most members of Congress who represent New York City as well as both U.S. Senators from New York – is "political," explaining his belief that its supporters are over-promising the kind of speed at which New York's entire economy can go green.
"I believe this is the most pressing issue of our time but I don't want to play politics with it," Cuomo said on The Brian Lehrer Show on June 4. "I know the politics is we can do everything by tomorrow. I've never done that," Cuomo said.
In January, the governor unveiled his solution, which he's called the New York Green New Deal, though many activists have taken issue with his branding. CCPA supporters call that legislation, and its stronger socioeconomic justice elements, the true New York Green New Deal, while supporters of the even more aggressive Off Fossil Fuels Act say that's actually the real deal.
Daniela Lapidous, a coalition organizer for NY Renews, the coalition aggressively pushing the CCPA, said that when it comes to transitions to renewable energy, the CCPA is more aggressive than California's climate change policies, but not Cuomo's solution.
Cuomo's plan aims for New York to have 70 percent of electricity produced by renewable energy by 2030 and 100 percent clean electricity by 2040. Comparatively, California's climate change policy aims for 50 percent of electricity consumed from renewable energy by 2030 and 100 percent clean electricity by 2045.
The CCPA would have an economy-wide shift to renewable energy and would put New York at 100 percent renewable by 2050.
California has long been considered a leader on climate change policy in the U.S. In 2015, Governor Jerry Brown announced his plan to reduce greenhouse gas emissions 40 percent below 1990 levels by 2030, at the time the most aggressive benchmark enacted by any state government, according to a California news release.
Since then, California has continued to implement policies working to transform the state's environment, climate change, and green economy goals. Los Angeles Mayor Eric Garcetti unveiled a sustainability plan on April 29 that aims to create 300,000 green jobs, increase the percentage of zero-emission vehicles in Los Angeles to 80 percent, and source 70 percent of water locally – all by 2035.
Lapidous said a key difference between the CCPA and Cuomo's proposal is that the governor's isn't on the table for this session.
"When Governor Cuomo talks about his proposal, that's not on the table for the Legislature this year," Lapidous said. "They're working on the Climate and Community Protection Act and we want to work with the governor's office to make the strongest Climate and Community Protection Act possible. But it's not about two proposals that are competing in the New York Legislature right now. It's about whether Governor Cuomo is going to help pass the CCPA or block [it]."
Cuomo also falsely said Friday that when he proposed his solution, it was before a Green New Deal was being discussed nationally.
"I proposed a Green New Deal before there was a Green New Deal being discussed nationwide," the governor stated. In fact, the federal Green New Deal was formally proposed as a congressional resolution in early February by Rep. Alexandria Ocasio-Cortez (D-NY) and Sen. Ed Markey (D-MA), but it didn't originate there or then.
It was born out of the global financial crisis in 2006, when some Europeans began calling for climate action as a means to democratize the world economic system, according to the Green Party.
Thomas Friedman further popularized the Green New Deal in a 2007 column for the New York Times, where he wrote that this type of legislation would "turn the tide on climate change and end our oil addiction."
The roots of the Green New Deal in New York are from the 2010 governor's race, under the platform of the Green Party candidate, Howie Hawkins.
Additionally, Matthew Miles Goodrich, the New York State Director of the Sunrise Movement, a climate change organization that has worked on developing the federal Green New Deal legislation, said Cuomo's plan isn't really a Green New Deal.
"The plan that Cuomo has put forward in no way shape or form resembles a Green New Deal and just calling it a Green New Deal does not make it so," Goodrich said. "In any case, the only climate plan on the table right now is the Climate and Community Protection Act, which does have some of the key components of a Green New Deal."
These key components address climate change, but also social and economic inequality. Since Cuomo's plan doesn't focus justice for and investment in communities that have been on the front lines of environmental pollution, it's not a Green New Deal, Goodrich added.
Cuomo admitted as much on WAMC Friday, saying, "The issue and contention is how we distribute environmental funds and if we distribute the funds based on political criteria or solely on the basis of environmental impact." But Cuomo has also said the CCPA timelines for an overhaul of the entire economy are unrealistic, pointing out vast sectors, like transportation, and challenges facing such a shift.
The governor is working with the Legislature to come up with a compromise that includes elements of his plan and of the CCPA, a spokesperson said. State agencies are already working to make Cuomo's climate plans reality, the spokesperson added.
Cuomo is also working towards economy-wide carbon neutrality as soon as is practical, the spokesperson said. The governor also said on WAMC that he plans to announce a multi-billion dollar wind turbine program, which he said would be the largest in America. He didn't specify when that program would be announced or start.
Lawmakers and supporters are unsure whether the CCPA will pass by the end of session, but some say the idea of the legislation dying is deeply troubling. Neither Assembly Speaker Carl Heastie nor Senate Majority Leader Andrea Stewart-Cousins, both Democrats, has committed to passing the legislation this session, even though the Assembly has passed the CCPA several years in a row (with it having no chance of passing the Republican-controlled Senate that lost power this year).
Senator Todd Kaminsky, the lead sponsor of the CCPA in his chamber, recently led a press conference calling for its passage. Three of his colleagues, Senators Robert Jackson, Jessica Ramos, and Julia Salazar, will be among those rallying on Tuesday in the capital, per NY Renews.
"We're really counting on the Legislature to deliver what they promised to do for New Yorkers, which is protect our safety and health, especially in those communities of color and low-income communities," Lapidous said. "We're really counting on the Legislature there. But if Governor Cuomo were to get in the way, I think it would be really devastating for New York."