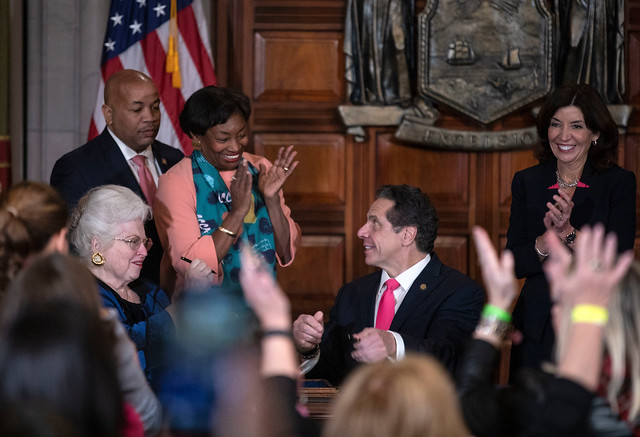 Heastie, Stewart-Cousins, Cuomo, Hochul (photo: Mike Groll/Governor's Office)
---
Following a historically productive legislative session in Albany, a broad coalition of progressive advocates has scored the performance of state lawmakers on a range of topics, pointing to major victories and unfinished tasks for reformers as political dust continues to settle from last year's elections and this year's governing.
True Blue NY, a grassroots coalition formed to oust rogue Democratic state senators who shared power with Republicans, released its "People's Platform" in January, seizing on the electoral momentum that brought sweeping changes to the upper legislative chamber's power structure and created one-party control in Albany.
The coalition, made up of dozens of new constituent-engagement and traditional advocacy organizations, was created to support challengers to members of the state Senate's Independent Democratic Conference (IDC) -- a group of eight break-away senators who formed a power-sharing deal with Republicans, giving them control of the chamber for several years and ensuring a divided Legislature, with Democrats holding a wide majority in the Assembly.
Six of the eight IDC senators were defeated in last year's Democratic primaries. Then, in November, major grassroots efforts and a huge jump in voter turnout -- seen, in part, as a reaction to the first two years of the Trump presidency -- saw a number of Democratic wins to flip Republican seats, handing the Democrats a solid majority in the Senate under Majority Leader Andrea Stewart-Cousins.
As the calendar turned to 2019 and the legislative year in Albany was set to begin, the attention turned to governance, and following through on campaign promises.
"The People's Platform came together with a sense of the notion that if we stuck together, if we brought the same galvanized energy to the legislative work, we'd be way more successful," said coalition member Ricky Silver, co-lead organizer with Empire State Indivisible, in an interview. "Even though we had a Dem majority, no one thought it would be easy."
With Democrats holding both houses of the state Legislature and the Executive Chamber, this year's session was an opportunity for Democrats to achieve some of the long-sought legislation that had been blocked or backlogged under the Republican-led Senate over the past decade. On issues ranging from civil rights and climate change to gun control and election reform, grassroots activists and reform-minded elected officials pushed an aggressive agenda and achieved many policy goals that catch-up to or go further than other states.
But in certain critical areas, True Blue NY's post-session scorecard identifies what the coalition views alternately as shortcomings and complete failures in the end-of-session outcomes.
The People's Platform scorecard, set to be released widely on Tuesday, rates the state Senate and Assembly individually in 13 distinct issue categories. The group plans to release another scorecard of Governor Andrew Cuomo after he takes action on the legislation that has passed both houses.
The activists and organizers in the coalition see the scorecard as a measure of accountability, and the basis for both celebration and top agenda items for next year.
The highest grades (A) were for advancing legislation that protects some of New York's most underserved populations: immigrants, transgender and gender-nonconforming people, and survivors of child sex abuse.
The scorecard also shows favorable performances on items like voting reform (A-/B+), gun safety (A-), housing (B), and reproductive and sexual health (B). Of the 13 issue categories outlined by True Blue NY, the Assembly and Senate each scored As or Bs in eight, and Ds and one F in the other five (the Assembly got an F on tax reform for not introducing two tax credit bills that the Senate did).
"Working with a Democratic Senate Majority for the first time in ten years, we were finally able to deliver the progressive legislation we have championed for years," the Assembly majority, led by Speaker Carl Heastie, said in a celebratory statement released on Monday, another in several efforts to sum up the massive amount of legislation passed this year. "Looking back on all we've accomplished this year, New Yorkers have a lot to be proud of."
Both chambers earned A grades for promoting civil and human rights and protections for immigrants. For the civil and human rights rating, True Blue NY cites the passage of the Gender Expression Non-discrimination Act (GENDA), extending the statute of limitations to bring charges under the Child Victims Act, and a ban on "conversion therapy" to try changing the sexual orientation of minors. All three measures had long been sought by LGBTQ or children's rights advocates, and all three passed during the first month of the legislative session under the new cohort of Democratic lawmakers.
For immigrant protections, the coalition weighed the passage of the controversial Driver's License Access and Privacy Act, known as the "Green Light bill," which allows undocumented immigrants to apply for driver's licenses. Supporters say the measure will allow immigrants, many of whom are already driving, to obtain licenses legally, bolstering regulatory effects, creating safer traffic conditions, and bringing in revenue. The bill was one of the last to pass the Legislature, hitting roadblocks in the final days of session and requiring concerted pressure from supporters.
In other categories, the True Blue NY grades are more middling, like on efforts to improve criminal justice, promote reproductive and sexual health, and advance comprehensive environmental protections. In these cases, the coalition identified some positive results accompanied by notable shortcomings.
The Legislature passed reforms to the cash bail and speedy trial systems, but failed to act on calls to end solitary confinement and fell short of securing many of the restorative elements that advocates sought in the push to legalize recreational marijuana.
"When it comes to redirecting revenue or investment to communities most impacted by the drug war, climate change, and housing instability, they came woefully short," reads a statement attached to the True Blue NY scorecard.
Legalization of adult-use marijuana failed to pass, largely due to opposition from suburban and upstate Democrats in the state Senate, some of whom represent newly-taken swing districts and feared swinging the pendulum to far to the left. A bill to decriminalize marijuana was passed at the end of June with some elements of what reformers desired, but not nearly all of it.
In a statement on the bill, Stewart-Cousins said, "This legislation is marking a momentous first step in addressing the racial disparities caused by the war on drugs. The Senate Majority continues to move forward on full legalization..."
A number of mediocre grades are accompanied by the view of some coalition members that critical measures promoting the interests of more marginalized constituencies were deprioritized.
"I think that's a reflection of the Legislature focusing on the politics of issues, concerned about the maintenance of their seats, the maintenance of their power," said Jawanza Williams, director of organizing at VOCAL-NY, a member of the coalition.
That is not inherently a bad thing, according to Williams, "but whenever you don't center the experiences of some of the most vulnerable New Yorkers, like those who are dealing with marijuana prohibition legacy issues," it can overshadow "the experiences and the needs of the people that are directly impacted by some of the most devastating issues in the state."
Some of True Blue NY's worst grading was given in categories that the coalition felt would do the most to change the dynamics of power in Albany and across the state. In categories titled "Big Money Out of Politics" and "Clean Up Albany" the Assembly and Senate both received Ds.
"There is no question this was a historically progressive year and that the state made a big leap forward, but unfortunately it didn't make that equal leap forward for everyone," Silver said. "If you look at the things that were left on the table, these are issues that affect the most marginalized in our state or effect real representation."
True Blue NY members were especially disappointed to see delays to comprehensive campaign finance reform, like a publicly-financed campaign matching funds program, which they view as essential to limiting the influence of special interests and promoting more representative candidates.
"It's the discrepancy across the pillars and within certain core pieces of legislation, where economic and social issues were not prioritized, that we believe is a good example for why the Legislature should have pushed heavier for fair elections," said Silver.
The rest of the D and F grades were given in categories impacting some of New York's most essential functions and public resources: taxation, education, and healthcare. Creating a more equitable tax system, funding culturally-responsive education, and establishing single-payer healthcare through the New York Health Act were all left on the table at the end of session.
The People's Platform scorecard is calculated based on a number of factors for each bill in an issue category tracked by the coalition, including legislative activity as reported on the Senate and Assembly websites, according to True Blue NY's co-leader, Judith Hertzberg. Each legislative body earned credit when a bill supported by the coalition advanced, whether it be out of committee or on the floor.
If populist displeasure helped turn the state Senate in September and November, it was the sustained grassroots advocacy, not the partisan control, that brought many reforms to the finish line, according to members of True Blue NY.
"You look at the housing bills, you look at the harassment-free legislation that passed, this is due to everyday New Yorkers stepping up and saying, 'I need to be heard. And if you are going to pass legislation, you need to listen to people that have actually been impacted by it.' And a number of our senators and Assembly members were champions of that approach," said Silver.