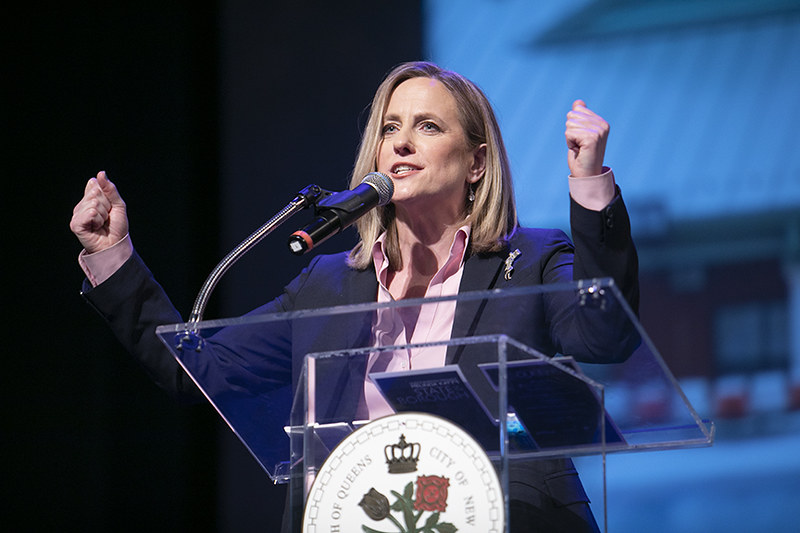 Melinda Katz (photo: Queens Borough President Melinda Katz)
---
Queens will get a new district attorney for the first time in nearly three decades as Democrat Melinda Katz won the seat on Tuesday with an overwhelming 75% of votes over Republican Joseph Murray, who received 24% of the vote (about 1% of the more than 184,000 votes were write-ins). Katz will be the first newly-elected Queens DA after former District Attorney Richard Brown died in May. Brown had been in office nearly 30 years.
After squeaking out a primary win in a recount earlier this year, Katz was all but assured a victory in the overwhelmingly Democratic borough, with strong name recognition after having served as Queens Borough President since 2013, and broad support from the Queens Democratic Party, labor unions, and fellow local and state elected officials.
Murray, an attorney and former NYPD officer, is a registered Democrat but received the Republican Party line to run against Katz. He had little hope of winning but campaigned arguing that Katz was promising to go too far as a progressive prosecutor, part of a larger movement in the city, state, and country that he believes is misguided.
In her victory speech, Katz hit familiar themes of promoting what is good for Queens families and honoring the borough's tremendous diversity, while reiterating promises to fight gun violence, end cash bail, protect victims of crime, including workers, and more. Katz said Queens has the opportunity to be a national model for criminal justice reform and pledged to work with a broad coalition to execute her extensive list of campaign promises.
Katz did not simply sail to election, having had to first fight a drawn-out primary battle that was only settled after a recount and court battle over uncounted votes. She came out on top with a 55-vote margin against insurgent candidate Tiffany Cabán, a queer Latina public defender who ran on a platform of decarceration and gained national attention from the Democratic Party's progressive wing.
Though Cabán lost the recount, she was successful in pulling Katz to the left. The borough president's rhetoric and promises became decidedly more progressive as she saw the winds change and Cabán receive many endorsements.
However, to Katz's critics, that was further evidence that she is a career politician searching for her next gig. She has previously served in the City Council and the state Assembly, and unsuccessfully ran for Congress and for City Comptroller. In between, she was a lobbyist with ties to the real estate industry and those connections have been a source of some criticism in the current race. Developers were among her biggest contributors this time around, even as Katz vowed to crack down on predatory landlords and developers, and pitched a detailed platform for construction worker safety and worker protection. Katz also drew criticism, which she pushed back against, that she is too close to the Queens Democratic Party, and therefore not independent enough to be the kind of district attorney free of political ties and considerations.
As district attorney, Katz will head up an office of roughly 600 people, which she argued she is qualified to do, given her time running the borough president's office since 2009. But what she has in at least some managerial qualifications, she lacks in actual courtroom experience. Of all the candidates who ran in the Democratic primary, she was the only one without any.
Nonetheless, she has promised to transform the Queens district attorney's office, which has been among the last in the city to embrace a less punitive approach to criminal justice. Former DA Brown had a reputation for being tough on crime and did not follow the example of other district attorneys in the city who moved away from prosecuting low-level offenses. He even refused to create a conviction review unit to investigate potential wrongful convictions, something that Katz has promised to do.
During the race, Katz made a slew of promises that advocates and observers will likely hold her to as they seek to see a new system of criminal justice in a borough that is home to over 2.3 million people, largely immigrants. She will also take office at the start of 2020 when sweeping reforms passed by the state Legislature this year – including bail reform, speedy trial and discovery reform – will take effect.
[Read: 19 Things Melinda Katz Promised To Do As Queens District Attorney]
[Read: 'Hard to Define': Melinda Katz's Path to the Precipice of Becoming Queens District Attorney]
Ben Max contributed to this story.