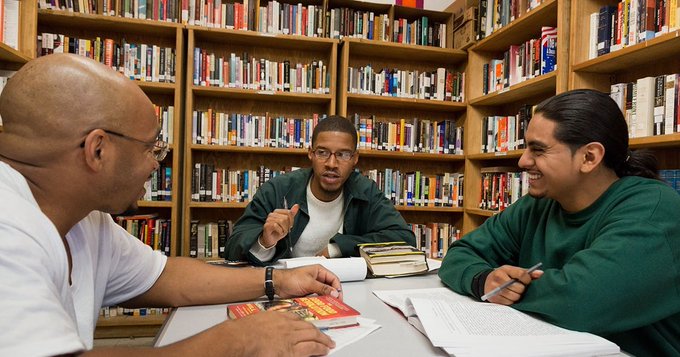 (photo: Bard Prison Initiative)
---
In February 2014, early in his first reelection year, Governor Andrew Cuomo made what proved to be a bold proposal to reduce recidivism by creating opportunities for higher education in state prisons, seizing on an enduring problem at the intersection of social and criminal justice reform efforts. But he had misjudged the political landscape and the announcement was met with significant backlash followed by an uncharacteristic reversal for the seasoned New York powerbroker.
It took nearly four more years, and litigation with the world's largest banking institutions, before a similar plan was recrafted and set in motion again. Two years into the rebooted plan, the state's College-in-Prison Reentry Program has served 506 incarcerated students. Sixty-two of those students completed a degree behind bars before being released.
It was a cold Sunday morning in 2014 when Cuomo, then a first-term Democrat, was flanked by clergy and a smattering of elected officials as he announced a plan to provide state funding to college programs in 10 New York State prisons, an approach he said would cut recidivism and save taxpayer money. He was speaking at an event hosted by the Black, Puerto Rican, Hispanic, and Asian Legislative Caucus of the State Legislature at Wilborn Temple, a black Pentecostal church near the State Capitol in Albany.
"In this great state of New York, this laboratory of democracy, this progressive capital of the country, there is nothing that we can't do when we're willing to work together," he said to fanfare at the end of a speech that tied together employment, education, and incarceration while invoking familiar themes from the Civil Rights Movement and the New Testament.
But by the time the state budget was passed six weeks later, Cuomo had pulled the idea in the face of intense criticism from conservatives, including his Republican challenger Rob Astorino, who said the state should not be funding college for convicted criminals while law-abiding students struggle with the rising costs of higher education.
It wasn't until August 2017 that the governor launched a second attempt, this time in partnership with Manhattan District Attorney Cy Vance, announcing a five-year $7.3 million initiative to fund higher education programs in prisons using money raised not through taxes, but through criminal asset forfeitures. The money was handed over by banks as part of settlements in the wake of the financial crisis late last decade, and is controlled by Vance's office, which now oversees the college-in-prison program, run by the CUNY Institute of State and Local Governance.
The largest of the state's prison-based college programs, the Bard Prison Initiative, is now the subject of a heralded four-part documentary series, "College Behind Bars," which first aired Monday, November 25, to praise from many advocates and elected officials across the country.
First announced as part of Cuomo's State of the State agenda in 2016, the College-in-Prison Reentry Program is intended to help standardize and provide consistent funding for college programs operating in state prisons, which lost their main sources of public financing when state and federal grant programs were peeled back in the mid-nineties. To date, no state budget funds have been allocated to the program, a spokesperson for the state Division of the Budget told Gotham Gazette.
Despite the controversy around the program's inception, prison reformers, elected officials, graduates of the offerings, and the new PBS series are attempting to show the value of higher education in prisons -- both for incarcerated people on the threshold of reentry to the larger society, and for state coffers.
"Going to the college courses, interacting with the professors, engaging theories and texts that I would have never come across in the life I was living beforehand made me want to be a better person and made me want to go back to my community and become an asset and not a liability," said George Chochos, a BA-recipient through the Bard Prison Initiative, which offers courses in six state correctional facilities and is now partially funded through asset forfeitures.
"It provided hope in a hopeless situation," he told Gotham Gazette by phone after work Wednesday evening. Chochos is the assistant director of program management at the Georgetown University Pivot Program, a business certificate program for formerly incarcerated individuals. "It's one of the few things inside of a prison that allows you to break away from the monotony of the prison system, to where your identity is a student not a number," he said.
The College-in-Prison Reentry Program is available to students regardless of the crime they were convicted of, requiring only that they have fewer than five years remaining in their sentences, according to Danny Frost, Vance's director of communications. Seven colleges and universities were selected to receive funding through the program to deliver courses and reentry services at 17 New York State correctional facilities.
It is intended to create 2,500 seats in prison-based college over five years. Two years into the project, nearly $2.8 million has been paid out to the schools and the CUNY Institute of State and Local Governance for program evaluation and support.
In a speech last fall, Vance said "the program is tailored by design to cover New Yorkers who are on that reentry journey -- who in just a few years will be expected to compete in a labor market with community members who were not incarcerated."
Studies have shown that higher education in prison can significantly reduce recidivism rates and leads to better outcomes for people exiting prison, including in terms of employment. But it has faced a rocky history in New York State and nationally, where critics say it rewards criminal behavior in a system created to penalize it.
"I've been incarcerated for 13 years, and from my experience I can tell you prison is here to punish us, it's here to warehouse us. But it's not about rehabilitating, it's not about creating productive beings, it just isn't," said Rodney Spivey-Jones, a BA student in the Bard Prison Initiative, in the first episode of College Behind Bars, which is directed by Lynn Novick.
The Bard Prison Initiative, launched in 2001 by Bard College, is the largest recipient of College-in-Prison Reentry funding at $1.3 million over the five year period (2017-2022). It became internationally famous in 2015, when the BPI debate team at Eastern New York Correctional Facility beat Harvard's.
The six other schools receiving grants through the program are Jefferson Community College, Medaille College, Mercy College, Mohawk Valley Community College, New York University, and Cornell University in partnership with Cayuga Community College. To receive the money, the schools must be able to match the grants with other funding sources like charitable foundations or federal grants.
Each school offers different courses and degrees in line with the curriculum standards offered on their main campuses. Five offer associate's degree programs and two offer bachelor's degrees. They provide between 1 and 10 courses per semester, with most offering more than six.
College programs have been operating in New York State prisons since 1876, but they received a boon in the mid-twentieth century through post-World War II charitable initiatives and federal funding like the GI Bill, according to a report from John Jay College's Prisoner Reentry Institute. In the mid-1970s, the establishment of federal Pell grants and the state's Tuition Assistance Program (TAP) for low-income students allowed prison-based college programs to significantly expand. Nationwide, the number of programs exploded from from 12 in 1965 to nearly 350 in 1994, the report says.
But in 1994, the funding rapidly dried up. That year Congress passed the Violent Crime Control and Law Enforcement Act (often referred to as the 1994 crime bill), which barred Pell grants from going to incarcerated students. The following year the New York State Legislature rescinded TAP for students in state prisons. The results were dramatic: in the spring of 1995, 25 college-in-prison programs served 3,445 students in New York; a year later, only 256 students were being served in four prison-based programs across the state, according to the John Jay report.
Since then, higher education in New York State prisons has relied mostly on private funding. In 2015, the Obama administration launched the Second Chance Pell pilot program, which allow Pell grants to be distributed for prison-based programs to test their impact on post-release outcomes. A number of the schools participating in the College-in-Prison Reentry Program have used the pilot to match grants from the Manhattan District Attorney, according to Vance's office. In May, the federal Department of Education under Secretary Betsy DeVos announced the Second Chance Pell pilot would be expanded.
As of November 26, 44,710 individuals were incarcerated across the state's 52 prisons, operated by the Department of Corrections and Community Supervision (DOCCS), according to a department spokesperson. At the beginning of the month, 1,580 of those individuals were enrolled in college programs in 29 facilities, DOCCS representatives said.
When the College-in-Prison Reentry Program was launched in 2017, there were just over 1,000 students already in prison-based college programs, according to a press release announcing the program.
Providing access to higher education in prisons has for decades been a contentious issue in the state, where it is often expressed in political discourse as a trade-off between support for "law-abiding" students struggling to go to college and "criminals" receiving taxpayer benefits.
In 2014, two days after Cuomo first announced a plan to fund prison-based programs with state funds, then-State Senator Mark Grisanti, a Buffalo Republican, released a petition opposing the plan.
"I support rehabilitation and reduced recidivism, but not on the taxpayer's dime when so many individuals and families in New York are struggling to meet the ever-rising costs of higher education," said Grisanti in a press release launching the petition. (Grisanti lost his reelection bid that year and was appointed by Cuomo to the New York State Court of Claims in 2015. He now serves as a state Supreme Court Justice in Erie County.)
Reducing recidivism has always been a focal point of college-in-prison programs, and fewer individuals living in state prisons means taxpayers are spending less on detention. Cuomo, in 2014, said the math favors more prison-based programs, which studies have shown significantly cut recidivism rates for participants. Despite that outlook, he did not put up an aggressive fight for the program when crafting the state budget with legislative leaders that year (at the time, the Assembly was controlled by Democrats, while Republicans controlled the Senate with help from a breakaway group of Democrats).
In 2014, it cost the state $60,000 annually to incarcerate one person and approximately $5,000 to educate them, Cuomo said when announcing the later-abandoned initiative. But supporters say higher education in prison has a good return on investment, both for the individuals served and in terms of recidivism. An oft-cited 2013 RAND Corporation study found that people participating in correctional education programs were 43 percent less likely to return to prison and 13 percent more likely to find employment upon release.
"Providing the opportunity of a college education to the men and women in New York State prisons is a no brainer – it saves the state money in the long run while benefiting our society and those looking to make a better life for themselves and their families," wrote Caitlin Girouard, a spokesperson for the governor, in an email to Gotham Gazette. "College degrees for people exiting prison provide them with a real chance at getting a job and staying out of the cycle of crime, and we are proud that in New York we're helping make that a reality."
The governor's office did not respond to questions about whether there are plans to expand the initiative, including through the state budget.
The Vera Institute for Justice is expected to release an evaluation of the College-in-Prison Reentry Program in mid-2023, which will analyze recidivism rates for participants, according to a spokesperson for Vance. According to the latest data available to DOCCS, people released from state prisons in 2012 had a 43 percent chance of returning to prison within three years, in most cases for violating parole conditions (since 1996 the recidivism rate has hovered around 40 percent).
A DOCCS representative wrote in an email that recidivism rates could fall to as low as 16 percent for people who have attended college in prison, citing "decades of data."
"I remember when I first got in, calling my mother and hearing the joy in her voice. Neither of us knew where it would take us," Chochos said. He was accepted into Bard's program in 2004 at Eastern New York Correctional Facility, a maximum security prison, four years into his term. He went on to receive an associate's degree and a bachelor's in social studies from Bard, and a masters from New York Theological Seminary before being released in 2011.
Since exiting the state prison system, Chochos has received two master's degrees from Yale Divinity School, graduating with honors in one of them in 2016.
"It gave me a new language by which to contextualize my own life and the choices that I made," Chochos said of the education he received behind bars. "It encouraged me to dream for the first time."
Prison-based college programs serve a more diverse student population than traditional college programs. According to the 2019 John Jay College report, citing DOCCS data from 2016, the state prison population is "25 percent white, 48 percent black/African-American, and 23 percent Hispanic/Latino," with a similar distribution among the subpopulation participating in college programs. By contrast, "[w]ithin the SUNY system, 57.3 percent of undergraduates are white, 12.3 percent Hispanic, and 10.8 percent are black/African American," the report notes. (Three of the colleges involved in the College-in-Prison Reentry program are part of the SUNY system.)
Two bills in the State Legislature could impact the future of prison-based college in New York. One sponsored by Assembly Member Jeffrion Aubry and Senator Velmanette Montgomery, two New York City Democrats, would restore eligibility for TAP, the state-funded tuition assistance program, to students in prison.
Another sponsored by Aubry and Senator Jamaal Bailey, a Bronx Democrat, would establish a commission on post-secondary education in prisons to evaluate and make recommendations on higher education in the state prison system. But they face an uphill battle: the commission bill stalled in committee last year, according to a spokesperson for Assembly Member David Weprin, who chairs the Assembly Committee on Correction.
Meanwhile, the New York City Council has committed city funding to education programs for people involved in the criminal legal system as part of a $13.5 million investment in alternatives to incarceration in the current fiscal year. This year, $850,000 was allocated to support education for formerly-incarcerated individuals after being released. Of that funding, $250,000 will go to the Bard Prison Initiative to support reentry and alumni career development activities in prisons for the 6-12 month period before release.
The remaining money will go to the College and Community Fellowship, which provides educational support for women upon reentry and serves approximately 120 women, according to a spokesperson for Speaker Corey Johnson.