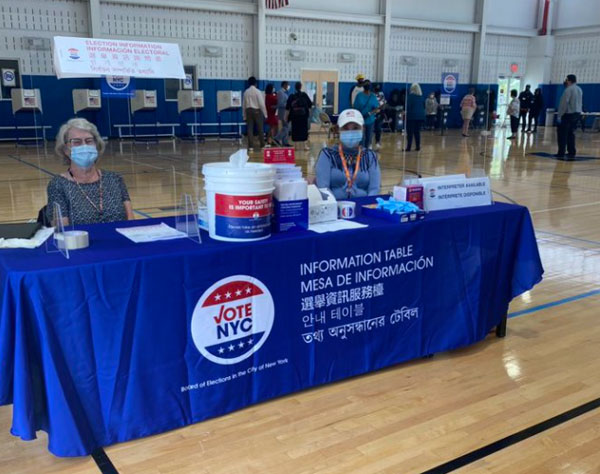 Early voting at a poll site can be a breeze (photo: @BOENYC)
---
As election administrators across the state prepare themselves for a second, larger wave of mass absentee voting this fall, officials and voting advocates are encouraging as many voters as possible to take advantage of the state's in-person early voting option as an alternative to crowded Election Day poll sites and the uncertainty of casting a ballot by mail.
Early voting, first launched statewide in 2019, will be offered this fall from October 24 through November 1 and gives all voters the chance to vote in person at designated poll sites over nine days leading up to Election Day, which is November 3. This year, with all voters eligible to vote by absentee ballot, the New York City Board of Elections is expecting as many as 1 million mail-in ballots, which take longer to count and are prone to being rejected on minor grounds.
Roughly a fifth of all absentee ballots are thrown out each election due to technicalities like missing a signature on the outer envelope, or being partially unsealed. That was no trivial proportion in the June primaries. About 80,000 mailed ballots, out of the 400,000 cast citywide, were rejected on technicalities and the high volume meant officials couldn't deliver election results until six weeks after polls closed on June 23.
Only about 52,000 people across the five boroughs took advantage of the early voting period in June.
While state lawmakers have made some adjustments to election law to help reduce the risk that ballots are thrown out, a number of proposed fixes were never passed, errors in the fall process are already showing up, and timeliness remains a major concern. With another slew of absentee ballots expected this fall, Michael Ryan, the NYC BOE's executive director, recently said election results may not be available until the first or second week of December.
Absentee voting was expanded by executive order this spring and later by state law to ensure voters had an option that didn't require them to risk transmitting or contracting COVID-19 at a poll site. Early voting, which spreads the number of open poll site hours across more than a week, including some evenings and weekends, offers similar protection from often packed Election Day polling places but allows votes to be tallied the same day using ballot scanning machines. The option is looking increasingly attractive to voting advocates, given the stresses of the primaries and anxiety about how the results of the presidential election will be handled, particularly by President Trump.
"The key to protecting voting rights in this climate is ensuring voters are aware of their new options so they can make an informed voting plan, help loved ones do the same, and take early action well ahead of unforgiving deadlines," wrote Jarret Berg, an election lawyer and co-founder of the advocacy group Vote Early NY, by email.
"While voting remotely may be safer and more convenient for some New Yorkers, early voters will scan their marked ballots immediately, just like on Election Day, avoiding potential pitfalls that can jeopardize rights," Berg said, adding that ballots cast during early voting are tabulated in the unofficial results reported on election night.
Elections administrators are also emphasizing the early voting option, as are other public officials like Rep. Alexandria Ocasio-Cortez, who recently tweeted that she would be voting early and in person, and encouraging others to plan to do the same.
"Early voting will be a critical part of managing the election, given the anticipated record turnout," wrote NYC BOE Commissioner Tiffany Townsend, in an email to Gotham Gazette. "There will be thousands of new absentee voters, but many more who will prefer to cast their votes in person."
"The additional nine days [of voting] - combined with our dropbox option - will help mitigate potential wait times both outside and inside poll sites. That's a huge plus," Townsend wrote.
City and state agencies are rolling out a series of public awareness campaigns to educate voters on their options, leveraging partnerships with grassroots organizations and media companies.
All of the funding allocated to promote early voting comes from New York City government or private grants.
The New York City Board of Elections is spending a total of $1.5 million on advertising about the three voting options, according to Valerie Vazquez-Diaz, the board's director of communications and public affairs. That money will go toward advertising in citywide and hyper local newspapers, including non-English publications, as well as subway and bus ads, Vazquez-Diaz told Gotham Gazette. The funding, which comes from city government, includes $500,000 for subway and bus advertising, $600,000 for digital advertising, and $400,000 for print media. NYC & Company, the city's official marketing organization, is also donating ad space to the BOE in the LinkNYC digital kiosks that populate some city sidewalks, according to Vazquez-Diaz.
On top of paid advertising, the NYC BOE will be posting key information on its Twitter and Facebook accounts and has been working with local elected officials, organizations, and community boards to promote the BOE's messaging, using educational toolkits developed by the Board.
Perhaps the most direct messaging will be in the BOE's mailer, which it is sending to each registered voter. The mailer is part of a directive from Governor Andrew Cuomo to local election boards to inform New Yorkers of the three voting options (absentee voting, early voting, Election Day voting). Local boards must include information on how to request an absentee ballot online and the location of each voter's early voting and Election Day polling places.
The BOE's notice, which it began mailing last week, includes the hours of early voting as well as a magnetic fob that allows for faster, contactless check-in for in-person voting.
Separate from the BOE's efforts, the de Blasio administration is spending roughly half a million dollars to promote early voting through the mayor's DemocracyNYC initiative and the city's Campaign Finance Board, which has a voting awareness initiative called NYC Votes.
DemocracyNYC, which the mayor launched in 2018 to bolster participation in elections, worked with the city's new Civic Engagement Commission to develop a PSA "to encourage as many New Yorkers as possible to vote early if they would rather vote in-person," according to mayoral spokesperson Jose Bayona. The city is promoting the announcement on streaming services and radio, and is also taking out ads in the LinkNYC kiosks and local media, "placing a greater emphasis on the voting early option to cast a ballot," he wrote in an email.
"DNYC is spending $100,000 on streaming and radio advertising, and $37,000 allocated towards spending for a vote by mail PSA in more than 10 languages," Bayona wrote.
With the city facing a massive tax revenue shortfall, DemocracyNYC is working with an informal coalition of voting rights advocates, good government groups, and government agencies dubbed the Elections Consortium, which came together shortly after the coronavirus state of emergency was declared to ensure participation in the 2020 elections, to get unpaid messaging out to key constituencies.
The consortium, which is co-led by DemocracyNYC and the Campaign Finance Board, has produced literature and graphics to address frequently asked questions and is partnering with the nonprofit "F.Y. Eye" PSA network to help disseminate the messaging for free, which Bayona says will help provide timely information to voters in multiple languages.
The Campaign Finance Board (CFB) is putting another $400,000 directly toward an early voting advertising campaign that will launch on October 8, according to spokesperson Matthew Sollars.
Streaming ads will target youth and first-time voters, as well as certain geographic areas, and language and professional demographics, he said. The CFB is also launching a digital campaign emphasizing the convenience of early voting with an eye toward multiple groups of New Yorkers who may require flexibility in voting for different reasons, like parents with child-care responsibilities or food service workers who have long hours and multiple jobs.
The CFB's advertising will appear in over 40 community publications in English, Spanish, Chinese, Korean, and Bengali. Television ads will target viewers in Brooklyn, Queens, and the Bronx, and mobile advertising and websites and cellphone apps will place geo-specific messaging to people within a half-mile radius of an early voting site, letting them know they can vote nearby.
Posters in English and Spanish are being delivered to over 300 local businesses in the CFB's target neighborhoods, identified because they have large numbers of naturalized citizens and historically low voter turnout, particularly in parts of Brooklyn, Queens, and the Bronx, and in many cases the areas hit hardest by the coronavirus pandemic.
Outside of New York City, the State Board of Elections, the regulatory agency with oversight over the state's 62 county boards of elections, is promoting early voting this fall through social media and news releases, and is exploring the possibility of paid advertising through a $1.5 million grant from the Center for Election Innovation and Research, which it received last week, according to a spokesperson.
"That is the budget we working with to advertise the three voting options afforded to NYers (by absentee, early voting and election day) as well as promoting the safety precautions taken at poll sites during the pandemic (wear a mask, use sanitizer and expect to socially distance)." wrote Cheryl Couser, deputy director of public information at the State Board.
"We urge voters to make a plan to go vote!," she wrote in an email.
Spokespeople for Governor Cuomo and the state Division of the Budget did not comment on whether any state funds had been allocated to promote early voting. State agencies will be advertising the voting options on their social media platforms, according to a spokesperson for Cuomo.
"New York has to get this right," wrote Betsy Gotbaum, executive director of government reform group Citizens Union and former New York City Public Advocate, in an email. "We know that President Trump will not hesitate to highlight any confusion or delays to undermine the legitimacy of the election. The best way for New Yorkers to vote safely, avoid Election Day crowds, and ensure their vote is counted in a timely manner is to take advantage of Early Voting."
"We are pleased to see DemocracyNYC, the CFB and the NYCBOE in outreach to encourage early voting, and are glad they are targeting resources to young people and our city's diverse ethnic communities," Gotbaum wrote, adding: "It is unfortunate that the state has not allocated similar resources to this effort."
[See the early voting days and hours here; Find your early voting and Election Day poll sites here]
Note: Gotham Gazette is an independent publication of Citizens Union Foundation, sister organization of Citizens Union.