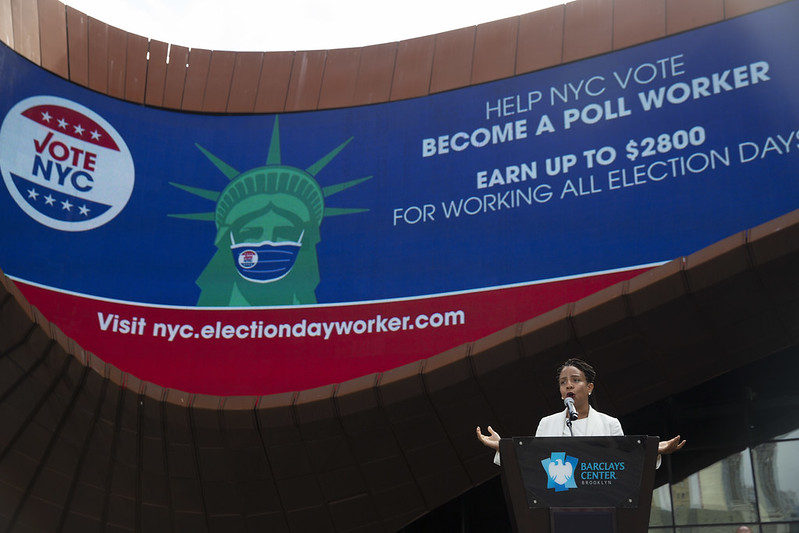 Council Member Laurie Cumbo at an election promotion event (photo: John McCarten/City Council)
---
An October 5 staffing report from the New York City Board of Elections (BOE) to state regulators shows a scramble to prepare for the general election less than a month before Election Day.
The BOE was over a month late to submit the plan, which was required by Governor Andrew Cuomo through executive order to ensure local election administrators had the necessary personnel to manage the expected surge in both in-person and absentee voting. The plan, which was obtained by Gotham Gazette, reveals continuing operational unknowns and tens of thousands of poll workers yet to be trained.
The board stated it was aiming to train over 51,000 employees to work the polls on Election Day, a 150% increase from the number who ended up working during the 2016 general election. Some of those positions are a response to the new reality of voting in a pandemic -- specifically dedicated to managing lines, ensuring social distancing, and receiving absentee ballot drop-offs.
The city Board of Elections is anticipating over a million absentee ballots, which voters may mail or hand deliver to poll sites, and as many as 5 million total votes.
The BOE is planning to open 88 early voting sites and 1,201 Election Day poll sites citywide to receive the flood of voters.
But two-thirds of Election Day poll workers, roughly 33,500 people, had not gone through the city board's training as of the October 5 release of the report. The New York City Board of Elections did not provide more up-to-date information when asked by Gotham Gazette.
"No comment. With 9 days left before early voting, we do not have the staff to look into this data request," wrote Valerie Vazquez-Diaz, a BOE spokesperson, by email. The BOE has been conducting a series of trainings for those who will work the polls.
John Kaehny, executive director of the good government group Reinvent Albany, criticized the BOE for an apparent lack of preparedness. "The NYC BOE's staffing report shows that once again, the Board is struggling to keep up: It has a month to train 33,000 poll workers. That's a big number, and it's inevitable that this last minute catch-up is going to cause problems," he wrote in an email to Gotham Gazette after reviewing the report.
He blamed the board's explicitly bi-partisan make-up for inefficiencies and mismanagement: "In the best of times, the NYC Board of Elections is behind and barely able to meet its responsibility to voters. This is because the Board is a political patronage mill controlled by county political bosses and much less competent than a non-partisan city agency staffed and run by civil servants."
On top of Election Day poll workers, who make up a bulk of the administrative staff, the board is hiring approximately 3,000 early voting workers to staff the 88 sites. The report says training for that cohort would take place from October 5 through 19. Early voting begins on October 24 and runs through November 1. Election Day is November 3.
Poll workers are needed to check voters in, verify their signatures, and provide their ballot. They must make sure lines move and voters know how to feed their ballots into the voting machines. This year they will have the additional task of accepting absentee ballots that have been dropped off on top of the anxiety of maintaining public safety protocols at poll sites amid a pandemic.
About 4,800 workers have been hired specifically for line management, to reduce waiting, and help maintain social distancing. Their training is taking place virtually, according to the report. The BOE said it was deploying additional supplies to poll sites to "optimize voter flow," but did not provide specifics in the report. In response to questions from the State Board of Elections about whether it had changed the spatial layout of poll sites to facilitate traffic, the BOE stated: "Yes (wherever possible)."
The BOE also predicted it would need 165 workers before Election Day to process absentee ballots, which includes receiving absentee applications, distributing requested ballots, and securing returned ones.
Training this year is a combination of in-person and virtual instruction. The BOE has secured some larger venues, on top of its traditional training locations, "to maintain social distancing and to simultaneously conduct multiple classes at individual facilities," according to the report.
"From what I understand, they do it in a relatively efficient way," said Sarah Steiner, an election lawyer and expert of New York election law and administration, by phone. "A lot of poll workers are not first-timers."
In 2016, between a fifth and a quarter of the poll workers in each borough were first-time employees. It is not clear how many of the roughly 18,000 additional positions the BOE is looking to fill with new personnel.
"I'm hoping that there are enough poll workers. Many of their poll workers are older people and even though I saw them working the polls in June, a lot of them weren't there too," Steiner said, referring to the heightened health risks seniors face in the pandemic.
"And you have to remember that when you send these people to training, you'll have a certain amount of attrition," she added.
The report says the election will take 21 days to canvass, or finish counting -- a high number correlated with the high volume of expected mailed-in ballots. State law requires each absentee ballot to be hand-tabulated by bi-partisan teams of two. The BOE estimated it needs 380 workers to canvass the ballots (of which 300 had been hired by October 5) and about 440 for the legally-mandated "recanvass" to confirm the count. The canvassing process must be completed before the official results are published.
The 21-day projection, despite being far longer than in a typical election, would land the BOE four days before the November 28 statutory deadline to certify results, and would be significantly shorter than the six weeks it took in the primaries. It is also two to three weeks shorter than the mid-December estimate BOE executive director Michael Ryan told lawmakers at a New York City Council oversight hearing last month.
Another new and mammoth task for the BOE has to do with a law passed by the State Legislature and signed by Cuomo after the chaotic June primaries, which requires election administrators to notify voters when their absentee ballot has a disqualifying error and give them an opportunity to "cure" the mistake. The provision tracks (to an extent) the due process rights afforded by affidavit ballots available at poll sites, but it also adds a voluminous administrative burden during pandemic voting.
One of the deficiencies that triggers the curing process is a missing or mismatched signature on the ballot's outer envelope. Already, vendor errors that resulted in close to 100,000 voters in Brooklyn receiving someone else's outer envelope could lead to tens of thousands of incorrectly signed votes being sent in, all of which by law are entitled to a review by the voter. The BOE has contacted the impacted voters and provided them new envelopes and ballots. It is unclear how administrators will interpret the new law's impact on any erroneous signatures caused by administrative blunders.
According to its report to the State Board, the BOE does not yet have a grasp on how the new mechanism will impact its operations, but infrastructure must be established and the city BOE's report hints that it is a daunting requirement.
"Given the anticipated volume of individual cures and to ensure the timely processing of same, the final stages of automation to assist in processing is being completed. Upon completion, the Board will finalize the number of staff assigned to this task. The Board will update this information no later than October 9, 2020," the city BOE report reads.
On Wednesday, Douglas Kellner, the Democratic co-chair of the State Board of Elections, told Gotham Gazette the city BOE had still not provided the promised update.
The Governor's Office did not respond to requests for comment about the content of the report or the BOE's preparedness to implement the curing provision. Mayor de Blasio this week has reiterated his calls for a total overhaul of the Board of Elections to make it a nonpartisan, fully professionalized entity.