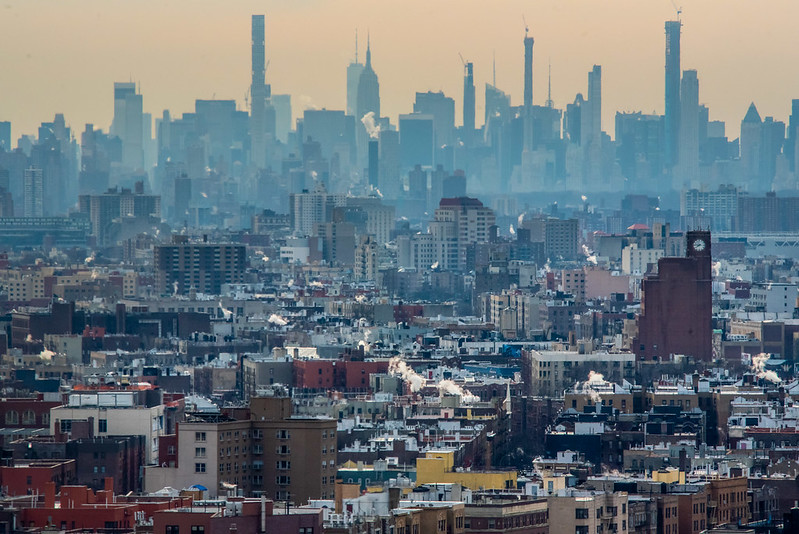 New York City development (photo: Michael Appleton/Mayor's Office)
---
City Council Speaker Corey Johnson on Wednesday unveiled legislation that would overhaul New York City's long-term planning processes, eliminating duplicative procedures, streamlining agency coordination, and establishing a more proactive, holistic approach to land use and budgeting that prioritizes racial and economic justice.
For decades, the city's zoning, land use, and development have been subject to disparate sets of mandates and guidelines, some overlapping and redundant, in the City Charter, the city's foundational governing document. There are more than a dozen planning documents that determine how infrastructure is built and how communities and boroughs grow.
Over the last two years, Johnson and his colleagues, particularly Council Members Brad Lander and Antonio Reynoso, have been attempting to reform those processes into one centralized comprehensive approach that would act as an overarching strategy for everything from housing creation to school construction, public spaces, transit access, and economic development. The approach would bring about more equitable and sustainable growth across the city, addressing long-standing disparities and needs, particularly in Black and brown communities, while also meeting citywide goals.
Council members along with the Thriving Communities coalition of advocates and experts unsuccessfully proposed such a comprehensive planning framework before a Charter Revision Commission last year. They sought to have the commission present the policy to voters in the form of a ballot question, but the commission decided against including it in its final list of ballot proposals.
"We have a piecemeal and top-down approach to land use and planning and we can't afford to carry that ineffective approach into our future. The stakes are just too high," Johnson said Wednesday, as he announced the new legislation and released an accompanying report, "Planning Together." The report outlines the city's broken planning procedures that have created inequities and critiques city government's inability to realistically evaluate, budget, and build major infrastructure projects through the capital budget.
The report and the legislation, Johnson said, would "give us tangible and useful tools to plan for our future...We're going to have clearly-defined, measurable, citywide goals, and every neighborhood is going to develop their own land use plan. These are real concrete things that New Yorkers can actually wrap their heads around."
Johnson was joined at a virtual rally to announce the report and legislation by Reynoso and Lander, as well as Council Members Vanessa Gibson, who chairs the Council capital budget subcommittee, Carlina Rivera, and Ben Kallos, as well as planning experts and advocates from Association for Neighborhood & Housing Development, the Pratt Center for Community Development, the Municipal Art Society, and the Regional Plan Association.
The new legislation, which includes City Charter amendments, would incorporate and re-jigger all the current elements of city planning into a comprehensive planning strategy over ten-year cycles, mandating a regular effort at thoughtful, coordinated growth and that decisions on land use and the city budget actively seek to rectify historic inequities across the city for low-income communities of color and to prevent the displacement that may be caused by forces of gentrification.
The plan will be a living document, changing every five years to keep up with the evolving needs of the city and based on regular engagement with communities. If the legislation is passed in 2021, the ten-year process would begin in 2022, with a Long Term Planning Steering Committee and an assessment of needs from community boards. The plan itself would first be published in 2025, and then amended in 2030 as citywide goals, needs and land use actions are reassessed.
It would require regular appraisals of infrastructure needs, short- and long-term risks and the impact of land use decisions. The proposed bill would require that the city prioritize community input and create new, local decision-making bodies to weigh in on land use and development processes. And it would set quantifiable targets for "housing, jobs, open space, resiliency infrastructure, schools, transportation, and other infrastructure."
The legislation was built off the Planning Together report, which includes, as Johnson called it, an indictment of "bureaucracy at its worst" under past mayoral administrations that created siloed processes, inefficient coordination across city agencies, and lacked proactive planning for community needs. Those problems, the report argues, have only worsened under Mayor Bill de Blasio and have served to effectively water down his attempt at holistic planning through OneNYC, his vision for equitable growth that retooled former Mayor Michael Bloomberg's PlaNYC framework. "The lack of proactive public engagement or buy-in from elected officials and communities has allowed the significance and utility of PlaNYC/OneNYC to fade over time," the report says.
It highlighted what has become a central issue for de Blasio's affordable housing program: vociferous community opposition to individual neighborhood rezoning and land use proposals. The mayor's administration has sought to upzone swathes of neighborhoods to allow for more density and to encourage developers to build a combination of market-rate and rent-restricted housing. But time and again, those rezonings have been met with widespread resistance and even legal challenges, some of which have successfully derailed the administration's plans. The ones that have been passed, in coordination with the City Council, have all been in communities of color. In his final year in office, de Blasio is looking to advance rezoning plans in Soho and Gowanus.
"That contention is, in part, due to a growing distrust of the process and a sense among some community stakeholders that the City and private developers are often unfairly targeting neighborhoods—particularly low-income communities of color—to bear the burdens of growth in exchange for long-overdue investments like affordable housing, schools, child care centers, street safety improvements, parks, and playgrounds," the Council's report notes.
Johnson said he is hoping to soon hold a hearing on the legislation.
"It has long past time, long overdue that we implement these best practices that nearly every other city in the world uses to prioritize its spending," said Council Member Gibson.
"[A]dvocates are marching today as they have often in the past for an approach to land use that starts from listening to communities about their needs, rather than starts by responding to a proposal from a developer," said Council Member Lander. "A comprehensive plan, developed in conversation with communities grounded in principles of fair housing, equity, livable neighborhoods, and sustainability will help give us the tools to do that."
An equity-focused comprehensive plan "will help move us away from this ad hoc approach to planning that only perpetuates the existing inequalities," said Barika Williams, executive director of ANHD, which is a leader of the Thriving Communities Coalition.
Council Member Reynoso said comprehensive planning would ensure that "the burden of building ourselves out of any crisis doesn't fall on strictly poor Black and brown neighborhoods. We get to have a conversation about how all neighborhoods can contribute." Reynoso recently killed a de Blasio administration attempt to rezone a portion of his district in Bushwick after the sides could not come to agreement on key pieces of the puzzle.
The comprehensive planning legislation is of a piece with Johnson's policy agenda as speaker. He successfully created a "streets master plan" for traffic and pedestrian infrastructure, which was signed into law by the mayor at the end of last year (though it's implementation has been delayed due to the pandemic). Johnson has pushed through legislation to codify the mayor's Office of Food Policy into law and to mandate a ten-year plan to tackle hunger and food inequity. He called for municipal control of the city's subways and buses in his first State of the City speech last year. In January this year, he proposed a homelessness reduction plan, though he has yet to produce a strategy for building affordable housing which he promised at the time as a companion plan. In March, Johnson also released an in-depth report and a series of proposals to mitigate climate change and build resiliency infrastructure. The plan was originally meant to be released in his State of the City speech, which was cancelled because of the pandemic.