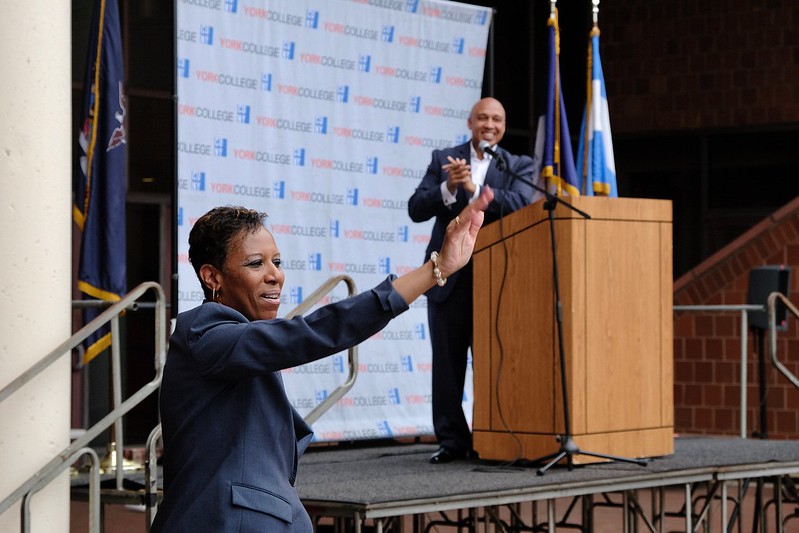 Council Member Adrienne Adams (photo: Gerardo Romo/City Council)
---
In response to an effort by allies of Mayor-elect Eric Adams to install City Council Member Francisco Moya as the next Council Speaker, a coalition is forming behind Council Member Adrienne Adams to win the legislative leadership post, several sources with direct knowledge have told Gotham Gazette.
The movement behind Adrienne Adams is being led by powerful labor unions that have been allied with the mayor-elect but were among many interested parties taken aback by the push to anoint Moya as the next Speaker, sources said.
The leadership of the unions, 32BJ and DC37, as well as other candidates for Council Speaker, other returning and incoming Council members, and additional power players in the process, like Democratic county party leaders in the Bronx and Queens, were "blindsided" and upset by the move from the mayor-elect's team to try to make Moya the next Speaker.
Those moves -- first reported by the Daily News and Politico New York earlier this week -- frustrated some who wanted the mayor-elect to fully or mostly stay out of the Council Speaker selection process, or those who simply wanted him to make decisions about who to support for Speaker with them.
But some of the frustration is due to a fact several sources say was a major miscalculation by Mayor-elect Adams' team: that it decided to back Moya, who is not particularly popular among returning and incoming Council members and had not independently secured support from members before Eric Adams' team launched its blitz on his behalf in early December.
One source with direct knowledge of the negotiations said the move behind Adrienne Adams is a "rebuke" of how the mayor-elect's team moved to install Moya but that it is "definitely somewhat" because of Moya's lack of support among Council members or members-elect. "Anyone else this probably isn't happening," the source said of the response to Eric Adams' team trying to make a big push for one candidate.
Along with Moya and Adrienne Adams (no relation to Eric Adams, but the two did go to high school together in Queens), the other candidates for Speaker include Carlina Rivera, Justin Brannan, Diana Ayala, Keith Powers, and Gale Brewer. All of the Speaker candidates and the mayor-elect are Democrats, who will outnumber Republicans roughly 46-5 in the next City Council.
Sources said that Rivera, Brannan, Ayala, and Powers were the only four with significant support among returning and incoming members as of Eric Adams' team jumping into the process in a major way, which occurred while the mayor-elect was on a spiritual trip to Ghana.
A somewhat open and democratic Speaker selection process was unfolding, sources have said, with powerful entities like the Bronx and Queens Democratic county parties polling their members to gauge support and attempting to hew to the results as negotiations intensified. In some ways, the process left an opening for Eric Adams' team to jump into the fray to make a power grab.
The vote among Council members will take place in January after the new class of 51 Council members is officially seated, but one Speaker candidate is expected to secure the requisite 26 votes and declare victory before the end of this month.
Sources say Adrienne Adams could have it locked up by the end of the weekend or on Monday, but that there is still too much up in the air to say where things really stand. What has become clear, though, is that unless something dramatic changes it is likely going to come down to either Moya or Adrienne Adams.
One source with direct knowledge said that 32BJ, DC37, Bronx Democratic Party leader and State Senator Jamaal Bailey, Queens Democratic Party leader and U.S. Rep. Gregory Meeks, and Speaker candidates Brannan, Ayala, and Powers are all involved in the ongoing discussions to get Adrienne Adams the necessary commitments from Council members.
Multiple sources said Brannan in particular is a linchpin given the work he had done for several years to build relationships with returning and incoming Council members and the support he had secured, while Powers has been in the mix as a top-three choice for many Council members and groups, and Ayala has sway as given the ongoing discussions around choosing a woman, a woman of color, and/or a Latino Council member to lead the body.
The Council Speaker, widely seen as the second most powerful official in city government, is one of four city elected officials with citywide responsibilities. The other three, elected by voters, will all be men and none will be Latino. Moya, who represents large immigrant communities in Queens, is Latino. Adrienne Adams would become the first Black Speaker of the City Council.
Moya, Brannan, and Adrienne Adams were all strong supporters of Eric Adams throughout the competitive mayoral primary and then cake-walk general election this year. Eric Adams, with massive sway as the mayor-elect, is not seen as necessarily opposed to Adrienne Adams as Speaker, but his political capital is on the line with the attempt to install Moya as Speaker.
Sources said Eric Adams has vascilated some between being all-in for Moya and, in the face of serious opposition to that move, coming around to the idea of Adrienne Adams winning the contest. If Moya is not victorious, Eric Adams will enter the mayoralty after a significant political loss.
"Members clearly put their foot down about the mayor-elect's attempt to anoint the next Speaker and started to look for a viable option," one source directly familiar with negotiations told Gotham Gazette, "and Adrienne Adams is one of the strong contenders among the Bronx, Queens, and labor unions, as well as their members." Among other Speaker candidates, the source said, Adrienne Adams is far more preferable than Moya, in part because of the attempt by Eric Adams' team to install Moya.
It is strange, one source pointed out, that the two apparent final contenders to be the next Speaker of the City Council are Council members who had garnered virtually no independent support among the next Council class.
But, while Moya had Eric Adams' team pushing for him, in response Adrienne Adams has been buoyed by DC37 in particular, and has had support from Meeks, who shares a Southeast Queens constituency with her, and others.
One source said Adrienne Adams has a better reputation than Moya among Council colleagues but that she had not built many relationships on the way to seeking the speakership. Her challenge now, that source said, is in closing the deal. She does not have a particularly strong political team and is reliant more on labor, the county party leaders, and the other Speaker candidates who she may reach a deal with.
This story — first published Saturday December 11 at 4 p.m. — is developing and the situation is fluid. This article may be updated with additional information.
READ: 'What I Bring to the Table is My Experience': Francisco Moya on Housing Development, Running for City Council Speaker, & More
READ: 'The New Commissioner Really Has Her Work Cut Out For Her': Adrienne Adams on Police Reform, Running for City Council Speaker, and More
LISTEN: The 7 Candidates for City Council Speaker on Their Government Work and Pitch to Colleagues