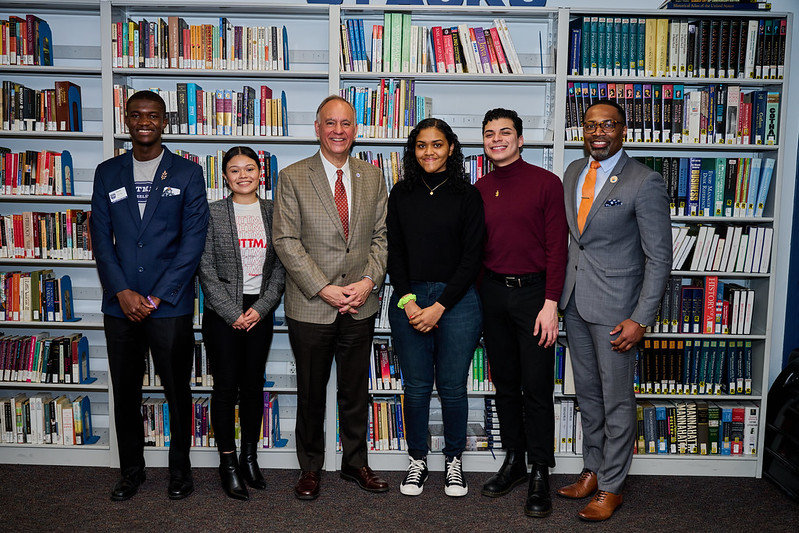 CUNY Chancellor Matos Rodriguez (third from left) visits Guttman Community College (photo: CUNY)
---
The City University of New York (CUNY), the largest urban public university system in the country, is at something of a crossroads. Coming out of two especially challenging pandemic school years, the university just completed a mostly in-person year, with the usual sweep of celebratory in-person graduations, and graduates entering a strong economy.
On the other hand, the COVID-19 pandemic is not gone, and neither are the difficulties it brought to CUNY students, campuses, and communities, from death and illness to a significant drop in enrollment, mostly at the community colleges.
As CUNY looks to continue to rebound into the 2022-2023 school year, it has been bolstered by major federal pandemic aid and significant new allocations in the New York state budget adopted in April. But enrollment drops remain a concern and CUNY continues to wrestle with a number of other challenges, including how to rethink the ways its schools prepare students for the 21st century economy and what it needs from the city's K-12 school system to ensure that its graduates arrive at CUNY prepared for college-level work.
CUNY Chancellor Félix Matos Rodríguez, the eighth person to hold the position and first chancellor of color of CUNY, recently discussed all of these topics and more in a "state of CUNY" conversation on Gotham Gazette's Max Politics podcast.
This year marks the 175th anniversary of the founding of City College of New York, the basis for what would become CUNY, and graduation season included celebrations not just of the CUNY classes of 2022, but also of those of 2021 and 2020 given they did not have in-person graduation ceremonies due to the pandemic.
Chancellor Matos Rodríguez has led the university system's 25 colleges since May 2019, just months before the onset of the pandemic in New York in March 2020.
"It was not exactly the script that I thought I was going to be following when I became chancellor, but I think I was in good company with many New Yorkers who are trying to make sense of the pandemic, remain safe, keep the city moving forward," Matos Rodríguez said on the podcast about taking over at CUNY just before the pandemic and spending most of his tenure thus far navigating its tragedies and complexities. "I'm just delighted that we have an incredible team of faculty staff that went the extra mile, the administrative team too, in partnership with so many others in the city."
Since taking office, Matos Rodríguez said career readiness and how students connect with the world once they graduate has been one of his top priorities as chancellor, calling CUNY's previous work in career engagement "average" and mentioning how "there's a lot of room there for improvement."
To prepare students for the modern workplace, Matos Rodríguez said CUNY has continued to form partnerships with employers and professional schools. He noted that CUNY has also increased its engagement with the New York City Department of Education (DOE) to help students consider possible career path options even before attending a community or senior college.
"If you think about half of our student are first generation college students, we need to be that entity; that they have not thought about what's next after college, they have not thought about where they see themselves, and in a profession, in a career, in an opportunity," Matos Rodríguez said. "We need to be very intentional about providing those opportunities."
Matos Rodríguez said that CUNY has begun a partnership with the New York Jobs CEO Council, a coalition that aims to prepare low-income New Yorkers, including 25,000 CUNY students, for the workforce through intensive educational programs and internships, and that is helping CUNY rethink some of its academic programming. He also pointed to the university system's Faculty Fellows Program and efforts to connect students with internships through the new CUNY Launch program, which matches paid internships to 2,000 students (11,000 students have applied for a spot, he said).
"I want to go down in history as a patron saint of paid internships for our students," Matos Rodríguez said. "We have data that students who participate in a paid internship, they graduate faster, and when they go to work immediately after graduating, they get a job faster and their first-time pay is higher."
When asked what he wants to see from Mayor Eric Adams and city schools Chancellor David Banks, Matos Rodríguez said the city should help students figure out their career path as early as 10th grade in showing them possible career options. He pointed to CUNY's "College Now" courses and early college programs to prepare students before college, especially in the subject areas they may need additional help with.
He also said the city and CUNY are looking at finding ways to make the college application process smoother.
"Are there things that we can do to just make that application easier to signal to you that we want you, that you're ready for college, and there's a place for you at CUNY," Matos Rodríguez said. "There has been great receptivity in Chancellor Banks in doing that, so I am very enthusiastic."
City and State Budget Funding
Under New York State's $220 billion budget for the current fiscal year (FY23), passed in April by the State Legislature and Governor Kathy Hochul, CUNY received a significant increase in funding of around $1.2 billion compared to last year, with $220 million of it in recurring funds. 
The budget includes $965.8 million for capital projects across all campuses, $40 million for academic programming and efforts to increase enrollment, $53 million for hiring additional full-time faculty, $15.6 million for SUNY and CUNY to start child care centers, $110 million for fringe benefits for staff, and more. Around $69 million is for the expansion of the Tuition Assistance Program to part-time students. 
"On behalf of CUNY's 260,000 undergraduate and graduate students and 40,000 faculty and staff, I thank Governor Hochul and our state's legislative leaders for their agreement on a transformative spending plan that will deliver historic levels of support to our University, an investment that I believe is pivotal to the state's post-pandemic economic recovery," CUNY Chancellor Matos Rodríguez wrote in an April statement celebrating the state budget. 
But some legislators and advocates, including the Professional Staff Congress of CUNY (PSC CUNY, the faculty and staff labor union), have emphasized that the new state funding falls short of "The New Deal for CUNY" they had sought. It would return CUNY to being tuition-free for in-state students, significantly increase the number of faculty and staff, and reverse years of underinvestment in the public system. Some legislators focused on CUNY, like Brooklyn State Senator Andrew Gounardes, pushed for the full 'New Deal' package, but were very pleased with the gains made in this budget, and plan to return for more next year.
James Davis, the president of PSC CUNY, told Gotham Gazette that if Governor Hochul follows through with her promise of providing an additional $1.5 billion over five years to CUNY and SUNY, the funding will help CUNY come closer to reaching free tuition and other demands.
In New York City's $101 billion budget, passed by the City Council and Mayor Eric Adams in June, CUNY also had several boosts to funding, receiving a total of $1.4 billion — an increase of $220,000 compared to the 2022 fiscal year budget. For the most part, city government funds the CUNY system's community colleges, but also contributes somewhat toward the larger CUNY budget and specific programs.
In the city budget, CUNY was awarded, among other specific allocations, an additional $2 million for remediation programs, $1 million for STEM programming, $4.4 million for CUNY Reconnect, a pilot program to serve in the first year 10,000 working-age New Yorkers who have college credits, but no diploma — some of these one-time CUNY students are part of the system's significant recent declines in enrollment, which have been concentrated in the community colleges. The CUNY Reconnect program is a priority for City Council Speaker Adrienne Adams, who, like Adams (no relation), is a CUNY alum.
During the Max Politics podcast interview, Matos Rodríguez mentioned how the city council speaker modeled the CUNY Reconnect program to a similar initiative in Tennessee, which has invested in child care, pre-enrollment counseling, and other services. "We think that there's going to be another market share of enrollment that we're going to be able to get back," he said.
Prior to the final budget agreement, Mayor Adams had proposed a $98.5 billion preliminary budget, which incorporated a 3% cut in spending for most city agencies and departments, and millions from CUNY. On May 18, dozens of CUNY community members and New York City Comptroller Brad Lander called for a $85.6 million increase in total city funding for CUNY, demanding $62.6 million for the PSC CUNY's list of investments and $23 million for CUNY Reconnect.
PSC CUNY previously advocated for the city to invest $26.2 million in new operating funds for CUNY in order to "promote racial equality, boost the economy and ensure safer communities in the future," according to its website. The union asked for $33.5 million for capital improvements, $20 million for Accelerated Study in Associate Programs Initiative, $14.6 million to replace former full-time faculty, and more.
City Council Member Eric Dinowitz, a Bronx Democrat who chairs the Council's higher education committee, told Gotham Gazette that many of the policies he advocated for were included in the state budget, including more funding for CUNY TAP eligibility for part-time students and incarcerated students. 
The budget allocations head "towards the right direction," Dinowitz said. "Obviously, we will always need more investment in our education system in the city."
Like PSC CUNY, Speaker Adams and the City Council had also sought $23 million in the city budget for CUNY Reconnect, something the speaker had made a major priority, but settled for the $4.4 million that the mayor would agree to including in the adopted budget.
Dip in Enrollment
CUNY has continued to see a decrease in enrollment since March 2020, in line with trends across the country and signaling trouble for a system that serves many low-income New Yorkers. In fall 2020, there was a 5.1% dip in enrollment compared to fall 2019, according to a CUNY spokesperson in fall 2021. 
In fall 2020, 178,619 students were enrolled at CUNY, which declined to 170,358 students in fall 2021. According to a City Council's Finance and Higher Education Committees Report from 2021, enrollment decreased from 60,287 students in fall 2020 to 43,915 students in spring 2021 across six of CUNY's community colleges.
According to data from fall 2019, students at the system's senior colleges were 27.1% white, 26.2% Hispanic, 23.3% Asian, 23.1% Black, and 0.3% Native American or Alaskan Native, and students were 38.1% Hispanic, 29.2% Black, 17% Asian, and 0.4% Native American or Alaskan Native at the community colleges. Among the total university, students were 30.2% Hispanic, 25.2% Black, 23.1% white, 21.2% Asian, and 0.3% Native American or Alaskan Native.
When Max noted that it appears CUNY enrollment has dropped roughly 5-10% during the pandemic, Rodriguez agreed, and noted that most of the loss has been at the system's community colleges and among Black and Latino men.
Attendance was down at the CUNY community colleges by 13.2% in January 2022 compared to the prior year, according to The City. In the podcast interview, Rodríguez estimated that CUNY lost about 9,400 community college students from fall 2020 to fall 2021.
"If you think about who covid affected the most, in terms of communities of color, individuals that are in some sectors of the economy that were more vulnerable, more part-time workers, that is kind of part of the profile of our community colleges," Rodríguez said. "As that population was affected economically, personally, medically, that might have a correlation with maybe deciding to not go into higher ed or postpone higher ed in some way, or not be ready for it either emotionally or financially."
Rodríguez noted how enrollment of Black and Latino men has especially waned, driving CUNY to increase its marketing efforts to target those demographics for re-enrollment.
Council Member Dinowitz said that marketing CUNY's offerings is important to show potential students how CUNY is not only an extension of high school, but provides non-traditional opportunities for career development, such as small business consulting, coding, networking, and lifeguard training.
"We have a job to ensure that our students and residents of any age can know that there are endless opportunities for them at CUNY," Dinowitz said.
In an effort to boost enrollment numbers, Rodríguez said that CUNY is working with the New York City Department of Education (DOE) to connect with students who have expressed interest in attending college and began the application process, but did not follow through. He added that CUNY Reconnect will allow adults who did not yet finish college to receive their degrees and how the system is trying to help students with their financial aid packages in order to be able to attend college.
"In many cases, folks signal the loss of enrollment as mostly associated with dollars and cents in terms of the revenue," he said. "For me, it's a real human tragedy, and we want to redouble the efforts to bring people back."
Davis of PSC emphasized that retention is a key part of the enrollment problem. He said that although students can enroll in CUNY, it is important to ensure that they are supported financially and mentally throughout their college career by investing in wraparound services and counseling, as well as offering them the classes they need to succeed.
"We have to make sure that when they get here and when they express interest, they're welcomed and they're basically equipped to enroll in a seamless way so that they don't have to go through a ton of bureaucracy, and that the advising support on the intake side is really robust," Davis said. "And then once they're here, we don't lose them."
Davis partially attributed the dip in enrollment to affordability of CUNY schools, and stressed the importance of moving back to a tuition-free model. "CUNY was free for over a century, so we believe that it can be done," Davis told Gotham Gazette.
According to Matos Rodríguez, about 68% of students attend CUNY tuition-free and around 73% graduate with no college debt. The system, which used to be free for qualifying students from its inception in 1847 until 1976, shifted to requiring some tuition during the fiscal crisis of the seventies.
Asked by Max whether he sees returning to a tuition-free model as a goal, Matos Rodríguez said he would rather spend his energy in helping with career development for CUNY students and improving the pipeline with the Department of Education. "At the end of the day, free or almost-free like we have now, the quality of that experience is going to matter to our students and their families," said Matos Rodríguez.
"For me, I want to improve the academic experience of the students and take all the roadblocks in getting the DOE students to come to CUNY," he added. "If we end up moving to a formula where tuition is free, we embrace that and provide a quality education doing that."
CUNY has taken a number of steps to relieve its students of tuition expenses in recent years. In 2021, the CUNY Comeback Program, a debt-forgiveness initiative, removed nearly $100 million in unpaid tuition and fees for nearly 52,000 students. 
Reopening for In-Person Learning and the CUNY Union Perspective
Davis of PSC CUNY, the union that represents around 30,000 faculty and staff members, said the return to in-person learning during the 2021-22 academic year was a mixed experience for administrators, students, faculty, and staff. 
While Davis cited the excitement of community members seeing each other in person, he said the safety conditions in CUNY buildings were uneven, particularly with the installation of heating, cooling, and ventilation systems. Throughout the last year, Davis said the union battled with the CUNY administration to ensure that all buildings — many of which are more than a half-century old — had proper air exchange rates and were safe for occupancy, regardless of other covid prevention measures including mask-wearing.
He added that concerns were raised about the return to mainly in-person instruction among many students, who he said had different levels of willingness to attend in-person classes or had taken on additional responsibilities during the pandemic that made it challenging. CUNY mandated that 70% of classes would be offered fully in person, which Davis said did not allow for individual colleges or academic departments to decide the method of instruction they preferred. 
"From our point of view as a union, it tied the hands of the faculty who are running departments from deciding what was best for their programs and their students because it was just a cookie-cutter formula," Davis told Gotham Gazette.
Davis also said CUNY's covid vaccine mandates for students and staff have been inconsistent. While students taking in-person or hybrid classes were required to submit proof of full vaccination by Sept. 7, 2021, employees had to meet the same requirement by May 27. Students at CUNY and SUNY also had to receive a booster shot by Jan. 15, but no mandate has been enforced for staff.
In June, PSC CUNY filed a lawsuit against the system over the vaccine mandate, arguing that the requirement only covers employees the union represents and does not apply to nearly 10,000 staff members, including custodians, cafeteria workers, and campus security officers. The union is calling on CUNY to implement a policy that applies to all employees.
"People could be literally side-by-side, next desk over in an office, and just because they're represented by different labor unions and have different job titles, if they don't comply with the mandate, one person could lose their job and the other one would have no consequences whatsoever," Davis said. "From a public health point of view, it doesn't make sense at all — if you want to do a mandate, make it a real mandate."
Anti-Semitism Hearing
Council Member Dinowitz, who also chairs the Council's Jewish Caucus, convened a recent oversight hearing to examine anti-Semitism at CUNY and other city college campuses.
Held June 30, the higher education committee hearing was called in response to a number of incidents and allegations, including after several faculty members from the CUNY School of Law backed a resolution in support of the Boycott, Divestment and Sanctions (BDS) movement, which was previously passed by CUNY Law's Student Government Association last year, and is targeted at Israel. Dinowitz said the hearing did not take place specifically in response to the endorsement, though.
Several City Council members expressed disappointment that Matos Rodríguez did not attend the hearing himself, instead sending CUNY administration representatives who a spokesperson said were best equipped to answer Council questions. Dinowitz said that some Jewish students are afraid to attend CUNY and have been transferring to other colleges, pointing to how a swastika made of human feces was found and that there have been incidents where Jewish students have been targeted with slurs or assaulted.
"For Jewish students, I think it would have gone a long way simply for the chancellor to be there and speak out against this," Dinowitz told Gotham Gazette. "And even if he didn't have all the answers, a lot of Jewish students would have been put at ease."
City Council Member Inna Vernikov, a Brooklyn Republican, was also a driving force of the hearing and outspoken in criticism of the chancellor for missing it. She had rescinded a $50,000 grant from her office to CUNY Law over the faculty council support for BDS and said she redirected the funding to the nonprofit Legal Services NYC. (Vernikov and Matos Rodríguez had a meeting July 13, according to Hamodia reporting.)
In a public statement from last December, Matos Rodríguez said the BDS resolution passed by the CUNY Law students does not represent the views of CUNY or all of its community members. He wrote that CUNY "cannot participate in or support BDS activities and is required to divest public funds from any companies that do."
"I am focused on elevating dialogue and building bridges between people and groups of different backgrounds whose beliefs and divergent experiences and histories sometimes place them at odds," he wrote. "Now, more than ever, I believe it is incumbent on all of us, especially those of us in higher education, to promote tolerance and civic engagement, and to commit ourselves to coming together, hard as it may often seem, to forge mutual understanding as members of this widely diverse University community."
Return to In-Person Graduations
Around 55,000 students among CUNY's undergraduate schools received their diplomas this year during the system's first in-person graduation ceremonies since the start of the pandemic. Several individual schools also invited graduates from the classes of 2020 and 2021, who graduated virtually, to be honored during in-person commencements.
Chancellor Matos Rodríguez, who delivered speeches at eight of the 25 CUNY college graduations, said during the podcast interview that he's a "sucker for commencement" and that he always looks forward to listening to the stories of student speakers. He said he usually asks the crowd to stand if they are the first in their family to receive a college degree and around two-thirds to three-fourths of students stand.
Matos Rodríguez noted how CUNY students are diverse in race, ethnicity, and socioeconomic class, and their differences and skills will make New York more equitable.
"When you look at the crowd, when you look at their parents, we look at the students, the incredible diversity that we have in terms of the students and where they come from and where their families come from," Matos Rodríguez said on the Max Politics podcast. "It just gives you that renewed sense of what New York is all about and what makes us special.
He said his message to CUNY students mainly focused on celebrating their perseverance during the pandemic. Rodríguez also reminded graduates that CUNY will serve as an affordable option if they need additional education during their lifetimes, as many students do go on to graduate studies and CUNY has several programs available.
"It's a pure celebration of everything that I love about CUNY students," Rodríguez said during the Brooklyn College commencement ceremony on May 31. "Your brilliance, your grit, your tenacity, the way you overcome obstacles and make sacrifices to succeed, and how all of that underlies that thing that excites me the most about all of you graduates — your incredible promise."
Across CUNY colleges, commencement speakers for the class of 2022 included Dr. Anthony Fauci, the U.S. chief medical advisor to the president; Nurse Sandra Lindsey, the director of Patient Care Services at Long Island Jewish Medical Center and first person in the U.S. to receive the approved covid vaccine; Mayor Adams, who made a surprise visit to Queensborough Community College to address the class of 2022; and Governor Hochul, who spoke to class of 2022 graduates from LaGuardia Community College.
Meanwhile, Matos Rodríguez received a Doctor of Humane Letters from NYU during its class of 2022 graduation ceremony on May 18.
When asked on the podcast about how ready graduates are for the modern economy and workplace, Matos Rodríguez said CUNY has been engaging with the Department of Education to recruit students to the system and help them explore career path options. "Career readiness and how the students connect to the world of work is one of my highest priorities," he said.
CUNY has begun a partnership with the New York Jobs CEO Council, a program that aims to connect 25,000 low-income CUNY students to potential jobs through online intensive programs, internships, and more. He also lauded CUNY Service Corps, which partners students with paid internships at nonprofits; CUNY Cultural Corps, which provides paid internships in the city's cultural and art institutions; and CUNY Launch, which is specifically tailored for undergraduate students who have not had substantial paid internship experience.
"Half of our students are first-generation college students, and we need to be that entity," Rodríguez said. "They have not thought about what's next after college, they have not thought about where they see themselves in a profession, in a career, in an opportunity. We need to be very intentional about providing those opportunities."
[LISTEN to the full conversation: Max Politics Podcast: Chancellor Matos Rodriguez on the State of CUNY]