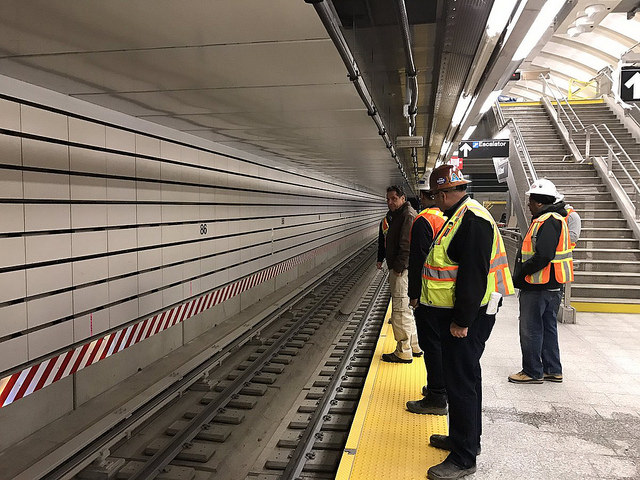 (photo: The Governor's Office)
---
Standing near a City Hall subway stop, Staten Island Assembly member and GOP mayoral candidate Nicole Malliotakis railed against Mayor Bill de Blasio's handling of the city's transit system and its state-controlled operator, the Metropolitan Transit Authority.
At a podium set up just outside a 4 and 5 train entrance -- the same station that the mayor and his family emerged from for his inauguration on January 1, 2014 -- Malliotakis said last Friday that de Blasio has been ineffective and pledged that if she is elected mayor, she'll provide additional city investment into the ailing system.
"The mayor cannot keep pointing fingers, he needs to take responsibility for the subway system that runs through his city," she said, as puzzled straphangers emerged from the stairs behind her.
The issue of what to do about the city's beleaguered public transportation system has quickly become a central question before the September primaries and November mayoral election. With cascading delays and the looming closure of the L train just as the subway's ridership has ballooned to over 5.6 million commuters on an average weekday, the transit system's troubles are threatening to devolve into a full-blown crisis, and Malliotakis isn't the only mayoral candidate pouncing on the issue.
On Monday morning, former City Council member and Democratic candidate Sal Albanese echoed Malliotakis as he stood outside the midtown offices of Governor Andrew Cuomo. He was there to hand-deliver a letter to Cuomo's staff – the governor was in Albany – in which he pledged to immediately increase the city's MTA capital funding to $1 billion annually if elected mayor, and to work with the governor. "We can't take the position that this service is basically a ping-pong ball between the mayor and the governor," he said, alluding the icy relationship between de Blasio and Cuomo.
Paul Massey, a millionaire real-estate executive and political novice who is seeking the Republican nomination, seems to want to regain his footing after having stumbled somewhat over the transit issue at a mid-May press conference in front of City Hall, where he was critical of the mayor and alluded to "a lot of problems in our mass transit system," but didn't give any specific ideas for fixes when asked for details.
A spokesperson for Massey said that the campaign will roll out a "comprehensive plan next week" and outlined some of the plan's main points: additional funding for the MTA is necessary, but any increase in the city's contribution would be "conditional on the city taking back control of our transit system, including additional NYC representation on the MTA board." This would likely entail a change to the MTA's charter, which would have to be approved by the state legislature.
In addition, Massey's campaign said it will unveil plans for "immediate system-wide upgrade of subway signals and switches," "a ground-up overhaul of city traffic management policies," and "transformative infrastructure investment in all five boroughs." Massey mentioned some of the looming platform when he campaigned Monday evening outside a subway stop on the Upper East Side.
The idea of conditional increased funding was also put forward by activist and Democratic hopeful Robert Gangi, who said in a phone call that he would "communicate that [the city] is prepared to increase its investment but at the same time get some understandings and some commitments about where the money should go," including the purchase of "a significant amount of new buses and subway cars." He did not have a specific number for funding increases, but said he would study the issue.
Gangi's main transportation plank is less about infrastructure and more about socioeconomics: he backs the "fair fares" plan to provide free access to public transportation, including subways and buses, to low income New Yorkers. He claims he would pay for it in part by cancelling other transportation proposals, such as the Brooklyn-Queens Connector (BQX) streetcar announced last year by the mayor.
Public transportation is fundamental to the largest city in the country and its elected leaders. But the issue is taking on new urgency just as the city's political calendar heats up.
"This is a bread-and-butter issue, this is not some esoteric issue. This is what drives the city's economy," said Albanese, expressing a sentiment echoed in some way by every candidate Gotham Gazette spoke to (along with Albanese, Gangi, Massey, and Malliotakis, there are a handful of other mayoral candidates).
Similarly, none of those four candidates thought that the equipment powering the 665 mainline miles of subway tracks is adequate, with the system's archaic 'block' signaling system receiving outsize scorn. "Much of the equipment for the subway was installed pre-World War II," said Malliotakis, who compared the city's subway unfavorably to that of other cities around the world, including Paris, Copenhagen, San Francisco, Vancouver, and London.
London's transportation system's signal improvements were also invoked by Albanese, who argued that they showed a modern metropolis could make necessary upgrades provided a political will. He pledged to take the subway regularly as mayor, saying "I understand that sometimes you have to take the SUV, even a helicopter once in a blue moon, but I will use transit." In a jab at the current mayor, he added that Mayor Michael "Bloomberg, talk about billionaires, actually got on the train himself on a regular basis."
Mayor de Blasio is not a frequent subway rider, and, with the system in crisis, he's dismissed recent calls to take the train more often as a way of both leading by example in using public transportation and a way to understand what his constituents are dealing with. (De Blasio quietly took a subway ride uptown on Wednesday afternoon, his first subway trip since mid-April.)
The subway situation may be a vulnerability for de Blasio in this campaign, especially given that many New Yorkers reflexively blame the Mayor, not knowing that the MTA is much more the Governor's responsibility. De Blasio's famously frosty relationship with Cuomo has manifested in finger-pointing and a lack of dialogue on the city's transit, and de Blasio has taken flak for a workout routine that involves taking two SUVs from his official home on the Upper East Side to a gym in Park Slope, Brooklyn, his longtime neighborhood. The issue would have likely blown over if the mayor didn't then jab at critics, arguing that using public transit instead would amount to "cheap symbolism" in the fight against climate change.
As the nightmare commutes and bad headlines mount, de Blasio has laid the blame with Cuomo and the MTA, routinely prefacing responses to subway crises with reminders that the MTA is "state-run." Nonetheless, he has faced increasing attacks from rivals, as well as questions from members of the public and reporters about what he's doing to address commuter issues and whether he's being a forceful enough advocate for his constituents.
Currently, New York City has committed to providing $2.5 billion, or 9 percent, of the MTA's 2015-2019 capital program, which funds improvements to the transportation system. That number was the endpoint of a contentious public fight between the mayor and the governor, who sided with the MTA and the Transport Workers Union Local 100 in accusing the city of neglecting its responsibilities after an original commitment of $657 million. The state has committed $8.3 billion, or 28 percent.
Critics and budget hawks have complained that no funding sources have yet been identified for these commitments, which kick in after the MTA, which has pledged $11.8 billion – collected from fares, loans, and other sources – has used up all other funding.
The governor directly appoints six out of 14 voting MTA board members and names the Chair, effectively controlling the agency; the mayor recommends four board members. Despite that, Malliotakis argued that de Blasio couldn't pass the buck on transportation, since "aside from keeping us safe, it is the number one issue," and accused his appointed members of not challenging "the status quo."
At an unrelated press conference on June 5, the mayor was asked if the city's congestion could be fixed without the addition of subway lines. "We need to first think about the things we can do right now," he said, including ferry service, select bus service – "very, very productive" – and light rail, touting his BQX project. He did say that if reelected, he would start looking into the possibility of adding lines, saying "I'm going to be spending real time in the second term trying to figure out our physical reality for the future."
In an email, a spokesperson for the mayor's reelection campaign touted the $2.5 billion MTA capital plan contribution "to support new buses, subway cars, signal and station improvements, while introducing a citywide ferry system, and expanding bike lanes and CitiBike. That's a transit record we are happy to compare with anyone."