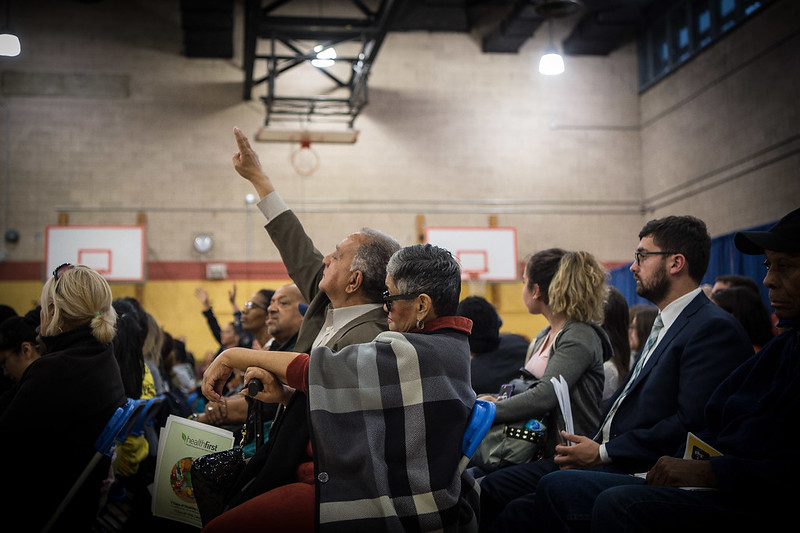 (photo: Michael Appleton/Mayor's Office)
---
Along with our in-depth reporting, election guides, podcasts, and more, Gotham Gazette also publishes an active opinion page of guest columns by those who make submissions to us (along with a few regular columnists we work with consistently).
We've published hundreds of op-eds this year from elected and appointed government officials, advocates and activists, nonprofit leaders, academics, think tank analysts, and other New Yorkers with an interesting point of view or story to tell related to local public policy or politics.
Some of the op-eds we publish are more opinionated than others, while some seek to more simply provide new information to the civic-minded public others have a distinct political bend. Many are deeply researched and carefully crafted pieces of journalism.
Below are the 10 most-read op-eds published by Gotham Gazette in 2019. (If you have a submission, pitch us any time by emailing This email address is being protected from spambots. You need JavaScript enabled to view it. and be sure to read up on our opinion page or peruse some of the work from our regular opinion writers through the "columnists" tab on our main menu bar.)
The 10 Most-Read Op-Eds published by Gotham Gazette in 2019:
1. I was Andrew Yang's First 'Freedom Dividend' Recipient - When He Fired Me
by Kimberly Watkins
"After the game show stunt that Andrew Yang pulled at the presidential primary debate last week, a lot of people have speculated that he should and will drop out of the race soon. But there is another reason why Andrew Yang doesn't belong on the national political stage, and it involves the reason that Yang fired me in 2007 and how my termination highlights the danger of his "freedom dividend" program."
Continue reading
2. Amazon Was Never Going to Create 25,000 Jobs in Queens
by Peter Harrison
"Now that Governor Amazon Cuomo is grovelling for Amazon to come back to New York, it's important to remember that the original sin of the "HQ2" deal is still true: Amazon was never going to bring 25,000 jobs to Long Island City."
Continue reading
3. Attorney General James Should Sue to Dissolve the Trump Organization
by Ron Fein & Jed Shugerman
"For a company of only a few dozen employees, the Trump Organization has accumulated an astonishing rap sheet of fraud, crime, and other corporate misconduct over the years. And since its owner came to occupy the Oval Office, the company has sunk to new depths as a vehicle for influence and corruption by supplicants from corporate lobbies and foreign governments."
Continue reading
4. Public Defenders as Prosecutors: Unanswered Questions
by Steven Zeidman
"The recognition that prosecutors were a primary cause of mass incarceration has spawned a movement for progressive prosecutors. While exactly what it means to be a progressive prosecutor is far from clear, at a minimum it reflects a change in the way prosecutors approached their work over the past several decades."
Continue reading
5. Public Defenders are Exactly Who We Should Be Electing as District Attorneys
by Eliza Orlins
"Imagine this: you're a 50-year-old black man working as an assistant manager at a Gristedes in lower Manhattan, where you've worked for the past 25 years. It's a typical evening: you close up the store and prepare for your long journey home to Harlem with a couple bags of groceries you bought for your family."
Continue reading
6. City Council Fire Department Proposals Don't Match Need for Reform
by Carol Kellermann
"Last week the City Council presented its response to Mayor de Blasio's preliminary budget for the fiscal year that begins on July 1. It proposes to add $1.5 billion in annual operating expenditures and more than $1 billion in capital spending to the budget proposed by the mayor. Among the proposals are four that would significantly increase spending on the Fire Department and for which there is no clear justification other than political expediency. Two of them would not only be expensive, but would undermine provisions of contracts agreed to through collective bargaining."
Continue reading
7. Leaving the REBNY vs. NIMBY Doom Loop
by City Council Members Brad Lander & Antonio Reynoso
"This past week, amidst flooded streets, blackouts, overheated jails, and subway failures, New Yorkers saw the consequences that result from a failure to engage in strategic long-term planning for the future of our city. In the final decisions of the 2019 Charter Revision Commission, we also missed a big chance to do something about it."
Continue reading
8. Cuomo's Getting His Belmont Arena, But the Numbers Don't Add Up
by Norman Oder
"Three lessons from the long battle over Atlantic Yards/Pacific Park and the Barclays Center in Brooklyn are that promises of huge financial benefits deserve skepticism, that independent studies trump promotional ones, and that scenarios should be presented as a range of outcomes, rather than just the best case. Unfortunately, those lessons have been ignored regarding the new sports-and-entertainment arena complex planned at Belmont Park in western Nassau County, with the New York Islanders as anchor tenant and Gov. Andrew Cuomo, surely anticipating a big ribbon-cutting in 2021, as the chief cheerleader."
Continue reading
9. Facts Don't Support Expanding the Size of the MTA Police Force
by Rachael Fauss
"MTA Chair and CEO Pat Foye says the transit authority's operating budget is in "dire" condition and independent budget watchdogs are alarmed its deficit is growing to unmanageable levels. Citizens Budget Commission estimates the MTA will be $740 million in the red in 2023 -- and this does not include new debt payments for the new, massive $51.5+ billion 2020-2024 capital plan. Separately, NYPD data shows subway crime is down 3% from last year, and Police Commissioner James O'Neill says the subway, which carries 6 million passengers a day, averages only six major crimes a day."
Continue reading
10. The State's $7 Billion MTA IOU Comes Due
by Jim Brennan
"MTA officials acknowledged at their June 2019 board meetings that the agency is borrowing money to be repaid through a New York State law that promised to have the State of New York provide the MTA $7.3 billion once the authority had exhausted its own funds on spending for the current five-year capital program."
Continue reading
Honorable Mention
Sentenced to Death by Incarceration in New York State Prison
by Steven Zeidman
We Must Seize Today's Path to Actually Closing Rikers; It May Not Be Here Tomorrow
by Council Speaker Corey Johnson & Jonathan Lippman
Keeping the Lights On Off-Broadway: How the City Must Step Up
by Robert Stanton
I'm Not Running for Congress; Here's Why
by State Senator Gustavo Rivera
The Schools Chancellor Goes Rogue on Specialized High School Admissions
by Larry Cary
Negotiation Lessons from the Amazon Deal Blow-up
by Daniel Garodnick & Robert Bordone
The MTA is Fiscally Exhausted
by Rachael Fauss
[READ: The 10 Most-Read Gotham Gazette Stories of 2019]