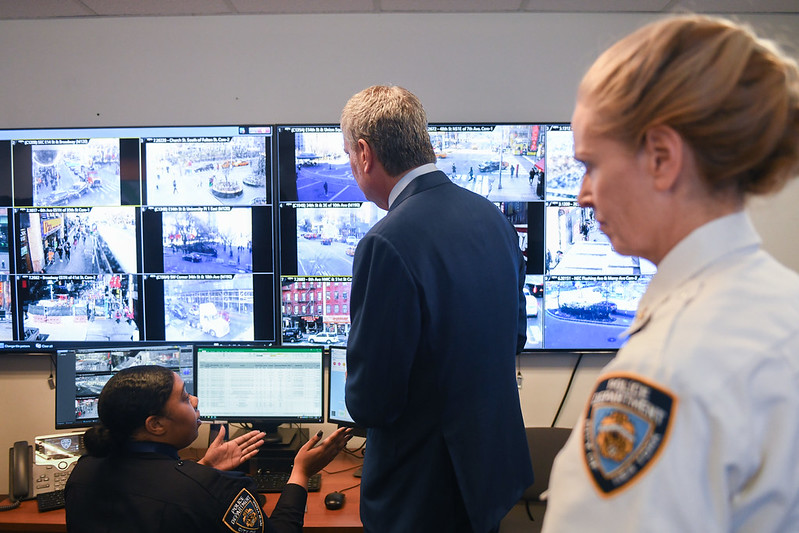 Mayor de Blasio reviews NYPD video (photo: Michael Appleton/Mayor's Office)
---
In June, Mayor Bill de Blasio announced a new policy for automatically publishing body camera footage within 30 days when police officers kill or seriously injure someone. The step, he said, would give the public more assurances that they would actually see video captured in serious cases of police force, an implicit but often unrealized aim of the transparency program. But more than two months since the policy was implemented, old questions remain about who controls what footage is released, how it is edited and, ultimately, the narrative it creates.
De Blasio said the police department would start to publish "all video and audio footage" when officers fire their guns, or when they inflict serious or deadly injury with a taser or other force. Civilians involved and their family members would have an opportunity to view the video before release, according to the mayor. Since the announcement, 11 videos have been published to the NYPD's YouTube account, including at least three fatal events, each one edited and narrated by a department spokesperson with on-screen prompts.
"We recognize the power of body-worn cameras, but body-worn cameras are only as powerful as the transparency that comes with them," de Blasio said at a June 16 press briefing amid weeks of protest against police brutality and a series of police reform announcements. "It only works if people see accountability, see results from the presence of those cameras."
The announcement was a far cry from the unilateral discretion the police commissioner had held in the initial policy, which was only adopted this past November, five years after the department first began using body cameras, and which gave the commissioner 30 days to decide whether or not to release the footage. But police reformers say the new policy contains too much of the old: they want the footage to come out in complete, unredacted form and for the release to be controlled by an independent body. Though some family members of people killed by NYPD officers are still seeking body-camera footage from months or years ago, well before the policy was amended, de Blasio said it will not apply retroactively.
They are concerned that a tool intended to give the public an eye-witness perspective into police-civilian confrontations still leaves the NYPD with all the power.
"We need to ask to what extent does the NYPD need to edit the videos, what they are editing for -- and the way they are narrating it, whether or not it is a true and accurate representation of the events that happened," said Jennvine Wong, a public defender with Legal Aid Society and coordinator of its Cop Accountability Project, by phone.
The police department has long maintained that state and federal privacy laws require it to edit footage, even when sharing it with other government agencies. The NYPD has cited requirements to redact depictions of minors, victims of sex crimes, people with sealed arrests, and medical scenes as a reason for limiting what body camera footage is released. Editing for privacy takes time, according to NYPD spokespeople who say it is also the primary contributor to a backlog of video requests from the Civilian Complaint Review Board (CCRB), a watchdog agency with jurisdiction over certain types of police misconduct.
According to an NYPD spokesperson, no privacy statutes have changed so the department is still editing footage for privacy purposes. In some videos, the faces of bystanders or license plates are blurred out.
Ethan Teicher, a spokesperson for the Civilian Complaint Review Board, said the new policy has no bearing on footage sharing between the NYPD and CCRB, which are still operating under a separate agreement from December promising to provide more direct access to the oversight agency. The backlog of requested body camera videos has fallen drastically since June -- from over 1,000 to under 300 by August 28.
Advocates are concerned that there is a lack of objectivity in the stories crafted in body camera videos published by the NYPD. Without changing the editing procedures and the publisher, they say the policy creates only limited accountability.
"While on paper, the revised NYPD policy is an improvement, the NYPD's overall approach to its body camera program remains at odds with the stated purpose of these cameras as tools for police transparency and accountability," wrote Michael Sisitzky, a policing expert at New York Civil Liberties Union (NYCLU). "The more control the NYPD exercises over the cameras and their footage and the more the NYPD continues to punt on accountability for officers who break the rules, the less the body camera program serves that purpose."
"Of course they are going to seek to escape liability as much as they can," Wong said.
Reformers like Wong and Sisitzky believe an agency with independence from the police department should be in charge of releasing footage of police using critical force. Otherwise, the risk remains that some footage may be withheld from the public, delayed, or spun to support the NYPD's narrative of events.
"In the few [videos] we've seen, they're not releasing unedited and undoctored or uncut footage, they're releasing cuts of footage that they narrate," said Joo-Hyun Kang, executive director of the coalition known as Communities United for Police Reform.
"I think we can all view an event and understand what we are seeing for ourselves and analyze it for ourselves," Wong said.
On June 2, Tyquan Graves, a Black man suspected of a shooting, was killed by police in Weeksville, Brooklyn, allegedly holding an unloaded pistol. Ten officers fired a total of 62 rounds at Graves, according to Sgt. Carlos Nieves, an NYPD spokesperson who appears at the beginning of all recently released videos and provides frequent narration. In the 30-minute video posted to YouTube nearly two months after the incident, on July 31, footage from nine officers' body cameras is presented back to back, with each video cutting off almost immediately after the last shot is heard. No video shows Graves holding a gun, nor his body after the barrage of bullets, but Nieves tells the viewer, "he began to raise the firearm, at which point 10 officers fired 62 shots at the subject."
The video includes an evidence photograph of Graves' alleged weapon and a still photo of his dead body holding a gun, his face digitally blurred and the visible boots of an officer standing over him. A caption on the photo says it was taken from "Officer Melendez's BWC" but footage from Melendez's camera is not among the nine published clips.
Unlike the videos published to its YouTube page for general public viewing, the NYPD routinely shares complete and largely unedited footage to prosecutors and defense attorneys. As Gotham Gazette has previously reported, prosecutors received body camera evidence within a matter of hours and, according to Wong, defenders typically receive it in a matter of days to a couple of weeks.
Of the 11 videos released since the June 16 policy amendment, only three were released within 30 days. The median release time for all 11 was 55 days.
"Additional videos will be released in the coming days and weeks," wrote an unidentified NYPD spokesperson through the department's public information email account.
The families of people killed by police have traditionally struggled to get access to see complete body camera video of the incident, if footage was released at all. The new policy requires the NYPD to give family members, as well as civilians involved in the relevant event, an opportunity to see the footage before it is released.
The NYPD spokesperson said family members of people killed by police in three of the 11 recently released videos had been given the opportunity to view footage, but didn't say whether that footage was edited. The department did not say whether other civilians captured on video were contacted or shown footage before it was posted.
In some cases, there are very specific questions police reformers and the families of victims of police violence believe can be answered by body camera footage. In the case of Antonio Williams, a Black man who was killed by police gunfire that also killed a police officer, Brian Mulkeen, in September 2019, his family says they are still seeking complete body camera footage, including of the aftermath of his shooting, to find out if appropriate steps were made to save his life and how long officers waited to call an ambulance. Like other recently-released videos, the footage of Williams' death -- released December 2019 -- is cut immediately after shots are fired and audio is unavailable leading up to the start of the encounter (attributed to a buffer time when activating the cameras).
"It's been almost a year since our son Antonio was gunned down in a hail of 15 bullets while he was waiting for a cab, and we still haven't been allowed to see the full footage," wrote Shawn and Gladys Williams, Antonio's parents, in an email to Gotham Gazette.
"Mayor de Blasio's pronouncements mean nothing while the officers who murdered our son are still being paid as NYPD and the NYPD has the power to cut and edit footage before public release," they wrote.
"What they released [in Antonio Williams' case] was just partial footage, and that is part of the overall danger about the NYPD controlling all body-worn camera footage anyway," Kang said. "They can not only edit, but even if they don't edit if they don't show full footage that's an editorial decision."