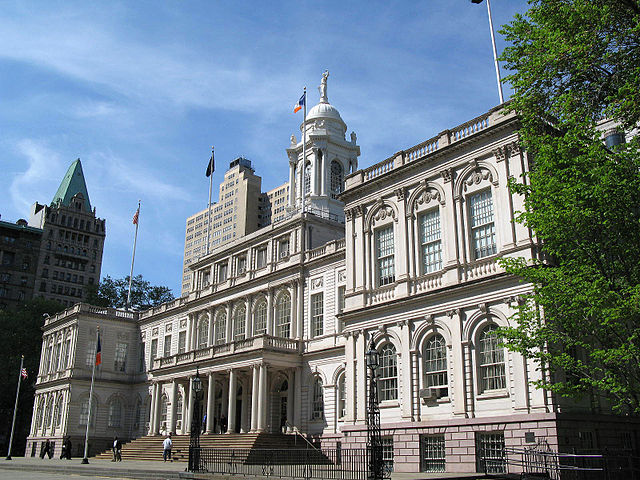 ---
What to look for this week, via the City and Albany:
Mayor Bill de Blasio kicks off what will be an especially significant week - one promising "profound" and "historic" developments, as the mayor himself might say - with the announcement of his affordable housing plan on Monday, May 5th. Monday's announcement was pushed from Thursday, May 1, due to the revelation of the City reaching a preliminary contract deal with the teachers union (expect further news this week about the details and ratification of that deal and the ones the administration is negotiating with other municipal unions).
De Blasio will unveil details of his promise to build or preserve 200,000 units of affordable housing over the next decade and thus relieve some of the housing crisis and drastic inequality the mayor has targeted. De Blasio's announcement will come via a two-borough tour, with a press conference in Brooklyn set for 10:10 a.m. and another in the Bronx scheduled for 12:30 p.m.
Side note: according to his public schedule, the mayor will also spend part of Monday in a closed-press meeting with Los Angeles Mayor Eric Garcetti at City Hall.
As of Sunday evening, de Blasio's other major announcement this week is set to come on Thursday, May 8, when the mayor will release his much anticipated executive budget. When de Blasio released his preliminary budget in March, the big omission was money for labor contracts. The deal with the teachers union, the UFT, now negotiated, the executive budget will provide details as to how the administration is accounting for made and pending union contract deals. The City Council will also see if key elements of its response to the mayor's prelim budget will be included - an additional $257 million for items such as 1000 more police officers (which de Blasio has already said he does not support), providing universally free public school lunch, and tech incubators.
In the long shadow of the mayor and these two imminent announcements, there's a lot more to look for in the city this week:
More on Monday
While de Blasio is talking housing in Brooklyn on Monday morning, the City Council Committee on Oversight and Investigations will hold a 10 a.m. hearing on a bill that would require the newly appointed inspector general of the NYPD to submit quarterly reports to the Council, the Comptroller, and the CCRB detailing the number and disposition of civil actions filed against the NYPD. Newly appointed IG Philip Eure is not expected to testify, according to committee chair Vincent Gentile's office on May 2. The CCRB as well as several police reform advocacy groups are expected to participate though.
Tuesday
The Council's Committee on Education will meet for the highly anticipated (and twice delayed) oversight hearing on charter school management and accountability on Tuesday at 10 a.m. The hearing was originally called by committee chair Daniel Dromm in early March after Success Academy CEO Eva Moskowitz closed her schools and bused her students to Albany for a political rally (which was attended by a supportive Gov. Andrew Cuomo). Much has changed in the political climate related to charter schools since then. It will be interesting to see what the tone of the hearing is after the mayor took some hits related to charters through the State budget. Gotham Gazette reached out to see if Moskowitz would be testifying at the hearing, but a spokesperson for Dromm's office could not confirm if she would be attending or if she was invited.
Wednesday
On May 7, the Council's rules committee will meet to hear the proposed rules reform package released by Speaker Melissa Mark-Viverito on April 29. The rules would make significant changes to how member items are allocated and would remove roadblocks to getting bills to the council floor. If the package of reforms passes the committee it would be voted on by the entire City Council at the next stated meeting, which will be May 14.
At 6 p.m. on Wednesday, Staten Island will host another in a series of Vision Zero town hall meetings, this one at Curtis High School.
Thursday
Thursday features de Blasio's release of his executive budget and a light council schedule (followed by no council committee hearings on Friday as council members begin to digest de Blasio's new budget iteration and plan for the executive budget hearings that will begin on May 15).
Thursday evening features two key political events that very much signify the new, more progressive political climate in New York City. One way to tell is that both are honoring Council Speaker Melissa Mark-Viverito. On Thursday evening the Participatory Budgeting Project is holding it's first annual benefit - at which donations will, naturally, be sent to causes per attendee voting, and honorees include NYC PB "visionaries" Mark-Viverito, Brad Lander, Eric Ulrich, and Jamaane Williams (the first class of PB-participant New York City council members).
The other major Thursday evening event is the Working Families Party gala. Mark-Viverito is the lone city elected among the honorees at the WFP's 16th annual event, which is sure to have an especially celebratory tone, along with the elephant in the room of what the party will do about endorsing Gov. Andrew Cuomo's re-election.
Bonus: Friday evening a film, Fed Up, hits theaters. The film is from executive producer Katie Couric and all about sugar addiction. Let's see how it might affect the City's continued push for regulations on large sugary drinks, among other policy and practice around the country.
And in Albany:
The legislative session has about seven weeks left and the major focus issues remain the same: GENDA, campaign finance reform, medical marijuana, among others. Many are awaiting the governor's reaction to the speed camera bill passed by both houses of the legislature.
Watchers are also following the fallout from the governor's disbanded Moreland Commission on Public Corruption and everyone is eyeing the upcoming elections.
Specifically this week in the capital:
On Monday environmental advocates from across the state will celebrate the 24th Earth Day Lobby Day in Albany. Advocates will meet in the Legislative Office Building's Meeting Room C at 10 a.m. to discuss issues such as a fracking moratorium, GMO food labeling, the Child Safe Product Act and toxic waste cleanups. There will also be a Pete Seeger musical tribute.
Green Party gubernatorial candidate Howie Hawkins will be in town on Monday and Tuesday meeting with press and taking part in environmental lobby day activities. Hawkins and his supporters want the Working Families Party to back him as an alternative to Gov. Andrew Cuomo and will continue to make their case.
Over 100 activists are expected to turn out to push for a bill that would eliminate solitary confinement in state prisons. The bill's sponsors Sen. Bill Perkins and Assemblyman Jeffrion Aubry will be in attendance. Advocates will meet at the capitol's LCA Press Room on Monday at 10 a.m.
Tuesday will be telling regarding what bills might actually become law this session as the Senate has 10 committee hearings scheduled throughout the day, including meetings of the finance, transportation, health and cities committees.
On Friday at 10 a.m. the Assembly will hold a hearing on the impacts of radon from natural gas on indoor air quality. The hearing is part of a larger look at the state's gas delivery system. The meeting will take place on the 19th floor of 250 Broadway in Manhattan.
***
by Kristen Meriwether and Ben Max in New York City and David King in Albany
@GothamGazette
*This article has been amended to include the location of Wednesday's Vision Zero town hall and the Friday release of Fed Up.