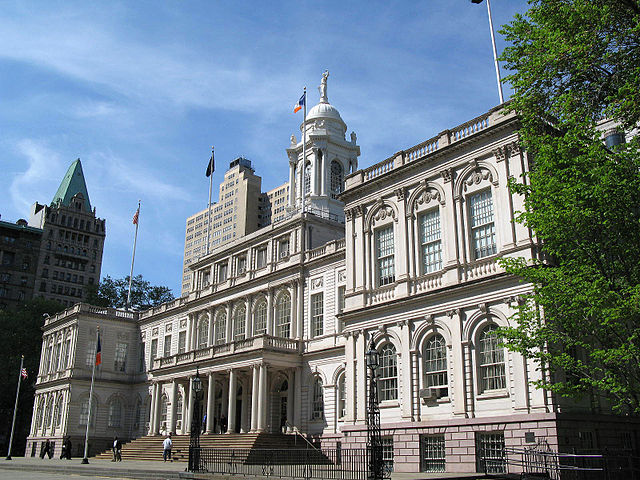 New York City Hall
---
What to watch for this week in New York politics:
The week ahead is sure to include more action in the hotly-contested races for Governor, Attorney General, and New York's 11th Congressional District, along with key State Senate districts - Tuesday is five weeks 'til Election Day. This week will also include the convening of the grand jury in the Eric Garner case on Staten Island and a lot of action at The New York City Council [read our previews of Monday's education committee hearing on guidance counselors and veterans committee hearing on forming a new veterans' affairs department]. All this and a whole lot more:
Governor Andrew Cuomo spent his weekend overseas, where he's remaining until Tuesday, he said by conference call Sunday: the governor is in Afghanistan after heading to Washington, D.C. for briefings, then Germany to visit injured soldiers. According to a release from Cuomo's office, the trip is "a bipartisan delegation of governors at the invitation of the U.S. Department of Defense, which is sponsoring the visit. During the trip, Governor Cuomo is receiving a series of briefings from senior U.S. Department of Defense officials on counterterrorism issues, the evolving global threats that affect New York's security at home, and other matters. Governor Cuomo will also meet with New York and other American troops who are currently stationed in Afghanistan – including those from Fort Drum, New York's 10th Mountain Division – to thank them for their service."
On the Sunday conference call, the governor said that it had already been a "really educationally fascinating trip," full of briefings on "Middle East issues, terrorism specifically." "Classified briefings," he said, from the Department of State, Department of Defense, and USAID, among others. The governor lauded U.S. accomplishments in Afghanistan, but on terrorism said generally that "as Governor of New York, New York is at the top of everybody's threat list" and that his administration continues to spend a lot of time on homeland security. "I'm telling you, we're going to be the most prepared," Cuomo said. "My goal is to have the most sophisticated homeland defense system ever designed by any state, period." Cuomo added that while terrorists are becoming more sophisticated, so would the response, and that New York would "stay one step ahead." Cuomo repeatedly said that efforts must be made to understand the source of growing terrorist groups and threats, not simply to try to stop terrorist efforts. He did not elaborate further on the topic.
The Mayor, the Speaker and the Comptroller
Coming off of a Sunday on which he had no public events scheduled (no word on whether he wound up taking another baseball game road trip), Mayor Bill de Blasio starts his week with a 10 a.m. press conference at the "John F. Kennedy Campus in the Bronx to make an announcement" and later in the day "he will meet with Congresswoman Debbie Wasserman Schultz."
New York City Council Speaker Melissa Mark-Viverito begins her week with an appearance on the Brian Lehrer Show on WNYC at 10:30 a.m. Monday morning. She will then deliver an opening statement at a city council hearing looking at efforts to provide legal representation to unaccompanied immigrant children - both according to her public schedule.
Comptroller Scott Stringer starts his week hosting a conference "Families and Flexibility: Reshaping the workplace for the 21st century." Details below.
Elections Watch - just over 5 weeks until Election Day
Good news and bad news, gubernatorial campaign edition: The bad news is that The Rent is Too Damn High's Jimmy McMillan is off the gubernatorial ballot - BUT - the good news is that four other candidates who will be on the ballot are going to debate at least once. "I am just going to bow out and support anybody to beat Andrew Cuomo," McMillan said, according to The Daily News.
Word from the campaign of Gov. Andrew Cuomo is that the governor and his Republican opponent, Westchester County Executive Rob Astorino, will debate at least twice: once one-on-one over the radio (in New York City via WNYC and The Wall Street Journal) and once along with Green Party candidate Howie Hawkins and Libertarian Party candidate Michael McDermott on TV from Buffalo. Dates have not been determined yet, but the debates are expected to occur in mid-October. It's unlikely there will be others, and the Astorino campaign is not happy that there likely won't be a one-on-one TV debate. (There are going to be five candidates on the gubernatorial ballot in November, the fifth is Sapient Party candidate Steve Cohn).
Speaking of debates, the campaign of Republican attorney general candidate John Cahill continues to challenge incumbent Democratic AG Eric Schneiderman to debates, putting out a statement on Saturday that read, in part: "Today, Governor Cuomo agreed to two debates - that's some good news for New Yorkers who deserve to hear from the candidates on their records and vision for the future of our great state. Now the ball is in Eric Schneiderman's court, after almost four years of acting like he is in a witness protection program it's time he faces the voters....the Cahill Campaign has challenged him to 11 debates, one state wide and one in each region...To date, the Cahill Campaign has accepted four debate offers and more are in the offing."
As the week begins, New York politicos will keep an eye on the campaigns, and there's a great deal happening at the City Council and all over the city, with many events to be aware of.
The run of the week in more detail:
Monday
On Monday, the grand jury will convene as called by Staten Island District Attorney Dan Donovan in the case of Eric Garner's death while being taken into police custody in July. As City Council Member Rory Lancman, an attorney, explained weeks ago, there are "legal gaps" when it comes to chokehold laws that could make criminal prosecution difficult in the case against the police officer involved.
The City Council's Committee on Education will meet Monday morning with regard to guidance services for students and the establishment of a comprehensive college preparation program, "based on the college readiness model proposed by the Urban Youth Collaborative." [Our report on the issue and preview of the hearing] Before the education committee hearing, there will be a 9:30 a.m. rally on the steps of City Hall calling for improved college-readiness programming in city schools led by Council Member Antonio Reynoso, the Urban Youth Collaborative, and others.
The Monday council schedule also includes a meeting of Committee on Cultural Affairs, Libraries and International Intergroup Relations, "a local law to amend the New York City Charter in relation to a comprehensive cultural plan."
The Committee on Courts and Legal Service will hold a joint meeting with the Committee on Immigration with regard to the "crisis of unaccompanied immigrant children" and what New York City is doing in relation to it. Speaker Mark-Viverito will give an opening statement (earlier in the day she will be a guest on The Brian Lehrer Show).
The Committee on Veterans will hold a hearing in relation to the establishment of a Department of Veterans' Affairs to replace the Mayor's Office of Veterans Affairs (MOVA). [Our report on the issue and preview of the hearing]
New York City Comptroller Scott Stringer will host a forum to discuss workplace flexibility on Monday: "Families and Flexibility: Reshaping the Workplace for the 21st Century," an event following up on a report Stringer's office released earlier this year. "If we want to remain a global economic power, we must support policies that see family and work as complementary, rather than competing interests."
And, according to Council Member Andy King's office, "Discovery for Justice and community leaders will host a rally and press conference on Monday Sept. 29th, at 11 AM to advocate for open, early and automatic discovery of evidence. Discovery for Justice and community leaders will also demand that the New York State Legislature repeal Criminal Procedure Law 240 and enact Criminal Procedure Law 245."
On Monday, (new grandmother) Hillary Clinton is scheduled to headline a lunchtime fundraiser for 10 Democratic congressional candidates running in NY and NJ (NY candidates include Domenic Recchia, Sean Patrick Maloney and Dan Maffei). No word on if Clinton's plans have changed due to the weekend birth of her granddaughter.
On Monday afternoon, New York City Schools Chancellor Carmen Farina will "deliver remarks at the Learning Partners Program Fall Kick-Off" at the Brooklyn Marriott, according to her public schedule.
After he chairs the council education committee hearing, CM Danny Dromm is set to be in his Queens district Monday afternoon to announce "Implementation of Jackson Heights Slow Zone" according to his office. "The Jackson Heights Slow Zone will improve pedestrian safety from 69th to 87th streets between Roosevelt and 34th avenues. Throughout the whole zone, the speed limit will be reduced to 20 mph and traffic calming measures will be installed....Jackson Heights is a busy pedestrian corridor...there are thousands of students who attend the schools and afterschool programs in the slow zone area who need to be protected. Over the last few years, Jackson Heights has seen an unfortunate increase in the number of traffic related fatalities including those of seniors and children."
Tuesday
Tuesday is five weeks until election day! Visit our Elections Center for a lot more info.
Several interesting events and conferences on Tuesday morning:
The Crain's Business Breakfast Forum series continues with Preet Bharara, the US Attorney for the Southern District of New York, to discuss "corruption and the Moreland Commission and the current probe of Rikers Island" as well as "Wall Street, tax evasion and cybercrime."
City & State NY is holding its Public Projects Forum featuring Rick Chandler (Commissioner, NYC Department of Buildings), Joan McDonald (New York State Department of Transportation Commissioner) and Ramanathan Raju (New York City's Health and Hospital Corporation President and Executive Director) regarding the "current public project construction landscape, major upcoming RFPs and bids, and the ever-expanding role of technology in construction."
The New School is hosting "Ferguson + Staten Island: The Roots, the Reality, and the Response" with moderator Jeff Smith: "In this discussion, law enforcement, policy makers, advocates, journalists, and community leaders will come together to explore the events in Ferguson -- and ask how New York and other cities are responding. What political and economic conditions in Ferguson and minority communities nationally underlie the anger that exploded in Ferguson? What kinds of policy changes are necessary to prevent more tragedies from occurring - and to prevent continued escalation of tension between police departments and minority communities? And how do we go about making this policy change happen?"
Fordham Law School, fittingly - or is it ironically (or both)? - will host "Is Prof. Teachout A Real New Yorker? Weiss vs. Teachout: Do Residency Requirements Still Matter?" on Tuesday at lunchtime.
The WCC (Women's City Club of New York) will be hosting a luncheon event on Tuesday with newly-elected Council Members Corey Johnson (Chair of the Health Committee), and Carlos Menchaca (Chair of the Immigration Committee and Chair): "Don't miss the opportunity to exchange thoughts about legislative priorities and learn more about health, immigration, and more in New York City."
Tuesday's busy City Council schedule includes a meeting of The Subcommittee on Zoning and Franchises "to review different Land Use Applications"; The Committee on Mental Health, Developmental Disability, Alcoholism, Substance Abuse and Disability Services will meet to inspect the (ongoing) redesign of Medicaid; The Committee on Higher Education will meet on "reducing the cost on college textbooks"; and The Subcommittee on Planning, Dispositions and Concessions will meet to look at "Land Use Applications."
On Tuesday Council Member Donovan Richards will co-host an environmental event with Speaker Mark-Viverito at City Hall to mark the "close of New York Climate Week" and "push for a greener, greater NYC" - and there will be live jazz music.
Now's a good time to go Pro with Capital New York, especially if you're in Albany: Tuesday night in Albany will see the "first-ever Capital Pro Trivia Night...on all things concerning New York policy, politics and media" - questions from Capital Albany Bureau Chief Jimmy Vielkind. (RSVP to This email address is being protected from spambots. You need JavaScript enabled to view it. for location details)
Wednesday
There are two events on Wednesday that may feature both candidates in New York's 11th Congressional District: incumbent Rep. Michael Grimm, a Republican, and his Democratic challenger, former City Council Member Domenic Recchia: the Bay Ridge Council on Aging holds its annual candidates forum Wednesday morning and the Middle Class Action Forum Wednesday evening. One or both events could also feature the candidates in State Senate District 22, incumbent Republican Marty Golden and his Democratic challenger Jamie Kemmerer.
Other interesting events Wednesday morning:
New York City Housing Commissioner Vicki Been will discuss her priorities for affordable housing at a Citizens Budget Commission (CBC) breakfast forum.
Westchester County Executive and Republican gubernatorial candidate Rob Astorino will speak at an Association for a Better New York (ABNY) breakfast forum, discussing the state budget, taxes, and other issues.
Crain's Health Care Summit: Transforming New York's Health Care Industry: "After lengthy negotiations, the federal government agreed to give New York state $8 billion for a five-year overhaul of the state's health care delivery system. The money is targeted at the state's expensive Medicaid program—but what most New Yorkers don't realize is that the changes ahead will affect health care delivery in New York well beyond the one in four New York City residents who receive Medicaid benefits. Crain's will address how the $8 billion will act as seed capital for radical transformation. The state is planning changes that will have a profound impact on employers, commercial insurers, hospitals and patients. We explain the transformations ahead—including more hospital closures—before they broadside New York businesses."
Fordham Law School is hosting NYC Directors of Admission Panel: "The Enrollment landscape is ever changing. Increased competition, media scrutiny, new technologies, and a tumultuous economic climate are just of few of the most pressing issues of recent admission cycles. Columbia, Cooper Union, CUNY, Fordham, NYU and SUNY invite you into a dialogue on these and other topics that impact the work that you do and the families you serve."
Wednesday's city council schedule includes a meeting of the Committee on Housing and Buildings that will look at introduction of local laws "in relation to the alternative enforcement program" and "inspection fees for certain recurring violations of the housing maintenance code"; a meeting of the Committee on Transportation to consider a local law "in relation to reducing citywide speed limit to twenty-five miles per hour"; a meeting of the Committee on Technology on a local law to create "a website to produce and sign petitions seeking particular actions by city government"; a joint meeting of the Committee on Civil Service and Labor and the Committee on General Welfare regarding oversight of "proposed changes to HRA's Employment Programs." [Read our look at the Civil Service Committee and Chair Daneek Miller and our look at the General Welfare Committee and Chair Stephen Levin]
Council Member Andy King "will be hosting a job recruitment session for the companies CareRide of Queens and GVCII of the Bronx, carriers in the MTA's Access-A-Ride program" on Wednesday at his Bronx office. "Both companies are looking to immediately hire drivers for their company."
On Wednesday evening, The New York Democratic Lawyers Council presents: "Why Don't New Yorkers Vote? A discussion about fixing New York State's restrictive Election Laws and how you can help...featuring panel experts Benjamin Kallos (CM, 5th District), Brian Kavangh (Assemblyman, 74th District), Douglas Kellner (NYS Board of Elections, Co-Chair) and Susan Lerner (Common Cause NY, Executive Director)."
Also Wednesday evening, there will be a Sunset Park Town Hall on Police Conduct and Accountability, hosted by the New York City Congress for Puerto Rican Rights : "Join us as we invite local NYPD & Elected Officials for a public conversation on police accountability, conduct and the rights of citizens when dealing with police confrontations."
On both Wednesday and Thursday, there will be the NAN Education Summit (In Celebration of Rev. Sharpton's 60th Birthday) at NYU: "Addressing the Civil Rights Issue of the 21st Century...Rev. Al Sharpton and NAN will be convening leaders in education, including teachers, students, parents, policy makers, administrators, artist and other performers, to demand equality in education."
Wednesday and Thursday will also see the "New York State 4th Annual MWBE Forum" at the Empire State Plaza Convention Center in Albany.
Thursday
Thursday's city council schedule includes: a meeting of The Committee on Land Use at which council members "will consider all items reported out of the Subcommittees at the meetings held on Tuesday, September 30, 2014, and conduct such other business as may be necessary"; and the Committee on Economic Development will meet and be "evaluating the effectiveness of tax benefits offered by the New York City Economic Development Corporation" (EDC).
The Coalition for Education Equality will rally "to end systemwide failure in NYC public schools" on Thursday morning in Manhattan's Foley Square.
Friday and the weekend
As usual the end of the week and weekend look like as of Sunday evening, but things are always sure to pick up. Yom Kippur does begin on Friday evening, so the city could be a bit more quiet, especially on Friday and Saturday, as a result.
One key event on our radar for Sunday, though: "What's Next for Public Schools?" 5-7 p.m. at The New School. "Progressive educators and parents have been highly critical of the school reform agenda that emphasizes standardized testing and charter schools. But what kind of change are we for? In this free and public discussion based on a forthcoming special issue of The Nation, leading voices in education will explore a progressive agenda for public schools in New York City and nationwide. Following a special appearance by New York City Schools Chancellor Carmen Farina, the panel discussion moderated by MSNBC's Chris Hayes will feature AFT President Randi Weingarten, best-selling author Dana Goldstein, New York University Professor Pedro Noguera and the Advocacy Director of the AQE, Zakiyah Ansari. Sponsored by The New School for Public Engagement and The Nation."
***
Have events or topics for us to include in an upcoming Week Ahead in New York Politics? Email Gotham Gazette executive editor Ben Max any time: This email address is being protected from spambots. You need JavaScript enabled to view it. (please use "For Week Ahead" as email subject).
***
by Rati Mukhuradze, Katrina Shakarian, Kristen Meriwether, David King, and Ben Max
@GothamGazette