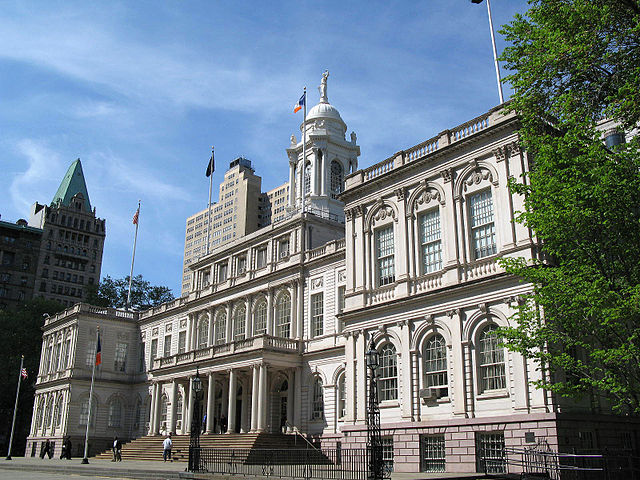 New York City Hall
---
Highlights of what we're watching this week include:
The latest on Ebola in New York: what will happen with Dr. Craig Spencer, diagnosed this past week with Ebola, those he came into close contact with who have been under quarantine, and those caring for his health? Will there be other diagnosed cases of Ebola in New York?
How will new quarantine measures announced by Governor Andrew Cuomo on Friday - and adjusted on Sunday - play out? When people who have had exposure to Ebola return from West Africa, the eyes of the state, if not the country and world, will be watching.
Wednesday is the two-year anniversary of Superstorm Sandy hitting New York City: assessments of recovery and planning ahead continue, local leaders look to gauge communities - see below for more detail.
Will there be any news from the Eric Garner special grand jury, which convened several weeks ago on Staten Island?
The latest action at the City Council as hearings will take place this week on a variety of bills and issues - see below for day-by-day details, there are several interesting hearings this week.
A whole slate of specific political and civic events around New York City this week - see below for day-by-day details.
Elections Watch:
Who might former Democratic gubernatorial candidate Zephyr Teachout endorse in the general? She has said she'd make an announcement on October 28, which is Tuesday and one week til Election Day. Seems like it'll be Green Party candidate Howie Hawkins or no one at this point. Whatever Teachout decides, it'll make at least a little noise this week.
NY-11 debate on NY1 Tuesday night: watch incumbent Republican Congress Member Michael Grimm and his Democratic opponent Domenic Recchia joust.
Attorney General debate Thursday night, also on NY1 (and other channels): watch incumbent Democratic AG Eric Schneiderman and his Republican challenger John Cahill spar in their lone debate of the race.
What will the last polls before Election Day show in the three statewide races, NY-11, and other pivotal contests of New York's 2014 election cycle?
How much more drama will there be surrounding the Working Families Party and the Women's Equality Party leading up to Election Day?
Will any candidates do or say anything particularly bold (or desparate)? Will U.S. Attorney Preet Bharara make any more noise?
[Read: Gotham Gazette's series The Cuomo Record looks at the first term of incumbent Gov. Andrew Cuomo]
The run of the week in more detail:
Monday
Mayor de Blasio starts his week Monday morning speaking "at an ACS Leadership Forum in Manhattan" and then, "later Monday morning, the Mayor will host a press conference in Manhattan and sign Int. 466-A, in relation to reducing the citywide speed limit to 25 miles per hour," according to his public schedule released Sunday evening.
On Monday evening and as the two-year anniversary of Superstorm Sandy approaches, Council Members Donovan Richards and Eric Ulrich will host a "Hurricane Sandy Town Hall and Resource Fair" meeting in Rockaway Park, Queens - 7:30 p.m. at Beach Channel High School: "Two Years Later... What has been done... and what still needs to be done?" The two council members will be joined by several other city officials, including Parks Commissioner Mitchell Silver; Department of Environmental Protection Commissioner Emily Lloyd; Build-it-Back Director Amy Peterson; and Mayor's Senior Advisor for Recovery and Resiliency Bill Goldstein. [Read Gotham Gazette's report on at-risk communities and City resiliency efforts as the two-year anniversary of Sandy approaches]
Earlier in the day...
On Monday morning, Commissioner of the Department of Consumer Affairs Julie Menin will participate in a "Small Business Town Hall" meeting at the Queens Chamber of Commerce.
Monday's City Council Schedule includes: Public Advocate Letitia James and the City Council Committees on Civil Rights, Public Safety, Higher Education, and Women's Issues will hold a joint oversight hearing on "sexual assault on New York City college campuses," which will include looking at two resolutions calling on the federal government to act; the Committee on Veterans will convene for an oversight hearing on the "Veterans Advisory Board"; and the Committee on Technology will meet for an oversight hearing on the "New York City Open Data Portal."
Prior to the council hearing on campus sexual assault, James and others will hold a "Combating College Sexual Assault Press Conference" at City Hall. Later in the day, James will attend "SHINE: Equality Event Celebrating the Leadership of New York Women in the LGBT Immigration Movement" and "South Asian for Right Choice (Diwali Celebration)," according to her public schedule.
Manhattan Borough President Gale Brewer, a longtime tech advocate, is set to testify at the technology committee hearing Monday. Then, at 2 p.m., Brewer will host a press conference on the steps of City Hall regarding "improving technology in schools....outlining reforms for improving (or even merely introducing) technology in public schools. It's a topic made more important by the presence of Proposition 3 on the November 4, 2014 General Election ballot." [Read Gotham Gazette's report on Prop 3: How Bright is the Smart Schools Bond Act?]
On Monday evening, the Contracts Committee of the Panel for Educational Policy will convene for a public meeting at 6 p.m. at Tweed Courthouse.
Participatory budgeting neighborhood assemblies on Monday will be held by Council Members Melissa Mark-Viverito, Andrew Cohen, Paul Vallone, Costa Constantinides, Karen Koslowitz, Carlos Menchaca, Daneek Miller, Brad Lander, Jumaane Williams and Mark Treyger.
Associate Commissioner of the New York City Department of Health Sam Miller will speak about Ebola preparedness in Queens and around the city at the Queens Borough Board meeting Monday evening being hosted by Borough President Melinda Katz.
On Monday evening, City Council Speaker Melissa Mark-Viverito "Hosts Voices of New York: An Evening of Music, Poetry, Dance and Spoken Word" at La Mama on E 4th St, according to her public schedule (it is the only event on that schedule as of Sunday evening).
For his part, Comptroller Scott Stringer's only public event scheduled for Monday (as of Sunday night) is his attending "the Lincoln Square Neighborhood Center Fundraiser" in the evening.
Also Monday evening, Brooklyn Borough President Eric Adams will host his borough's Italian-American Heritage celebration.
Tuesday
One week til Election Day!
Tuesday evening will see the aforementioned debate between Rep. Michael Grimm and Domenic Recchia, hosted by NY1/The Staten Island Advance.
Earlier in the day...
JCOPE - the NYS Joint Commission on Public Ethics - will hold an open meeting on Tuesday morning at 10:30 in Albany.
Also on Tuesday morning, DOE Chancellor Carmen Fariña will hold a professional development meeting with her newly assigned superintendents in Brooklyn, according to The Daily News.
PROP (the Police Reform Organizing Project) will release "Everyday: How Often NYC's Cops and Courts Inflict Harm and Hardship," a follow-up to its summer publication, Broken Windows Policing: A True Tale of Two Cities, that presented the initial findings of the organization's court monitoring efforts.
Tuesday's City Council schedule includes: he Committee on Sanitation and Solid Waste Management will meet regarding oversight of "DSNY's 2015-16 Snow Plan," and to consider a bill "Requiring snowplows to be fitted with lights and audible warnings to prevent pedestrian deaths," one mandating the "Removal of snow, ice, dirt and other material from fire hydrants," and one "Requiring the department of sanitation to issue an annual report concerning the condition of roadways and pedestrian islands after snow events"; the Committee on Education will hold a hearing with the Subcommittee on Non-Public Schools regarding oversight of "Special Education Instruction and Student Achievement" and introduction of a bill "in relation to requiring the department of education to report information regarding students receiving special education services"; the Committee on Consumer Affairs oversight of "Used Car Sales in New York City: Ensuring Consumer Protections and Safety in the Sale of Used Vehicles Recalled by the Manufacturer" and introduction of bills in relation to "price displays for used cars" and "prohibiting secondhand automobile dealers from failing to repair automobiles that have been recalled by the automobiles' manufacturers."
Tuesday participatory budgeting meetings will be held by Council Members Ritchie Torres, Mark Weprin, Karen Koslowitz, David Greenfield, Corey Johnson, Helen Rosenthal, and Mark Levine.
The New York City Voter Assistance Advisory Committee will hold a public meeting in the NYC Campaign Finance Board's offices.
The de Blasio family will host a Halloween event at Gracie Mansion on Tuesday, with all New Yorkers aged 12 and under welcome to attend (under adult supervision): "Gracie Mansion Halloween: Spooky Walk and Trick-or-Treating with the Mayor and First Lady of the City of New York," 5:30 PM to 6:30 p.m., "As a special treat for City Harvest, please bring a non-perishable food item for our Halloween Food Drive!...Come join the de Blasios, if you dare, for some trick-or-treating, and perhaps a slight scare. So don your best costume, be creative, go crazy; We're celebrating Halloween at Spooktacular Gracie!"
Wednesday
On Wednesday morning, Commissioner of the Department of Probation Ana Bermudez, joined by other experts on the topic, will address the age of criminal responsibility at the forum "Raise the Age: Changing Youth Justice in NYC" hosted by the Center for New York City Affairs at the New School.
The City Council schedule for Wednesday includes: the Committee on Housing and Buildings will look at bills that detail "Amending the obligations of owners to provide notice to their tenants for non-emergency repairs," a "Provision of housing applications in multiple languages by the department of housing preservation and development," and "Installation of safety covers on electrical outlets in public areas of certain multiple dwellings"; the Committee on Small Business will hold a joint meeting with the Committee on Consumer Affairs for an oversight hearing on "Earned Sick Time Implementation and Business Education"; and the Committee on Transportation will meet to consider two new bills regarding "increasing the number of accessible pedestrian signals" and "'Rounding up' parking time."
New York City Comptroller Scott Stringer will headline Brooklyn Chamber of Commerce's upcoming "Annual Membership Meeting and Trade Show" on Wednesday.
On Wednesday evening, Capital New York will host "TAMI Talks: Tech and the City" forum, that will focus on "the critical issues facing leaders of Technology, Advertising, Media and Information (TAMI) businesses in New York City." Featured speakers will include: Counsel to the Mayor & Director of MWBE Program Maya Wiley; Executive Director of NY Tech Meetup Jessica Lawrence; BuzzFeed CFO Mark Frackt; Personal Democracy Media Founder Andrew Rasiej and President and CEO of Partnership for New York City Kathryn Wylde.
Council Members Corey Johnson, Andrew Cohen and Julissa Ferreras will hold participatory budgeting events in their districts on Wednesday evening.
State Assembly Member Deborah Glick is holding an anti-fracking town-hall meeting on Wednesday evening in Manhattan: "Let's Protect Our Drinking Water: Fighting Hydraulic Fracturing in NYS."
Also Wednesday evening, Council Member Ben Kallos will host a town hall meeting with reps from city agencies.
The Panel for Educational Policy will host a public meeting Wednesday evening to vote on recently proposed changes by Chancellor Farina, among other things.
Also on Wednesday evening, City & State NY is hosting this year's edition of "New York City 40 Under 40 Rising Stars," honoring "40 talented individuals under the age of 40 who work in New York City government, politics, and advocacy. Rising Star members have already distinguished themselves in the eyes of their colleagues and are on their way to amassing many more noteworthy accomplishments."
BetaNYC is hosting "Civic Hacknight and Sandy Anniversary" on Wednesday: "technologists, data scientists, developers, designers, map makers, and activists" meet for the latest installment of this work, billed as "a study hall or office hours to improve the city.
Thursday
Thursday will be highlighted by the debate between Attorney General candidates: Democratic incumbent Eric Schneiderman and his Republican challenger John Cahill. The debate will take place near Buffalo and be broadcast on Time Warner stations include NY1. [Read our latest report on the AG race]
Earlier on Thursday...
Thursday's City Council schedule includes: the Committee on Fire and Criminal Justice Services will meet jointly with the Committee on Recovery and Resiliency to discuss bills related to emergency preparedness issues; and the City Council Committee on Aging will convene for an oversight hearing on "Age-Friendly NYC Aging Improvement Districts." [Read our report on new 'age-friendly' initiatives planned by Speaker Mark-Viverito and the Council]
Success Academy will host a daylong seminar to share some of its best practices with city public elementary school principals: "Driving Excellence: A Daylong Seminar That Shares Success Academy Best Practices with NYC Public Elementary School Principals...Since opening its first school in August of 2006, Success Academy has been the subject of keen interest: How do these schools -now 32 of them- continue to produce strong academic results among all segments of their enrollment: children with special needs, English Language Learners, and low-income children of color. In this overview of key elements of Success Academy design, principals can expect to learn the innovative approaches to teaching and learning as well as actionable take-away lessons that can be applied in any school."
There will be a mid-day webinar on participatory budgeting: "A People's Budget: A Research and Evaluation Report on Cycle 3 Participatory Budgeting in New York City...Join us for a webinar presentation of key research findings and a panel discussion exploring this unique community-driven budgeting process."
Council Members Jimmy Van Bramer, Ben Kallos, Ydanis Rodriguez, Andrew Cohen, Daneek Miller, and Ritchie Torres will discuss participatory budgeting in their districts on Thursday.
On Thursday evening, Manhattan Borough President Gale Brewer will host an Ebola Community Forum at City College: "In its first initiative, my African Immigrant Task Force is joining with community partners and NYC elected officials to present a free public forum to address the Ebola epidemic as it relates to NYC - "Ebola: What You Need to Know but are Afraid to Ask."
The Arab American Association of New York will host its 13th annual Benefit Gala event on Thursday evening in Brooklyn.
Also Thursday evening, the celebration of Brian Lehrer's 25th annviersary on the air at WNYC: "Hosted by Brian himself, the evening will include a news and history quiz with a special guest quiz-master and a panel discussion on the theme of 'progress' in New York and America over the past 25 years." [Watch our video interview of Brian Lehrer during which he discusses his start in journalism favorite on-air moments, and much more]
Friday and the weekend
The last weekend before Election Day will, of course, see lots of campaign canvassing and phone banking. Watch out for those pesky campaign workers!
On Friday morning, Commissioner of the Office of Labor Relations, Robert Linn, will be the featured guest at a CityLaw breakfast event.
On Saturday, Chancellor Carmen Farina will host one in the "Chancellor's Parent Conference Series," this one for elementary school and pre-k, at Tweed: "Topics to include: Pre-K Activities Parents Can Do at Home; The IEP Process Step by Step; Why You Should Read to Your Child."
On Saturday, Council Member Daneek Miller hosts his third participatory budgeting neighborhood assembly of the week.
And on Sunday, the city host it's 2014 marathon, always a major event.
***
Have events or topics for us to include in an upcoming Week Ahead in New York Politics? Email Gotham Gazette executive editor Ben Max any time: This email address is being protected from spambots. You need JavaScript enabled to view it. (please use "For Week Ahead" as email subject).
***
by Rati Mukhuradze, Katrina Shakarian, and Ben Max
@GothamGazette