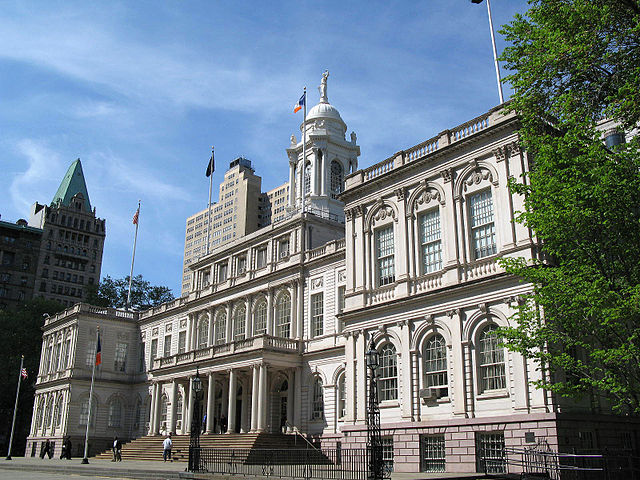 New York City Hall
---
Happy New Year! What to watch for this week in New York politics:
In this first full week of 2015, New York politics will be dominated by five things: the resignation of Rep. Michael Grimm and looming special election to replace him; the laying to rest of former New York Governor Mario Cuomo (father of current Governor Andrew Cuomo); the start of the 2015 legislative session in Albany; the New York City Council's first Stated Meeting of the year; and the ongoing tension between New York City Mayor Bill de Blasio and the NYPD. On Monday, the mayor and Police Commissioner Bill Bratton will make an announcement at 3 p.m. at 1 Police Plaza.
There are always things popping up in New York politics, of course, so we're expecting more than the above to demand our attention.
Due to the passing of his father, Governor Cuomo's State of the State speech scheduled for Wednesday, Jan. 7, has been postponed two weeks until the 21st. But, the two houses of the State Legislature are constitutionally mandated to begin their sessions on the 7th, so we'll soon know what the Senate leadership power-sharing agreement looks like - when the Senate adopts its rules for the session (the next two years), it will be clear how much power Sen. Jeff Klein and his Independent Democratic Conference (IDC) retain. Even with Republicans having taken outright control of the chamber without the IDC, Klein may be well be able to negotiate keeping his place at the decision-making table.
The City Council is back in action this week, starting with a full-body Stated Meeting on Wednesday, with several committee hearings thereafter. Council committees are then busy throughout next week as things get into full swing in the new year. 2015 looks like it will be a more contentious year in the Council, with stark division having already emerged over legislation the body is to take up this year regarding NYPD regulations, carriage horses, chokeholds, and pastic bag fees.
***Do you have events or topics for us to include in an upcoming Week Ahead in New York Politics (or to add to this one)?
E-mail Gotham Gazette editor Ben Max: This email address is being protected from spambots. You need JavaScript enabled to view it.***
The run of the week in more detail:
Monday
Monday will see the formal resignation of Rep. Michael Grimm, Republican Congressman representing Staten Island and part of Brooklyn in the House of Representatives. Grimm is resigning from office after pleading guilty to one felony charge of tax evasion from his days as a restaurateur and whatever nudge was necessary from House Speaker John Boehner. Speculation is already swirling around who will be selected by the Republican and Democratic party leaders from Staten Island and Brooklyn to face each other in the special election to replace Grimm. Governor Cuomo will set the special election date. It is expected that the Republican candidate will be Richmond County (Staten Island) District Attorney Daniel Donovan, who recently presented the grand jury case of Police Officer Daniel Pantaleo in the July death of Eric Garner. A Donovan candidacy could bring increased scrutiny to the Garner/Pantaleo case and surrounding issues, which would add to the already tense atmosphere around race and policing in the city. Meanwhile, many are still awaiting word from NYPD and federal investigations into the Garner incident.
Neither City Comptroller Scott Stringer nor Public Advocate Tish James has a public event on their schedules for Monday. Council Speaker Melissa Mark-Viverito has not released a public schedule at time of our publication, but we'll update if or when her office does. Mayor de Blasio begins his week with one public event: a 3 p.m. announcement with NYPD Commissioner Bill Bratton at 1 Police Plaza.
Monday is the wake for former Governor Mario Cuomo: "calling hours will be held between 1:00PM-5:00PM and 7:00PM-10:00PM at the Frank E. Campbell Funeral Home, located at 1076 Madison Avenue in Manhattan," according to the Governor's Office.
"In place of flowers, the Cuomo family requests contributions to be made to HELP USA for the Mario M. Cuomo Mentoring Fund: HELP USA Attention: Joe Gallo, 5 Hanover Square, 17th Floor, New York, NY 10004".
Tuesday
Tuesday will be the funeral for Mario Cuomo: "11:00AM...at St. Ignatius Loyola Church, located at 980 Park Avenue in Manhattan," according to the Governor's Office, which also noted in a press release that the funeral is not private, but open to family and friends.
On Tuesday evening in Albany, City & State NY is altering its planned pre-State of the State event to hold a 2015 Legislative Launch event and commemoration of former Gov. Mario Cuomo. Details: "The 2015 Legislative Launch event will feature lawmakers offering their agendas for the 2015 legislative session and a special commemoration segment for former Gov. Mario Cuomo. Elected officials and attendees will have the opportunity to share their tributes and memories of the former governor to be highlighted in City & State's Mario Cuomo commemorative issue later this month. The special print edition will highlight Gov. Mario Cuomo's contributions to the State of New York, the tremendous impact he had on our leaders, and the lasting legacy he leaves behind."
Wednesday
Wednesday is both the first day of the 2015 legislative session in Albany - read our 2015 Albany session preview here - and the first full-body Stated Meeting for the New York City Council - read our 2014 year in review/2015 preview on the City Counil here.
On Wednesday at 11 a.m. (moved from Tuesday) on the steps of City Hall, "Bronx Borough President Ruben Diaz Jr. and Council Member Rafael Espinal, chair of the City Council's Committee on Consumer Affairs, will join colleagues, community members, business leaders and others to unveil a legislative package relating to the creation of a system of a letter grading system for cosmetology businesses, including nail salons, spas, barber shops, beauty parlors and other similar businesses throughout the five boroughs."
Thursday
City Council committee hearings get going again on Thursday: the Finance Committee will meet on the "sale of tax liens"; and, the Women's Issues Committee and Health Committee will meet jointly around legislation regarding HPV treatment, awareness, and prevention.
Thursday evening, it's a "State of our schools town hall with Council Member Daniel Dromm" (chair of the Council's education committee) at PS 69 in Jackson Heights.
Senator Liz Krueger will host a SCRIE/DRIE Seminar on Thursday at 6 p.m. at Lenox Hill Neighborhood House: "Are you 62 years of age OR receiving disability benefits? Do you live in rent regulated housing? Is your household income no more than $50,000? Is your rent more than 1/3 of your income? If you can answer "yes" to these questions, you may be eligible to have your rent frozen through the Senior Citizens Rent Increase Exemption (SCRIE) or Disability Rent Increase Exemption (DRIE) Programs. Come hear from experts on these programs. After the presentations, attorney's from Lenox Hill's legal staff will be on hand to answer your questions and to make individual appointments."
Friday and the weekend
Nothing on our radar at this point, but we don't expect that to hold up as the week unfolds, of course.
[Have you read "Predictions! Experts Look Ahead to New York Politics in 2015"?]
***
Have events or topics for us to include in an upcoming Week Ahead in New York Politics? E-mail Gotham Gazette executive editor Ben Max any time: This email address is being protected from spambots. You need JavaScript enabled to view it. (please use "For Week Ahead" as email subject).
***
by Rati Mukhuradze and Ben Max
@GothamGazette