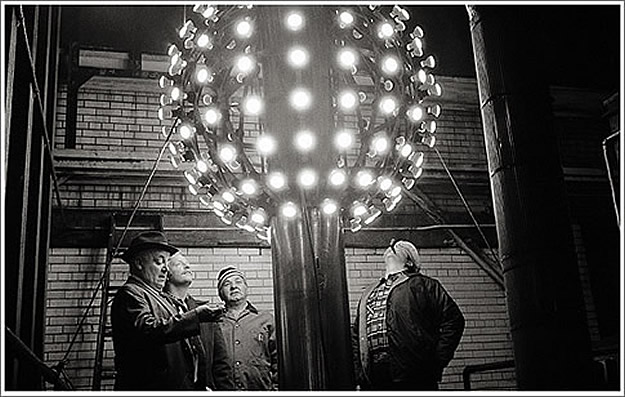 Looking ahead to the new year (photo: balldrop.com)
---
As we usually do about this time of year, Gotham Gazette asked a bunch of politicos to look into their crystal (New Year's Eve) balls for predictions for the year ahead. We also received a few responses to our Twitter solicitation. Below you'll find insights from current and former elected officials, journalists, advocates, analysts, and others who are tuned into New York politics.
Have something to add to the conversation? Tweet us @GothamGazette. And, be sure to read the latest reporting from Gotham Gazette, which includes year in review and year ahead articles on many issues and electeds (such as the New York City Council; Comptroller Stringer; city veterans policy; 2015 Albany legislative session; and more).
Predictions for 2015 in New York politics:
Nicole Gelinas, Manhattan Institute and City Journal
The carriage horses will be securer in their jobs by next New Year's Eve.
Ruben Diaz, Jr., Bronx Borough President
The four new Metro North stations in the East Bronx—Hunts Point, Parkchester, Morris Park and Co-op City—will be fully funded in the MTA capital plan. These are our borough's highest priority right now, and we have never been closer to seeing this long-held vision become a reality.
More companies and organizations will take a fresh look at The Bronx, and we will continue to build on our success for the past five years. My office will continue to work to create jobs and new housing, [and] bring new business opportunities of all types to The Bronx.
Dan Garodnick, City Council Member
The East Midtown Rezoning Steering Committee will make recommendations that improve upon the last proposal.
The Upper East Side will have perfectly cleaned streets through every snowstorm.
Eric Adams, Brooklyn Borough President
In 2015, Brooklyn will continue to make history. We will be preparing to host the greatest convention our nation has ever witnessed, which will help elect the next Democratic president of the United States. Our borough will also be proud to host Pope Francis as he delivers a historic mass to thousands in Prospect Park.
Gustavo Rivera, State Senator
We will pass reforms that will serve as an initial step to remove doubt and strengthen our [criminal justice] system. One reform, that I believe will be at the center of the discussion, will be my bill to give the Attorney General, an impartial and independent prosecutor, the authority to investigate cases involving police misconduct, including those resulting in the death of an unarmed individual.
Governor Cuomo will announce that part of the $4.2 billion surplus in the state budget should be spent on transportation, either as MTA capital funds or to offset a fare increase.
Between the implementation of Mayor de Blasio's housing plan and the renewal of rent-regulation laws in the legislature, next year there will be a strong push throughout the state to ensure we preserve and expand our affordable housing stock.
James Merriman, CEO, New York City Charter School Center
In 2015, all public charter schools will get the full funding they deserve and New York City parents will continue to choose charters to educate their children in record numbers.
Alyssa Katz, New York Daily News Editorial Board
Conflict over renewal of rent regulation and a major affordable housing tax abatement, both of which expire in June 2015, will test the already tense relationship between Gov. Cuomo and Mayor de Blasio. De Blasio backs a repeal of the Urstadt law, which gives Albany control over New York City's rent regulations; Cuomo has taken no position but big real estate world donors are dead-set against Urstadt repeal. Cuomo's developer-donors also have a big stake in curbing Mayor de Blasio's ambitions to expand affordable housing mandates attached to the tax break, known as 421-a. Pass the popcorn.
Dante de Blasio will be accepted at Columbia University but choose to enroll in a college outside NYC.
Christina Greer, political science professor, Fordham
Sharpton v. Bratton will come to a head, especially since it seems like there are more videos coming out about cops and negative interactions with young black and Latino youth. I'd put my money on Sharpton to win the war...if NYC isn't big enough for the both of them, it's Bratton who will need to find a new home.
Issues at Rikers Island will directly bleed into the larger fights about those who are charged with protecting New Yorkers, the unions who represent them, and everyone else.
Sal Albanese, former City Council Member and mayoral candidate
Bill Bratton will not be the Police Commissioner at the end of 2015.
Andrew Hawkins, reporter, Crain's New York Business
Unable to find any place that will take New York's newly emancipated carriage horses, Mayor Bill de Blasio turns Gracie Mansion into a dude ranch. He then shells out another $30,000 to replace the new fence with one made of barbed wire. Dante objects to working as a horse wrangler, mainly because he can't fit the hat on his head.
Sales of Gov. Andrew Cuomo's book skyrocket after reporters discover the whole thing is an acrostic mercilessly ridiculing Fred Dicker.
James Parrott, Deputy Director and Chief Economist, Fiscal Policy Institute
In 2015, business supporters will tell Republican leaders in Congress that it's time to raise the minimum wage because otherwise they risk losing the white working class. Even Republicans acknowledge that it's different this time since half the states have already increased their wage levels above the federal minimum. More than one Member of Congress will be embarrassed by not knowing the federal minimum wage is still $7.25 an hour.
Ben Kallos, City Council Member
I'm looking forward to...partnering with BetaNYC to put the City Record Online, making sure the full City law goes online at NYC.gov, and more city agencies have voter registration forms.
There will be a renewed focus on New York City's public transportation system, which is facing larger crowds and more delays than ever. We urgently need to invest in public transportation.
Robert Gangi, Director, Police Reform Organizing Project
After taking time to pause, reflect on, and join in the mourning of the two police officers killed in a senseless act of violence, the city's police reform movement will return in full, powerful force effectively pressing Mayor de Blasio to abandon quota-driven 'broken windows' policing that targets & harasses low-income people of color, charging them, sometimes falsely, with low-level infractions. Responding to his base, the mayor will reluctantly make this move when he recognizes that it is a necessary step on the way to keeping his campaign pledge to create a Police Department serves and protects all New Yorkers and that works to achieve a more safe, fair, and inclusive city for all its citizens.
Alexis Grenell, political consultant
I predict that the Governor and the Legislature will compromise and pass 9 out of 10 planks of the Women's Equality Act. The Governor will claim it's the best he could do despite herculean efforts to empower female voters, and urge women to express their outrage by voting on the WEP line in the 2016 election cycle.
Theodore Hamm, journalism professor, St. Joseph's College
2 of 3 will happen in 2015:
Bratton will retire.
Stringer will audit Gracie Mansion's catering expenses.
Bharara's office will be investigated for corruption.
Adam Forman, Center for an Urban Future
Mayor De Blasio announces a "historic" plan to build 200,000 units of affordable housing in Staten Island. Every Staten Islander moves to New Jersey.
Senator Schumer successfully cobbles together funding for a new Hudson River rail crossing. The Gateway Tunnel is completed in 2030, five years prior to the opening of Santiago Calatrava's WTC PATH Station.
After Brooklyn's efforts to annex Ridgewood are scuttled, Queens emerges as the artistic capital of New York City. Bukharian-Bhutanese fusion electronic dance music and Fujianese-Colombian digital art captivate the world. The New York Times christens every hip neighborhood in Southeast Asia, Eastern Europe and Latin America as the "New Queens.
David Bloomfield, professor of education leadership, CUNY
In education, the Mayor and Chancellor are likely to find their footing after mixed successes (pre-k, settled contracts, de-emphasizing tests and school grades) and missteps (charters, struggling school plans, snow days). Politicized school wars will continue, however, with well-funded adversaries among others lobbing missiles over charter space, teacher tenure, and student achievement.
Billy Easton, Alliance for Quality Education
Hedge Fund Billionaires like Paul Tudor Jones, Dan Loeb and Paul Singer will break Albany records for spending in order to push an education "reform" agenda of starvation for public schools, high stakes testing for public school students, and privatization through charter schools.
Governor Cuomo will champion this same agenda, but naturally the millions of dollars spent by these hedge fund titans will have zero influence on his decision making.
Public school parents, students, teachers and community members will fight back against the millions in lobbying spending by the Hedge Fund crowd and surprise everyone by winning.
Howie Hawkins, former Green Party gubernatorial candidate
Instead of raising the minimum wage, the four men in the room will agree to increase the state Earned Income Tax Credit. Cuomo's minimum wage board will give food tip workers a wage hike but maintain the tip credit.
The four men in a room will package the renewal of rent control with continuing the local property tax cap and sweeten the rent control side of the deal for real estate interests with more tax breaks for developers.
Cuomo will say the word poverty in his State of the State address.
Helen Rosenthal, City Council Member
The Yankees bounce back, make the American League playoffs.
HAPPY NEW YEAR from Gotham Gazette!
Contact us anytime by tweeting @GothamGazette or emailing editor Ben Max: This email address is being protected from spambots. You need JavaScript enabled to view it.; and don't forget to sign up for our newsletters if you haven't yet or to spread the word to friends and colleagues if you have!