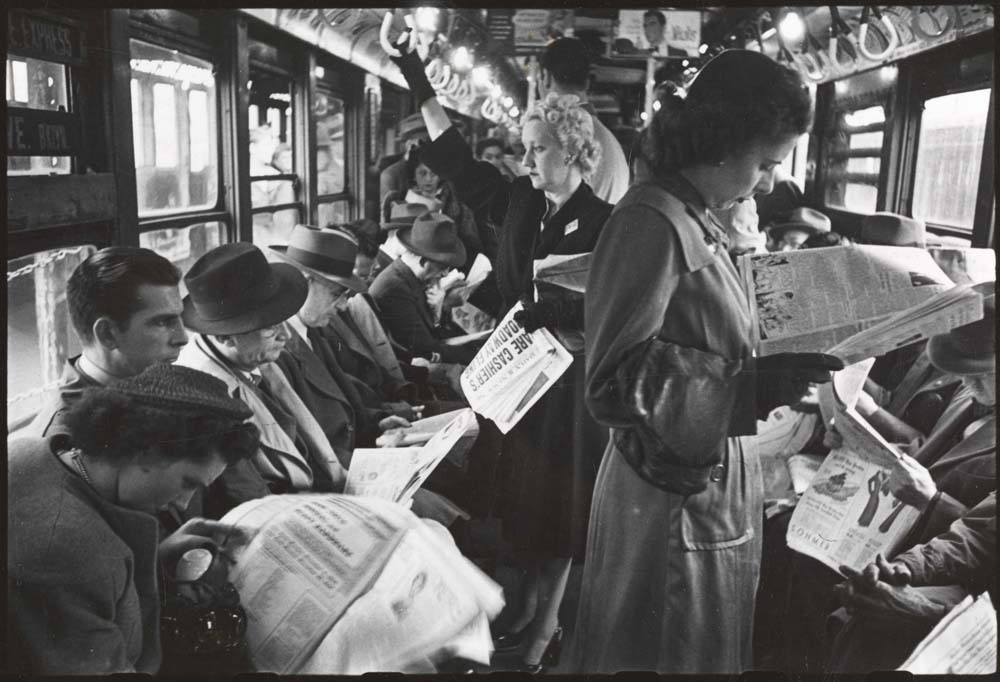 photo: Stanley Kubrick via Museum of the City of New York
---
Gotham Gazette's Week in Review, Friday November 6
PHOTO OF THE WEEK: Gov. Cuomo, Mayor de Blasio and others participate in solidarity march in Puerto Rico, via the governor's office on flickr; "Belongings of homeless individuals removed from Soho. Homeless outreach team offered social services," tweeted de Blasio press secretary Karen Hinton (with photo below) in response to CBS2 reporter Marcia Kramer's inquiries.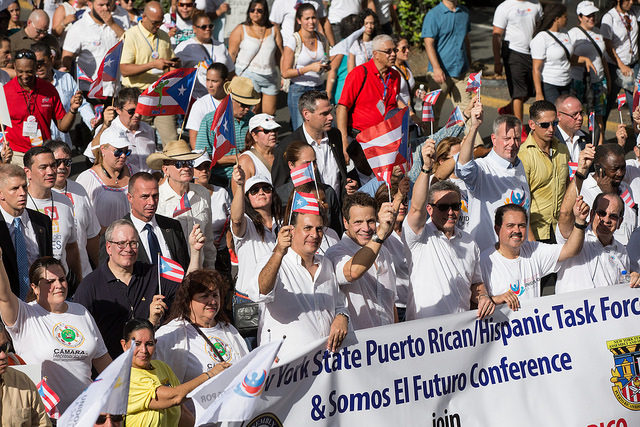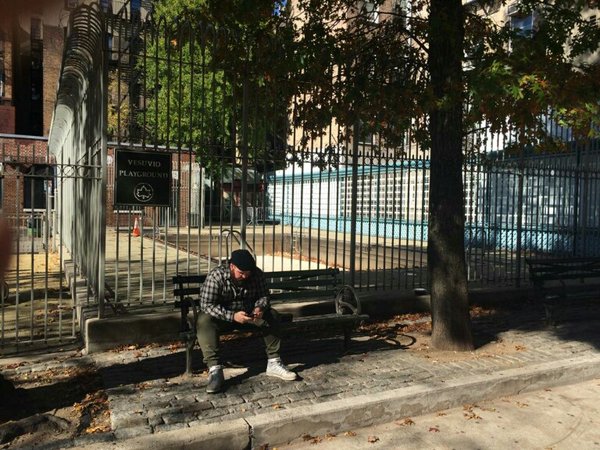 TOP FIVE STORIES OF THE WEEK:
1. Election Results: After Tuesday's elections, New York City has two new City Council members, two new District Attorneys, two new Assembly members, and one new state Senator. See the results.
2. Silver Trial: The trial of former Assembly speaker Sheldon Silver began in New York City this week, with Silver, who had been Assembly speaker for 21 years, facing federal corruption charges. Dr. Robert Taub took the stand on Wednesday under a non-prosecution agreement, and testified that Silver had requested that the doctor refer Mesothelioma patients to his law firm because the cases were lucrative. Taub said he had asked Silver if his law firm could donate to aid the doctor's research, and, after writing the state a request for grant money, received a $250,000 grant. Taub also testified that Silver had asked him to keep the arrangement quiet. Prosecutors allege Silver acted out of greed and abused his power for personal gain. [Read: As Sheldon Silver Heads to Trial, A Democratic Challenger is Poised to Run]
3. Politicians in Puerto Rico: Governor Cuomo and Mayor de Blasio marched together at a rally calling for improved healthcare funding for Puerto Rico in San Juan on Thursday. The mayor, the governor, City Council Speaker Melissa Mark-Viverito, Public Advocate Letitia James, Comptroller Scott Stringer, and many others were/are in San Juan this week to show solidarity with the island territory as it faces a debt crisis, to attend the annual Somos El Futuro conference, and to put pressure on Congress to aid Puerto Rico with its financial crisis.
4. Calls for Voter Reform: Voter turnout was low as usual for this week's elections, and on Tuesday, the "Vote Better NY" coalition, led by NYC Votes, the voter outreach arm of the city's Campaign Finance Board, along with other advocacy and good government organizations launched a petition drive to highlight the importance of election reform and call on lawmakers to pass legislation to modernize elections in New York. The reforms call for early voting, better ballot design, and comprehensive online and easier voter registration in order to increase voter turnout.
5. MTA Criticism: City Council Speaker Mark-Viverito, Mayor de Blasio, members of the state Assembly and Senate, City Council members, city Comptroller Scott Stringer, Manhattan Borough President Gale Brewer, and others criticized the MTA this week over its decision to delay construction on the northern end of Second Avenue subway and cut $1 billion in funding to the project. Elected officials called for the MTA to put the money back into their 5-year capital plan, with Assemblyman Robert Rodriguez saying the move to cut funds "screams of transit inequality and economic injustice." MTA CEO Thomas Prendergast responded in a statement, saying if they could speed up the schedule, they would pursue a capital program amendment to do so.
THIS WEEK'S NUMBERS:
THE GLORY AND THE GOAT:
It was a good week for the election winners, including soon-to-be new City Council Members Barry Grodenchik and Joseph Borelli; District Attorneys Darcel Clark and Michael McMahon; and others.
It was a bad week, of course, for those who did not win the elections held Tuesday.
THE FLASH:
GOTHAM GAZETTE HIGHLIGHTS OF THE WEEK:
City Council Developing New Protections for Workers in 'Gig' Economy, by Samar Khurshid
Citing 'A Violence Problem,' Cuomo Calls on New Yorkers to 'Respect the Police', by David Howard King
East Harlem Tenants Group Rejects De Blasio Housing Plan, Offers Its Own, by David Howard King
As New Yorkers Go to the Polls, Activists Launch 'Vote Better' Campaign, by Ben Max
2015 General Election Results, by Samar Khurshid
In New De Blasio Heath Care Plan, Limited Coverage for Undocumented Immigrants, by Sarah Betancourt
With Risks, P3s and Design-Build Seen as Beneficial to Infrastructure Planning, by Ryan Brady
Prison Alternatives Enhance Public Safety & Must Be Left in Place, Lisa Schreibersdorf (opinion)
Wall Street Doesn't Work for New York, Let's Create a Bank that Will, Matthew Rigney & Evan Casper-Futterman (opinion)
MORE FOR THE WEEKEND:
[Video] Gotham Gazette Executive Editor Ben Max participated in a discussion about this week's election results and New York efforts to reform voting access, on BRIC-TV.
[Video] Board of Regents Chancellor Merryl Tisch joined Errol Louis on NY1's Inside City Hall to discuss her position at the center of a polarizing debate over standardized testing, as well as her decision to leave the office next year.
***
NOTE TO READERS: we hope you enjoy this new Gotham Gazette weekly feature - please share it if you do; on Twitter, use our handle @GothamGazette.
If you have feedback on this feature for us, you can email editor Ben Max: This email address is being protected from spambots. You need JavaScript enabled to view it.
Watch Sunday evening for our latest Week Ahead in New York Politics, which gives you a preview of key issues and events to be aware of for the week about to start. In the meantime, catch up on the latest original reporting from Gotham Gazette here. And have a great weekend!
***
by Meg O'Connor and Ben Max