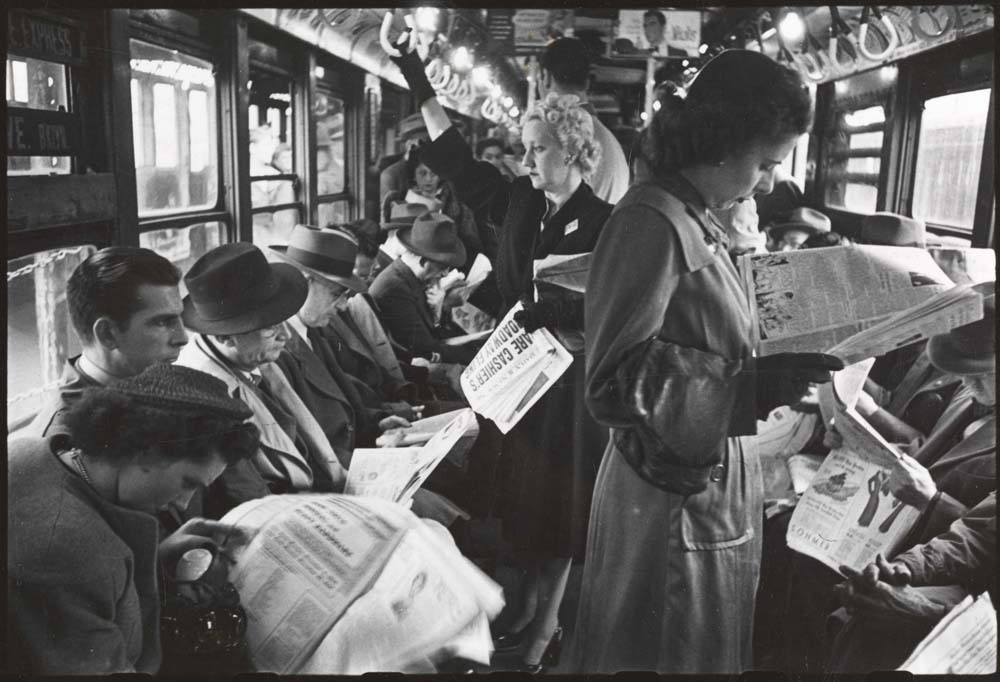 photo: Stanley Kubrick via Museum of the City of New York
---
Gotham Gazette's Week in Review, Friday November 20, 2015
PHOTO OF THE WEEK: Mayor de Blasio, former Mayor Bloomberg, Council Speaker Mark-Viverito and others at Friday's tree-planting ceremony, via @NYCCouncil; former Mayor Bloomberg speaks on Friday, via Howard Wolfson, @howiewolf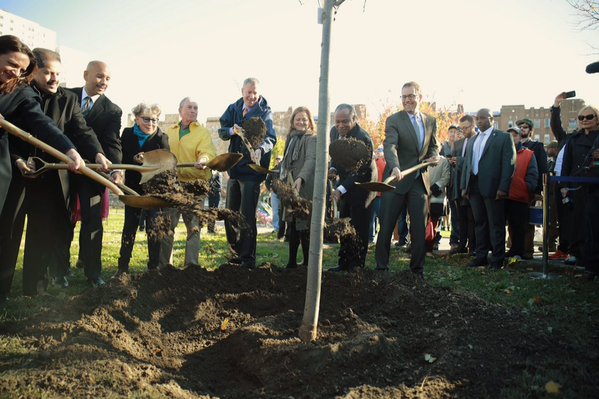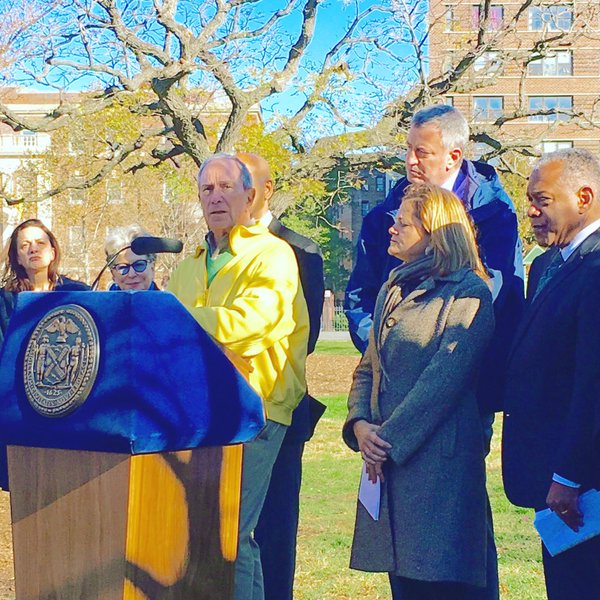 TOP FIVE STORIES OF THE WEEK:
1. Mayor Announces Supportive Housing: On Wednesday, Mayor Bill de Blasio announced the city will invest over $2.6 billion to create 15,000 new units of supportive housing over the next 15 years. Supportive housing is considered by many to be both the most cost-effective and successful method to reduce homelessness among those with acute needs, such as those battling substance abuse and mental illness. The Mayor's move puts new pressure on Governor Andrew Cuomo, with whom negotiations for greater state support in creating supportive housing have stalled, despite the fact that a bipartisan group of legislators have repeatedly called on Governor Cuomo to commit to the creation of 35,000 units of supportive housing statewide. [Read: Pressure Shifts to Cuomo as De Blasio Announces Supportive Housing Plan]
2. New York Reacts After Paris Attacks: The NYPD stepped up security in certain areas of the city simply as a precaution this week in the wake of last Friday's deadly terrorist attacks in Paris. On Monday, the NYPD launched a new counterterrorism unit, known as the Critical Response Command. On Wednesday, following the release of a video by the Islamic State showing images of Times Square and threatening an attack on the city, Mayor de Blasio and Police Commissioner Bill Bratton held a late night press conference to reassure the public that there is no credible threat to the city. Mayor de Blasio said that New York will not be intimidated and encouraged residents to continue going about their daily lives.
3. Cuomo, with Clinton, on Gun Control: At a Brady Campaign to Prevent Gun Violence gala on Thursday evening, Governor Cuomo and Democratic presidential candidate Hillary Clinton praised one another for their respective actions on gun control. Clinton, who received an award named after Governor Cuomo's late father at the event, commended the Governor for passing the SAFE Act in the wake of the Sandy Hook shootings, saying "Congress may have let us down, but Andrew Cuomo did not." At the event, Governor Cuomo reiterated his strong support of greater gun control, saying "This is a man-made crisis that costs 33,000 lives per year. It is something we can solve. The answer is going to be federal legislation and that is the only way we're actually going to make a difference."
4. Albany on Trial: The trial of former Senate Majority Leader Dean Skelos and his son began this week just as the trial of former state Assembly Speaker Sheldon Silver entered its third week. Skelos and his son face eight charges of bribery, extortion, and conspiracy with federal prosecutors alleging that Skelos "abused his power" to "line the pockets" of his son. Silver also faces charges of corruption and abuse of power, and on Wednesday, prosecutors rested their case after almost three weeks of testimony. Silver will not take the stand nor will Silver's lawyers call witnesses, and Silver's lawyers have asked the judge to acquit Silver on all counts before jurors get the case, insisting that the government had not met the burden of proof.
5. Rikers Reform: On Wednesday, NYC Comptroller Scott Stringer, Neil Barsky, founder and chairman of The Marshall Project, and several others discussed Rikers Island jails at an event with a panel moderated by Errol Louis at The New School's Center for New York City Affairs. Stringer added his voice to calls for shutting down the dysfunctional jail complex, saying, "Right now, Rikers Island is a case study in poor outcomes." [Read: Stringer Joins Calls to Shut Down Rikers]
THIS WEEK'S NUMBERS:
THE GLORY AND THE GOAT:
It was a good week for supportive housing advocates, as Mayor de Blasio announced Wednesday that the city will invest over $2.6 billion to create 15,000 new units of supportive housing over the next 15 years.
It was a bad week for former Senate Majority Leader Dean Skelos, whose trial on federal corruption charges began and included some damning and embarassing audio from federal wiretaps.
THE FLASH:
Around this time four years ago, on November 15, 2011, the NYPD evicted Occupy Wall Street protesters from Zuccotti Park.
Around this time last year, on November 18, 2014, a giant snowstorm hit many parts of the United States, causing one New York county to declare a state of emergency and killing 13 people in New York.
GOTHAM GAZETTE HIGHLIGHTS OF THE WEEK:
Pressure Shifts to Cuomo as De Blasio Announces Supportive Housing Plan, by David Howard King
Two New Reps Set to Join the City Council, by Samar Khurshid
Stringer Joins Calls to Shut Down Rikers, by Ryan Brady
As Homelessness Crisis Continues, Shelter Siting Questions Intensify, by Christian Zhang
All Aboard the BRT Express? by Colin O'Connor
Boards to Offer Peek Into New Ways to Access Campaign Finance Data, by David Howard King
A City We All Want to Live In, by Lawrence Mone (opinion)
IDNYC Cardholders Await Assurance Ahead of Year Two, by Lauren A. Haynes (opinion)
Improving CUNY's Equity and Efficiency: Requiring Some Tuition for All, by Robert Cherry (opinion)
MORE FOR THE WEEKEND:
Gerald Benjamin, SUNY New Paltz legend and scholar, appeared on WNYC's "Capitol Pressroom" to provide an update on the trials of former Assembly Speaker Sheldon Silver and former Senate Majority Leader Dean Skelos.
Gannett Albany's Joseph Spector reports that even as the two former leaders of the state Legislature stand trial on a number of corruption charges, Assembly Speaker Carl Heastie says he has no plans for new ethics laws, despite calls from good government groups.
On City & State TV, City Planning Commissioner Carl Weisbrod discussed two zoning amendments and what they mean for the Mayor's affordable housing program.
***
NOTE TO READERS: we hope you enjoy this new Gotham Gazette weekly feature - please share it if you do; on Twitter, use our handle @GothamGazette.
If you have feedback on this feature for us, you can email editor Ben Max: This email address is being protected from spambots. You need JavaScript enabled to view it.
Watch Sunday evening for our latest Week Ahead in New York Politics, which gives you a preview of key issues and events to be aware of for the week about to start. In the meantime, catch up on the latest original reporting from Gotham Gazette here. And have a great weekend!
***
by Meg O'Connor and Ben Max