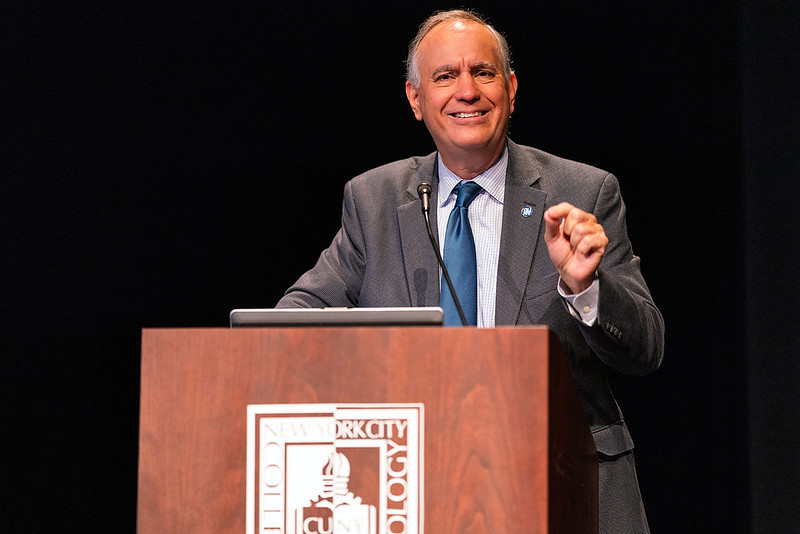 CUNY Chancellor Matos Rodriguez (photo: Chancellor Felix Matos Rodriguez)
---
For the City University of New York's hundreds of thousands of students and millions of alumni, the largest urban university system in the United States has long served as a springboard. A 2017 study by Harvard economist Raj Chetty and coauthors, ranked five CUNY schools in the top 10 of their economic mobility index, meaning these schools have achieved high success in propelling lower-income students to the top 40% of the income distribution. A similar 2020 Brookings Institution report ranked 12 CUNY senior colleges and community colleges among the top four-year and two-year colleges in the country in lifting low-income students into the middle class.
However, the fallout from the COVID-19 pandemic has rocked the institution to its core, triggering intense interrogation about how CUNY should adapt in this new social, economic, and education landscape while continuing to fulfill its historic role as a social mobility driver in a post-pandemic world, and how CUNY fits into New York City's larger recovery from the depths of the mass illness, death, unemployment, and dislocation wrought by COVID-19.
In May of last year, after in-person schooling had been shut down and the city was just coming out of the worst of the outbreak, CUNY Chancellor Félix V. Matos Rodríguez said on Facebook, "I have no doubt that the road to recovery for New York goes through CUNY." The post implied a future in which CUNY's system of four-year and community colleges, as well as graduate schools, would help fuel the city's post-covid economic recovery.
In an interview with Gotham Gazette in October, Matos Rodríguez said, "We're clearly an indispensable partner moving forward in the efforts to bring back the city and the economy, and its social and civic life." He continued, "We've been working very hard with different sectors — the business community, with elected officials, with some of the other civic society groups who are framing an agenda about what needs to be done, so we can be an integral part of all those conversations."
Tuesday night, Matos Rodríguez expanded upon his vision for making the university a crucial player in New York City's "inclusive recovery," in which New Yorkers from all backgrounds benefit from the city's post-pandemic resurgence.
The chancellor appeared in an online forum hosted by the Center for an Urban Future, a nonprofit think tank that has conducted thorough, ongoing research on CUNY's role in creating a more inclusive and equitable economy in New York City. Matos Rodríguez and moderator Jonathan Bowles, executive director of the Center for an Urban Future, touched upon a variety of important topics throughout the hour-long event: how the pandemic has disproportionately impacted the university and its students, how CUNY is addressing the economic consequences of the pandemic, how CUNY can improve career development opportunities for its students, including a talent pipeline into the city's workforce and partnerships with major employers, and how the next mayor might impact CUNY. The chancellor provided a number of ideas for new policies and programs, though at times he was short on details in outlining his vision or answering the questions posed to him.
For the first 20 minutes of the discussion, Bowles posed questions of his own to Matos Rodríguez, while the remaining time was opened to questions from audience members.
Winston C. Fisher, a partner at Fisher Brothers, a real estate firm, and a philanthropic funder of the Center for an Urban Future's research initiatives, opened the event, saying, "You can't have a conversation about the future of New York City's economy without talking about CUNY." He added, "CUNY is on the front lines helping to develop a diverse and talented pool of employees for the 21st century economy."
Bowles asked how the university could help the city achieve a more equitable economy.
According to Matos Rodríguez, an inclusive recovery will leverage CUNY's diverse student population, which he said has become an increasing focal point among employers. "Clearly, our student body reflects that diversity of New York City, that talent pool that we need to take advantage of to rebuild the city," the chancellor said.
The latest figures show that the university's student population is composed of about 27% white students, 26% Hispanic students, 23% percent Black students, 23% Asian or Pacific Islander students, and less than 1% American Indian/Alaska Native students.
Matos Rodríguez also pointed out that there is a lot of diversity on the "faculty and staff side," many of whom are policy experts, which he said will benefit the design and evaluation of new programs to help the university's mostly low-income students earn credentials and find employment post-graduation. He added that CUNY was working "with the governmental sector," on both the city and state levels, in the design of programs to economically reinvigorate New York.
Additionally, Matos Rodríguez said CUNY has leveraged partnerships with employers in the private sector, citing the CUNY Cultural Corps internship program as an example. The Andrew W. Mellon Foundation awarded CUNY with a $10 million endowment in August to expand the talent pipeline for students from historically marginalized backgrounds into careers in the arts, an area that has been hit hard by the pandemic and where diversity is often lacking. Matos Rodríguez lauded the program for putting "thousands of CUNY students in paid internships" and "real money in the pocket of students."
As part of a broader initiative to diversify corporate recruitment, CUNY has partnered with a coalition of 27 major companies called the New York Jobs CEO Council, which has pledged to hire 100,000 low-income and Black, Latino, and Asian workers, including 25,000 CUNY students, by 2030. Affiliated companies include household names like Amazon, Google, and JPMorgan Chase. "A more robust programming of paid internships is a great way to increase the connectivity between CUNY and employers," said Matos Rodríguez. Details about the program are still unclear, including how the recruitment and application process will work and how the CEO Council will be held accountable for meeting its goal.
Beyond the CEO Council, Matos Rodríguez said he wants to see more intentional efforts from employers that target CUNY students when recruiting for their internship programs. He said he's noticed "a double standard when they're reaching out to certain schools and not to ours." But Matos Rodríguez also acknowledged, "That's beginning to change," remarking how he's noticed increased outreach from employers in various industries, including publishing and finance. Relatedly, the chancellor said employers should utilize "word-of-mouth" and "social media" to attract CUNY students to paid internship opportunities, while also providing reasonable scheduling flexibility for the "many [students] balancing work and family in ways that typical 18-year-olds graduating from college do not."
A recent November report from the Center for an Urban Future found that the number of degrees in science, technology, engineering, and math (STEM) awarded annually nearly doubled in the last 10 years. "It [CUNY] seems like it's ripe for more recruitment among the city's tech employers," Bowles pointed out.
These findings coincide with another report from the Center for an Urban Future that found unemployment has disproportionately impacted workers in particular industries. Jobs in tech, finance, engineering, and scientific research and development services saw minimal job losses when the pandemic struck, compared to jobs in many low-wage industries including restaurant, retail, the performing arts, and personal care, which saw the greatest job losses, as well as the hospitality industry and transportation.
A university official reported during a June City Council hearing that CUNY students had been disproportionately affected in terms of unemployment, as well, with 40% of students having lost their jobs since the start of the pandemic. According to a 2016 report, 60% of CUNY's undergraduate population comes from households earning less than $30,000 a year.
"Many of the industries with the greatest job losses are also the ones that are most accessible for people who don't have a college credential," said Bowles.
Preliminary data from the U.S. Department of Labor shows that the unemployment rate in New York was 11.8% in November, up from 3.4% the same month in 2019.
Asked how CUNY was responding to these unemployment trends, Matos Rodríguez said, "Our students work 20 hours or more [per week] and had part-time jobs in those sectors," referring to industries hit hardest by the pandemic. "CUNY needs to provide students with "additional tools to be able to pivot into other areas," particularly for those seeking employment in industries where the job prospects are "soft," such as tourism and the performing arts.
Expanding CUNY Accelerated Study in Associate Programs (ASAP), a financial and academic support program that helps students earn an associate's degree within three years, is an important aspect of Matos Rodríguez's vision plan for CUNY. Other program benefits include free unlimited MetroCard, help with textbook costs, and advice. In particular, Matos Rodríguez says he wants to see personalized advising expanded to the rest of CUNY to help students make more "informed choices" and avoid costly mistakes early on in their academic careers, especially among first-generation students, who may not be as equipped to navigate collegiate structures and bureaucracy.
The first question from the audience asked the chancellor how to ensure academic preparedness among high school students so they can take full advantage of CUNY's programs and resources. Matos Rodríguez said he wants to maximize the potential for data based on "proficiency standards" to let students know "whether [they're] college-ready or not," during either their sophomore or junior years of high school. That kind of policy intervention would "save time for the students, get them ready for college, cut down on the cost of remediation on our side, and lead to more on-time degree completion."
City Council Member Inez Barron, a Brooklyn Democrat and chair on the Council's Committee on Higher Education, asked the chancellor how much money would be necessary to adequately fund CUNY personnel, citing decades of underfunding from the city and state, with the ultimate aim of eliminating overdependence on adjunct faculty and expanding support programs, such as ASAP.
"For every $100 million you're putting in a capital investment into CUNY, you're generating a thousand direct or indirect jobs in the city," said Matos Rodríguez. He did not specify an exact dollar amount but did say, "We have not invested enough in our career centers" and called for "additional support for the work that we do."
In envisioning how a post-pandemic future would look for CUNY, the chancellor said the university system plans to maximize its recent foray into online and hybrid instruction, offering students a broader selection of classroom styles to suit different learning needs. CUNY's increased online classes coincided with diminished course offerings and ballooning class sizes during the pandemic, as well as nearly 3,000 faculty layoffs.
Additionally, Matos Rodríguez described "the focus on pedagogy" as "a great result of this tragedy." explaining that updating instructional best practices is "a key part of student success." He cited concerns in the early months of the pandemic over whether faculty members were properly trained to teach online as an example of this; in response, CUNY offered online training workshops for all faculty members. "I want to keep that same focus on teaching the students that we serve at CUNY moving forward, so that we have less students dropping out, more minorities and women taking STEM courses — all the things that we know happens with better teaching."
When asked how CUNY can encourage traditional liberal arts faculty members to "align to more workforce transferable curriculum," the Chancellor emphasized the importance of real-world application in teaching, saying, "We need to give faculty who do not come trained that way more tools to be able to feel comfortable to point people in the right direction." He did not specify what those tools would include, but added, "I think that there's ways in which you can do that entirely consistent with the field that you're teaching, even if it's the humanities."
Expanding peer advising as a work-study option for students is also on the chancellor's agenda, alongside existing programs that support adult learners, many of whom have returned to school in the wake of pandemic-induced unemployment.