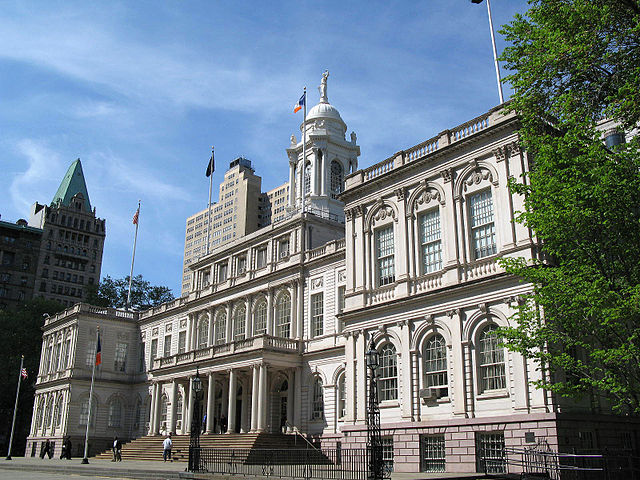 New York City Hall
---
What to look for this week in New York politics:
SKELOS WATCH: The fallout from Republican Senate Majority Leader Dean Skelos' arrest on federal corruption charges continues, with Skelos facing increased pressure to step down from his leadership post. The Legislature is back in session in Albany on Monday, it seems that it is only a matter of time before Skelos takes the path indicted Democratic Assembly Speaker Sheldon Silver took after his arrest: becoming a rank-and-file member of his body while a colleague ascends to the throne. [Read our in-depth look at how Skelos came to power and what he's done over the years to maintain it]
Meanwhile, there are only about five weeks left in the legislative session and for any real policy work to get done, the Senate leadership must be stabilized. There are a whole host of issues that lawmakers and advocates want to see action on, but in order for anything to really get done, it will come down to negotiations among Governor Andrew Cuomo, Assembly Speaker Carl Heastie, and the leader of the Senate, whether it is Skelos or a replacement. Some of the key issues on the negotiating table include mayoral control of New York City schools, rent laws and the 421-A tax break for real estate development, 'raise the age' and other criminal justice reforms, paid family leave, the minimum wage, and more. It doesn't seem anything else will be done on the ethics reform front, even though there is more and more scrutiny on the LLC loophole and the problems with the influence of campaign donations and donors. Gov. Cuomo is in a tough spot, the worse Albany looks the worse he looks, and he also wants to get more legislation done before the end of session, but his hands are tied as the Senate deals with the upheaval of Skelos' arrest. The governor may just resort to doing as much as he can without the Legislature, as he's indicated with recent decisions to convene a wage board looking at the minimum wage for fast-food workers.
DE BLASIO TO DC: Mayor Bill de Blasio is heading back to Washington, DC this week. On Tuesday he'll unveil the "Progressive Agenda" that he and collaborators from around the country have put together. A liberal version of the 1994 Republican "Contract with America," it will focus on reducing inequality and creating opportunity. The mayor has argued that a national progressive movement can be extremely helpful to his work in New York. De Blasio will reportedly also head to California this week, where he will speak at his daughter's school, Santa Clara University.
Meanwhile, it promises to be another busy week in the City of New York itself, with the City Council in action, many events and rallies around the city, and continued analysis of de Blasio's recently unveiled fiscal year 2016 Executive Budget leading up to the start of council hearings on the budget, which start May 18, and a final budget deal by the end of June.
Public Advocate Letitia James is due back from Israel this week, she's been there on a nine-day visit.
As always, there's a great deal happening all over the city, with many events to be aware of - see our day-by-day rundown below.
***Do you have events or topics for us to include in an upcoming Week Ahead in New York Politics?
E-mail Gotham Gazette editor Ben Max: This email address is being protected from spambots. You need JavaScript enabled to view it.***
The run of the week in detail:
Monday
Monday morning, Eleanor's Legacy will host its Spring Breakfast honoring Congressional Rep. Carolyn B. Maloney and House Democratic Leader Nancy Pelosi and featuring appearances from Congressional Reps. Nita Lowey, Grace Meng, Louise Slaughter, and Nydia Velazquez, Lieutenant Governor Kathy Hochul, Attorney General Eric Schneiderman, City Council Speaker Melissa Mark-Viverito, and Stephanie Schriock, President of EMILY's List.
Mark-Viverito has a busy Monday: in addition to the Eleanor's Legacy event, the speaker will be speaking "at MOVE Systems Press Conference to Announce Food Cart Pilot Program" at City Hall; speaking at "Press Conference to Announce the Grand Marshals for the 2015 National Puerto Rican Day Parade; speaking "at New York City Council Jewish Heritage Event" at City Hall, and appearing "Live on BronxTalk" at 9 p.m.
On Monday at 9:30 a.m. at City Hall, "workplace safety advocates will unveil the latest alarming findings from the New York Committee for Occupational Safety and Health's "Price of Life: 2015 Report on Construction Fatalities in NYC...Advocates will call for: public agencies to stop awarding taxpayer dollars and public contracts to repeat safety offenders; prosecutors to use criminal statutes to go after contractors who violate safety regulations; increased resources for OSHA inspectors to spot problems before they become fatalities; and elected officials to keep a strong Scaffold Safety Law, which holds those who control construction sites responsible if they fail to provide proper safety equipment and a worker is injured or killed as a result."
At 10 a.m. Monday, "Governor Cuomo Makes an Announcement Regarding the Enough is Enough Campaign" at FIT in Manhattan.
At about 10:30 Monday morning, "The New York City Independent Budget Office will release a report...that examines the city's provision of mental health and discharge planning services in the jail system. The report specifically looks at these services in relation to the city meeting its obligations under the Brad H. court settlement and provides data on the number of inmates eligible for and receiving mental health and discharge planning services in 2009 and 2013. Details on city spending are also included."
At 11 a.m. on Monday, Comptroller Scott Stringer will hold a "Press Conference Kicking Off Shred It Events with AARP" at Union Settlement, 237 East 104th Street. On Monday evening, Stringer will "Holds a Town Hall at Big Six Towers" in Woodside.
"On Monday, Mayor de Blasio will visit Corona Family Residence, a homeless facility in Queens...After the visit, the Mayor will hold a media availability to make an announcement related to homelessness" at about 1:30 p.m., according to his public schedule.
On Monday at 2 p.m. at City Hall, "leading housing coalitions and labor leaders to announce massive mobilization for stronger rent laws," specifically a march on Thursday "to demand laws that can keep NYC affordable for working people."
Monday's City Council schedule will include "the Committee on Housing and Buildings will hold a hearing on Introduction 222-2014, in relation to amending the obligation of owners to provide notice to their tenants for service interruptions, and Introduction 592-2014, in relation to preservation of hotels. The Committee on Housing and Buildings will also hold an oversight hearing on construction safety.
"The Committee on Environmental Protection will hold a hearing on Introduction 240-2014, in relation to filing semiannual reports on catch basin cleanup and maintenance, and Resolution 549-2015 calling on Governor Andrew Cuomo to veto the application by Liberty Natural Gas, LLC to construct the Port Ambrose liquefied natural gas terminal off the coast of New York.
"The Committee on General Welfare and the Committee on Governmental Operations will hold a joint hearing on Introduction 251-2014, in relation to the collection of demographic data regarding numerous Asian Pacific American sub-demographic groups, Introduction 551-2014, in relation to requiring city agencies to amend their official forms and databases to accommodate multiracial identification where racial identification is required, Introduction 552-2014, in relation to collecting and reporting data related to sexual orientation and gender identity, and Resolution 472-2014 calling on the state and federal governments to amend their official forms and databases to accommodate multiracial identification in all instances where racial identification is required."
On Monday, the state Legislature is in session in Albany.
At 5:30 p.m. Monday at City Hall, "Speaker Melissa Mark-Viverito, Public Advocate Tish James, the New York City Council Jewish Caucus, and members of the New York City Council cordially invite you to a Jewish Heritage Month Celebration, featuring special guest speaker Dr. Ruth Westheimer."
Monday evening, Queens Borough President Melinda Katz will hold a Queens Borough Board Meeting.
Also Monday evening, the Mayor's Community Affairs Unit (CAU), in collaboration with the Lesbian, Gay, Bisexual & Transgender Community Center, will host an LGBT City Agencies and Community Meet & Greet: "Meet and connect with all of New York City's LGBT focused agency representatives and learn about all the services and resources city agencies have to offer to the LGBT community."
At 6:30 p.m. Monday, the New York Press Club will host the panel event, "The Investigators," where a "panel of investigative reporters will discuss the state of their art in contemporary New York, joined by the City's new Investigations Commissioner, Mark G. Peters." Panelists will include Greg Smith of New York Daily News, William Rashbaum and Michael Schwirtz of The New York Times, and Murray Weiss of DNAinfo.com New York, and the panel will be moderated by Tom Robbins.
Also Monday evening at 6:30 p.m., the Manhattan Institute will hold its Fifteenth Annual Alexander Hamilton Award Dinner, honoring Senior Fellow at Manhattan Institute and Co-Author of 'Broken Windows Policing,' George Kelling, and Founder and CEO of Success Academy Charter Schools, Eva Moskowitz, "for Their Dedication to Increasing Safety and Opportunity in New York...The Alexander Hamilton Award was created to honor those individuals helping to foster the revitalization of our nation's cities."
Tuesday
Mayor de Blasio will be in Washington, DC on Tuesday: according to POLITICO, early in the day he'll appear at a Roosevelt Institute event with Sen. Elizabeth Warren and others, and then he "will hold a 3 p.m. news conference outside the U.S. Capitol with labor leaders, Democratic lawmakers and liberal activists to unveil his "Progressive Agenda to Combat Income Inequality.""
From the mayor's office: "On Tuesday, Mayor de Blasio will travel to Washington, D.C. to unveil The Progressive Agenda to Combat Income Inequality. There will be two events. In the morning, the Mayor will deliver remarks at the National Press Club. This event, hosted by the Roosevelt Institute, will also feature Nobel Prize winning economist and professor Joseph Stiglitz and U.S. Senator Elizabeth Warren. In the afternoon, the Mayor will make an announcement at the House Triangle near the U.S. Capitol Building steps."
Tuesday morning, the Association for a Better New York will host a "breakfast with Scott Rechler," who will "provide a regional perspective for addressing New York's competitive challenges and opportunities. He will also outline reforms underway at the Port Authority as well as priorities and goals for the Port Authority and for the region going forward."
At 9:30 a.m. Tuesday, Queens Borough President Melinda Katz will hold a Queens Borough Cabinet Meeting.
Tuesday's City Council schedule will include a joint hearing of the Committee on Fire and Criminal Justice Services, the Committee on Public Safety, the Committee on Courts and Legal Services, and the Committee on Mental Health, Developmental Disability, Alcoholism, Substance Abuse and Disability Services to "examine New York City's action plan" on behavioral health and the criminal justice system.
On Tuesday, the state Legislature is in session in Albany.
Wednesday
On Wednesday, Mayor de Blasio "will be joined by a bipartisan coalition of mayors from around the country for meetings with Congressional leadership to call for a six-year transportation authorization that significantly increases federal transportation investments. Wednesday afternoon, the mayors will hold a press conference at the U.S. Capitol. Additional details regarding Mayor de Blasio's schedule while in Washington will be released as they become available." Later on Wednesday, "Mayor de Blasio will travel to Santa Clara, California."
"Brooklyn Borough President Eric L. Adams announced Brooklyn Job Fair 2015, an opportunity for Brooklynites to come to Brooklyn Borough Hall on Wednesday, May 13th from 3:00 PM to 6:00 PM and apply for positions at some of New York City's major businesses. This networking event is being co-hosted by the Brooklyn Chamber of Commerce, and is part of a sustained effort by Borough President Adams to advance hiring of local residents through the borough. According to statistics by the New York State Department of Labor, Brooklyn's unemployment rate in March 2015 was 6.7%, a higher number than that of the city and the state."
Wednesday, City and State, in collaboration with the Bronx Borough President's Office, will host an event in celebration of its first ever Bronx Special Issue publication: "City & State will publish our first ever special issue covering everything Bronx. This special print edition will feature comprehensive coverage of major issues and industries in the Bronx, perspectives from every Bronx elected official and much more! This print edition will be launched City & State's first ever Bronx-based event that will correspond with Bronx week." Attendees will include Borough President Ruben Diaz Jr., SOMOS Chair and Bronx Democratic Party Chair Marcos Crespo, State Senator Jeff Klein, and Kyle Kimball, President of the New York City Economic Development.
At noon Wednesday, the Senate Task Force on Workforce Development will meet for a hearing on "Bridging the Employment Gap."
The state Legislature is due to be in session on Wednesday.
Wednesday evening, Cooper Union will host "The Monopoly Moment: The New Anti-Trust Paradox" featuring Fordham Law professor and former gubernatorial candidate Zephyr Teachout.
Also Wednesday evening, Vets GSA in partnership with CUNY and John Jay College of Criminal Justice, will host "a workshop and seminar that will be focusing on identifying contracting opportunities for New York State and the US Federal Government for Veteran Owned Businesses...This session will provide information for Services Disabled Veteran Owned Small Businesses and Veteran Owned Small Business to make them award or the multitude of open source business development intelligence websites that can be used to assist in the increasing the businesses ability to assess competition and identify and bid on viable opportunities."
Thursday
Thursday morning, the Senate Standing Committee on Codes, the Senate Standing Committee on Consumer Protection, and the Senate Standing Committee on Veterans, Homeland Security and Military Affairs, will hold a joint hearing regarding "Cyber Security in New York State as it Relates to Businesses and the Private Sector."
Thursday's City Council schedule will include a meeting of the Committee on Finance "concerning amendments to the District Plan of the Lower East Side Business Improvement District" and a full-body Stated Meeting at 1:30 p.m.
At 5:00 p.m. Thursday, New York Communities for Change, Real Rent Reform Campaign, and Alliance for Tenant Power will host "Rally to Save NYC..Landlords and developers are taking our neighborhoods away from us. The affordable housing crisis and gentrification have brought millions of New Yorkers to a breaking point. If we don't win stronger rent laws in June, our city will be lost. This is our last chance to hold onto the place we call home." There will be a rally in Foley Square, followed by a march.
On Thursday evening, Manhattan BP Brewer will speak "at American Planning Association panel discussion on 421-a and rent stabilization, Rudin Family Forum at the Puck Building."
Friday and the weekend
Friday morning, the Manhattan Institute for Policy Research will host "New York's Next Health Care Revolution: How Employers Can Help Empower Patients and Consumers...In a just-released collection of essays published by the Manhattan Institute, a group of leading experts offer a clear diagnosis of New York's health care ills, as well as a menu of concise, actionable reforms that employers and policymakers can use to make the Empire State's health care system truly patient-and consumer-centered."
On Saturday morning, Brooklyn BP Adams, in coordination with The Youth Council on Community Engagement, will host "Youth Participation on Community Boards Boot Camp...Brooklyn's youth ages 16 – 25 and those who work with youth are invited to learn about civic engagement and how their local community board addresses the issues in their neighborhood."
Saturday evening, Lea DeLaria (of Netflix's Orange is the New Black) and the Empire State Pride Agenda will host its Spring Dinner at Joseph A. Floreano Rochester Riverside Convention Center: "The Empire State Pride Agenda is New York's statewide civil rights and advocacy group dedicated to winning equality and justice for lesbian, gay, bisexual and transgender (LGBT) New Yorkers and our families." New York State Attorney General Eric Schneiderman will provide the evening's keynote.
Also Saturday evening, City Council Member Jumaane Williams and supporters will host a 39th birthday celebration/fundraiser for Williams: "Join us as we celebrate one of the most progressive and visionary public servants representing New York City communities today. Help fundraise to support the future of Brooklyn's rising star in government and invest in OUR future!"
***
Have events or topics for us to include in an upcoming Week Ahead in New York Politics? E-mail Gotham Gazette executive editor Ben Max any time: This email address is being protected from spambots. You need JavaScript enabled to view it. (please use "For Week Ahead" as email subject).
***
by Shannon Ho, Marco Poggio, and Ben Max
@GothamGazette