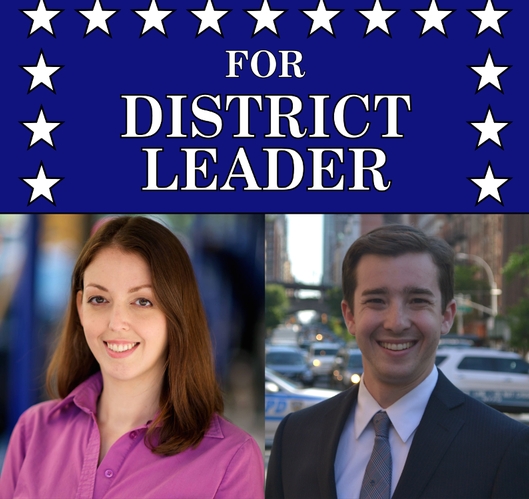 Kim Moscaritolo and Adam Roberts, district leaders for Manhattan's Assembly District 76, Part B

---
While much of the media and public's attention is focussed on New York's mayoral and City Council races, lesser known elections are also slated to take place this fall.
On primary day, September 12, and election day, November 7, Manhattanites will vote on their district leaders. While the position is part-time and unpaid, it comes with a degree of influence and is often a stepping stone to greater political posts. Sometimes elected officials at higher levels are also district leaders, giving them additional power.
The county committee, which is made up of two to four representatives from each election district, is too large and unwieldy to be an effective body. Therefore, district leaders are elected biennially to form an executive committee and are enabled to exercise all or most of the powers of the county committee. In addition to acting as a liaison between constituents and paid elected officials, district leaders play a role in nominating civil judicial candidates, making formal party endorsements, and appointing paid poll workers. They also vote for the Democratic Party county chairman.
In three boroughs -- Brooklyn, Staten Island, and the Bronx -- a pair of district leaders are elected per State Assembly district, one male and one female. But in Queens and Manhattan, Assembly districts may be divided into two, three, or four district leader parts, marked by the letters A, B, C, and D.
To get on the ballot, candidates must collect 500 signatures from residents of their Assembly district, or their part of an Assembly district, which in Manhattan can be comprised of between 10 and 50 election districts, BOE subdivisions marked by designated polling places within Assembly districts. Signatures from outside these boundaries can be challenged by an opponent, potentially leading to removal from the ballot.
This year, several candidates for district leader positions say that a last minute redrawing of the Manhattan election district map sparked confusion and misinformation just days before the June ballot petitioning period kicked off. Ballot petitioning is the signature-gathering process whereby candidates qualify for the election ballot.
When election districts are changed, the party must then adjust the district leader parts. A preliminary draft of the new "party call" -- which lists which election districts belong in which Assembly district parts -- is submitted to current Manhattan district leaders along with a map to see where additional adjustments can or should be made.
Typically, district leaders agree on the boundaries amongst themselves and the party sends out a third version of the party call, which according to Manhattan Democratic Party rules, must be approved by district leaders with a two-thirds vote.
This year, petitioning for district leader races began June 6, with the forms due between July 10 and July 13. Due to the newly drawn election districts, the district leader parts had yet to be made permanent or public by the final week in May, and candidates say the related confusion cut into their petitioning time and chances for success.
"It was very short notice to find out the lines have changed and that greatly impacted people's targets," said Ny Whitaker, a candidate for the 68th Assembly District, Part D. "I know for sure that I lost some huge blocks where I've built relationships over the last few years."
In New York City, getting on the ballot for any elected seat is a notoriously complex process, riddled with pitfalls that can cause even experienced candidates to stumble, but for county party races like district leader, in some boroughs it can be that much more challenging to obtain basic information and clarity about guidelines.
To deduce where their district parts are located, district leader candidates in Manhattan (and Queens) must match up the most recent "party call," which lists which one- to two-block election districts are located in each part, with the latest election district map, available from the Manhattan (or Queens) Board of Elections.
"There are many intricate layers to running for a party position, but there isn't a manual for telling you how to run," said Whitaker. "Calculating the number of voters that you need for party positions and county positions is like a statistical equation involving algebra, geometry, and geography."
For non-incumbents, unless they are very knowledgeable about the process, obtaining this information is even harder. The party call listed on the Manhattan Democratic Party website is out-of-date (though this is an improvement from Queens, where the Democratic Party does not have a website to reference).
Whitaker, who ran for district leader positions twice before, said the information was changed on such short notice that Votebuilder -- the voter roll database compiled by the Democratic National Committee, made available to Democratic candidates for a hefty subscription fee -- had not been updated with the new data, and until the very last petitioning day, even the Board of Elections could not provide an updated election district map.
Whitaker, who wound up obtaining the new party call and latest electoral district map from the Manhattan Board of Elections office one day before the start of petitioning, said she only knew of the maps being redrawn because she attended the New York County Democratic Party's executive committee meeting on May 17.
During that meeting, district leader Johnny Rivera, who represents the 68th District, Part B, raised concerns about the short window he had to review any changes that were made to his part. However, he said, party officials were unwilling to address his concerns citing time constraints.
"I am a district leader and I had some difficulty getting that information. It's fundamental to running in a race, you need to know the boundaries to use your time wisely in collecting signatures in that particular election district," Rivera told Gotham Gazette. "Not knowing that can cost you the election."
The last time Assembly districts are redrawn was in 2012, however, the Manhattan Board of Elections is required to regularly alter election districts to accommodate demographic shifts and ensure that poll sites are well utilized. The redistricting often results in a complete renumbering of election districts on the map and with some EDs, as they are called, even dragged from one Assembly district into another.
This year, the redistricting triggered a three-step effort to reconstruct the map in a way that is understandable and agreeable to current district leaders, according to Barry Weinberg, executive director for the New York County (Manhattan) Democratic Party, who was involved in the painstaking process.
Weinberg said he and the party's law chair received the new part lines on May 11, stayed up all night to create the preliminary party call and sent it out to district leaders the following day for review.
"From the party's perspective, we worked as fast as we possibly could to turn around the draft of the party call in under 24 hours, given the time constraints," said Weinberg.
There were some disagreements, such as one case, in Lower Manhattan's 65th Assembly District, where one boundary cut through a housing project. But in most cases, the district leaders worked things out on a conference call, according to Weinberg. There were also a few errors with the original election district map that had to be corrected by the Board of Elections.
But Rivera, the district leader, said he was not aware of changes made to his part until hours before the May 17 vote, and asked that the vote be postponed, a request that was denied. The party call was due to be submitted to the BOE by May 23.
Politics of course plays a role in how the boundaries are determined, and those who are not allies of County Democratic Party boss Keith Wright say they can be subtly shut out of the process.
"The final changes, I didn't have a say in it. I think it all depends on your relationship with the chairman. If you are in, you probably get the lines you wanted. If you are not in, you get whatever he decides, and you get it two or three hours before the meeting," Rivera told Gotham Gazette, referring to Wright..
For district leaders, petitioning was particularly stressful this year for other reasons. Most political candidates throughout the city obtain their petition printouts from a single print shop, owned by Alan Handell, who is entrusted to make sure the forms meet the BOE's byzantine requirements. When it is an "on year" -- when City Council, mayoral, and other elections are taking place -- this creates a printing backlog delaying the petitioning process, according to at least one district leader who spoke with Gotham Gazette.
"Because of the backlog, I wasn't able to get my petitions until June 9," three days after petitioning began, said Kelmy Rodriguez, who is challenging District Leader John Ruiz in the 68th Assembly District, Part C.
There are few rules dictating how county Democratic parties operate, since they largely are empowered to set their own, and really only answer to the New York State Democratic Party.
"The district leaders and the county have the right to have the parts redrawn because the parts are entirely the creature of the party. This year seems like it was done really close to the beginning of petitioning" said Sarah Steiner, a Manhattan election lawyer, who is involved in several district leader races. She added, "I do think the process should be more transparent."
The inconsistent divisions in Manhattan formed over a century of New York's history, a result of regulatory changes, demographic shifts and controversies, according to Doug Kellner, co-chair of the State Board of Elections and former law chair for the Manhattan Democratic Party. The splits often occurred to settle disputes between political clubs or district leaders.
"It was something [former Manhattan Democratic Party Chair Herman 'Denny' Farrell] did not like to do when he was county leader, because it kept watering down the authority of the district leader," said Kellner. "When you have eight district leaders in an Assembly district, it's as if nobody is in charge."
In Manhattan, the practice dates back to the turn of the 20th Century, when it was mainly used as an anti-reform measure, when Tammany Hall -- the political machine that ruled the borough for the first half of the century -- was in power.
"It was a method of redistricting and gerrymandering the party organization," said Kellner. "Until reforms that [former First Lady] Eleanor Roosevelt pushed in the early 1950s, it was abused to prevent insurgents from gaining footholds within the county organization."
Roosevelt, who became heavily involved in reforming city politics after her husband Franklin D. Roosevelt became governor of New York in 1929, was instrumental in democratizing the vote for district leaders. Previously, only county committee members were able to vote for these representatives. Roosevelt and the League of Women Voters were instrumental in implementing the male and female pair, a structure that ensures the inclusion of more women in the party establishment.
Redrawing of the parts, Kellner noted, was historically a way to ensure that people who belonged to a particular political club lived in the appropriate part.
"It always came down to, from what I observed, it really was where club people resided, so people wouldn't always join the club for the territory where they lived and when it came down to do the party call. They might address that by massaging the boundaries between the part," he said.
The regulations have since been loosened to allow club members and district leaders to live in any section of the Assembly district and choose which "part" they run for.
Ultimately it is up to the party to find a system that works. The Staten Island Democratic Party previously divided its Assembly districts into parts, calling them "zones," but at a county committee meeting in May, district leaders voted to adopt the two leader per district structure used by other boroughs.
A spokesperson for the Staten Island Democratic Party said it has already saved the county and candidates time and money, streamlined the election process, and made petitioning easier for the upcoming election.
In recent years, the Manhattan Democratic Party attracted a lot of young people -- many of whom were energized by the 2008 and 2016 presidential elections -- into the political process, which has sparked a push for more transparency and access across the borough.
"There has been an effort to sort of modernize things and make things more available to people and a little more transparent," said Kim Moscaritolo, district leader for the 76th Assembly District, Part B. "When I was first getting involved, it was nearly impossible to find that information, even finding out who the district leaders were for those parts."
Stephen Redden, member of the Manhattan Young Democrats, which Moscaritolo is active in, is working on creating an interactive, color-coded map to make the district leader information more accessible on the party's website, according to Weinberg.
Previously, candidates would have to get the maps from the BOE and color them in. "If there's a race, you would just draw with a highlighter where the lines are," said Weinberg. "We're hoping to bring that into the 21st Century."
The New York City Board of Elections did not respond to a request for comment.