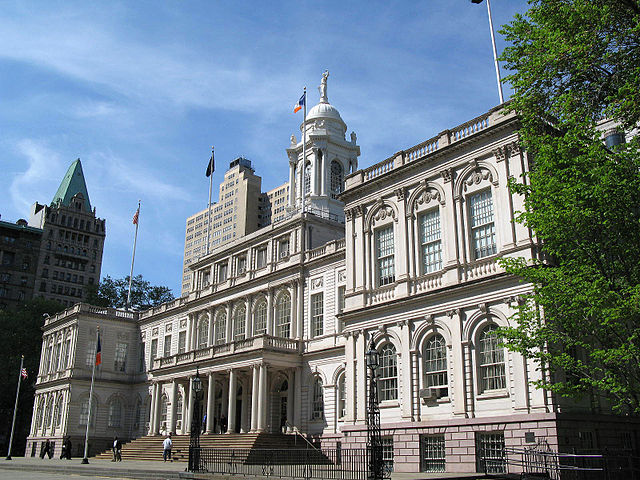 New York City Hall
---
What to watch for this week in New York politics:
Mayor Bill de Blasio and his administration are reprising the "City Hall in Your Borough" program for the mayor's second term, beginning this week back on Staten Island, where the mayor held the first of the five such weeks in the final year of his first term. The mayor and many of his top officials and staff will work for much of the week out of offices on Staten Island, intensify meetings and attention on the brough, and organize events, including a public town hall, there.
It's also "charter week" for the charter revision commission that de Blasio established, which is in the home stretch of its work, holding additional public hearings as it heads toward making its recommendations by early September. Those recommendations will become one or more ballot proposals for voters to approve or disapprove during November's Election Day, possibly changing the city's central governing document and the laws therein. The commission's staff recently released a report providing further clarity about where it is heading in its consideration of proposals, such as lowering individual campaign donation limits.
And we're inching closer and closer to primary day, September 13, with races across the state heating up, especially Democratic primaries for governor, lieutenant governor, attorney general, and a number of state legislative seats. Republicans have no primaries for statewide positions and few for legislative positions.
We're watching this week for news from or of debates in the statewide races, especially the gubernatorial race, where Cynthia Nixon has challeged Governor Andrew Cuomo to accept a debate challenge. There is another attorney general Democratic candidate forum this week, and another forum for the Democratic candidates for governor and lieutenant governor, but it is unclear if Cuomo will attend. The governor is again heading to Puerto Rico on Monday in his administration's continued effort to help the territory rebuild after Hurricane Maria.
It's a quiet week at the City Counil, with no hearings on the calendar, but there are other events to be aware of - see our day-by-day rundown below.
***Do you have events or topics for us to include in an upcoming Week Ahead in New York Politics?
e-mail Gotham Gazette editor Ben Max: This email address is being protected from spambots. You need JavaScript enabled to view it.***
The run of the week in detail:
Monday
Mayor de Blasio begin's "City Hall in Your Borough" on Staten Island Monday. He'll start the day with a ride on the Staten Island Ferry. At about 10 a.m., he'll "be greeted by Borough President Oddo to kick off City Hall in Your Borough," with an open press event, but no Q-and-A, at borough hall. At 2 p.m. at Blue Heron Park and Nature Center, "the Mayor and Borough President Oddo will make an announcement about Lyme Disease prevention. This event is open press. There will be no Q-and-A." In the evening, the mayor will appear on NY1's Inside City Hall in the 7 and 11 p.m. hours.
"Governor Cuomo will depart for Puerto Rico in the morning and return to New York Tuesday evening." At about 7 a.m. Monday, Cuomo will deliver remarks at JFK Airport before departing for Puerto Rico. At 1:15 p.m. Cuomo will hold a press briefing at the Sheraton Puerto Rico Hotel & Casino in San Juan. Public Advocate Letitia James and Bronx Borough President Ruben Diaz, Jr. are among those traveling with Cuomo.
At 10 a.m. Monday in Buffalo, Lieutenant Governor Kathy Hochul will join Planned Parenthood and state legislators to urge the State Senate to reconvene and pass the Reproductive Health Act." At 11 a.m. Hochul will join County Executive Mark Poloncarz to discuss a report issued by the Erie County Commission on the Status of Women regarding women in government, at the Buffalo History Museum.
At 11 a.m. Monday, City Council Member Andy King and the National Action Network will march to call on merchants to stop selling K2, or synthetic marijuana. The march will begin at the corner of East 216th St and White Plains Road in Williamsbridge, Bronx.
At noon Monday, the Sexual Harassment Working Group and Attorney General candidate Zephyr Teachout will hold a rally outside the Capitol building in Albany to call on state legislators to hold public hearings on sexual harassment and improve the laws passed during this year's budget.
At 1 p.m. Monday, there will be a rally at City Hall for Pablo Villavicencio, the pizza delivery man and undocumented immigrant who was arrested on a Brooklyn army base and is in danger of deportation. City Council Speaker Corey Johnson is among those who will speak.
The mayoral charter revision commission will hold a public hearing on Monday at 6 p.m. at New York University's Vanderbilt Hall, 40 Washington Square South, Greenberg Lounge.
On Monday at 6:15 p.m. at Citi Field, "Chancellor Carranza will deliver brief remarks at the Remarkable Achievement Awards, a celebration of outstanding high school graduates."
Tuesday
At 9 a.m. Tuesday, Mayor de Blasio and Staten Island Borough President Jimmy Oddo will host a city resource fair for Staten Island residents at the Gerard Carter Community Center in Stapleton, as part of City Hall in Your Borough. Mayor de Blasio will attend beginning at 11 a.m.
At 6 p.m. Tuesday, the Association for a Better New York will host two talks at LMHQ in the Financial District. The first will have Lisa Bova Hiatt, general counsel of the CUNY Construction Fund, discuss eminent domain. The second will have Anthony Crowell, dean of New York Law School and former counsel to Mayor Michael Bloomberg, discuss the Charter Revision Commission.
The mayoral charter revision commission will hold a public hearing on Tuesday evening at 6 p.m. at Hostos Community College in the Bronx.
At 7 p.m. Tuesday, City Comptroller Scott Stringer will hold a town hall meeting at the Bronx Bethany Church of Nazarene in Wakefield, Bronx. He'll be joined by U.S. Rep. Eliot Engel, State Senator Jamaal Bailey, Assemblymember Jeffrey Dinowitz, and City Council Members Andrew Cohen, Andy King, Mark Gjonaj, and Ritchie Torres.
Wednesday
At 9 a.m. Wednesday, the MTA Board will hold a public meeting.
The mayoral charter revision commission will hold a public hearing on Wednesday at 9 a.m. at the Astoria Greenmarket, 14th St & 31st Ave & 31st Road, in Queens. It will also hold a public hearing Wednesday at 6 p.m. at St. Francis College in Brooklyn.
At 10 a.m. Wednesday, the City Planning Commission will hold a public meeting at 120 Broadway.
This week's Max & Murphy show on WBAI radio will be on from 5-6 p.m. and feature an interview with Democratic attorney general candidate Leecia Eve. Eve is one of four Democrats vying for the nomination to face Republican Keith Wofford and Green Party nominee Michael Sussman in the general election. This is the second episode of Max & Murphy on WBAI -- the first featured an interview with Public Advocate and attorney general candidate Letitia James -- though it is still available as a podcast. And listen to past episodes of the Max & Murphy podcast here.
At 6 p.m. Wednesday, the Panel for Educational Policy will hold a public meeting at Sunset Park High School in Brooklyn. Chancellor Richard Carranza will deliver remarks.
At 6:30 p.m. Wednesday, Mayor de Blasio will hold a town hall meeting at Curtis High School in St. George, Staten Island with City Council Member Debi Rose, Borough President Oddo, and other Staten Island officials, as part of City Hall in Your Borough week.
Thursday
At 5:30 p.m. Thursday, New York Law School will host a panel discussion on the right-to-counsel in housing court in New York City, and the activist movements that boosted it. "Panelists will include community organizers, tenant leaders, and tenant attorneys." The event is for law students.
The mayoral charter revision commission will hold a public hearing on Thursday at 6 p.m. at Queens Borough Hall.
At 6:30 p.m. Thursday, Empire State Indivisible and TrueBlueNY will host a forum for candidates for New York Attorney General. The event will take place at Brooklyn Commons in Downtown Brooklyn. The forum will be moderated by Jarrett Berg, the executive director of the New York Democratic Lawyers Council.
At 7 p.m. Thursday, Westchester Indivisible will host a candidate forum for Democratic candidates for governor and lieutenant governor at Manhattanville College's Reid Castle in Purchase. Author Amy Siskind will moderate the forum. Invited candidates include Governor Andrew Cuomo and Cynthia Nixon, and Lieutenant Governor Kathy Hochul and City Council Member Jumaane Williams.
Friday and the weekend
This week's What's The [Data] Point? Podcast from Gotham Gazette and Citizens Budget Commission will record and publish on Friday, and will feature Bob Linn, the director of labor relations for Mayor Bill de Blasio. Find past episodes of What's The [Data] Point? with a variety of great guests and topics here.
***
Have events or topics for us to include in an upcoming Week Ahead in New York Politics? E-mail Gotham Gazette executive editor Ben Max any time: This email address is being protected from spambots. You need JavaScript enabled to view it. (please use "For Week Ahead" as email subject).
***
by Ben Brachfeld and Ben Max
@GothamGazette