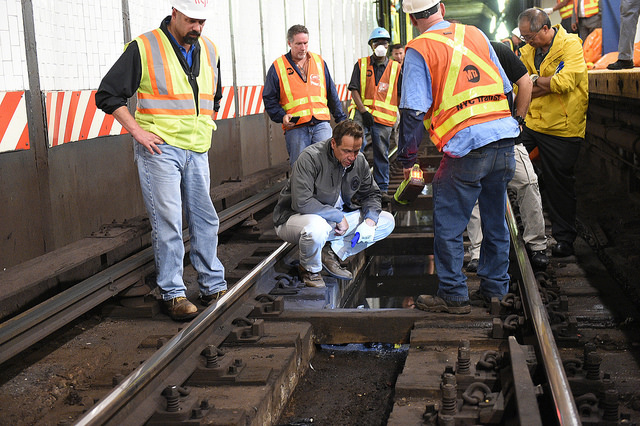 Gov. Cuomo on the tracks (photo: Kevin P. Coughlin/Governor's Office)
---
This is part of AGENDA 2019, a joint Gotham Gazette-City Limits project
Find the rest of the series here
2019 will be a pivotal year for New York City transportation, unlike any this city has seen in decades. Not only is there near-universal agreement that the city's transportation landscape, from the subways to the buses to the traffic and everything in between, is fundamentally broken, there is also a growing consensus on many of the steps needed to fix it, starting with—but by no means limited to—congestion pricing.
The problems start, of course, with the subways. For the first time in a generation, there is a leader at the MTA, New York City Transit President Andy Byford, that activists, politicians, and the riding public believe in. And he's getting results, at least enough of them to instill confidence in new-found competence. On-time subway performance has been steadily rising since a low of 58.1 percent in January to 70.3 percent in October. Overall delays are also trending in the right direction. The $836 million Subway Action Plan work has mostly been done, which also seems to have had an effect in reducing the number of "Major Incidents" that snarl commutes.
Byford and his management team are always quick to admit there's still much more work to do, but his efforts to improve "the basics" by reducing train dwell times, making sure all of the safety equipment in the system works properly so trains can go as fast as safely possible, and other "safe seconds" initiatives appear to be paying off.
On top of that, the state Legislature, which has final say on many of the key issues facing the city's transportation landscape, turned solidly Democratic in November, opening the door to changes that may otherwise have been off the table. Some legislators at least appear eager to tackle the transportation issue head-on. Plus, Corey Johnson, the City Council speaker, has made transportation a key tentpole issue of his early tenure by passing a temporary Uber/Lyft cap and the Fair Fares program for discounted MetroCards. In many ways, the stars are very much aligned.
But the challenges are just as monumental as the opportunities. The MTA has a precarious financial situation, ridership is declining, and some miscalculations now such as cutting service or raising fares too high could have dire consequences. Congestion pricing still has its detractors, particularly in the outer boroughs who, reasonably, want commitments to better bus service in exchange. They need to be convinced. The city's mayor, Bill de Blasio, is still curiously indifferent to all things transit with the exception of his beloved ferries, a tiny, heavily-subsidized slice of the overall pie, and his still-far-off BQX streetcar.
And the single most important person in this conversation, Governor Andrew Cuomo, has been too selective regarding what MTA issues he's interested in and when, resulting in a revolving door of MTA leaders, whom Cuomo appoints. The agency needs a consistent, dedicated head who can team with Byford for long-term fixes. Cuomo will soon nominate someone for the position after Joe Lhota's departure.
A year from now, we'll probably have a pretty good idea of what the future of the city's transportation will look like. Perhaps decades from now, New Yorkers will look back on 2019 as the year the tide finally turned towards real fixes for the beleaguered transit picture, with a reliable subway system, buses that move, and other essentials. Or, despite the crises and challenges New York faces, maybe it will be perceived as a missed opportunity.
The L Train Shutdown
Believe it or not, the L train shutdown, that dark specter of fear and misery looming in the distance for years, is finally upon us. Starting on April 27, the L train will run at a reduced frequency and only in Brooklyn, diverting almost 300,000 riders per day. The MTA and NYC DOT have created an elaborate mitigation plan they claim can accommodate every rider. The agencies anticipate four out of every five displaced L riders will use other subway routes (most notably the J, M, Z, G, 7, E, A, and C) and the rest will use some combination of special bus services across the Williamsburg Bridge, ferries, or bikes; 14th Street will become a busway for most of each day and the Williamsburg Bridge will be HOV-3 to accommodate all those buses.
But there is simply no way to have hundreds of thousands of commuters change their habits all at once in an orderly fashion. The big question, then, is how the MTA and DOT adapt.
"We'll be watching closely to see whether the MTA and DOT can work together to adapt to real-world transportation needs on the ground," said Hayley Richardson of TransitCenter. Some of the adjustments they'll keep an eye on: will the HOV-3 window on the bridge, from 5 AM to 10 PM, be sufficient? Will HOV-3 in general be restrictive enough, given that their modeling largely uses assumptions from crises before Uber and Lyft had shared-ride options and thus could easily meet the HOV-3 restriction? Perhaps they'll need to institute pop-up bus lanes created with standard issue road cones.
Another looming question is whether the HOV-3 restriction and bus lanes will be properly enforced. Given the volume of buses the MTA expects to run across the bridge and 14th Street—one or two buses per minute in some cases—even one blocked bus lane could be catastrophic during peak hours. It's up to the NYPD to enforce it, and there has been little indication that the department prioritizes such work.
Whatever the case, riders—whether former L commuters or those on the lines that will be swamped with more passengers—are going to be dealing with a lot of changes. Will the MTA be able to communicate effectively? It, too, has left a lot to be desired in that department.
There's a lot riding on the MTA and the city to get this right. Aside from the obvious need to get people where they need to go, it is a huge opportunity for the MTA to show riders it is improving, deserves more taxpayer and rider money, and will use it wisely because it is a competent, efficient organization. Because, well, the MTA is going to be asking for a lot of money.
Sorting Out the MTA's Budget Mess
Earlier this month, MTA Chief Financial Officer Bob Foran presented a sobering financial picture to the MTA Board. In short, the MTA projects a $991 million deficit by 2022 even with biennial fare and toll increases. Foran argued the MTA needs a new, recurring revenue stream in order to balance the budget beyond 2020. And this is just the MTA's costs of providing day-to-day service; the next five-year capital plan—which would include Byford's Fast Forward Plan to revitalize New York City Transit, plus the needs of LIRR and Metro-North—is estimated to cost around $60 billion, or nearly double the current capital plan. Who will pay for it and how is the single biggest question facing New York City transportation this year.
For his part, Cuomo has been consistent on one MTA issue: he wants the city to pay more. He wanted the city to pay more in 2015 towards the current capital plan, he forced the city's hand into paying half of the Subway Action Plan, and he regularly pledges—and had suburban state Senators sign on—to make the city pay its "fair share" going forward.
Before Lhota resigned as MTA chair earlier this month, he stated the Board would not take a position regarding preferred revenue streams until the MTA Sustainability Advisory Working Group, created by this year's state budget, issues its report on this topic, which is expected by the end of the year. That report will likely set the tone for discussions in Albany once the new legislative session begins in January, which is largely dictated by the governor's State of the State address and Executive Budget presentation.
In the meantime, Governor Cuomo declared on WNYC's Brian Lehrer Show on Monday that "the MTA is going to be a top priority for me this year" and that he favors congestion pricing as the additional revenue stream in need.
Congestion pricing, which would charge drivers who enter Manhattan's Central Business District, will accomplish far more than give the MTA additional money (perhaps more than $1 billion per year depending on what the exact model looks like). It will also address one of New York's other major transportation issues: traffic. According to the FixNYC panel convened by the governor last year to study congestion pricing, vehicles in the Central Business District moved at a mere 6.8 miles per hour in 2016, and only 4.7 miles per hour—a brisk walking pace—in the "Midtown Core." By reducing the number of vehicles in Manhattan, congestion pricing would help speed things up.
Because of the MTA's dire financial outlook and Manhattan's desperate need for traffic relief, congestion pricing is a two-birds-one-stone type deal. Combined with a revamped state Legislature more amenable to congestion pricing, there's a growing consensus it will pass this coming session.
"We certainly expect to see congestion pricing done this year in the budget process," Tri-State Transportation Campaign executive director Nick Sifuentes predicted, before adding "and we also know additional resources of funding will be necessary if we're going to see Fast Forward fully funded." What those additional revenue sources might be is a question the MTA Sustainability Advisory Working Group will presumably address.
MTA Cost Control
But that's just the revenue side of the equation. The MTA also has a highly-publicized cost control issue, spending orders of magnitude more on big projects than comparable cities. It's a problem Cuomo has finally vowed to tackle. "There is inefficiency that goes on at the MTA that has to end," he told Lehrer. Easier said than done, especially for a governor who has been extremely tight with the Transportation Workers Union and taken little apparent interest in how MTA contracting is managed.
While the MTA has said that tackling high capital costs is a key goal for almost a year now, there has so far been very little payoff. Presentations by the MTA Board's procurement and cost containment task forces in June have been the only public-facing initiatives within the authority to keep the ball moving forward. Nor has there been any transparency on why, exactly, the Fast Forward Plan will cost $40 billion, how that number was arrived at, or whether the cost can be lowered by prioritizing some initiatives over others.
The MTA will also be re-negotiating its biggest labor contract with TWU Local 100 and its more than 40,000 members, whose contract expires in May. Payroll, health care, and pensions account for more than half of the MTA's $16.7 billion 2019 budget.
The main question is to what degree lawmakers will push the cost control issue when determining new revenue streams in the upcoming state budget. Will they insist on rigid cost containment guards to make sure the money is spent wisely? Or will they throw a bunch of money at the MTA and hope the problem doesn't present its ugly head again until they're long gone from office?
The latter approach may be the more cynical one, but it's also the historically preferred one in Albany. Nevertheless, Assemblywoman Amy Paulin has already vowed to break form and "conduct [a] rigorous, public oversight during the legislative session" on the MTA. Danny Pearlstein of the Riders Alliance expects lawmakers this time around to take a more active approach in ensuring the MTA is doing something about outsized construction costs. "Lawmakers and fare, toll, and taxpayers want to know that the money they raise and set aside for transit will be used efficiently and responsibly,' Pearlstein said. "Ramping up toward the next MTA capital plan, look for the authority to articulate and implement new cost control measures."
Get Buses Moving Again
For all the talk of fixing the subway for tens of billions of dollars, fixing the city's bus service—which serves almost two million riders a day but has seen ridership plummet by almost 10 percent since 2012—is a relatively cheap and easy proposition by comparison. Instead of a matter of dollars, it's largely a matter of will.
Congestion pricing would likely help speed up bus service in some parts of Manhattan, but more needs to be done to make bus service throughout the five boroughs an attractive option, say both Sifuentes and Pearlstein, whose organizations have partnered with other advocacy groups to form the Bus Turnaround Coalition. The coalition calls for, among other measures, redesigning the city's bus routes, which in many cases have not been touched in decades. The MTA just finished redesigning Staten Island's express bus network and plans to tackle the Bronx next.
But it's not just an MTA problem. The roads and traffic signals are controlled by the city DOT and monitored by the NYPD, and thus far Mayor de Blasio has not made speeding up bus service a priority—or even a topic—of his administration's efforts. "The city (DOT) really needs to step up its commitment on buses," Sifuentes urged, which he says ought to include more bus lanes and more robust and expanded transit signal priority, which gives buses as many green lights as possible.
There is something Albany can do, which is probably the most important thing to speed up buses. Both Pearlstein and Sifuentes plan to pressure the state Legislature to drastically expand the use of camera enforcement for bus lanes rather than relying on the NYPD to write tickets. For his part, Byford wants those cameras mounted on the front of buses, ensuring anyone who blocks a bus lane gets a ticket regardless of whether or not there's a cop nearby.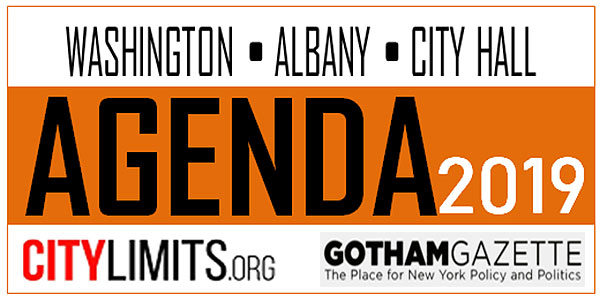 New Fare Payment System
The Bus Turnaround Coalition also calls for all-door boarding to speed up loading times, which can only be done with a new fare payment system. Luckily, the MTA is mere months from introducing this.
Starting in May, riders will be able to use contactless payment such as Apple Pay, Google Pay, or contactless-enabled credit cards that Chase and Visa will be rolling out in the coming months, to pay their fare on the 4/5 subway line between Grand Central and Atlantic Ave/Barclays as well as Staten Island express buses. The MTA plans to roll out contactless payments to every other bus and subway station by October 2020. By the time MetroCards are no longer accepted in 2023, riders who don't have credit cards or smartphones will be able to purchase NFC-enabled transit cards like the ones in Chicago, Washington, D.C., Los Angeles, London, and pretty much every other major city from new station vending machines and local stores.
This new payment system will not only make bus boarding faster if implemented properly, it can also accommodate a more sensible fare structure that eliminates the need to face the existential question of adding value or adding time. This model, known as fare-capping, means people pay per-ride until they hit a pre-determined maximum for a period of time, perhaps a day, week, or month, at which point each additional ride is free for that time period. This ensures nobody pays more than the "unlimited" amount and further incentivizes folks to use public transportation no matter how many trips they plan to make.
Although fare-capping can't happen until every subway station and bus has the new fare payment system in 2020, the 4/5 line rollout will be something to watch next year, particularly in concert with the city's Fair Fares program that gives half-priced MetroCards to low-income New Yorkers. Going forward, contactless payments would make implementing that system simpler and cheaper. Although it's not getting nearly as much attention, the New Fare Payment System may well be the most transformative change for the city's transportation next year.
Other Important Transportation Issues on the Table, But with Less for 2019
-With the House flipping Democratic, there is slightly more reason for optimism that something—anything—might develop in securing funding for the $30 billion Gateway project, although President Trump would have to renege on his vow to veto any federal funding for the project. It would be nice if they also found ways to reduce that price tag, too.
-2019 will likely see a series of "announcements" by Cuomo about progress on Penn Station's redevelopment, but none of the major renovation projects such as the Moynihan extension are scheduled to be completed until 2020.
-Placard abuse continues to run rampant throughout the city, with little attention from Mayor de Blasio, who has repeatedly vowed to crack down on the widespread practice and repeatedly failed to do so. Reining in this overtly corrupt practice would do wonders for city streets, but there's no reason at this point to believe 2019 will be any different than previous years.
-Returning to Fair Fares, which is designed to provide half-price MetroCards to low-income New Yorkers, the program is set to begin in 2019. It's widely seen as a major step forward for the city, but some questions linger, such as how smoothly the implementation will go and whether there will be an option for single-ride Fair Fares down the road, since the initial program will be limited to seven-day and 30-day passes, an issue advocates and some elected officials have said needs to be solved.
-For Long Island commuters, two massive improvements are on the distant horizon—East Side Access and Third Track—but both are still years away, with scheduled completion dates of December 2022. Again, progress worth monitoring along with and aside from inevitable Cuomo "announcements."
-That point also applies to LaGuardia Airport, which will still be a lot of trouble in 2019 and probably for much beyond, too. Terminal B, the center of the new design, won't open until 2020 and Concourse A won't be done until 2022, but work is ongoing the governor will be there.
-And the city's much-maligned streetcar project, the BQX, is still technically alive despite needing $1 billion in federal funding to become a reality, according to city officials who have changed their tune on funding since de Blasio announced the BQX in 2016. Don't expect much if anything to change in 2019, as the Friends of the BQX's own timeline says the city won't complete its Environmental Impact Statement process until September 2020.
This is part of AGENDA 2019, a joint Gotham Gazette-City Limits project
Find the rest of the series here
***
Aaron Gordon is a freelance journalist and founder of Signal Problems, a weekly newsletter about the subway. On Twitter @A_W_Gordon.