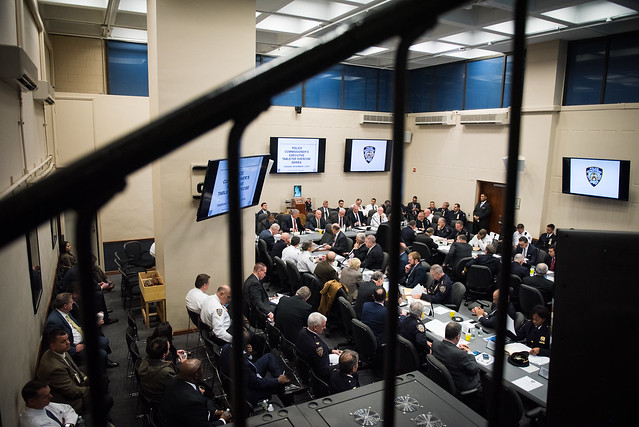 (photo: Edwin J. Torres/ Mayoral Photography Office)
---
In January, the state Joint Commission on Public Ethics, a governmental watchdog agency, revealed that it had held a closed-door vote on a potential ethics investigation into a former top aide to Governor Andrew Cuomo. The aide, Joe Percoco, was convicted on federal corruption charges in a highly publicized trial that also laid bare work he had done from his executive chamber office while on leave to work for the governor's campaign.
Despite the obvious appearance of an ethics violation, JCOPE only held a vote on an investigation when its commissioners' hands were forced through a lawsuit -- and even then, the outcome remains shrouded in mystery because JCOPE refuses to announce it to the public.
Created in 2011 to monitor the behavior of more than 250,000 public officials and to enforce state lobbying laws, JCOPE has become the epitome of New York State's lax ethical oversight, and the agency's opacity is a source of widespread consternation. As is the case with other watchdog entities, JCOPE has to balance the privacy of individuals against its duty to inform the public and instill confidence that it is effectively carrying out its work.
By design, many of these agencies are not required to inform the public about the complaints they receive, or are prohibited from doing so to prevent reputational harm against individuals or entities that may be the subject of a complaint. But good government groups say that must change in order to build trust in institutions, and that the public would be better served if agencies provided more transparency about how they handle complaints and report on outcomes of investigations.
JCOPE is just one of several governmental watchdog entities in New York, but its lack of disclosure is not unique. Among a variety of governmental bodies with mandates to scrutinize elections violations, nonprofit fundraising, and public integrity, there's no standard protocol for reporting on the number and status of complaints received, the investigations initiated or concluded, or the final disposition and enforcement actions taken.
It's true in many cases at both the state and city levels: other such entities include the State Board of Elections, the Inspector General, the New York City Department of Investigation, and the New York City Conflicts of Interest Board.
In New York City, for instance, recent news reports revealed that though two agencies had concluded that Mayor Bill de Blasio's fundraising practices during his first term violated guidance about conflicts of interest rules, the mayor did not face any punitive action and neither agency -- the Conflicts of Interest Board and Department of Investigation -- publicly disclosed that it had ended its investigation or the results. Even after news outlets reported on the general conclusions of those agencies, the specific reports and their findings were either heavily redacted or kept secret.
Government reform advocates say some agencies aren't following the letter of the law in reporting on their work, and they argue that all the agencies, either proactively or through legal mandates, should be releasing more information than they currently do.
"We feel like there's inconsistency across the many enforcement entities in New York State as to how they make known, or don't make known, the way they process complaints," said Alex Camarda, senior policy advisor for Reinvent Albany, a good government group. "And generally speaking we'd like to see more transparency. At the very least, complainants ought to be told what the outcome is of their complaint after a period of time has passed, if not immediately.
This criticism rings particularly true in a recent case regarding an allegation of sexual misconduct against former State Senator Jeff Klein by a former aide, Erica Vladimer. JCOPE has refused to reveal the status of its investigation into the matter -- even to Vladimer, she has said.
Camarda acknowledged that agencies have a duty to maintain confidentiality. Accusations of impropriety against an elected official, public servant, or candidate for office could serve to harm them if they are publicized but later found untrue. This would be particularly important in the case of spurious complaints, which agencies regularly receive and dismiss on a lack of merit.
But, Camarda said, "that hasn't been the problem in New York State."
"In this state, we've erred more on the side of protecting the reputation of the accused rather than transparency of complaints, and I think the pendulum needs to swing in the other direction, towards transparency," he added. "The problem has not been that people are wrongly accused and their reputation is sullied as a result. The problem has been lack of enforcement. So we need to compensate for that by having greater transparency with how complaints are handled and making that known to the complainant and to the public."
Joint Commission on Public Ethics (JCOPE)
The lawsuit over the Percoco matter, brought by New York State Republican Party Chair Ed Cox, was not the first time JCOPE was compelled by the courts to vote on an issue. In 2014, Donald Trump sued the agency to hold a vote on his complaint against then-Attorney General Eric Schneiderman, whose office was suing Trump over fraud claims related to the now-defunct Trump University.
In both cases, JCOPE did not hold a vote within 60 days of receiving a complaint, as required under state law, raising questions about how regularly it flouts requirements. Even after holding a vote, JCOPE doesn't disclose whether it voted to open an investigation -- the agency is exempt from the state's Freedom of Information Law, as well as from the Open Meetings Law.
Under the law, JCOPE only makes public the results of a Substantial Basis Investigation, which involves a more detailed probe of a particular complaint. (In case the complaint involves a member of or candidate for state Legislature, or a legislative employee, the agency isn't authorized to impose any penalties, however, and refers the matter to the Legislative Ethics Commission.) Substantial basis investigation reports are also published online with related documents detailing the complaint and settlement reached.
While it has a broad mandate, in 2018 the commission processed 257 matters across a range of possible violations including conflicts of interest, nepotism, improper gifts, failure to file financial disclosure statements, and post-employment restrictions, according to its annual report.
Those 257 matters resulted in 27 investigations initiated. By the end of 2018, JCOPE had 38 open investigations and 93 matters pending review. The report only includes data in the aggregate, which, Camarda of Reinvent Albany pointed out, is in fact more transparent than other agencies but does not seem to fully comply with the law, which requires the agency to report a list of complaints and referrals received alleging violations, and the status of each complaint.
JCOPE spokesperson Walter McClure disagreed with this reading of the law, saying the agency cannot release certain information "because it would be providing confidential information to people who should not have access to it….[A]nything that has to do with an investigative matter is subject to the confidentiality provision and we cannot make it public unless or until the Commission votes to allow that."
"This is just one small niche issue in a bigger enforcement system that we believe is a problem, and that is, we file these complaints, they seem to go into a black hole and we don't get a lot of information back as to what happens, at any point," Camarda said.
Reinvent Albany was among several civic organizations that sent a letter to Governor Cuomo and state legislative leaders on May 16, calling for an overhaul of ethics enforcement by amending the state constitution. The coalition of groups -- including NYPIRG, Citizens Union, New York City Bar Association, Common Cause NY, and others -- surveyed ethics agencies in 50 states and found that New York's agencies, including JCOPE, are "among the very weakest in the nation" on independence and public accountability. "Few, if any, other states have ethics watchdogs so completely compromised by lack of independence, partisanship, lack of transparency and the other failings described," the survey noted.
As the groups noted, JCOPE's structure and independence, or lack thereof, have been a perennial cause for frustration. The agency's commissioners are appointed by the state Legislature and the governor, who also chooses its chair. The executive director is appointed by a majority of the commissioners. The agency's three executive directors so far have been close allies of Cuomo. Seth Agata, who was previously counsel to the governor, currently holds the position but recently announced that he would be departing for a job with a law firm.
The call for an ethics agency overhaul has been echoed by state lawmakers. Among them is state Senator Liz Krueger, a Manhattan Democrat who has proposed an amendment to the state constitution to replace JCOPE with a 'truly independent' state ethics commission. [Read: 'It's just not designed to do its job': Will New York reform its state ethics agency?]
"[O]ur official position has been, and remains, that when it comes to calls for reform/changes to the Commission and the proposed constitutional amendment that calls for a replacement for the Commission, it is up to the Executive and the Legislature to make decisions about the laws that govern what we do and how we do it," said McClure, in response, noting that JCOPE itself has made legislative recommendations in the past to strengthen its authority.
State Board of Elections
In 2014, the state election law was amended to create a new independent enforcement division headed by a chief enforcement counsel, a role that has only been held by Risa Sugarman, who was nominated by the governor and confirmed by the state Legislature. The creation of the division and Sugarman's appointment was meant to depoliticize the agency, whose commissioners are appointed on party lines, and lend credibility to the BOE's oversight of election and campaign finance violations.
As with JCOPE, the BOE's enforcement division has not been immune from criticism that it has failed to fulfil its obligations under the law and has shown minimal investigative activity. Last year, in an apparent power grab, the BOE commissioners voted to curtail the enforcement counsel's power to issue subpoenas, and mandated that the division issue regular reports on investigations as well as complete them within six months.
At the time, BOE's Democratic co-chair Douglas Kellner said it was prompted by the enforcement counsel's failure to adequately investigate election law violations, despite thousands of referrals particularly related to candidates failing to file campaign finance disclosures. "I think it's pretty clear that I'm fed up with the current process of the enforcement unit," Kellner said at the time.
At the root of that issue is the fact that the enforcement counsel's unit is separate from the campaign finance compliance unit, which essentially keeps two oversight roles removed from each other. At public hearings, the compliance unit's leadership has aired complaints that it receives little to no information from the enforcement unit.
"The BOE is its own strange animal," said Camarda, of that structure. He added, "It's the same problem we're discussing as a good government group writ large but they can't even find out within their own agency. And [Sugarman] argues that that's an imposition on her work and the confidentiality of her work. It seems to me in the law and in the rules that the enforcement counsel is required to provide some transparency around the complaints that are received and how they're handled."
Reinvent Albany opposed the new restrictions on Sugarman's subpoena authority but was supportive of the expanded disclosure on investigations and complaints. But, the reports -- with significant detail of complaints, investigations, and dispositions -- are only required to be sent to the BOE commissioners and co-executive directors. Reinvent Albany has pushed the Board to make the reports more broadly available to the public.
The numbers on the BOE's 2017 annual report, the latest one available, bear out some of the critiques. The report notes that the division received 463 emailed questions and complaints from the public in the 2017 calendar year, but it does not mention how many complaints were received through telephone, snail mail, or other means.
Violations of state campaign finance law appear rampant but the BOE seems unable to properly uphold its mandate. In 2017, the enforcement division received 3,984 referrals from the compliance unit for non-filing of disclosures. By the end of the year, 2,880 still owed reports to the BOE. Additionally, 597 referrals were made for deficient filers who failed to comply after being informed that their disclosures were deficient. Between 2014 and 2017, the report noted, 2,101 referrals of deficient filers were made to the enforcement division; 329 were amended to fix deficiencies; one was deleted and 1,066 remained unresolved.
In total, the division opened 52 formal investigations and received authorization to issue subpoenas in four cases. Sugarman referred one case for further investigation and potential prosecution. And the division filed only six matters to go through a civil enforcement administrative hearing process.
In an email, BOE's Sugarman declined to comment for this story.
State Inspector General
The State Inspector General, a gubernatorial appointee, is charged with oversight of the state executive branch including every agency, department, division, commission, board, public authority, and public benefit corporation.
The IG's office investigates allegations of criminal activity, corruption, and fraud and regularly makes referrals for criminal prosecution. According to the law, the office informs heads of agencies about investigative proceedings and releases public reports "as appropriate and to the extent permitted by law, subject to redaction to protect the confidentiality of witnesses." The office often recommends reforms at state agencies and oversees their implementation.
Two other offices under the IG perform investigative roles dedicated to specific agencies and their services and purviews -- the Office of the Welfare Inspector General (OWIG), which oversees the provision of social services at the state and local level; and the Office of the Workers' Compensation Fraud Inspector General (WCFIG), which investigates violations of workers' compensation laws (it also monitors the implementation of the state's paid family leave program). Both these offices release annual reports detailing enforcement activity.
Until recently, Cuomo appointee Catherine Leahy Scott was in charge of all three offices. In January, Cuomo replaced her in the IG's office with Letizia Tagliafierro, a longtime aide and former executive director of JCOPE. Leahy Scott continues to serve as acting welfare inspector general.
Among the three offices, the Inspector General alone does not release an annual report or make public the number of complaints received and investigated in a year.
In 2017, according to the latest annual report, the OWIG processed 650 complaints related to public assistance fraud, up from 562 complaints in 2016, about a 16 percent increase. The office's investigations found more than $1.3 million in fraud and improper social service benefits payments. Twenty individuals were criminally prosecuted.
The WCFIG, in 2017, received 2,369 complaints, a more than 50 percent increase from 2016 (because of a new partnership with the National Insurance Crime Bureau, which made a large number of referrals in one go). Investigations found more than $1,043,000 in fraud, resulting in 23 arrests and 38 criminal cases.
Though the IG's office itself puts out public releases about the conclusions of investigations resulting in criminal charges, the office does not publish an annual report summarizing its enforcement activity. A spokesperson for the IG's office noted that the office publishes information as required by statute and that each complaint is thoroughly reviewed.
New York City Department of Investigation (DOI)
The DOI is the independent watchdog that monitors city agencies and has broad authority to conduct criminal investigations and make arrests and prosecution referrals. The agency, whose head is nominated by the mayor and approved by the City Council, conducts background checks of city employees, investigates fraud and corruption, monitors firms that receive large city contracts, and conducts investigations for the Conflicts of Interest Board. DOI also examines systemic issues at agencies and recommends reforms to reduce inefficiency and the risk of corruption.
As with other enforcement agencies, DOI has strict confidentiality rules and does not disclose directly whether it is conducting an investigation based on a complaint. But the agency does annually report, in the aggregate, on the number of complaints received, investigated and closed.
Those numbers are published in the Mayor's Management Report, tracking enforcement activity by the fiscal year, as well as in an end-of-calendar-year statistics report. In fiscal year 2018, for instance, DOI received 13,073 complaints, made 2,540 policy change recommendations, and conducted 389 lectures on corruption prevention and whistleblowers. The agency made 762 referrals for civil and administrative action, 860 referrals for criminal prosecution, and its investigations led to 661 arrests.
The Department also issues detailed public reports on investigations that are concluded.
"Complaints made to the New York City Department of Investigation are kept confidential to safeguard the integrity of DOI investigations and protect the individuals filing those complaints," said a DOI spokesperson, in an email. "DOI is committed to a transparent, accountable government, frequently proactively publishing findings of closed investigations through its public reports, and adhering to the Freedom of Information Law, taking requests for documents seriously and following the law in responding to them."
New York City Conflicts of Interest Board
As the investigation into Mayor de Blasio showed, the COIB can be an opaque agency at times. De Blasio's fundraising for an outside nonprofit from individuals who had business with the city triggered investigations at the city, state, and federal level. The state and federal cases closed without any criminal charges. Recently, THE CITY revealed that DOI concluded the mayor had violated COIB guidance and run afoul of conflicts of interest and ethics laws.
But COIB could not say whether it took any action and could not publicly disclose either the status of the investigation or the conclusion reached by DOI. Last week, the Board formally created a rule addressing the type of fundraising activity the mayor was found to have engaged in, releasing a statement to clarify its position. The City Charter, which governs the COIB, places strict confidentiality requirements on the agency, so much so that it cannot even confirm nor deny if a complaint has been filed or investigated.
"It was good that they put out that statement because ultimately it did clear things up," said Camarda of the recent developments involving de Blasio, "but it points to the problem, which is, we could not actually tell as a good government group that follows these things, why they did not assess penalties against de Blasio."
On the other hand, COIB does release aggregate data on enforcement action taken each year in its annual report. In 2018, for instance, the agency opened 392 cases, closed 404 cases, imposed fines in 92 matters, issued 6 public warning letter and 22 private warning letters, made 76 referrals to DOI and received 150 reports from DOI. The agency also discloses summaries in the annual report of the types of enforcement actions taken each year, and publicly releases the full details of the disposition of a matter, including individuals' names and the actions taken by them.
[Read: De Blasio Fundraising Exposed Grey Area for Ethics Board]
Note: Gotham Gazette is an independent publication of Citizens Union Foundation, sister organization of Citizens Union.
Note - This article has been updated to clarify that COIB does publicly disclose names of individuals and the full details of a disposition of a matter.