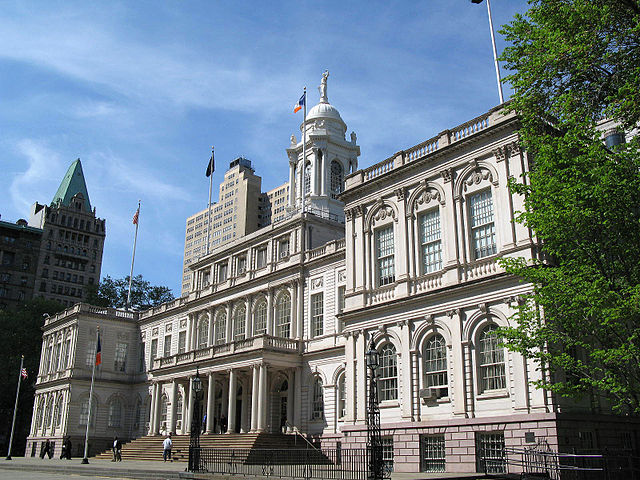 New York City Hall
---
What to watch for this week in New York politics:
There are four more days of state legislative session this week, with the rent laws set to expire on Saturday, June 15. The session is scheduled to end on June 19. Rent regulations are at the top of the agenda, but there are a number of issues on the table as the session winds down. [Listen: a new What's The [Data] Point? podcast on rent regulations featuring REBNY's John Banks and Assemblymember Harvey Epstein, a former tenant lawyer and member of the Rent Guidelines Board]
Tuesday will mark just two weeks until the Democratic primary for Queens District Attorney, as well as other elections on the ballot that day, mostly judicial races, but also another special election in City Council District 45. NY1 will air a debate among the seven Queens DA candidates on Tuesday evening at 7 p.m., and there are other debates and forums also scheduled this week. [Read: Should a Top Prosecutor Have Prior Prosecutorial Experience? 'Qualifications' Debate Rages in Queens DA Race]
Mayor Bill de Blasio is returning to New York City on Monday after a weekend campaigning for president in Iowa. De Blasio missed both the Brooklyn Pride Parade and Puerto Rican Day Parade this weekend, each for the first time in at least a decade, according to his office. De Blasio received zero first or second place votes in a new Iowa Democratic primary poll released this weekend, but he expressed resolve when asked about it, according to NY1's Gloria Pazmino.
It's crunch time for city budget negotiations between de Blasio and the City Council, with a July 1 deadline looming. There are several areas of negotiation at play, perhaps most notably so-called pay parity for early childhood educators.
It's also a busy week at the Council, with a variety of noteworthy hearings, and a full Council meeting at which new bills are introduced and bills already passed through committee and voted on by the full Council. The Bay Street rezoning on Staten Island's north shore is expected to pass the Council this week, among other items, and Council Speaker Corey Johnson's bill to mandate a "master plan for city streets" with significantly expanded bus and bike lanes, among other features, will have its first hearing.
We're awaiting the results of the NYPD administrative trial of Officer Daniel Pantaleo, whose chokehold led to Eric Garner's death in 2014. It's unclear when a decision will be handed down by the presiding NYPD judge and when that decision will be made public.
We're also awaiting word on a permanent chair and CEO for NYCHA, the New York City Housing Authority, but the extended deadline for Mayor de Blasio and federal monitor Bart Schwartz to agree on a new leader for the city's public housing authority isn't until the end of June. [Read: Interim NYCHA CEO Kathryn Garcia on the Federal Monitor & Future of Public Housing in New York]
As always, there are many events to be aware of -- see our day-by-day rundown below.
***Do you have events or topics for us to include in an upcoming Week Ahead in New York Politics?
e-mail Gotham Gazette editor Ben Max: This email address is being protected from spambots. You need JavaScript enabled to view it.***
The run of the week in detail:
Monday
Mayor de Blasio will meet with Santo Domingo, Dominican Republic Mayor David Collado on Monday in New York City. In the evening, de Blasio will appear on NY1's Inside City Hall with host Errol Louis, in the 7 and 11 p.m. hours.
At 10:15 a.m. Monday in Rochester, Governor Cuomo will make an announcement at the Joseph A. Floreano Rochester Riverside Convention Center. Lieutenant Governor Kathy Hochul will be among those in attendance. At 1:45 p.m., Hochul will participate in a press conference with state commissioners and local ffficials at the Rochester Convention Center.
Also at 10:15 a.m. Monday at City Hall, "NYPD officers who served in the Department's Cadet Corps program will join Brooklyn Borough President Eric Adams, Council Members Cornegy, Moya, Powers and Brannan for a press conference calling on Mayor de Blasio and Council Speaker Johnson to support a state law correcting a City mistake that denied them pension credit for their cadet service. The NYPD Cadet Corps, a police apprenticeship program, was created as a career pathway for NYC-resident college students to begin an NYPD career while still in college. However, as a result of the City's misinterpretation of the law, roughly 300 NYPD officers who served as cadets prior to 2012, the majority of which come from the diverse communities they serve, have been stuck with substantially diminished pension benefits."
At noon Monday at Tweed Courthouse, city Department of Education Chancellor Richard Carranza will make an announcement.
At noon Monday, City Council Majority Leader Laurie Cumbo will join the family of the late rapper Christopher "Notorious B.I.G." Wallace to co-name a street in Brooklyn in his honor.
At 1 p.m. Monday at City Hall, "Council Member Antonio Reynoso, safe streets advocates, and bicyclists will call for the driver to be held accountable and for the City to pilot the installation of right-of-way street cameras. This call comes in response to a video that surfaced last week of driver deliberately trying to run over a cyclist near the Hudson River Greenway. Upon the NYPD's arrival at the scene, the driver was not issued a ticket nor did they receive any further disciplinary action. The episode followed an un-filmed altercation between the driver and cyclist. Witnesses claim that the driver's reckless driving sparked the altercation, but he has yet to be held accountable. Had right-of-way cameras been present at the intersection where this incident occurred, it would be possible to verify what sparked this incident and who was at fault. The installation of right-of-way cameras would bring a measure of transparency to our roadways and help ensure that reckless, dangerous drivers are held accountable for their actions."
At 3 p.m. Monday outside City Hall, the de Blasio administration, City Council Member Andy King, The Power & Music Awards Committee, and The Council's Black, Latino & Asian Caucus will host the 2nd Annual Power & Music Awards 2019. "This year's theme is 'African-American Music Power & Music Awards,' honoring individuals who have influenced society's music and culture. The 2019 Power & Music Awards honorees include Hip Hop Artist Rakim, Hip Hop Artist Big Daddy Kane, Entertainment Mogul Steve Rifkind, The Late Rick James, The Mary Jane Girls with Val Young, Fashion Stylist June Ambrose, Gospel Artists Bishop Hezekiah Walker, Power 105.1's The Breakfast Club, Entertainment Attorney Londell McMillan, R&B Group Cameo, Creative Director/Choreographer Laurieann Gibson, and Designer April Walker."
At 5 p.m. Monday in Syracuse, the Business Incubator Association of New York State will hold its annual meeting, featuring State Comptroller Thomas DiNapoli.
At 7 p.m. Monday in Far Rockaway, the Queens for Justice Ad Hoc Committee will host a candidate debate in the Democratic primary for Queens District Attorney.
Tuesday, June 11
Tuesday will mark two weeks until the June 25 primary elections, headlined by the Queens District Attorney Democratic primary, but also including several judicial elections, among others.
The state legislature will be in session on Tuesday in Albany.
At the City Council on Tuesday:
-At 10 a.m., the Committee on Housing and Buildings will meet on six pieces of legislation. The bills, sponsored variously by Council Members Carlina Rivera, Andrew Cohen, and Keith Powers, all concern tenant protection and transparency, including limiting fees charged in a rental real estate transaction, requiring the return of security deposits within 60 days of the end of a lease, and providing tenants the option of paying a security deposit in six equal monthly installments.
-Also at 10 a.m., the Subcommittee on Zoning and Franchises will meet.
-At 10:30 a.m., the Subcommittee on Landmarks, Public Siting and Maritime Uses will meet.
-At 11 a.m., the Committee on Land Use will meet on the Bay Street rezoning for part of the north shore of Staten Island, among other land use changes, as well as a bill introduced by Council Member Rafael Espinal to develop a comprehensive urban agriculture plan. "This bill would require the Department of City Planning to develop a comprehensive urban agriculture plan that addresses land use policy and other issues to promote the expansion of urban agriculture in the City. The Department would be required to deliver such plan to the Mayor and the Speaker of the Council by July 1, 2019."
From 8 a.m. until 6 p.m. on Tuesday, Lehman College will host the Third Annual Summit on [email protected] in New York City (SOL NYC). "The CUNY Mexican Studies Institute Jaime Lucero, the CUNY Dominican Studies Institute, the Center for Puerto Rican Studies (Hunter College- CUNY) will join together in hosting the third Annual Summit on New York City's Latino communities to examine the challenges and opportunities facing the City's Latinos, assess policy priorities, and develop an action agenda for today and tomorrow." In attendance will be City Council Members Ydanis Rodríguez and I. Daneek Miller, perhaps among others.
Beginning at 8:15 a.m. Tuesday and going through much of Wednesday, the NYC Special Education Collaborative will host "Reimagine Education," a conference that aims "to reimagine education through the lens of equity and inclusion for all students." Speakers will include Olympic medalist Ibtihaj Muhammad; writer and teacher Clint Smith; Columbia University Professor Chris Emdin; Vanderbilt University Professor Donna Ford; and Rutgers University Professor Lauren Leigh Kelly.
At 9 a.m. Tuesday, the New York City Board of Correction will hold a special hearing for public comment on variance requests, as well as a CHS and DOC update and discussion on health care access.
Also at 9 a.m. Tuesday, the New York City Industrial Development Agency will hold a Board of Directors meeting.
At 11:30 a.m. Tuesday in Albany, the NY Renews Coalition will organize a rally in support of the Climate and Community Protection Act. "[H]undreds of activists from across the state will descend on Albany to declare that it is time to pass a strong CCPA. The event comes at a critical time the week before the end of the legislative session...we will rally to turn up the heat on Governor Cuomo as well as key legislators delaying action on this critical climate justice legislation." The rally will be joined by state Senators Robert Jackson, Jessica Ramos, and Julia Salazar, likely among many others.
At 12 p.m. on Tuesday, the New York Academy of Medicine will host the first annual SOMOS policy conference to "call for an extension of the state's transformative DSRIP initiative that has begun to revolutionize health delivery in lower income communities statewide. Plenary sessions, panels, and keynotes featuring NYS Budget Director Robert Mujica, OMH Commissioner Dr. Ann Marie T. Sullivan, and OASAS Commissioner Arlene Gonzalez-Sanchez and NYC Department of Health and Mental Hygiene leadership [will] begin mapping a long-term policy agenda to address health care disparities in lower-income, immigrant communities."
At 1:30 p.m. on Tuesday, the New York City Board of Elections will hold a commissioners meeting.
At 5 p.m. Tuesday at Hostos Community College, the Rent Guidelines Board will hold a public hearing.
At 6 p.m. Tuesday, Manhattan Borough President Gale Brewer will hold a public hearing "on the Manhattan component of the Mayor's borough-based jails plan. The plan is part of the city's effort to close Rikers Island and replace it with smaller jails in Manhattan, Brooklyn, Queens, and the Bronx. The Manhattan proposal, now undergoing the official Uniform Land Use Review Procedure (ULURP), involves a new 450 ft. tower at 124-125 White St. in Lower Manhattan (the current Manhattan Detention Complex)."
Also at 6 p.m. Tuesday, the New York City Bar will host the Justice Ruth Bader Ginsburg Distinguished Lecture on Women and the Law. Following an introduction by Justice Ginsburg, Hon. Ann Claire Williams, Judge of the Seventh Circuit Court of Appeals (Ret.), will give a lecture.
At 6:30 p.m. on Tuesday, City & State NY will host the 2019 Staten Island Power 100 at the Hilton Garden Inn Staten Island Tea House Garden. Staten Island Borough President James Oddo will give keynote remarks.
Also at 6:30 p.m. Tuesday, the Queens GOP will host its annual spring gala. Guests will include Joann Ariola-Shanks, Queens GOP party chair; Nick Langworthy, incoming New York State Republican Party Chair; and Michael Caputo, former campaign staffer for President Donald Trump.
At 7 p.m. on Tuesday, Spectrum News NY1 will host a live, televised debate in the Democratic primary for Queens District Attorney. All seven candidates for the nomination – Tiffany Cabán, Melinda Katz, Rory Lancman, Greg Lasak, Betty Lugo, Mina Malik, and Jose Nieves – are scheduled to appear. The debate will be moderated by Errol Louis, with questions also coming from Bobby Cuza and Gloria Pazmino.
Also at 7 p.m. on Tuesday, City Council Member Francisco Moya will hold a community town hall with the East Elmhurst Corona Civic Association.
Wednesday, June 12
The state legislature will be in session on Wednesday in Albany.
At the City Council on Wednesday:
-At 10 a.m., the Committee on Aging will meet to follow up on the Unpaid Caregivers Comprehensive Plan.
-At 1 p.m., the Committee on Immigration will meet to conduct oversight on the Mayor's Office of Immigration Affairs Annual Report.
-Also at 1 p.m., the Committee on Environmental Protection will meet to discuss three bills, two introduced by Council Member Costa Constantinides and one introduced by Council Member Donovan Richards. One bill aims to reduce methane emissions, another proposes the examination, survey, and mapping of all methane leaks in New York City, and the third would mandate the creation of a Department of Sustainability and Climate Change and the repeal of chapter 1, section 20 of the New York City Charter. For more details on the bills, visit the City Council website here.
-Also at 1 p.m., the Committee on Transportation will meet on two bills, one from Council Member Carlos Menchaca establishing that bicyclists "must follow pedestrian control signals when local law, rule or regulation provides that those signals supersede traffic control signals," and another from Council Speaker Corey Johnson "requiring the New York City Department of Transportation (DOT) to issue and implement a master plan for the use of streets, sidewalks, and pedestrian spaces every five years."
-At 2 p.m., the Committee on Economic Development will take a tour of the Brooklyn Navy Yard. The tour is not open to the public.
At 8 a.m. Wednesday, the Westin at Times Square will host the JUST Capital Investment Breakfast; in attendance will be State Comptroller Thomas DiNapoli.
On Wednesday morning, WNYC's The Brian Lehrer Show is hosting a debate among candidates for Queens District Attorney. The show airs 10 a.m. to noon weekdays.
At 4 p.m. Wednesday, the New York City Civilian Complaint Review Board will hold a public board meeting "to discuss oversight of the NYPD. Participants will have the opportunity to ask questions about police-community relations and learn about key Agency updates. Investigators will be available to receive complaints of misconduct."
At 5 p.m. Wednesday, this week's Max & Murphy will air on WBAI radio, 99.5FM or wbai.org, and feature an update on the state legislative session in Albany as well as an extended interview with Brooklyn Borough President Eric Adams.
"The next public hearing of the New York City Voter Assistance Advisory Committee (VAAC) will be held on Wednesday, June 12, starting at 5:30 p.m...The hearing will focus on the release of the 2018–2019 Voter Analysis report. This report includes a look at the work NYC Votes has done to engage New Yorkers in the 2018 elections, analysis of voter registration and turnout data throughout New York City, and a recap of how recent legislative changes have impacted New York's elections."
At 6 p.m. Wednesday in City Hall, the 2019 New York City Charter Revision Commission will hold a public meeting to "consider proposals for revisions to the New York City Charter for presentation to the voters of the November 5, 2019 election, and such other matters as may be necessary."
Also at 6 p.m. on Wednesday, City Council Member Helen Rosenthal will host a special town hall on homelessness at the B'Nai Jeshurun Synagogue: "Be part of the conversation about how the Upper West Side community can best support our homeless neighbors. We will hear from advocates for the homeless, people who have experienced homelessness, and NYC residents working in partnership with local shelters."
Also at 6 p.m. on Wednesday, City Comptroller Scott Stringer will host a Post Eid ul-Fitr celebration at the NYU Global Center for Spiritual Life.
Thursday, June 13
The state legislature will be in session on Thursday in Albany.
At 8 a.m. Thursday at the New York Athletic Club, Crain's New York Business will host NYPD Commissioner James P. O'Neill for a discussion of "the latest crime trends, the NYPD response and whether community policing, de-escalation training and other initiatives are working," with moderators Erik Engquist of Crain's and Stephanie Pagones of the New York Post asking questions after O'Neill gives remarks.
At 8:30 a.m. Thursday in the Flushing Library, the Center for an Urban Policy will hold a policy forum entitled "Harnessing NYC's Public Libraries to Support Immigrants & Refugees." "This forum will examine how the city's libraries can strengthen and expand their already-significant immigrant-focused initiatives and explore whether libraries are well-positioned to play a stepped-up role in other critical areas, such as ensuring an accurate Census count. The event will also discuss how city policymakers can better harness and support the important work New York's libraries are doing with immigrants and refugees."
"The New York City Campaign Finance Board (CFB) will hold a public meeting on Thursday, June 13, at 10:00 AM."
At 11 a.m. Thursday, Legal Hand Jamaica will host a housing fair on tenant's rights. "Essential organizations and government agencies that support tenants by preventing eviction and homelessness, fighting discrimination and displacement, providing affordable housing options, and empowering tenants through supporting Tenants' Associations will be available for consultation and questions." Presentations will be given by the Legal Aid Society, the New York City Commission on Human Rights, the City Department of Finance, and others.
At 1:30 p.m. Thursday, the City Council will hold a stated meeting in the Council Chambers at which bills that have been voted through committee are passed by the full Council and new bills are introduced. It will be preceded by the usual pre-Stated press conference hosted by Council Speaker Corey Johnson.
At 5 p.m. Thursday at Saint Francis College, the Rent Guidelines Board will hold a public hearing.
At 5:30 p.m. Thursday, the Queens Daily Eagle, St. John's University, and the NAACP will host a candidate forum for Queens District Attorney. Candidates invited include Tiffany Cabán, Melinda Katz, Rory Lancman, Greg Lasak, Betty Lugo, Mina Malik, and Jose Nieves.
At 6 p.m. Thursday, the Association for a Better New York will host a discussion and Q&A with Bronx Borough President Rubén Díaz Jr., who "will discuss his path to office, experiences in government, and vision for New York City."
Also at 6 p.m. on Thursday, TransitCenter will host "A Better Bus Network for the Bronx" with MTA NYC Transit President Andy Byford. "The MTA is soon expected to deliver the next installment in its citywide bus design network redesign with a plan for the Bronx, the borough with the highest bus ridership per capita. How did the MTA pursue this major undertaking? What should riders expect when it's complete? What will success look like?" Also speaking will be Stephanie Burgos-Veras, Senior Organizer at Riders Alliance, and Christof Spieler, VP & Director of Planning at Huitt-Zollars, Senior Lecturer at Rice University, and Board Member at TransitCenter.
Also at 6 p.m. Thursday, City Council Member Ben Kallos, U.S. Representative Carolyn Maloney, and Roosevelt Island Operating Corporation (RIOC) President Susan Rosenthal will host a Roosevelt Island Town Hall.
Also at 6 p.m. on Thursday, City Council Member Vanessa Gibson will host the 6th Annual Housing Conference at the Bronx Museum of the Arts, with a keynote address from Public Advocate Jumaane Williams.
Friday, June 14 & the weekend
The state legislature will be in session on Friday in Albany.
Mayor de Blasio may make his weekly appearance on WNYC's The Brian Lehrer Show on Friday at 10 a.m.
At 12:30 p.m. on Friday, State Comptroller Thomas DiNapoli will attend the New York-New Belfast Business and Investment Conference at Pier A Harbor House.
New York's rent regulations are set to expire on Saturday June 15.
***
Have events or topics for us to include in an upcoming Week Ahead in New York Politics? E-mail Gotham Gazette executive editor Ben Max any time: This email address is being protected from spambots. You need JavaScript enabled to view it. (please use "For Week Ahead" as email subject).
***
by Joey Fox and Ben Max
@GothamGazette