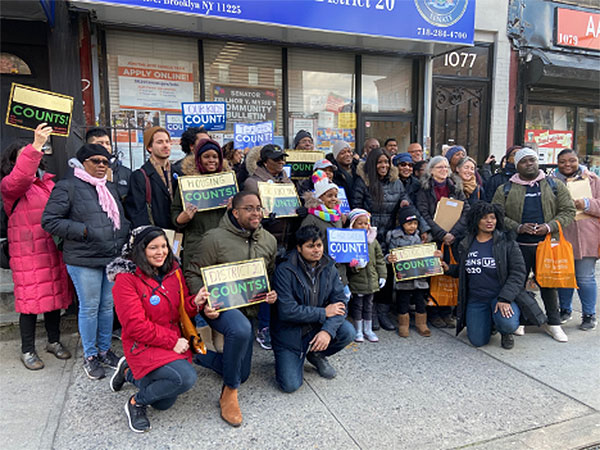 Senator Myrie, Assemblymember Richardson, and volunteers (photo: Vashon Hill Jr.)
---
Predominantly black communities often have among the lowest response rates to the U.S. Census, the once-a-decade count of the country's population mandated by the Constitution. In New York City, those and other hard-to-count groups contributed to an especially low response rate in 2010, which can hurt New York's ability to bring in federal funding, among other important negative consequences, like loss of congressional representation.
With some differences, the New York City and State governments appear to be taking the 2020 Census quite seriously, attempting to ensure a full count even as there have been many questions about how the U.S. Census Bureau and broader Trump administration are approaching the decennial count.
New York City officials recently held a briefing with representatives of "black media" in the city in an effort to work toward getting out word about the census in black communities, in part to build trust in government efforts to obtain an accurate count, which will include mailings and, if needed, door-to-door visits to encourage participation. This will be the first census that is digital-first, meaning U.S. residents will be encouraged through an initial mailing -- set to start going out mid-March -- to fill their form out online.
The push for a complete census count includes efforts at the federal, state, and local levels, with different elected officials taking varied levels of interest.
On Saturday, two state legislators representing predominantly black Brooklyn neighborhoods organized a rally and canvassing to get the word out about the upcoming 2020 Census count, which officially begins April 1.
State Senator Zellnor Myrie and Assemblymember Diana Richardson, both Democrats representing central Brooklyn, joined together with staff and volunteers in what they called a "day of action" to raise awareness about the 2020 Census. They also coordinated the event with members of Brooklyn Community Board 9, which, like parts of Myrie's and Richardson's districts, includes neighborhoods like Brownsville, Crown Heights, Park Slope, Prospect Lefforts Gardens, East Flatbush, and Prospect Heights.
"This is the most important thing that will be happening in the next few weeks and we want to spread awareness, by getting out there and letting folks know about the census and its benefits," Myrie said to those gathered at his district office on Nostrand Ave. for an initial discussion of the importance of the Census and the plan for the morning, before heading out to greet Brooklynites, discuss the Census, and pass out information on the upcoming count.
"We have to make sure that we get all our members involved because, without the census, we may be missing out on programs that will benefit our community including WIC and Head Start," Richardson said to the packed room of volunteers.
Myrie's office noted that 80 percent of Brooklynites live in hard-to-count neighborhoods, which include not only black communities, but also immigrant-rich communities and areas with high percentages of young children, for example. Saturday's canvas focused on particular areas of Myrie's Senate district in the neighborhoods of Prospect Lefferts Gardens and East Flatbush that have had among the lowest census participation rates in the country, as low as 50 percent in initial household self-response in some areas. Myrie said Saturday that Brooklyn Community Board 9 had an initial self-response rate of just 55% in 2010.
Myrie's office reported that there were over 90 volunteers who came out to walk the streets and canvas, which included passing out information and knocking on more than 2,000 doors, Myrie tweeted. His office later told Gotham Gazette the Saturday effort hit roughly 2,345 doors and reached 708 people that day, with others potentially seeing the door-hangings that were left with census info on them.
"This has been incredibly exciting to see the turnout from the community to come out on a cold Saturday morning and to have the office packed out with dozens of volunteers," Myrie said at the close of the day of action event. "It shows us just how important the census is. We are hitting a lot of doors and getting the information out to everyone."
The handouts and door-hangings that the volunteers were equipped with stressed that the Census helps determine federal funding to neighborhoods for Medicaid, "housing, schools, Head Start, WIC, and other social services." They say to keep an eye out for the initial U.S. Census Bureau mailings in mid-March and stress that by law census information "cannot be shared with anyone, including ICE and law enforcement."
According to the results of the 2010 Census, Brooklyn -- with an estimated population of well over 2 million people -- had an initial household self-response rate of 67 percent, among the worst counties in the country. After census trackers assess those self-response rates by household, other efforts are made, including door-knocking and estimation, to try to get an accurate count. The 2010 census showed the county of Brooklyn (Kings County) to be 34.1% black; 30.4% white; 19.1% Hispanic/Latino; 12.7% Asian; and 1% Native American.
Note: This article has been updated to provide more clear language around self-response and the census counting process, and to reflect that the initial household self-response rate in Brooklyn in 2010 was 67%, not 55% as originally stated (55% was the self-response rate for community board 9 that Myrie cited). It has also been updated with additional information provided by Myrie's office.
Ben Max contributed to this article.