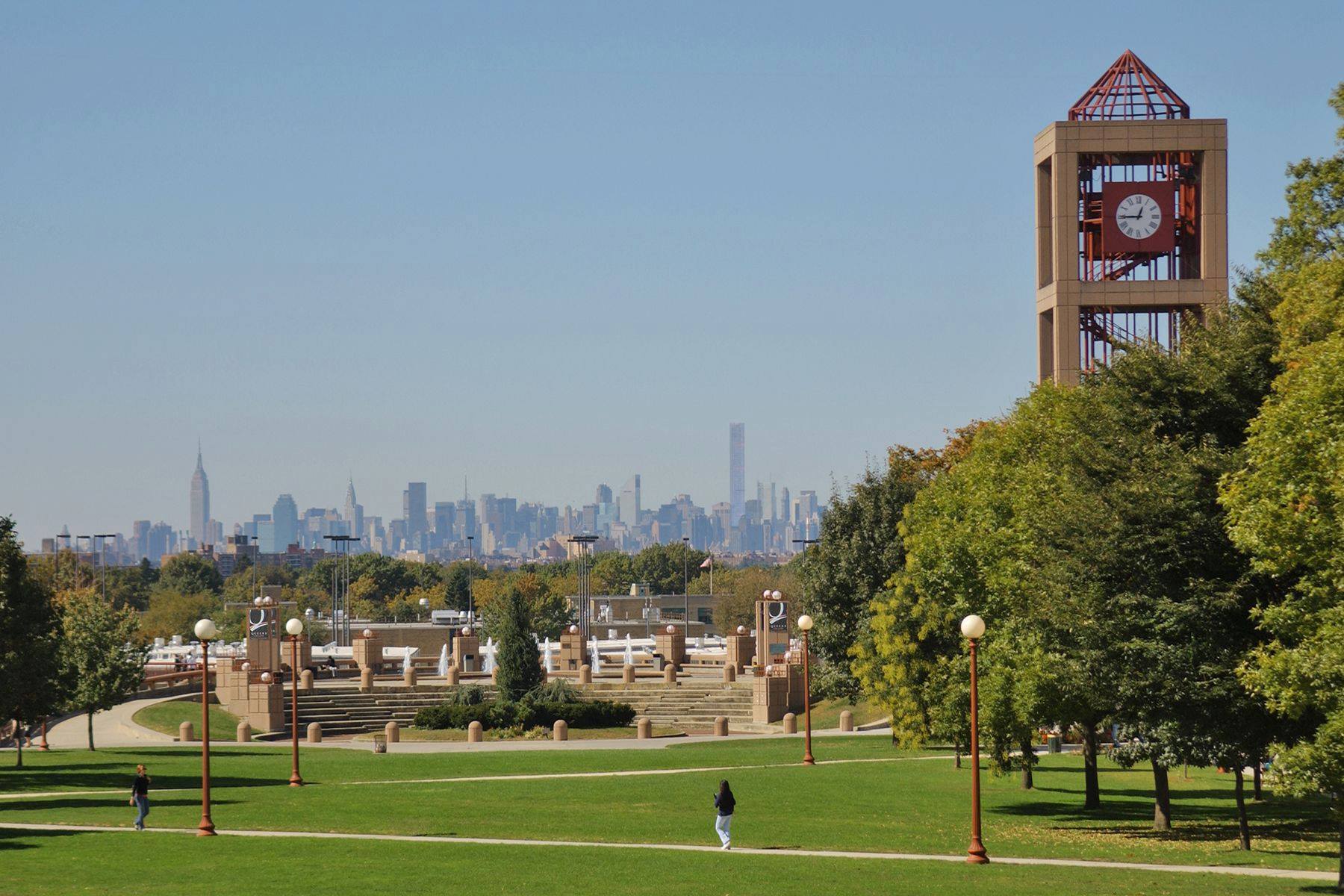 (photo: @CUNYedu)
---
A month into the City University of New York's fall semester, the COVID-19 pandemic, budget cuts, a drop in student enrollment, and anxiety remain the hallmarks of an uncertain new period in the history of the nation's largest public urban university system. CUNY has chosen to remain almost entirely virtual this semester, with fewer than 2 percent of the fall semester's 50,000 classes occurring in person.
Preliminary figures show CUNY's enrollment dropping by roughly 4.4% since last fall, according to a CUNY spokesperson who confirmed numbers first reported by The New York Post. About 271,000 students attend CUNY schools across a system including four-year and community colleges, as well as graduate schools. The spokesperson said that final numbers and breakdowns are not yet available, but would become available as the semester progresses and class lists solidify.
The hundreds of thousands of graduate and undergraduate students who remain enrolled across CUNY's 25 campuses are now weeks into their courses. While distance learning is no longer the shock it was in March, bumps and pitfalls still remain, students said in interviews.
"I think our transition back has been pretty smooth," said Ethan Milich, the student government president of Brooklyn College. "But there are going to be a lot of challenges and struggles as we come back. There has been, and there's going to be."
Each campus has an individualized reopening plan for the semester, which generally includes limited access to student services like food pantries and child care centers, and varying access to the campus for staff depending on the school. Classes that are able to return to campus vary by school, but involve a vital hands-on component, such as labs or some theater classes. Schools like Hunter College in Manhattan allow certain campus functions to be accessed by appointment, such instrument practice rooms and art studios.
Dormitories for students are reopened across the system, with social distancing measures and cleaning and quarantine procedures in place at each. According to reopening documents, interest in dorming varied by school, and not every school has a dormitory to begin with. The College of Staten Island, for example, was preparing for 200 to 300 students to return to its dormitories, while Hunter College found 400 students interested in returning. Even prior to the pandemic, interest in dorming at CUNY was relatively low compared to other colleges, as the majority of students are commuters.
Schools like Baruch College in Manhattan and Brooklyn College lay out specific, phased timelines that state that campuses will not reach 100 percent capacity for staff and students until a COVID-19 vaccine is found, or the virus is otherwise contained.
"This institution remains vital to the lifeblood of the region," CUNY Chancellor Félix Matos Rodríguez said in a welcome message in mid-September. "We have spent months laying the groundwork to proceed in a manner that safeguards the health and wellbeing of the University community and does not in any way jeopardize or endanger the city's ongoing recovery efforts."
In a late-September interview with News 12, Matos Rodríguez said that for at least the beginning of the spring semester in 2021, classes would probably remain almost fully online. There would be an opportunity to start bringing students back into the classroom if the situation surrounding the virus improved, he continued, keeping CUNY on a more cautious schedule than New York City's elementary and secondary public schools, which have now reopened to some students coming into school buildings each day.
CUNY's approach is similar to its local, private peer Columbia University, which announced earlier this summer that all of its classes will occur virtually. Meanwhile, New York University reconvened around half of its classes in-person this fall, with the option to take them remotely.
Remaining Economically Accessible
The onset of COVID-19 pandemic triggered a complex series of questions for CUNY, and one of the most pressing remains the question of accessibility. The university serves an overwhelming number of low-income students, with 60 percent of undergraduates reporting in a 2016 survey that their annual household income is less than $30,000.
The pandemic only served to widen and deepen this economic instability for CUNY students. At a City Council oversight hearing in June, university polling revealed that nearly 40 percent of students lost their jobs since the pandemic began, and 55 percent were experiencing housing insecurity.
The dawn of remote learning in March has only thrown these statistics into sharper relief. Soon after campuses shut down, CUNY again paused classes for a five-day "recalibration period" to frantically try to distribute 30,000 laptops and tablets to students in need across the system. For the fall semester, the university purchased thousands of WiFi hotspots to continue to help students attend class on time and in full capacity.
Now, as CUNY faces down a pandemic-induced budget crisis that prompted the university to lay off almost 3,000 adjunct professors, some students worry that they and their cash-strapped classmates will be footing part of that bill.
"We don't want the state to continue to balance their checkbooks on the backs of students," said Timothy Hunter, the chairperson of the University Student Senate, a student-led governing body for the entire university system. Hunter is additionally the only student representation on CUNY's board of trustees.
Full-time tuition costs can range from $4,800 to $18,600, but state residents who attend the four-year colleges full-time pay $6,930 per year. However, the majority of CUNY students qualify for state or federal financial aid grants, and more than 58 percent of full-time, undergraduate students attended the university tuition-free the last academic year.
Students haven't yet seen the tuition increase and new health and wellness fee that the board voted to implement last December, but the looming threat remains, and concerned Hunter. In a typical year, lobbying to freeze tuition is one of USS' top priorities, but the pandemic has created a new sense of urgency.
"I think the biggest concern [for CUNY] moving forward is going to be affordability, as it's always been," Hunter said.
New Realities On And Off Campus
For now, CUNY is relying on health checks and remote learning to try and keep the coronavirus at bay. Students who need to enter campus must use an app to perform a wellness check survey, as well as wear masks and practice social distancing once on campus.
"We go based on the honor system. We have to take accountability," said Wilkins Cerda, the president of York College's student government and a nursing student. Cerda said he has not yet been on the Queens-based campus, though he has heard from fellow nursing students who need to take lab classes that there is social distancing and extra personal protective equipment in those classes. He still attends his clinicals in person, however, at Bellevue Hospital in Manhattan.
Though CUNY has worked to try and solve some of the glaring issues around virtual classes, like the need for devices, the typical struggles that plague technology — such as poor connections, and a lack of tech savviness in some users — persist. Some students have expressed concerns over privacy and security of tech platforms, said both Cerda and Milich, the student government president of Brooklyn College. Milich said that classes can also still have problems with "Zoom-bombing," or when often unidentified individuals hijack and disrupt a video call.
Student clubs and organizations have moved almost entirely to Zoom and other online meeting applications, students from across the system said. In a typical year, these clubs are important pathways for students to make friends and connect with the school, as the majority of students do not live in campus housing.
Levels of activity vary by campus. Cerda said that York typically has around 40 active clubs, though that number has dropped into the single digits this semester as clubs struggle with the limitations of being solely virtual. CUNY colleges charge a "student activity fee" to maintain this programming, which can range from anywhere between $60 to $180 for full-time students and can pay for clubs, athletics, student centers, health programming, student media and other services on campus.
"Right now, there's not much that they would want to do, because a lot of them [host] events that are face-to-face," Cerda said.
Meanwhile, on Brooklyn College's campus, clubs and the student government have been striving to maintain participation, trying new strategies to reach students such as social media groups and chat applications like Discord.
"[There's] almost more enthusiasm now, because students haven't seen each other, they haven't interacted, so now they're really excited to get this kicked off," Milich said. He found that participation in student government actually went up when it moved online.
Marziya Hasan, a freshman at Baruch College, said that she won't be joining clubs this year as she focuses on her classes. One of Hasan's biggest challenges has been staying motivated and on top of her work while she's been stuck at home.
"Baruch's doing a lot to make freshmen feel that they're getting the best experience out of this," she said, though she wishes that she could have safely started her college experience in person, as she would have done in a more typical year. "It really doesn't feel the same."