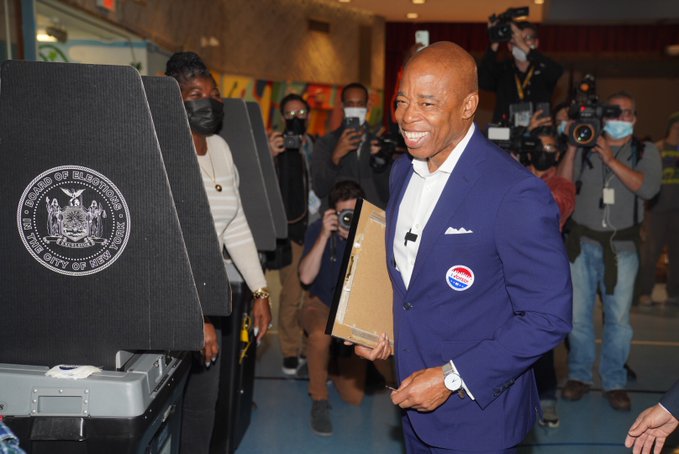 Eric Adams voting for himself for Mayor (photo: @ericadamsfornyc)
---
Eric Adams, a moderate Democrat and former NYPD captain, was declared victorious on Tuesday in the 2021 mayoral election, making him set to become only the second Black mayor of New York City after David Dinkins won in 1989. Adams, the two-term Brooklyn borough president and former state senator, was projected by the Associated Press to win not long after polls closed at 9 p.m., with early returns showing him well ahead of Republican nominee Curtis Sliwa, the Guardian Angels founder and radio host.
Tuesday's election wrapped up a marathon campaign that Adams had been plotting for decades but officially launched almost exactly a year ago, when the pandemic was still raging through the city. Adams leaned on his background in law enforcement and as an outspoken police reformer to run on a platform focused on crime and public safety, concerns that were shared by New Yorkers in poll after poll.
"Every little boy or little girl who was ever told they'll never amount to anything. Every child with a learning disability. Every inmate sitting in Rikers. Every dishwasher. Every child in a homeless shelter. This is for all of you," Adams said amid tears after casting his ballot on Tuesday morning, holding a framed photo of his mother, Dorothy, who passed away in March. "I only have three words. I am you," Adams said.
Adams' first big victory came in the Democratic primary in June, when he defeated 12 other candidates for the nomination with ranked-choice voting implemented citywide for the first time. When all the votes were counted in the instant runoff tabulations, Adams bested former city sanitation commissioner Kathryn Garcia, another centrist Democrat, by just 7,197 votes.
Progressive standard-bearer Maya Wiley, the former counsel to the mayor and civil rights attorney, finished third in the primary while former Democratic presidential candidate Andrew Yang ran a spirited campaign that ultimately landed him in fourth place, and Comptroller Scott Stringer, whose campaign was beset by allegations of sexual misconduct from decades ago, came in fifth.
Much of the primary campaign was debated over zoom given concerns about the pandemic, though the final months included more in-person activities as the covid vaccine became available and infection rates dropped. Given Democrats' overwhelming voter enrollment advantage, the winner of the June primary was seen as all but certain to prevail in the general election, particularly against a Republican without the resources of former mayor Michael Bloomberg (who is now a Democrat and endorsed Adams in the general election).
[Read: How Eric Adams Brought It Home]
Still, it will be the first transfer of power from one Democratic mayor to another in New York City since Dinkins took the helm from Mayor Ed Koch in 1990, 32 years before Adams is set to be sworn in on January 1, 2022 after two terms of Bill de Blasio's mayoralty.
On the campaign trail, Adams spoke of growing up in Southeast Queens, poor and on the verge of homelessness, raised by a single mother who was a union worker. He recounted his personal experience with police brutality, having been arrested and beaten in police custody as a teen, which, along with encouragement from a local pastor, inspired him to become a police officer and reform the department from within. He spent 22 years in the NYPD, during which time he criticized the department regularly and sought to hold it accountable, including by co-founding the advocacy group 100 Blacks in Law Enforcement Who Care.
Even as he has described himself as "conservative on crime" through this year's campaign and denounced the movement to "Defund the NYPD," he has also emphasized the need for better policing and has vowed to kick errant officers off the force. He has said he supports the use of stop-and-frisk policing if done properly and without racial bias. And he wants to reinstate a version of a plainclothes police unit disbanded last year because of a history of abuse, insisting he will retask it to tackle gun violence and better vet the officers who are placed in it. He has also promised that he will appoint the first woman commissioner of the NYPD.
Adams came into the race with several strengths and few perceived weaknesses. He was one of only two sitting elected officials in the race, along with Stringer. As a former four-term state Senator with two borough-wide wins under his belt, he had broad name recognition, particularly in vote-rich neighborhoods in Central Brooklyn where Black and Orthodox Jewish voters make up strong voting blocs. He also had deep ties in Southeast Queens, another vote-rich, predominantly Black area, and won the backing of both many prominent Latino officials with no high-profile Latino candidate in the race, and several major labor unions, including some that spent significantly on his behalf.
And, he had a very strong fundraising infrastructure, bringing in $9.3 million in private donations and receiving another $10.1 million in public matching funds. He ended up spending more than $15.3 million on his campaign by October 18, the latest disclosure deadline, while millions more were spent boosting him through several independent expenditures. He was supported by both a large cross-section of organized labor and many upper-income individuals who liked what he had to say about being more business-friendly than Mayor Bill de Blasio, who reportedly backed Adams in the primary.
[Read: Eric Adams' Strengths and Weaknesses as He Runs for Mayor]
Adams said he wanted to become the first "blue-collar mayor" of the city. "The policies that I ran on, they were clear," he said Tuesday. "It's about being safe. It's about working on behalf of blue-collar people. That is the party. If we abandon blue-collar Americans, we're going to lose our party."
But his campaign included some contradictions that may set the stage for challenges and tough decisions when he takes over city government on January 1.
He was elevated by several of the city's strongest unions and prominent federal, state and local elected officials as he pledged to represent working New Yorkers, but he also cozied up to wealthier interests, raising funds from billionaires and the powerful real estate industry, and regularly appearing at hotspots frequented by the rich. He says he is a big-tent candidate who will not demonize the city's top earners but will stay true to his working class roots, and that approach will soon be put to the test.
The Democratic primary was also Adams' first real competitive race and brought with it a level of scrutiny that he has not faced before. It highlighted his tendencies for exaggerating his experiences, speaking off the cuff, misspeaking, and changing positions. It brought renewed attention to several ethics investigations during his political career and even raised questions about whether the Brooklyn borough president actually resides in Brooklyn or in an apartment in New Jersey that he co-owns with his longtime partner. Repeatedly through the campaign, news outlets reported on Adams' failure to file accurate tax returns, which he then amended more than once and blamed on an accountant going through hard times.
A limited number of voters appeared to care as Adams prevailed in the primary and coasted in the general. Like many New Yorkers, he has repeatedly said, "I am perfectly imperfect."
"The campaign was never, never, never about me," Adams said Tuesday night during his victory speech. "This campaign was about the city and the people in it, from every corner and every background in this city."
"This campaign was for the underserved and marginalized and abandoned," he continued. "This campaign was for those who have been betrayed by their government."
"Tonight I have accomplished my dream and with all my heart I'm going to remove the barriers that are preventing you from accomplishing yours," Adams told New Yorkers.
And Governor Kathy Hochul made an appearance at Adams' victory party, speaking briefly to congratulate him and promise a new era of collaboration between the city and state, which will unfold as Adams takes power in January and Hochul both sets out her State of the State agenda and runs to win a full term.
"I'm here to declare that there is a new day dawning and a whole new era of cooperation where the only thing the city of New York and the state of New York are fighting about is fighting to make your lives better," Hochul said. "We will fight for you, not fight each other anymore. So I am so excited to have a tremendous partner in Eric Adams as the mayor of the greatest city on this planet. I will be your ally. We'll fight for you and we'll get the job done."
Along with public safety, Adams' top priorities of the campaign were education, public health, and, broadly speaking, the way city government is run. "[I] ran for mayor because I wanted to turn pain into purpose," Adams said Tuesday night. "This city betrays New Yorkers every day, especially the ones who rely on it the most," but that will stop when he's mayor, he pledged.
Adams has blamed vast socioeconomic inequities in the city on the many inefficiencies in and ineffectiveness of city government, which he plans to eliminate as mayor.
"We're too bureaucratic, too expensive and too difficult to do business in," Adams said during the first of two official mayoral debates against Sliwa. "We can turn around this economy by number one, looking after the families, getting them employed. And number two, have a more efficient government."
Adams has pledged "real-time governance," using data to monitor and report on city agency performance and a centralized online portal to access city services. He will inherit a roughly $100 billion budget with projected multi-billion-dollar annual deficits, which he has insisted he will reign in and close by instituting a Program to Eliminate the Gap (PEG), mandating cuts at agencies without sacrificing services.
[Read: Eric Adams Vows to Overhaul How City Government Works; Experts Point to Several Essentials to Following Through]
He has also promised to make it easier to do business in the city, for small and large businesses alike, pledged to transform public health and education, to build affordable housing, bike and bus lanes, and more. In classic Adams fashion, he has even promised to "remind the world that NYC is still the center of the universe."
[Read: Eric Adams' Biggest Promises If He's Elected Mayor]
Adams' opponent, Sliwa, stood little chance of defeating him considering Democrats enjoy a seven-to-one enrollment advantage over Republicans in the city. In both general election debates, key differences emerged between the two. Sliwa sought to repeatedly attack Adams and paint him as a key partner of de Blasio, attempting to link him to the city's many ongoing woes. But Adams remained on message and largely deflected Sliwa's critiques.
He has, however, vowed not to shy away from criticism. In a show of unity, Democratic nominees rallied outside Brooklyn Borough Hall last month and Adams appeared with Public Advocate Jumaane Williams and Council Member Brad Lander, the Democratic comptroller nominee, calling on them to hold him accountable as both were expected to win their races as well.
"I'm asking Jumaane Williams as the public advocate to find every policy that we fail on and hold our feet to the fire if we are the mayor," Adams said at the rally.
"I sat down with Brad Lander and had breakfast, and I said, 'Audit the hell out of my agencies. Audit them, look at them, find the problems,' because I know we are dysfunctional," Adams said. "I know we are blocking progress. I know we are failing and betraying New Yorkers. I know we can deliver services better."
"I welcome these two soldiers in the battle for justice," he added.
Ben Max contributed to this story.