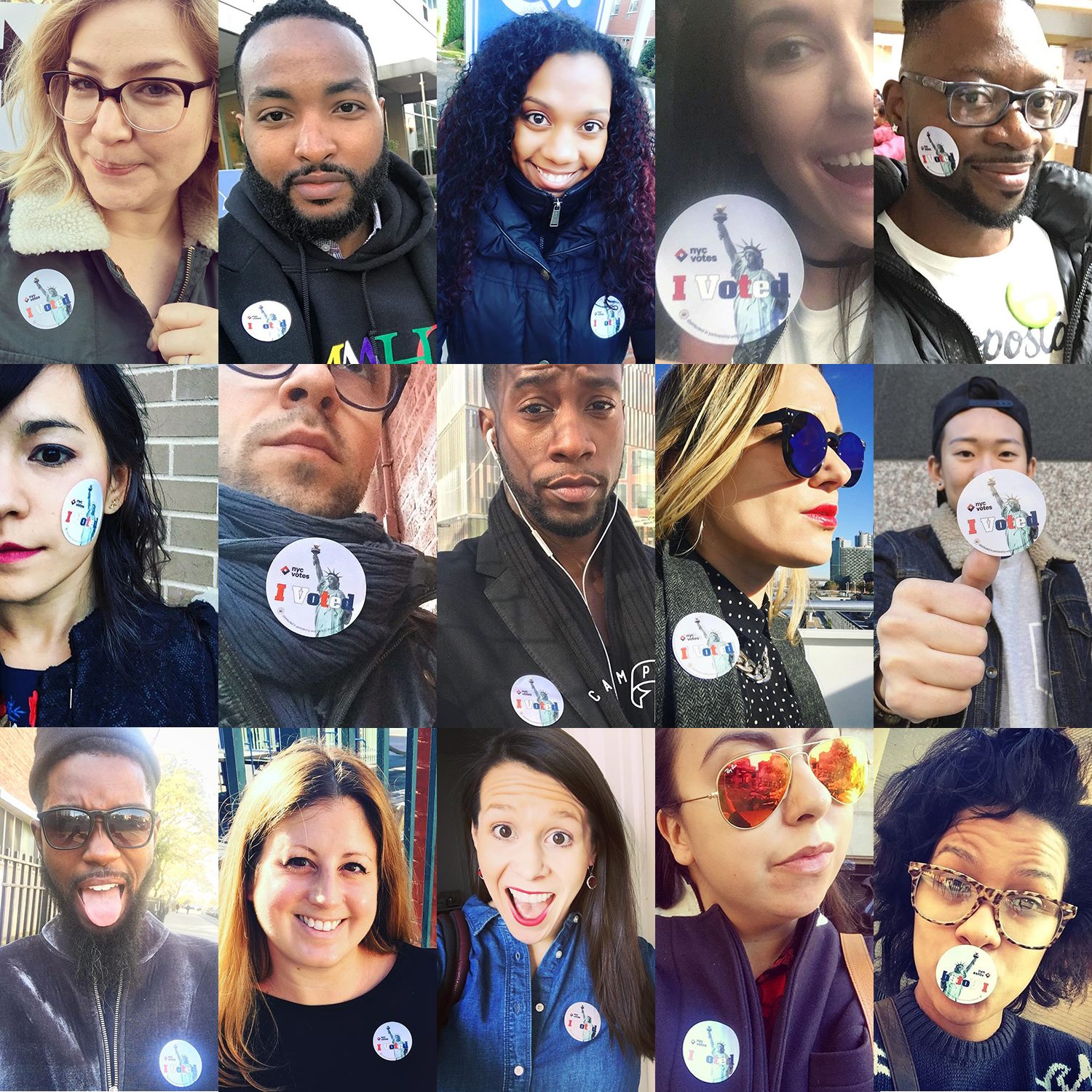 (image: NYC Votes)
---
If you're one of many New Yorkers who have not been paying much attention to this year's city elections, don't worry, there's still time to get up to speed and make informed decisions on Election Day, November 7.
Tuesday, October 24, marked two weeks until that opportunity to vote, and after only about 14% of registered Democrats went to the polls in the September mayoral primary, it would be good for the city's civic health if more voters cast ballots in November. (About 24% of city voters cast ballots in the last mayoral general election, in November 2013.)
Voter turnout and election results send significant messages to our elected officials, and also to the candidates who come up short. Campaigns, consultants, candidates, and elected officials -- whether the mayor or your borough president, local City Council member or others -- know who votes and often pay attention to what voters think. Campaigns target and listen to people who have voted in the past. (One way to guarantee that your interests, preferences, and beliefs are not paid attention to is to continue not paying attention to city politics.)
Even if you don't have much time to dedicate to studying up, three weeks is still enough to get to know more about the candidates running for those city positions being elected this year, as well as the three questions that will be on the back of the ballot. This is direct democracy in action, and those who participate help keep our political leaders accountable, while also helping decide the direction the city heads for years to come.
Local elected officials have many powers that directly influence everyday life, the way city services run, and the future of the city. City Council members are the local-most elected official and exist to represent you and your neighborhood -- on everything from street safety to school quality to small business policy to garbage pick-up to oversight of the NYPD, and much, much more. Along with every seat in the 51-member City Council, also on the ballot in November are the three citywide positions of Mayor, Comptroller, and Public Advocate, each Borough President position, several judicial posts, and the District Attorneys of Brooklyn and Manhattan.
Then, there are the three ballot questions that each allow for a "yes" or "no" answer. Voters get to help decide whether 1) New York will hold a state constitutional convention, 2) corrupt politicians lose their pensions, and 3) small amounts of preserved upstate land can be used for vital infrastructure projects and be replaced by other new land.
Unfortunately, there isn't that much competition on the ballot, largely the case because it is the general election in a city home to many, many more Democrats than Republicans or members of other parties. After Democrats, the second largest group of registered voters in New York City is actually those who do not belong to any political party, and Republicans are the third largest group. Democratic primaries are often where the most action is -- something to keep in mind for the future. [Here's a full list of candidates for all the city government posts on the ballot in November.]
But for now, it is October, and you will have several choices to make if you choose to vote next month. There is competition for each of the three citywide positions, and plenty to brush up on with the candidates for those posts. For each, a Democratic incumbent is seeking a second term.
There is also some competition for most of the other positions, though in many City Council races, the Democratic nominee is facing only nominal opposition. Still, it is important to look into the candidates and vote, helping to send a message, whether you are behind the eventual winner or not. Even incumbent City Council who win reelection pay attention to their vote totals and win margin, noticing if they have more work to do to win over constituents. Broadly speaking, there are about ten City Council races that are especially worth paying attention to, but all that really matters for most voters is who is running in your district.
If you want to start paying attention to this city election cycle, here are a few ways to get started:
-Check your voter registration status. If you're not registered to vote it is now too late to register to vote this November (but you should still register and get to know what's happening this year, then get ready to vote in state level elections in 2018.)
-Start researching the candidates for Mayor. There are seven: Democrat Bill de Blasio, Republican Nicole Malliotakis, independent Bo Dietl, Reform Party nominee Sal Albanese, Green Party nominee Akeem Browder, Libertarian Party nominee Aaron Commey, and independent Michael Tolkin.
-Mark your calendar for Wednesday, November 1, which will be the second of two mayoral candidate debates. It is not yet clear which candidates beyond de Blasio and Malliotakis will be on the stage. It will be broadcast at 7 p.m. that night on CBS television.
(You can catch up on the first debate by reading our recap here, listening to this recap and analysis from our podcast, or watching the full debate.)
-Listen to other recent and past episodes of our election year podcast; which includes conversations with several mayoral candidates, both major party public advocate candidates, the Republican comptroller candidate, and others.
-The lone Public Advocate debate between Democrat Letitia James and Republican J.C. Polanco took place on October 16 -- you can watch it here, or read our recap here. (There are other Public Advocate candidates running.)
-The lone Comptroller debate between Democrat Scott Stringer and Republican Michel Faulkner took place on October 17 -- you can watch it here, or read our recap here. (There are other Comptroller candidates running.)
-Listen to our podcast episode recapping the Public Advocate and Comptroller debates and discussing the latest in the mayoral race, with Brigid Bergin of WNYC radio, from October 18.
-Poke around the NYC Votes website to view the candidate video statements from various candidates, including those who are running in your City Council district and those running to be your Borough President (you can punch your address in at the NYC Votes website to get a narrowed scope of who will be on your ballot). NYC Votes is the nonpartisan voter education and outreach arm of the city's Campaign Finance Board, which oversees campaign finances and helps run the debates.
-Take this NYC Votes survey and sign up for updates.
-Read up on the three ballot questions from Gotham Gazette and/or from NYC Votes.
-As much as you can and want to, start reading regular coverage of the campaigns and city politics, in Gotham Gazette and other news outlets. Watch NY1, listen to WNYC radio.
-Mark your calendar for November 7, Election Day, and make a voting plan.
-Check your polling site to see where you go to vote on November 7.