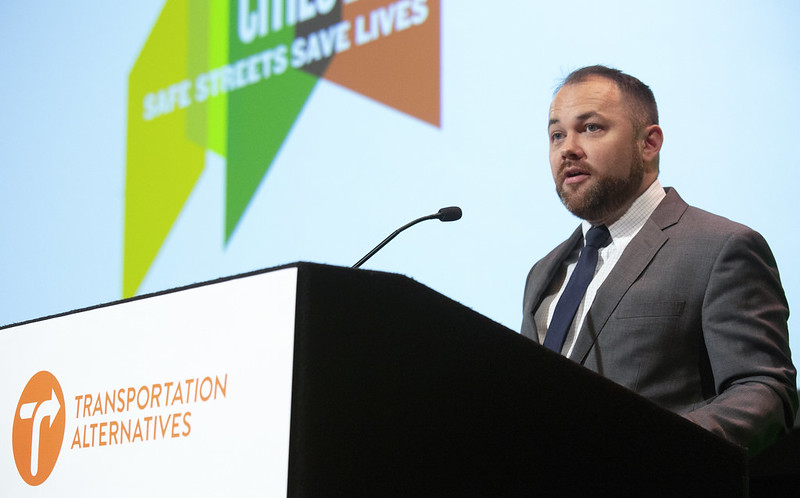 Speaker Johnson (photo: John McCarten/City Council)
---
New York City Council Speaker Corey Johnson is advancing his legislation to create a master plan for city streets, promising Thursday that the Council will vote on the bill this month.
Johnson, a Democrat from Manhattan, first proposed the idea of creating a five-year plan for the city's streets, sidewalks, and pedestrian spaces in his State of the City speech in March, alongside a proposal for municipal control of the city's subways and buses. The "master plan" would require the city's Department of Transportation to implement a long-term strategy to improve surface transportation and street safety, which transit advocates say Mayor Bill de Blasio has not done sufficiently despite his administration's Vision Zero program to eliminate traffic fatalities.
Speaking on Thursday at the Vision Zero Cities conference hosted by Transportation Alternatives, an advocacy group, Johnson said his plan was moving ahead and that the Council would vote on it during October. "I don't expect all New Yorkers to give up their cars and swear to never drive again. That is not a solution," he said. "But here is one. My master plan legislative package. This month, this month -- this month -- the City Council will vote on my bill."
The bill would mandate the installation of 50 miles of protected bike lanes and 30 miles of bus lanes each year, add Transit Signal Priority for buses to move more quickly to 1,000 intersections annually, and expand the city's plaza program, quadruple shared streets by 2025 and redesign intersections to make them accessible to people with disabilities by 2030. The city's Department of Transportation would design the full details of the plan and implement it, and it would be updated every five years.
The issues the bill would address have taken on a particular urgency this year amid jumps in cyclist and pedestrian deaths from last year at this time, though overall traffic fatalities have dropped drastically since the mayor announced Vision Zero in 2014. While de Blasio has moved to increase bike and bus lanes and recently offered new plans to both protect bike-riders and speed the city's buses, many advocates, Johnson, and others still say the mayor is not moving aggressively enough.
The full Council has two Stated Meetings, where legislation is passed, scheduled this month. It's unlikely that a vote on Johnson's bill will happen at the October 17 meeting, where the Council is expected to approve the borough-based jails plan to facilitate the closure of Rikers Island.
The streets master plan would likely be on the agenda for the October 30 meeting. It would first have to be approved by the Committee on Transportation, chaired by Council Member Ydanis Rodriguez.
"I am confident that Speaker Corey Johnson's Master Plan bill will take to us a safer tomorrow, for all New Yorkers," Rodriguez said in a statement, noting that the majority of the 24 cyclist deaths this year were in areas without a protected bike lane. "I thank all of the advocates for the work they are doing each and everyday to increase the awareness of these crashes across the 5 boroughs. I will continue working with the advocates, my colleagues and Speaker Corey Johnson to ensure we don't see another life lost on the road."
Johnson's push for his master plan has been in contrast to de Blasio's more measured attitude towards reducing private vehicle usage or promoting mass transit. Johnson has sought to break the city's "car culture" with street redesigns, new traffic calming measures, reducing congestion, and improving access to mass transit. A likely 2021 mayoral candidate, Johnson has said he does not envision ending car usage in New York City, but that his master plan bill is part of a vision to prioritize mass transit users, bike-riders, and pedestrians over those in cars, while making other modes of transportation as attractive as possible to encourage less car traffic.
When Johnson's bill was examined at a hearing of the Council's transportation committee in June, DOT officials said it would require a massive infusion of funds and new personnel for the agency. But the administration has signalled that it shares Johnson's goals.
"We are continuing to work with the Council on this legislation," said Seth Stein, a spokesperson for the mayor, in a statement. "We agree with the values underpinning this bill, that we must continue to aggressively pursue street redesigns under Vision Zero to save lives across the city."
A spokesperson for Speaker Johnson said there have been no changes to the master plan bill so far.