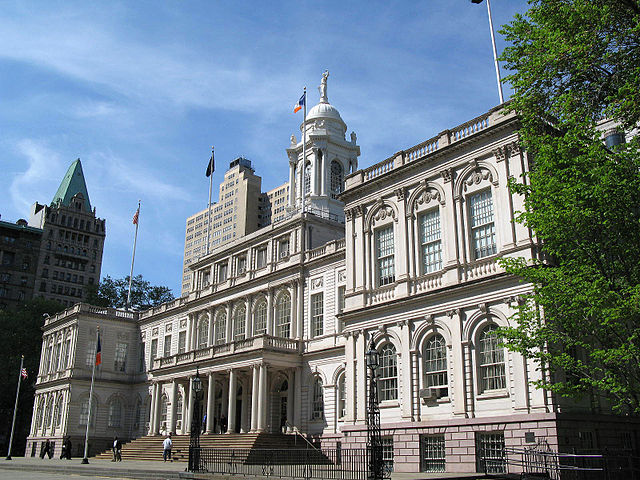 New York City Hall
---
What to look for this week, via the City and Albany:
As the week begins, watch for fatigue all over New York City as people recover from celebration at the annual Puerto Rican Day Parade.
This week, eyes on Albany will continue to gauge where Gov. Andrew Cuomo truly stands in his commitments to the Working Families Party that he will work for Democratic control of the New York State Senate and push for multiple pieces of progressive legislation. It's the last couple of weeks of the legislative session, anything - or nothing - could happen, including passage of a medical marijuana law slowly making its way toward the governor's desk. (Surely plenty of fodder for this year's LCA show)
According to his public schedule, Attorney General Eric Schneiderman is set to make a "major public safety announcement" on Monday morning in Yonkers.
Fresh off of his appearance at the Puerto Rican Day Parade, Mayor de Blasio starts his week speaking "at the Broadway Housing Communities Sugar Hill Development press conference...[and]...at FDNY Commissioner Daniel Nigro's swearing in," according to his public schedule - followed by attending "the Youth Leadership Council Meeting at City Hall."
The week features a good deal of action in the City Council as the Council refocuses on legislation after weeks of executive budget hearings. Speaking of the budget, keep an ear out for news as negotiations on a finalized budget (due by July 1) head behind closed doors. 2016 excitement is due to hit fever pitch in the City this week as Hillary Clinton kicks off her book tour in Union Square Tuesday morning and buzz about attempts to bring the 2016 Democratic National Convention to Brooklyn heightens. Paging Marty Markowitz.
Question on that front: will Governor Cuomo back the push for BK to host the convention in 2016 if it looks increasingly likely that Hillary Clinton will be running for President and thus unlikely that he'll be receiving the party's nomination?
Meanwhile, fresh off their debate on ABC, taped Friday and aired Sunday, candidates in New York's 13th congressional district debate again on Wednesday night, this time on NY1 and moderated, naturally, by Errol Louis. More on this below. The June 24th primary is just two weeks from Tuesday!
Here's the run of the week in more detail:
New York City
Monday
Along with Mayor de Blasio, Comptroller Scott Stringer will also attend Monday morning's "Ribbon Cutting Ceremony for the Broadway Housing Communities Sugar Hill Project," according to his public schedule. City Council Speaker Melissa Mark-Viverito is also set to be in attendance.
Council Member Ben Kallos and the government operations committee he chairs are set to hold two interesting hearings on Monday. First, at 10 a.m., the committee will look at the issue of extending community board eligibility to 16 and 17-year-olds, considering a resolution recommending passage of a bill in Albany that would allow such an extension.
Then, the highly-anticipated Open FOIL bill will get its first hearing at 1 p.m. The bill, introduced by Kallos, would create an online portal allowing people to see the status of FOIL requests. One of the issues expected to be be brought up is whether the name and organization of the person submitting the request would be published. For the average citizen looking to obtain records, having their name on the portal will likely not be a big deal. But for journalists having their name and type of information they are requesting in an online portal could tip off their competition and jeopardize a story.

The government ops committee will be meeting along with the technology committee, chaired by CM Jimmy Vacca, and council members will be discussing Open FOIL and two other open gov bills.
For those on the transportation beat, the Transportation Committee will hold an oversight hearing evaluating the TLC's street hail livery program, also at 1 p.m.
Monday night is game 3 of the Stanley Cup Finals, the first of the series in New York after the Rangers lost the first two games in excruciating fashion to the Kings in L.A. If the Rangers go down 0-3 get ready to see Mayor de Blasio "help perform a rendition of Randy Newman's "I Love LA" on Jimmy Kimmel Live!" per his bet with L.A. Mayor Eric Garcetti. But, if the Blue Shirts can get back into the series, keep an eye out for game 4 on Wednesday night.
Tuesday
Hillary Clinton kicks off her book tour at the Union Square Barnes & Noble on Tuesday morning, promoting Hard Choices. Details from the B&N release: "A limited number of wristbands will be distributed starting at 8 A.M. on Tuesday, June 10, and will be distributed on a first-come, first-served basis. Customers will have their copies of Hard Choices signed in the order they arrive. A limit of one book per customer will be signed and the signing of other books or memorabilia will not be permitted. The author will sign a limited number of copies of Hard Choices."
Tuesday looks to be a slow day at the City Council, with only the Committee on State and Federal Legislation set to meet.
Wednesday
On Wednesday morning at a panel discussion event, "Columbia University's School of International and Public Affairs (SIPA) and the Laurie M. Tisch Illumination Fund will release a report on the NYC Department of Health & Mental Hygiene's Green Carts Initiative – a street vending strategy launched in 2008 to change the NYC healthy food landscape, expand economic opportunity, and promote healthy behaviors." The panel will be moderated by Ester Fuchs, Director of the Urban and Social Policy Program at Columbia University, and will include Sean Basinski, Founder and Director, Street Vendor Project; Nancy Biberman, Founder and President, WHEDco; Rick Luftglass, Executive Director, The Laurie M. Tisch Illumination Fund; and Cathy Nonas, Senior Advisor, NYC Department of Health and Mental Hygiene.
On Wednesday at 1:30 p.m. the City Council will hold its first of two Stated Meetings this month (the other one is on the 26th).
Prior to the Stated, there are a few committee meetings, including the education committee meeting to resume discussion about "requiring the department of education to report academic and demographic information on co-located schools."
In the evening, there is the aforementioned NY13 debate, sponsored by NYC Votes and aired on NY1, at 7 p.m. - taking place with the primary less than two weeks away. The event will take place in front of a live audience (tickets were free and are sold out) at The Lovinger Theatre of Lehman College. This contest continues to heat up, recently taking a turn toward talk of race.
Thursday
At 10 a.m. on Thursday the City Council's education committee and higher education committee each meet. The education committee is holding a hearing on "Avonte's Law," otherwise known as the "Audible Alarms Bill," which would require "DOE to equip all exit doors with an alarm system in all elementary school buildings and buildings accommodating district 75 programs." Watch sponsor Robert Cornegy Jr. discuss the bill.

The higher ed committee will hold an oversight hearing on "merit and need based scholarships at CUNY."
At 1 p.m. the waterfronts committee will hold an oversight hearing on the Rahway Arch Project's impact on Staten Island. The project would seal decades worth of toxic waste just a stone's throw from Arthur Kill in Rahway, New Jersey, with 29 feet of dirt that is itself contaminated. The plan had been fast-tracked in New Jersey, and now, for obvious reasons, New Yorkers are taking serious exception. Senator Chuck Schumer has voiced his concern over the project, as has the Staten Island Advance Editorial Board. Legislatively, there may not be much the Council can do, but bashing the New Jersey government can always prove a crowd-pleaser and attention-grabber.
Also on Thursday at 1 p.m. three committees will meet to attempt to address the tie between an increase in violence in the city's jails and mental illness. New corrections commissioner Joseph Ponte testified at an executive budget hearing last week that the department was "in deep trouble." Council Member Elizabeth Crowley is introducing a bill that would require the Commissioner to post a monthly report on its website regarding punitive segregation statistics for city jails, as well as the use of solitary confinement.
On Thursday evening, Mayor de Blasio is set to make remarks at the Wildlife Conservation Society's (WCS) annual gala at the WCS Central Park Zoo. The gala, entitled "An Elephant's Tale" will honor Hillary Clinton, as well as her daughter Chelsea, among others. According to WCS's site, the gala "will engage guests in WCS's efforts to save the elephant populations struggling to survive within the forests and savannahs of Central Africa. The evening will serve as a reminder of the crisis elephants currently face in Africa and also as a celebration of these gentle giants who play a crucial ecological role in their habitats...The evening of the gala includes a reception, along with dinner. An Afterparty will be held for the next generation of conservation supporters."
Friday
It's a Friday the 13th. Unfortunately, that's almost all we have for your end-of-week planning purposes at this point. A sign of summer, perhaps.
On a much more serious note, Friday is the start of the two-day New York Summit on Gun Violence, as part of Gun Violence Awareness Month, to be held at John Jay College - details of the summit.
And, more from Albany:
The 114th LCA show is on Tuesday, June 10 at 7 p.m. at the Empire State Plaza Convention Center. Rebuttals are by Westchester County Executive Rob Astorino and Comptroller Tom DiNapoli. Tickets are still available!
First, on Monday morning, Gov. Cuomo hosts a ribbon cutting "for Todd Hill Market Taste NY Store" in LaGrangeville.
Meanwhile, with eight days left in the legislative session, advocates will be in town the next two weeks trying to force legislators to act on various pieces of legislation before they head back to their districts to focus on re-election.
Both houses of the Legislature have reached a possible deal on a medical marijuana bill that could come to a vote this week if Senate Republicans allow it. Most legislators expect little to be accomplished in the final weeks as politics has already frozen most bipartisan action in the Senate. There continues to be talk that legislative leaders would like to leave Albany early. But anything can happen in Albany and there could be the traditional flurry of legislative action before the end of the session.
On Monday, Planned Parenthood of New York will hold a rally at 1 p.m. in East Capitol Park to announce the creation of a new political action committee to aide candidates who support reproductive health rights. The group will also announce its 2014 legislative champions.
Hundreds of veterans and advocates will be in town on Tuesday to push for passage of the Justice For Our Veterans Act which would mandate that veterans charged with a crime be evaluated for a mental health issue related to their service so that they receive consideration from the court. A press conference will be held at 2 p.m. on Thursday in room 130 of the Legislative Office Building.
***
Have events or topics for us to include in an upcoming Week Ahead in New York Politics? Email Gotham Gazette executive editor Ben Max any time: This email address is being protected from spambots. You need JavaScript enabled to view it. (use "For Week Ahead" as a subject if you can).
***
by Kristen Meriwether and Ben Max in New York City and David King in Albany
@GothamGazette