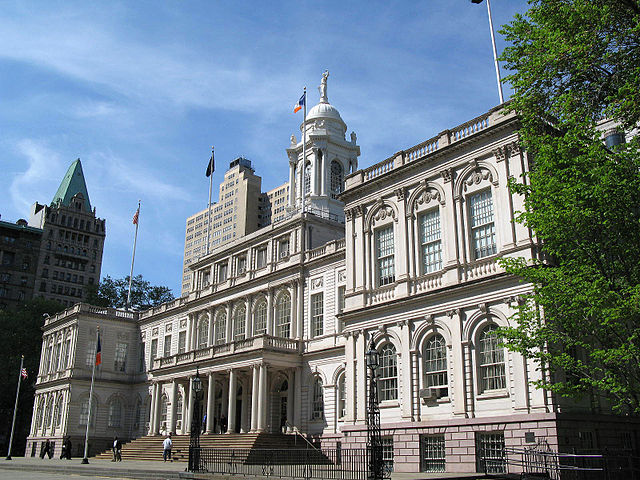 New York City Hall
---
What to watch for this week in New York politics:
The week began, of course, with the Martin Luther King holiday, which itself saw no shortage of political action. As for the rest of the week, we're watching the following storylines:
Governor Andrew Cuomo has been rolling out major policy proposals in advance of his major speech to be delivered on Wednesday in Albany. Our look at what the governor has unveiled thus far and what is still to come. On Tuesday morning Cuomo will be speaking to the Association for a Better New York (ABNY), a New York City-based business group. According to his public schedule, the governor will be previewing his 2015 infrastructure and transportation agenda at the ABNY event. Once the governor gives his budget address/State of the State speech, Republicans and Democrats in the State Legislature will respond, budget hearings will commence, negotiations will be ongoing, and speculation will be rampant. Another fun legislative session is upon us!
A new Siena poll is due out on Tuesday showing public opinion on the governor, the Legislature, fracking, public education, and more in New York State.
Once the governor has given his big speech, will he announce a date for a special election in New York's 11th Congressional District? Staten Island District Attorney Dan Donovan is the presumptive Republican nominee for the race; Democrats are taking more time, but could settle on a candidate any day.
Mayor Bill de Blasio is on a quick trip to Paris. Leaving Monday evening after giving Martin Luther King Day remarks at BAM and NAN and returning Tuesday evening, the mayor will be joining French officials and Jewish leaders to pay respects to victims of recent terrorist attacks in Paris.
We're expecting Mayor de Blasio's State of the City speech to be given before the end of the month, likely next week. Meanwhile, the borough presidents are beginning to give their state of the borough speeches (at least those who are giving them - BP James Oddo of Staten Island is having a Jan. 25 open house instead) - Queens BP Katz gives hers on Thursday. Others will do so in the coming weeks.
Demand has appeared quite high - perhaps overwhelmingly so - for the City's new municipal identification card. Now appointment-only, there is a months-long wait to apply for the card as our Samar Khurshid discovered the hard way - will the City announce new measures to speed the process up?
Applications of City Council discretionary funding are still be accepted; the new participatory budgeting season is ongoing; and community board applications are due to the borough presidents shortly. The City Council has its second full-body Stated Meeting of the month on Thursday.
As always, there's a great deal happening in committee hearings at the City Council and all over the city. More detail below...
***Do you have events or topics for us to include in an upcoming Week Ahead in New York Politics?
E-mail Gotham Gazette editor Ben Max: This email address is being protected from spambots. You need JavaScript enabled to view it.***
The run of the week in detail:
Tuesday
As mentioned, Tuesday morning the Association for a Better New York (ABNY) will host Gov. Cuomo, for a discussion of the governor's priorities.
On Tuesday morning, City Comptroller Scott Stringer will participate in "Council on Foreign Relations' Renewing America Series Panel: Risks and Priorities in Public Pension Plans."
Also mentioned previously, Tuesday will see the Civic Hall Open House/Grand Opening: 10 a.m. to 3 p.m., 156 5th Ave at 20th St, 2nd Fl. Comptroller Stringer, Manhattan Borough President Gale Brewer and other elected officials and civic leaders are expected to give remarks. [Read our look at the project, its roots and its goals.]
Tuesday's City Council schedule will include a meeting of the Committee on Housing and Buildings for an oversight hearing regarding "Short Term Rentals – Stimulating the Economy or Destabilizing Neighborhoods?" - this, of course, refers to the controversial Airbnb.
Prior to that hearing, at 9:45 a.m. on the steps of City Hall, there will be a "rally against illegal hotels before the Housing and Buildings Committee's oversight hearing on short-term rentals" led by Council Members Helen Rosenthal, Mark Levine, Rosie Mendez, Antonio Reynoso, Ydanis Rodriguez, Rory Lancman, Corey Johnson, Ben Kallos, and Margaret Chin; State Senator Liz Krueger; State Assembly Members Richard Gottfried, Linda Rosenthal and Keith Wright; Manhattan Borough President Gale Brewer; and a variety of community and advocacy groups.
The City Council schedule will also include an afternoon meeting of the Committee on Parks and Recreation to consider "naming of 56 thoroughfares and public places" including those for Detectives Rafael Ramos and Wenjian Liu, who were killed in the line of duty on Dec. 20.
There will also be an afternoon meeting of the Committee on Youth Services for an oversight hearing in relation to "Culturally Competent Afterschool Programs: Exploring how culturally and linguistically competent afterschool programs benefit youth."
On Tuesday at 10:45 a.m., "Brooklyn Borough President Eric L. Adams will launch a series of digital youth dialogues with Brooklyn students on the issue of police-community relations, in response to recent citywide tension following widespread protests of policing practices and the assassinations of two NYPD officers. The conversations will take place among young people conversing over Google Hangout, while moderators remotely pose questions to them to drive discourse; tomorrow's discourse, moderated by representatives from the Peace Institute, will be between students from Bishop Kearney High School in Bensonhurst, Brooklyn Academy of Science and Environment in Crown Heights, Brooklyn Amity School in Sheepshead Bay, and Sunset Park High School in Sunset Park. Borough President Adams will further outline his ongoing effort to bridge the divide between police and the communities they serve; the conversations will inform a report of recommendations with the goal of advancing public safety citywide, as well as police and criminal justice reforms."
On Tuesday, "The Council for Senior Center and Services of New York City (CSCS) will host its 26th Annual Conference on Aging...Focusing on the transformation of aging, CSCS will present workshops on topics of interest to those in aging services and those serving older adults...Among the day's highlights will be remarks by Nora Super, Executive Director of the 2015 White House Conference on Aging...Keynote speaker, Ana Oliveira President and CEO of The New York Women's Foundation, will discuss the strengths of older New Yorkers as anchors in their communities as well as the realities, perceptions and implications of the changing aging landscape in New York. Other speakers include Lilliam Barrios-Paoli, Deputy Mayor, Health and Human Services; Corinda Crossdale, Director, New York State Office for the Aging; and Donna Corrado, Commissioner, New York City Department for the Aging."
Tuesday morning, City & State NY, in partnership with Effective NY, will host "Property Taxes and New York's Future: Solving the Fiscal Crisis of Counties." The event "will convene leaders in government, business, and advocacy...to discuss how New York can solve the fiscal crisis facing counties around the state." Featured speakers to include NYS Comptroller Tom DiNapoli; Mayor of Syracuse, Stephanie Miner; and Former Lieutenant Governor, Dick Ravitch.
Mid-day Tuesday, the Leitner Center for International Law and Justice at Fordham Law School will host "Ferguson Is Everywhere: Policing and the Criminalization of Communities of Color," a panel discussion covering "the non-indictments in the Ferguson and Staten Island cases" and the national movement they have given rise to. Speakers will include Professor Alex S. Vitale and activist Linda Sarsour.
Tuesday evening at City Hall: "Council Member Mark Levine will moderate a panel discussion called "Shared Narratives, Values and Cultures of the Latino and Jewish Communities in New York City." The panel will include Assemdly Member Nily Rozic, who was born in Jerusalem and also has Argentinian heritage. Former Bronx Borough President, Fernando Ferer and Hispanic Federation President Jose Calderon will also share their perspectives and Speaker Melissa Mark-Viverito is slated to give opening remarks.
For those interested in more on IDNYC, there will be an information session/community meeting in Manhattan, on Tuesday evening at 6 p.m. at El Museo del Barrio.
Tuesday evening in Albany, City & State NY will host its annual "State of Our State Reception" on "the eve of Governor Cuomo's State of the State" address.
Also on Tuesday evening, the Manhattan Young Democrats will host a panel discussion on race and policing. The event will feature Brooklyn Borough President Eric Adams, activists Michael Skolnik and Linda Sarsour, Professor Christina Greer, and others.
Later on Tuesday evening, all eyes will be on President Obama's sixth State of the Union address, 9 p.m. on many networks. Several watch parties will be happening around the city, including those held by the aforementioned Manhattan Young Democrats, but also the Working Families Party (at Plan B Bar in Brooklyn) and Democratic Leadership for the 21st Century (DL21C) in Manhattan.
Wednesday
Governor Cuomo will present the 2015-16 Executive Budget and give his postponed State of the State Address at the Empire State Convention Center on Wednesday afternoon.
[Read our preview of the speech. Also, read our look back at highlights and themes from Cuomo's first four State of the State speeches.]
Wednesday's City Council schedule will include a meeting of the Committee on Cultural Affairs, Libraries and International Intergroup Relations to discuss resolutions regarding "commemorating the 70th anniversary of the liberation of the Auschwitz-Birkenau concentration camps on January 27th, 2015"; and "Declaring January 15th - 22nd of each year as Peace Week in NYC"; a meeting of the Committee on Technology for an oversight hearing regarding "Filming and Community Impacts," and to see the introduction of a new bill in relation to "requiring monthly and annual reports concerning film shoot permits"; a meeting of the Committee on Women's Issues to discuss a "resolution calling upon the United States Congress to pass legislation to protect a woman's health, her right to determine whether and when to bear a child, and her ability to exercise that right by limiting government interference with the provision of abortion services and ensuring legal, safe abortion care is available to any woman who needs it"; a meeting of the Committee on General Welfare for an oversight hearing on "Homelessness and the Implementation of the Living in Communities (LINC) Program" and to also discuss a "resolution calling upon the New York State Legislature to pass, and the Governor to sign, A.2819, which would establish a hospitality gift fund for the homeless"; a meeting of the Committee on Veterans with the Committee on Small Businesses for a joint oversight hearing regarding "Supporting Veteran-Owned Businesses and Promoting Veteran Entrepreneurship." [Read our report on the subject.]
The "small cities schools lawsuit" trial is set to begin Wednesday in Albany: "After waiting six years, the parents and children in eight NY, high poverty, low wealth school districts will finally get their day in court. The plaintiffs in Maisto v. New York – known as the "Small Cities" case – are challenging New York's persistent failure to provide sufficient teachers, curriculum, reasonable class sizes, interventions for at-risk students, and other resources deemed essential for a sound basic education under the NY Constitution. The eight Small Cities districts are Jamestown, Kingston, Mount Vernon, Newburgh, Niagara Falls, Port Jervis, Poughkeepsie and Utica. Last month, the case was assigned to a new Judge, and a new trial date was selected.
"The Bronx Youth Empowerment Program (YEP), in partnership with NYC Council Member Andy King and NYPD's 47th Precinct, will host a "Connections" forum on Wednesday, January 21, 4 p.m. at Evander Childs High School Campus, Blackbox Theater Room, 800 East Gun Hill Rd., Bronx. "There was a time when community residents knew the officer who walked the beat in their neighborhood and that officer knew the various families and youth in the community by their first names. The purpose of the Bronx YEP Connections program is to get back to that familiarity and close the communications gap in order to create a friendlier 'connection' between the NYPD and our youth," explained Council Member King. "In addition, the forum is an opportunity for youth to learn what to do if they are stopped by a police officer and it also gives youth a chance to ask questions of their local NYPD officers.""
Our Town, in association with the New York Society for Ethical Culture will host a town hall meeting on Wednesday evening, "Pedestrians vs. Cars: Manhattan's Deadly Traffic Problem and What Can Be Done About It." The event will feature Commissioner of the NYC Department of Transportation, Polly Trottenberg; Former Executive Director at the New York Times, Jill Abramson; City Council Member, Helen Rosenthal; Dana Lerner, Families for Safe Streets; and will be moderated by editor-in-chief of Our Town Kyle Pope.
Thursday
Thursday morning, the Association for a Better New York (ABNY) will host Chancellor Carmen Fariña for a breakfast event addressing the Chancellor's "priorities for improving the city's public schools and ensuring better outcomes for all students."
Also on Thursday morning, Queens Borough President Melinda Katz will deliver her annual "State of the Borough" address in Colden Auditorium at Queens College.
Thursday's City Council schedule includes a meeting of the Committee on Finance regarding a bill relating to the sale of tax liens and to discuss the resolution "approving the new designation and changes in the designation of certain organizations to receive funding in the Expense Budget" and the second Stated Meeting of the month at 1:30 p.m.
Friday and the weekend
Friday's CityLaw Breakfast Series event at New York Law School will feature the United States Attorney of Southern District of New York Preet Bharara.
Also Friday morning The Mayor's Community Affairs Unit and the Mayor's Office of Appointments host One City Rising Together: The Role of Inclusive Leadership in Good Government at Tweed Courthouse: "Interested in making a difference and serving as a leader in City government? Meet members of City government's inner circle and network with hiring managers from different city agencies at this event. Learn why inclusive leadership teams are so important to the future of New York City and for creating a legacy of good government. Hear first-hand about the Mayor's equity agenda and his vision for the City from the men and women who are leading key aspects of his important plan...Moderated by Baruch Professor Hector Cordero-Guzmán of the School of Public Affairs, this conversation will be an exciting exchange about leadership, government, and career opportunity" and will include First Deputy Mayor Anthony Shorris; Commissioner Gladys Carrión, Administration for Children's Services; Commissioner Tom Finkelpearl, Department of Cultural Affairs; Commissioner Maria Torres-Springer, Department of Small Business Services; First Deputy Commissioner Benjamin B. Tucker, New York Police Department.
Friday's City Council schedule is a meeting of the Committee on Education jointly with the Committee on Health regarding legislation relating to "Health and safety of youth football teams" and "creation of a youth sports health and safety task force."
On Sunday morning: "What Matters Now: An LGBTQ Youth Summit" co-sponsored by Council Member Corey Johnson. "What Matters Now: An LGBTQ Youth Summit aims to engage Lesbian, Gay, Bisexual, Transgender, Gender Nonconforming, and Queer youth from all over NYC in a day of skills building, community organizing and resource sharing. The summit will offer a variety of workshops that will cover topics that will assist LGBTQ youth in advocating for and developing safe spaces in their communities...The summit is hosted in partnership with the Office of New York City Council Speaker Melissa Mark-Viverito & the LGBT Caucus of the NYC Council."
Also Sunday: the "Annual Staten Island Borough Hall Open House - Direct Connect Sunday": 12-3 p.m. at Staten Island Borough Hall, hosted by Borough President James Oddo. "All Staten Islanders are encouraged to come by, learn in detail about the things we have worked on this past year, our agenda for 2015, and have an opportunity to connect directly with the BP and his staff."
***
Have events or topics for us to include in an upcoming Week Ahead in New York Politics? E-mail Gotham Gazette executive editor Ben Max any time: This email address is being protected from spambots. You need JavaScript enabled to view it. (please use "For Week Ahead" as email subject).
***
by Rati Mukhuradze and Ben Max
@GothamGazette