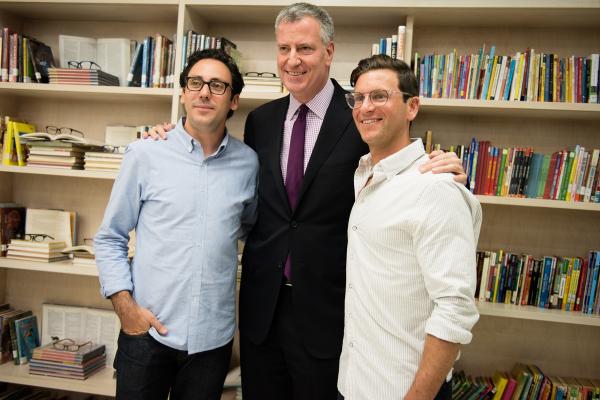 Mayor de Blasio & the founders of Warby Parker (photo: @BilldeBlasio)
---
The de Blasio administration is attempting a new approach to a familiar game in municipal politics. Public-private partnerships, also known as P3s, are a popular tool throughout local, state, and federal government. They are often sought after as a way to formalize coalitions around an issue and take advantage of the flexibility and resources of the private sector to accomplish goals of government.
Run a search in any given political press room, and one is likely to find several announcements of public-private partnerships spanning a wide array of issues and taking many forms, from contracting agreements for infrastructure projects to philanthropic gifts.
The de Blasio administration, however, is seeking to deploy P3s differently than prior administrations. Like with the rest of his agenda, the mayor is infusing the time-honored tradition of leveraging the private sector for public good to focus as acutely as possible on reducing inequities.
Last year, de Blasio announced the new Office of Strategic Partnerships (OSP) with a clear mandate in mind: bring entities together to address income inequality and opportunity gaps in New York City. While P3s are common in many administrations, establishing a new office with such a coherent objective has been billed as a noteworthy new approach. "We have been handed a very strong foundation by Mayor Bloomberg, and we look forward to building on it," de Blasio said last year.
Of course, de Blasio has also given the mandate to all of his agencies and offices, pre-existing and otherwise, requiring that commissioners explain efforts their departments are taking to combat inequality in the Mayor's Management Report.
At OSP, Gabrielle Fialkoff, senior advisor to the mayor and director of the office, highlights P3 work on mental health, youth employment, and early childhood education. Focusing on issues intersecting income inequality is seen as a next step from a legacy of strong private sector engagement in the Bloomberg administration, which would often welcome private sector funding and innovation, but with less of a pointed focus.
So far, the administration is enthusiastic about the results of the new approach. "Over the past year and half, we've worked together with New York's corporate and philanthropic sectors as well as the City's agencies and non-profits to leverage assets and strategies – and we've made great strides," Fialkoff said in a statement to Gotham Gazette.
For a mayor seen with skepticism by many in the corporate world, the de Blasio administration has had to find willing partners. There are no shortage of non-profits for the city to work with, of course, and no matter how ambitious the P3 approach, there is always room to be doing more. Thus, the new office.
In July, the Mayor's Fund to Advance New York City, chaired by First Lady Chirlane McCray, announced a $30 mental health initiative, "Connections to Care," the largest public-private partnership thus far in the de Blasio administration. The Mayor's Fund, itself a not-for-profit, is partnering with the Corporation for National and Community Service, which is a federal agency, and private funders.
Not long after, de Blasio announced that Deputy Mayor Richard Buery will assume the role of coordinating mental health reform in the administration, working in partnership with McCray, who is creating a "mental health roadmap" that is said to be set for release later this month and is sure to rely on the city's work with non-profit and other non-governmental entities.
The Connections to Care Initiative looks to utilize outside funding to contract 12 community-based service providers to screen low-income residents for mental health and substance abuse disorders, and pay for a study tracking and assessing the impact of the program.
At its launch, Fialkoff hit at the fact that the initiative is not a expansion in the size of existing programs, but rather a partnership to bring new mental health training to service providers the city already relies upon. "In applying for the grant, she said, "the service provider partners with the mental health provider and they apply together. And the mental health provider will train the staff and then stay involved in the long-term through coaching and follow-up."
For youth employment, the Mayor's Fund and OSP looked to improve the city's existing programs by establishing the Center for Youth Employment, which aims to "substantially increase private sector participation by instituting reforms to make involvement more efficient, and offering increased support for employers throughout the process."
In a statement announcing the center's launch, Fialkoff commented that there had previously been "limited coordination between employers, city agencies, non-profits and the philanthropic community," but that the center would serve as a first step towards a more holistic system.
Earlier this week, the city announced a surge in the Summer Youth Employment program, credited to a $12 million increase in city funds. But the Center for Youth Employment is seeking to contribute beyond what may be capable through a simple bolstering of funds to the existing programs.
At its launch, the center noted that while the Summer Youth Employment program is already the largest of its kind in the country, even before this year's growth, it still was unable to serve some 90,000 applicants in 2014. And in 2015, an increase in applications outpaced the growth in jobs: more than 130,000 applied for 54,263 summer jobs. The center is aiming to fill that gap by "substantially increas[ing] private sector participation by instituting reforms to make involvement more efficient, and offering increased support for employers throughout the process." As it stands, city agencies and external partners work largely independently on various youth programs.
Another especially significant point of intersection for non-profits, for-profits, and city agencies is found in the growing Community Schools Initiative that de Blasio has made a centerpiece of his education agenda.
One recent high-profile P3 involving community schools is a partnership with stylish NYC-based eyewear brand Warby Parker to provide glasses to 20,000 students, free of charge, in conjunction with a vision screening program. Fialkoff and Buery praised the partnership as exemplary of combining the flexibility and generosity of the private sector with the reach of the public sector.
Adam Forman, Senior Researcher with the Center for an Urban Future, praised the P3 work being done through community schools, which will serve many of the city's neediest children. "They're trying to do a good job of making schools a hub of social service delivery, so it's not just education but in the after hours you have mental health care, tutoring, services like language training or job training for parents," said Forman.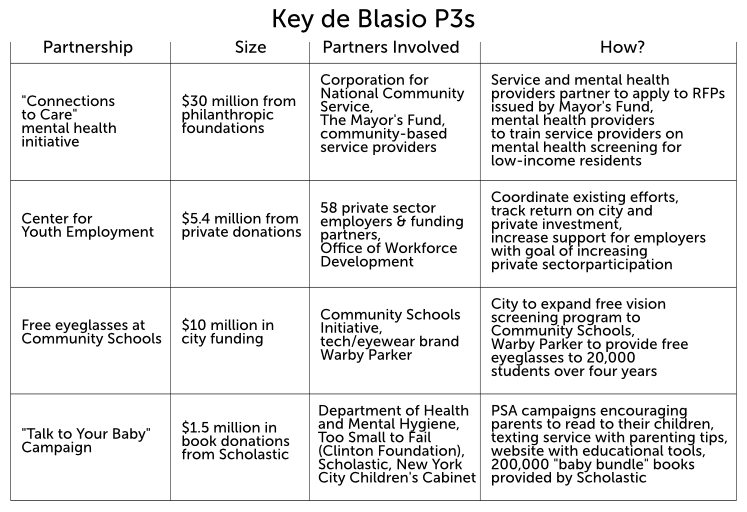 The idea of improved data sharing between existing partners has been a theme within the de Blasio administration, according to Forman, and one particular point of intersection for non-profits and city agencies to better share information has been within the Community Schools Initiative. Combining overlapping sets of data about students and parents already participating in services offered at Community Schools could both help expand coverage and reduce redundancies. As with virtually everything in the still-young de Blasio administration, results are hard to come by as of yet - it will take time to tell how effective these P3s or any new data sharing is.
Fialkoff ultimately hopes that the de Blasio administration's approach "will be a model for other municipalities on how we can harness the power of the private sector and the scale of government to truly change lives."
To some observers, though, while the overtones of targeting P3s specifically at inequality are new, the fundamentals of employing P3s for social services are continuous with decades of New York City governance.
"For social services in general, the city has been contracting out forever," said Forman, referring to the most basic public-private partnership relationship of the city paying for services.
Although programming and policy decisions are made in-house at agencies and departments, relying on private, not-for-profit organizations for actual service delivery is a well-worn practice. Because of such arrangements, the city's involvement in social services is deeper than many may often realize. Forman estimates, "New York City might have 300,000 people working for it officially on the payroll, but the city has over a million people working for it in terms of contracting out service delivery."
Accordingly, it is important to not characterize the de Blasio administration's "new approach" to P3s simply as a new expansion into more aggressive social service delivery. The administration is not so much reinventing the wheel of social services, but rather an attempt to coordinate with more nuance and efficiency, and potentially garner more trust and participation from the private and non-profit sectors.
The sheer ubiquity of the term "public-private partnership" does attract skepticism from parties interested in government transparency and accountability, and cognizant of infamous cases where local governments were on the bad end of deals with the private sector.
"The word 'public-private partnership' seems to evoke these warm feelings of these parties coming together and working together, which on some level does happen," said Shahrzad Habibi, Research and Policy Director at In the Public Interest, a think tank with a focus on transparency and accountability in P3s. "But the devil is in the details of these agreements...a lot of the times we don't know about these until they're already underway."
While cost-benefit analysis has grown in popularity as of late, including within the Obama White House, phrases that appear in the press releases for the Center for Youth Employment such as "return on investment" can perk the ears of those familiar with past horror stories involving compensation clauses in contracts with the private sector. Habibi offers an example of a tollway in Washington, DC built on a P3 model where the contract stipulated compensation if over a certain percentage of users were carpoolers.
Although the de Blasio administration heralds its new approach as an ambitious, coherent vision aimed towards tackling income inequality, ensuring the efficacy and transparency of each deal remains a case-by-case task.
In New York City, oversight of P3s entered into by city agencies is often left to the city Comptroller and the City Council. City Council Member Brad Lander offers that due to the sheer volume of P3s and their wide breadth of focus, "It's hard to figure out any uniform oversight framework, you really have to look at them on a case-by-case basis."
***
by Brit Byrd, Gotham Gazette
@GothamGazette