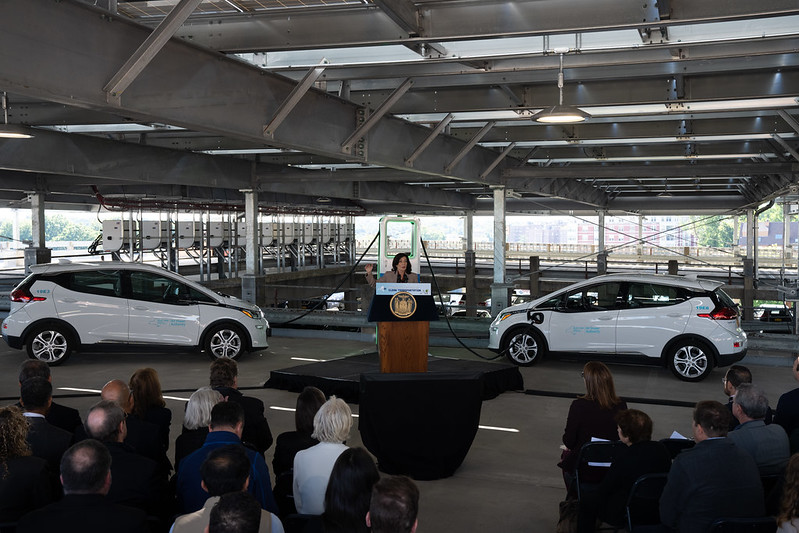 Gov. Hochul with electric vehicles (photo: office of Governor Kathy Hochul)
---
In a race with many clear differences, there may be no issue on which Democratic Governor Kathy Hochul and Republican Congressman Lee Zeldin are offering more divergent visions in this year's New York gubernatorial election than on climate and environmental policy.
While Hochul seeks a full term to continue implementation of New York's sweeping shift to renewable energy and advance many policies related to environmental protection, Zeldin has been critical of many of the climate policies underway, has little to say about moving toward a greener grid, and instead wants to rollback the state's prohibition on fracking.
New York State is pursuing an ambitious overarching climate policy, moving towards a fully green energy grid and economy, building out renewable energy infrastructure, investing in resilience against extreme weather events and in environmental justice for communities hardest hit by pollution and climate change.
The state's climate policy has been set by Democrats who have held the executive and legislative branches together in recent years. The State Legislature advanced an aggressive climate law, 2019's Climate Leadership and Community Protection Act, that mandates greenhouse gas emission reductions and shifts to renewable energy, as well as many other related policies, working with former Governor Andrew Cuomo and his successor, Hochul.
As Hochul, a moderate liberal from Western New York, runs for her first full term as governor this year, she has touted her record on climate, environmental, and energy policies, made major announcements, and approved additional investments in climate action. That includes her championing of the $4.2 billion environmental bond act that is also on the fall ballot for voters to approve or disapprove.
Zeldin, however, has a barebones climate agenda and has threatened to reverse several of the steps the state has taken towards a greener future. He has instead focused on the economic and home-grown energy benefits of fracking, which the state banned by executive action in 2015 and legislatively in 2020. And Zeldin, a Long Island conservative, has been critical of other state climate policies, whether enacted or proposed, that seek to move New York away from fossil fuels and towards electric cars and buildings powered by wind, solar, hydro, and other renewable energies.
As with other areas where Democrats have moved the state in recent years, Zeldin has called their climate policies overreach that threaten to make it more expensive for New Yorkers to live here.
Though Hochul has not advanced a new climate vision during the governor's race, she has continued the significant work that is already underway. She is pitching voters on both her climate-related decisions in her year-plus as governor and plans to move aggressively on climate policies if given a full term.
The state is in the process of implementing the 2019 climate law, a monumental piece of legislation that sets the state on the road to net zero greenhouse gas emissions by requiring a 40% reduction in emissions by 2030 and an 85% reduction by 2050. It also mandates that 70% of the state's energy should come from renewable sources by 2030, and 100% by 2040. The state Climate Action Council created by the law is set to release its plan for achieving those goals by January next year, and is currently in the process of taking feedback and revising its draft scoping plan.
Questions remain about what that plan will and should look like, especially how the state will fund the implementation of the CLCPA. Progressives want to see the state move as quickly as possible, investing in green jobs and setting strict carbon restrictions, while conservatives have questioned the pace of the energy transition which, as the Empire Center argues, the state "cannot do so cheaply or maintain grid reliability."
"The goal is inexpensive, reliable and non-polluting electricity production. But we can't have all three," said James Hanley, senior policy analyst at the Empire Center. "The practical options are either inexpensive and reliable or reliable and non-polluting." Some advocates have called for, among other things, new taxes on the uber wealthy to support the legislation, which Hochul has resisted.  
Hochul, for her part, included several significant climate action measures in the $220 billion state budget passed earlier this year, her lone budget as governor thus far. That included allocating a $500 million investment to offshore wind energy infrastructure and $400 million to the Environmental Protection Fund, among other items.
The budget also included the $4.2 billion Clean Water, Clean Air, Green Jobs Environmental Bond Act, which was first proposed by Cuomo and then increased by $1.2 billion by Hochul. The Act is headed to a ballot referendum in the November general election and has broad support in public polling – a September 28 Siena College poll showed that 55% of voters said they would vote for it and only 26% said they would vote against it. About $500 million of the Bond Act will be dedicated to support the purchase of zero-emissions school buses by school districts statewide, while other spending it funds would go to clean water, storm resiliency, and other projects.
"Under Governor Hochul, New York has led the nation in implementing the most aggressive plan to combat climate change and create good-paying clean energy jobs," said Jen Goodman, a Hochul spokesperson, in a statement. "With climate change being our nations' greatest threat, Lee Zeldin has promised to roll back the progress Governor Hochul has made, putting the health and safety of our environment and communities at risk."
Among her many climate-related moves as governor, Hochul has advanced two major transmission line projects that will bring renewable energy from Canada and Upstate New York, and moved ahead on offshore wind energy infrastructure and enacting regulations mandating only zero-emissions passenger vehicles are sold in the state by 2035. Hochul has been clear that she has no intentions of rolling back the state's fracking ban.
According to the governor's office, the state has more than 120 solar, land-based wind, and offshore wind projects under development that will be able to power more than 66% of the state's electricity once completed. Renewable energy projects underway will power 5.5 million out of 7 million homes in the state. Earlier this year, Hochul announced a new framework for the state to achieve at least ten gigawatts of distributed solar energy by 2030, enough to annually power almost 700,000 homes, the state says. She has announced more than $1 billion in investments in water infrastructure over the last year, including hundreds of millions for municipalities to improve water quality and public health.
Hochul has also worked with the Public Service Commission and New York State Energy Research and Development Authority to direct utilities to invest about $1 billion in 2022 toward decarbonizing New York's building stock. And she successfully championed legislation to update the New York State Energy Conservation Construction Code to increase energy efficiency and reduce greenhouse gas emissions. In July, the Department of Environmental Conservation launched a statewide mobile air monitoring initiative to map air pollution.
Hochul's record has earned her the endorsement of the New York League of Conservation Voters (NYLCV) and the Sierra Club Atlantic Chapter. "We need a Governor who knows that a healthy environment, fighting climate change and clean energy go hand in glove with a strong economy and vibrant communities and Kathy Hochul has been delivering on that promise," said Julie Tighe, President of the NYLCV, in a statement accompanying the endorsement. 
[Read: What is Kathy Hochul's Gubernatorial Campaign Platform?]
But many environmental advocates say that the governor and the state need to act faster and at a greater scale. Ahead of the end of the legislative session this year, the Climate Can't Wait coalition, composed of 43 groups from across the state, demanded movement on a slate of climate action bills, most of which ultimately failed to pass. Some of them Hochul had included in her 2022 agenda but not advanced through the Legislature, while others Hochul has yet to embrace, a source of criticism from her left in the Democratic primary earlier this year that she won handily.
Among them was the All Electric Buildings Act, which would ban new gas and oil hookups in new buildings statewide starting in 2024 (Hochul has promised to revisit the bill next year) and the Build Public Renewables Act, which would, among other things, allow the New York Power Authority to own and build new renewable energy infrastructure (Hochul has not expressed support for the bill). 
Advocates have also pushed Hochul to sign a bill passed by the Legislature that placed a two-year moratorium on "proof of work" cryptocurrency mining, an energy-intensive virtual currency process that has been broadly criticized for its adverse effects on the environment. The bill would specifically put a two-year hold on re-commissioning shuttered fossil-fuel plants to support cryptomining. Hochul has refused to say whether she will sign it, while also denying that her lack of a decision has been influenced by massive campaign contributions from the cryptocurrency industry. That has been one of the main lines of attack against Hochul from progressives, including her primary opponent, New York City Public Advocate Jumaane Williams, who put forward a detailed climate action plan in his unsuccessful campaign against her. 
Zeldin, on the other hand, has a long record of opposing environmental legislation and even questioning the scope of climate change. "It would be productive if we could get to what is real and what is not real…I'm not sold yet on the whole argument that we have as serious a problem as other people are," he said in a 2014 interview with the Newsday editorial board. Meanwhile, Zeldin has touted some of his record in terms of securing or supporting some local anti-pollution or environmental cleanup measures that related to his Long Island district. Still, Zeldin has received a great deal of criticism from environmental groups for his voting record. 
In his 2022 campaign for governor, Zeldin has proposed a three-point plan to lower energy costs, which includes reversing the state's moratorium on fracking, building new gas pipelines, and suspending the state gas tax. Fracking, or hydraulic fracturing, to extract oil and gas has been banned in New York State since 2015, when Governor Cuomo passed an executive order to that effect, which was codified by the state Legislature in 2020. 
"By safely extracting natural resources and approving new pipelines, new jobs would be created, our state would become energy independent, new revenue would be generated, communities would be revitalized, and energy costs would be reduced," his campaign website states on the page dedicated to "Protecting Your Wallets." Zeldin's campaign website has no page for climate or environmental policy, and makes no mention of reducing greenhouse gas emissions, building renewable energy, or any other efforts to fight or adapt to climate change.
Zeldin has also opposed the All Electric Building Act and regulatory action by Hochul to require only zero-emissions vehicles be sold by 2035. "Temperatures are DROPPING & 1-party rule in Albany is trying to RAISE the cost of heating your home by banning natural gas hookups & pushing through more of their far-left climate agenda with S6843A to deny permits for new buildings constructed after 2023 unless it's electric," he tweeted in January. 
"Another of Hochul's out-of-touch ideas is to force NYers to only buy electric cars," he also tweeted at the time. "She signed a bill that would ban the sale of cars with combustion engines by 2035. What does she have to say to the swath of everyday NYers who can't afford or just don't want an electric car?" 
When Hochul was headed to a news conference for her zero-emission vehicles announcement on September 30, Zeldin again criticized her. "Such a hypocrite. @KathyHochul flies around New York in a gas guzzling, taxpayer funded plane to then get in a gas guzzling SUV to drive her to a photo op in an electric car that she doesn't actually use," he tweeted. 
He has also come out against congestion pricing in New York City, which Hochul supports and is leading implementation of, and he is seeking to use it as something of a wedge issue in the election.  
Zeldin hasn't taken a position on the Environmental Bond Act and has not responded to several Gotham Gazette inquiries over the course of months seeking more information about his stance on that, other climate policies, or any semblance of an agenda on renewable energy development and related issues. Notably, the last environmental bond act, approved by 55% of voters in 1996, was championed by Republican Governor George Pataki, and provided $1.75 billion to protect the state's air, water and natural resources. [Update: when asked about the bond act the day before Election Day, Zeldin told WNYC's Jon Campbell that he is supportive of it.]
[Read: What Is Lee Zeldin's Gubernatorial Campaign Platform?]
Zeldin, who has been in Congress since 2015 after a stint in the State Senate, has repeatedly railed against Democratic efforts to tackle climate change and has a lengthy record of voting against environmental legislation. The League of Conservation Voters, in its annual scorecard of congressional votes, gave Zeldin a 17% score in 2021 for his votes on pro-environment legislation, and a 14% lifetime score for voting in favor for just 31 out of 215 bills (which also include some bills on broader goals identified by the environmental group, including several pro-democracy measures opposed by Zeldin, who voted against certifying Joe Biden's victory in the 2020 presidential election). 
Zeldin recently voted against the Inflation Reduction Act, which passed Congress in August and has been hailed as the strongest piece of legislation dealing with climate change ever to be approved by the federal government. For New York, the legislation could mean billions in funding for clean energy infrastructure and significant aid in accomplishing the goals of the CLCPA.
When criticized by Hochul for opposing the Inflation Reduction Act, Zeldin said on Twitter, "CORRECTION 'Governor': I just voted NO because the bill sucks. Being that it raises taxes, adds 87,000 new IRS agents, & spends hundreds of billions of dollars our country doesn't have on far-left policies our country can't afford, I'm not surprised you'd blindly endorse it."
As noted by Zeldin's Record, a website purportedly created by Zeldin constituents, the congressman has voted against clean water and air standards even though the Long Island region has been found to have some of the highest rates of contaminants in its drinking water and Suffolk County has been rated as among the worst air quality in the state.